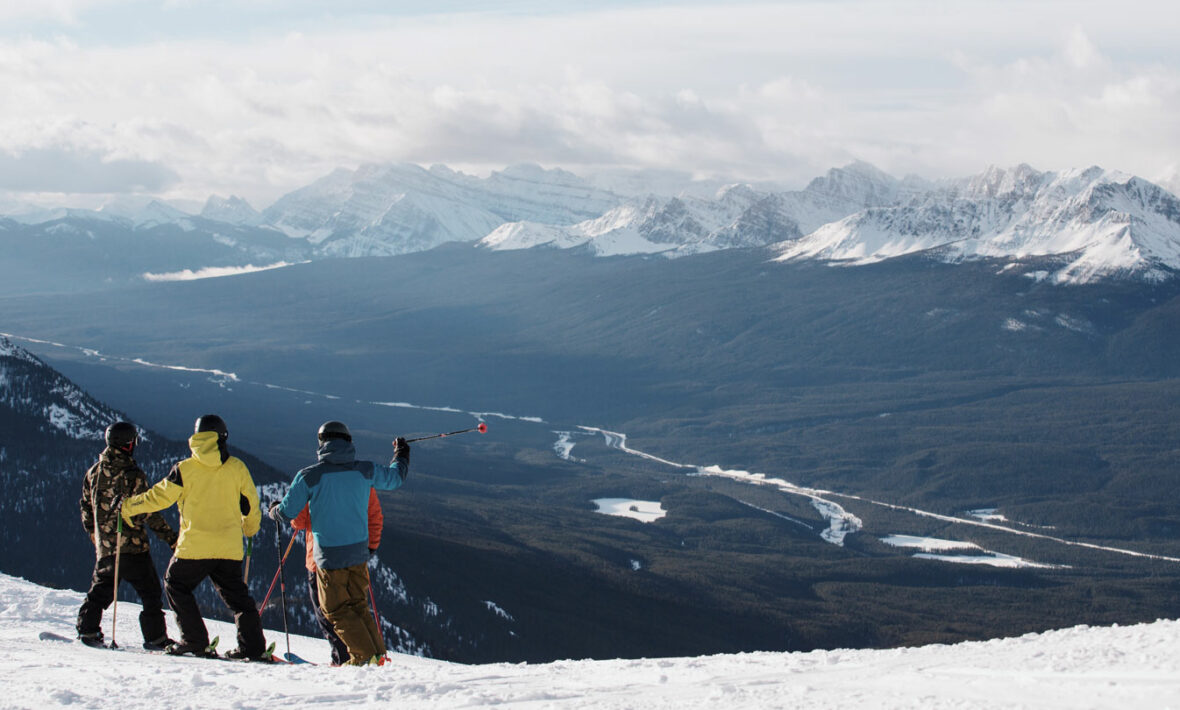 Dreaming of heading down the slopes in Banff National Park in Canada? Experience fresh snow, or as the Canadians call it "champagne powder" in Banff. Known as one of North America's best ski destinations, skiing in Banff is out of this world. From getting there to where to eat and stay, we've wrapped together everything you need to know to make the most out of your time skiing in Banff…
Getting there
If you're thinking about skiing in Banff, you'll want to know the fastest way to get there. The closest airport is Calgary International Airport (YYC) in Calgary, Alberta. You'll need to grab a ride and head north about 90 minutes along the Trans-Canada Highway (Hwy #1) for some amazing views of the Canadian Rockies. There are airport shuttles available for a fee or services, such as Contiki's Ski Banff that include transport and accommodation in Banff while skiing. If you're renting a car, be ready to purchase a Park Pass to enter Banff National Park during your drive up.
Where to stay
Once you're in Banff National Park, there are two main options for where to stay. Most visitors will either choose between the village of Lake Louise or the town of Banff.
With tons of restaurants and budget accommodation options, the town of Banff is easily explored on foot. If you're staying in Banff, one of the dreamiest places to stay is at the Fairmont Banff Springs. It has become an iconic building in the Banff area, which has been around since the late 1800s.
If you can't stay there, we'd recommend just swinging by to check out the area anyway. Not only do they have some breathtaking views of the Bow River and mountains, their spa and hot springs are perfect for relaxing after a long day on the slopes.
Staying in the Lake Louise area can be a little more limiting, but super convenient as it's within walking distance of the Lake Louise Ski Resort. The area itself is smaller, with reduced accommodation options and shops closing up as early as 6pm. But if you want to step up your game, a top-rated place to stay would be the Fairmont Chateau Lake Louise.
Banff ski area
This UNESCO World Heritage Site is located on top of the Canadian Rockies, making it the perfect ski vacation. Choose between three main ski resorts in Banff including Banff Sunshine, Lake Louise and Mt. Norquay. Think of it like three little ski towns – all in one area! And the best part is that there are lots of things to do in each of the resorts. From making fresh tracks down the slopes to cross country skiing or skiing late at night, you'll quickly find out why everyone raves about enjoying some of the best skiing in Banff.
If you're visiting for a few days, most will recommend getting the SkiBig3 pass to have access to all 3 ski resorts in Banff. However, if you're looking to go leisurely skiing in Banff and enjoying everything else Banff has to offer, there are single day lift passes also available.
Mt. Norquay
The ski resort is the perfect spot for skiers from all levels! Featuring snow tubing, a terrain park, a downhill race course and night skiing until 9pm, there's something for everyone to enjoy. Mt. Norquay is also one of the only resorts in the area that offers rental equipment on-site for those who don't have their own.
Lake Louise
Lake Louise Ski Resort is one of a kind. Here you'll find some of the most picturesque views of the Canadian Rockies in the area! There are tons of terrain parks available for intermediate skiers and snowboarders to try out new moves and tricks on the slopes.
Banff Sunshine Village
Get ready to be blown away because Banff Sunshine has some amazing slopes and surreal views. This ski resort is made up of three mountain ranges, making it more open to enjoy the great Canadian outdoors! This ski resort is perfect for all levels, offering a wide diversity of runs and enclosed heated lifts, which is definitely a plus in cold weather.
Where to eat
Although you're here for the slopes, you won't want to miss out on the delicious places to eat in Banff. You'll find tons of places to grab food on each of the three ski resorts while you're on the go, that are perfect for larger group of friends. Some of the popular restaurants can get busy, especially on the weekends, so be sure to call and plan ahead. Some of the best spots to dine in include: The Bison Restaurant, The Juniper Bistro, Eddie Burge & Bar, The Bear Street Tavern and Sky Bistro.
Après-ski
After a long day on the slopes, enjoying après-ski is a must! Head over to Waldhaus Pub & Patio for a pint or grab a locally brewed beer at Banff Ave Brewing Co. If you're looking to enjoy some mountain views, Juniper Bistro is the spot. Located at the base of Mt. Norquay, this top-rated restaurant has indoor and outdoor burning fireplaces, which are perfect to keep warm and socialize with friends all at the same time. Another great spot is High Rollers – here there are over 40 beers on tap and 10-pin bowling – après-ski doesn't get better than that.
And there you have it – everything you need to know about having the ultimate experience skiing in Banff. Trust us, you won't be disappointed with the Canadian Rockies or Banff National Park. All you have to do is pack your ski equipment, some winter gear and your favourite flannel shirt for the ski adventure of a lifetime.
Ready to book? Check out Contiki's Ski Banff or The Powder Rush trip for the full experience of Banff.