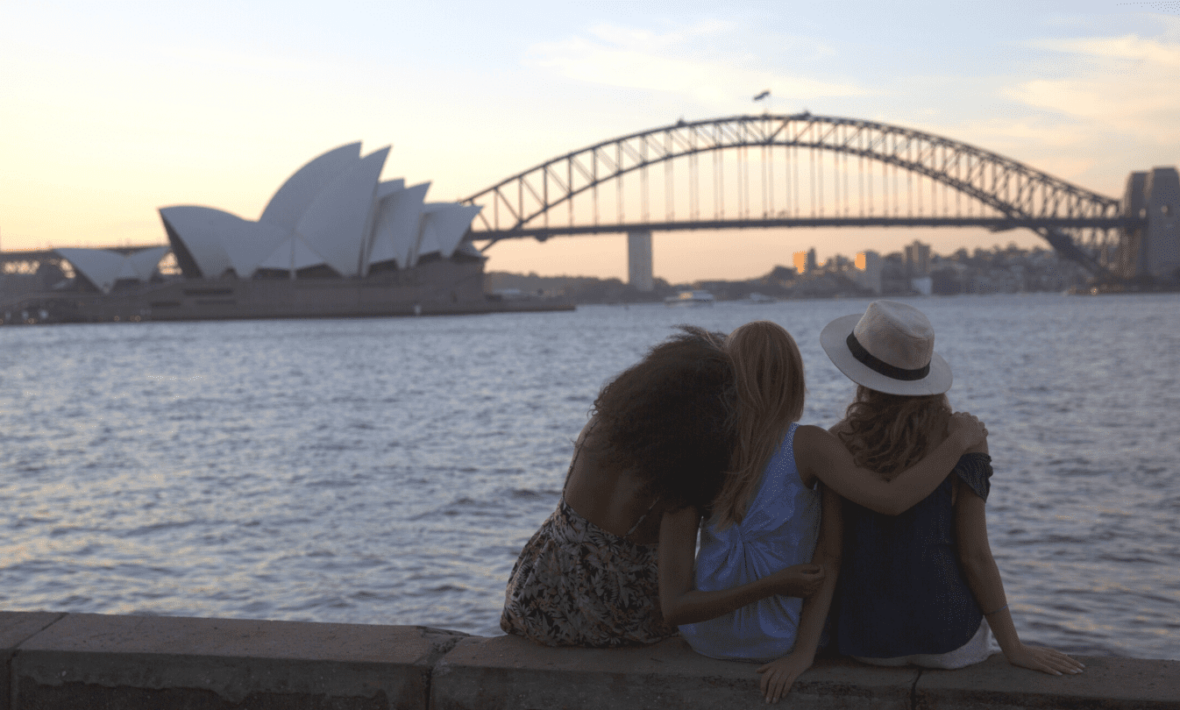 G'day, fearless globetrotters! Buckle up, because we're about to dive headfirst into the ultimate solo travel experience (in the land where kangaroos outnumber humans 🤯). So, grab your sunblock and your sense of adventure as we tell you about a journey that's bound to leave you grinning like a possum eating a pavlova – solo travel in Australia.
Is Australia good for solo travellers?
Honestly, it's hard to think of a country that could be better! Firstly, we Aussies are known for our warm, welcoming nature and our knack for striking up a conversation with strangers (aka soon-to-be friends). When choosing a destination for a solo trip, travellers are looking for places they can navigate safely and easily, with reliable accommodation and transportation, and budget-friendly options for when your bank account begins to look a little worse for wear. Well, we're happy to report that Australia ticks all these boxes!
While it's fun to be spontaneous, solo travel in Australia does require a bit of planning simply due to the country's huge AF size. There are large distances between major cities, and while some of these routes are a road-tripper's dream with many scenic stretches along the way, others – like between the East Coast and Western Australia or the Northern Territory – are better managed by a snappy domestic flight.
Infamous cities like Sydney, Melbourne, the Gold Coast and Darwin are a vibe for sure, but visiting the remote regions of Australia is also super worthwhile. These places can be a challenge to tackle on your own. Joining a group trip like Contiki's Outback Adventure or Kakadu Dreaming helps take care of the logistics so you can focus on the fun stuff.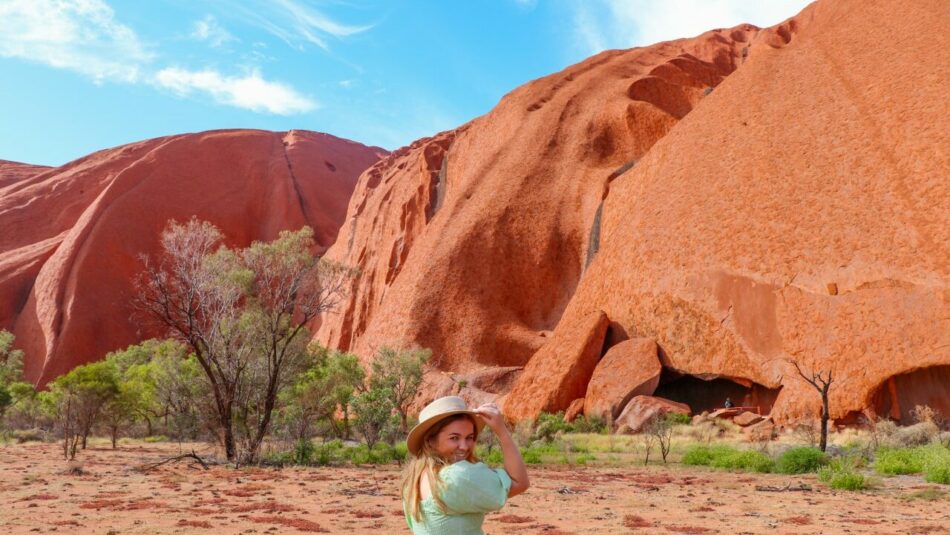 How do I make friends solo travelling Australia?
Whether you're chatting with a barista over a flat white or swapping stories with fellow travellers in a quirky outback pub, Australia is perfect for solo travellers looking to make some new mates.
Of course, staying at a hostel with other young travellers or joining local group activities like walking tours or surfing lessons are both great ways to meet people. If you love these (and honestly, even if you don't), you'll probably thrive on a group tour around Australia! If you join solo like around 70% of Contiki travellers do, you get the best of both worlds: your own solo travel adventure plus quality time to truly get to know new people from across the globe. Yep, that's right. Rather than a revolving door of bunk buddies, you will know your coach-mates' go-to karaoke song and breakfast buffet fav before you say "So, should we pop over to NZ together now?".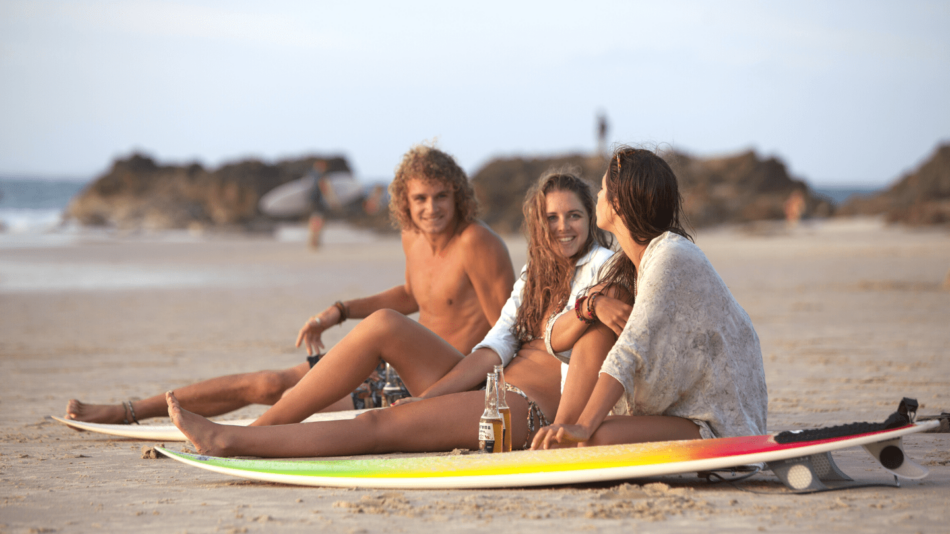 Top tips for solo travel in Australia
Be flexible
Australians have a pretty 'go with the flow' attitude, and while you're here you might like to join the bandwagon. While booking early is smart for your bucket list experiences, you'll find that the unexpected adventures are often the most memorable, so make room for these moments during your trip.
Be water smart
When you think of Australia, many people instantly picture our iconic beaches, but these can often experience wild and unpredictable conditions. As a solo traveller, it's important to keep your water safety in mind, particularly when at the beach alone. Always research the local lifeguard-patrolled beach closest to where you are staying and make sure to swim between the red and yellow flags.
Travel like a local
Embracing the local lifestyle in Australia's major cities usually involves learning to love the public transport system. Whether you're taking on Melbourne's trams or catching a ferry across Sydney Harbour, it's typically the most convenient and cost-effective mode of travel. If you're up for some physical activity, strolling or renting a bike are solid choices, allowing you to pause and go off the beaten path whenever the mood strikes.
One last tip…
If it's your first time solo travelling, or even your first time planning a solo trip, you'll want to keep this final tip in mind: be kind to yourself. The planning phase can be intense and confusing, and don't get us started on the spectrum of emotions you're likely to feel at any given point during your solo journey. But self-compassion is key, and we're sure you'll meet some people along the way that will make the wild ride worth it.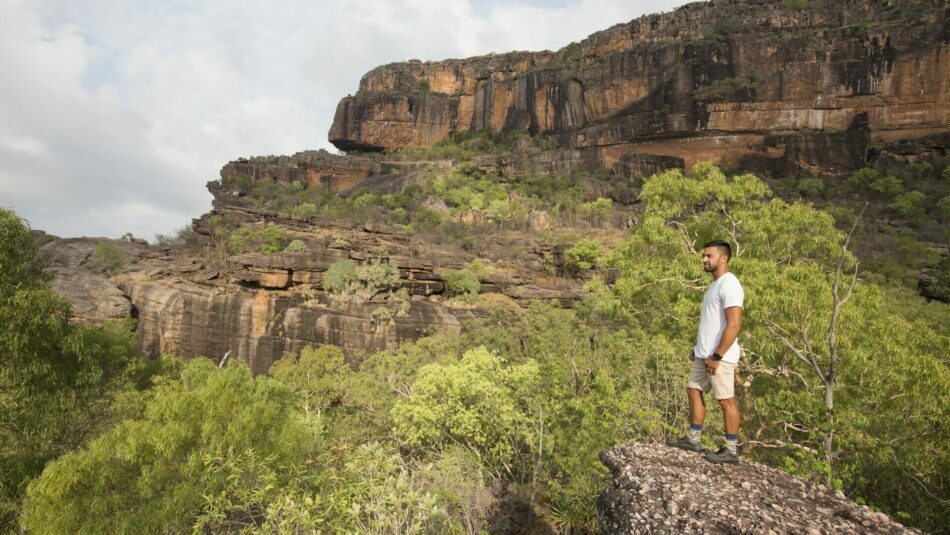 What Aussie destinations are best for solo travel in Australia?
Sydney
Sydney isn't shy about showing off its stunning landmarks. From the iconic Sydney Opera House to the striking Harbour Bridge and legendary Bondi Beach, there are endless things to see and do – plus, they're all so easy to visit thanks to a pretty decent public transport network.
Melbourne
Let's be real – it's not a true adventure until your taste buds have gone on a wild ride. Melbourne is the perfect city to feed your curiosity by trying some iconic Australian foods and experiencing our elite café culture. With its vibrant arts scene, hidden laneways, eclectic neighbourhoods, and free entry to multiple museums and galleries, you'll always find something new to discover in Melbourne.
Uluru
Uluru is the heart of Australia's Red Centre, and seeing the monolith up close and personal is undoubtedly one of the best things to do when you visit Australia. When visiting Uluru, please please please take the opportunity to learn and connect with its Indigenous people, the Anangu, who are the traditional landowners of Uluru-Kata Tjuta National Park. One way to do so is to join the Maruku Arts Dot Painting Workshop, lead by an Anangu artist, to learn about the ancient artform and create your own piece to take home with you.
From the epic sunrises and sunsets to the enchanting desert landscape, an outback adventure to Yulara will be a memory of Australia you will treasure for life.
The Whitsunday Islands
The postcard-perfect coastal town of Airlie Beach is a popular holiday destination in the heart of the Whitsundays. Here you can snorkel vibrant reefs, sail the azure waters, and live out your castaway dreams in this breathtaking slice of heaven. This has got to be the most breathtaking skydiving location in the world (just imagine that view!!), but if you want the view without the "phew", maybe a scenic flight is more your style. Either way, don't miss experiencing this part of Australia!
Byron Bay
Surf, sunsets, and soul-searching – Byron Bay is where nature's beauty meets bohemian vibes. Catch waves on world-renowned beaches with an included surf lesson on our Beaches and Reefs trip. While you're here, you'll also want to check out the Insta-famous lighthouse and pop into town for an Acai bowl (or smoothie? Coffee? Pick your poison) and fuel your body with wholesome energy to continue exploring all that Byron Bay has to offer.
Cairns
Personally, Cairns is my favourite city in Australia. When the sun goes down, Cairn's party scene lights up like a Christmas tree. The vibe on the street is energetic yet comfortable in an "oh, I could totally live here" kinda way. Cairns is also the gateway to the Great Barrier Reef (known for Nemo, plus unbeatable snorkelling and scuba diving) and the lush rainforests of Tropical North Queensland. The only downside? Swimming at the beaches is a big no-no, thanks to some cheeky crocs that call the area home. Instead, enjoy a splash around in the public lagoon located on the Esplanade. It's also a great place to meet fellow travellers!
Adelaide
Adelaide, the capital city of South Australia, is like that cool friend who knows all the best spots. With its intimate size and artsy vibe, it's easy to navigate and full of surprises. From the buzzing Central Market to the nearby wine regions, Adelaide's charm will have you feeling like an insider in no time. You may even like to plan a visit to Kangaroo Island, a truly gorgeous dot on the map, that is only a ferry ride away.
K'gari
Picture this: you, surrounded by mesmerizing landscapes that could make even Mother Nature jealous. K'gari (previously known as Fraser Island) is the world's largest sand island and an eco-adventure paradise. With shipwrecks to discover and dunes to conquer, it's a unique blend of wilderness and excitement. While you're there, why not tackle the Great Walk? (Or at least a section of it if you don't have the full 6-8 days up your sleeve.) A legendary track, this is one of the best hiking trails in Australia.
So, there you have it, you audacious adventurers! Australia is waiting for you with open arms and a cheeky grin. Whether you're soaking up the sun, riding the waves, or partying the night away, this journey is all about discovering yourself while having an absolute blast.