Bitten by the travel bug but looking to travel consciously? Sustainable travel destinations are the way forward. Tourism produces 5% of the world's carbon emissions, but the $1.5 trillion made by the travel industry is crucial for sustainable tourism.

Here are some of the top sustainable travel destinations that need to be on your radar this year:
1. Costa Rica
Leading the way as one of the world's most successful sustainable travel destinations, Costa Rica is home to the largest percentage of protected areas in the world. Known for its array of wildlife, plants, pristine beaches, rainforests, volcanoes and incredible natural beauty – the Central American country seems only fitting to be one of the biggest destinations for sustainable travel on the planet. Supporting 5% of the world's biodiversity with 20 natural parks, 8 biological reserves, 800 miles of beautiful coastline and a whooping 98.1% of its electricity coming from renewable sources in 2016 – the country sure does captivate sustainability lovers! The green hotspot offers a whole load of funky eco-conscious boutique hotels and is often praised for its conservation efforts. No wonder it's one of the happiest countries in the world!
Fun fact: Costa Rica is home to three UNESCO World Heritage sites: La Amistard Reserve and National Park, Area de Conservacion Guanacaste, and Cocos Island National Park.
ALSO READ: 8 THINGS YOU NEVER KNEW ABOUT COSTA RICAN COFFEE
2. Slovenia
Bordering the Italian Alps and renowned for its breath taking views, Slovenia is often overlooked as a tourist destination. But with a sustainability policy which relies on around 75% of its electricity from hydro-electric dams, it sure is a guilt free destination. On top of this its capital Ljubljana, was voted the European Green Capital for 2016. With city buses that run on natural gas, an urban electric train and 46% of the land within the city boundary, Ljubljana is a green globetrotters dream. Swimming with sea turtles, learning about the coffee, cocoa and banana productions (which put money directly back into the local economy), mountain hiking and visiting eco-friendly farms which offer visitors an insight into local life, are just a few sustainable travel musts Slovenia offers.
ALSO READ: SLOVENIA HAS BEEN NAMED THE GREENEST COUNTRY IN THE WORLD AND THIS IS WHY
3. The Galapagos Islands
Located over 600 miles off the coast of Ecuador, The Galapagas Islands are completely cut off from the rest of the world and are the home to many species found only on the islands. Accordingly, the Galapagos was declared the first ever Natural World Heritage site in 1978 and today, around 90% of the land is designated national park territory. This living, breathing and thriving museum unsurprisingly lures nature enthusiasts from across the globe, with the promise of rare species and absolute world class diving and snorkelling the dominant calling cards.
However, measures are in place to restrict the number of tourists who visit the islands, whilst recycling, energy and water conservation are paramount to ensure this incredible, bio-diverse region remains in pristine condition for many years to come.
GO THERE: CONTIKI TRIPS TO THE GALAPAGOS
4. Borneo
Known for its biodiversity, rare species, lush vibrant ecosystem and immaculate reefs, there's no doubt Borneo is a destination that needs preserving. The island ensures sustainability is at the top of its agenda with eco-goods and services used as a way to boost the local economy. Tourism companies likes Borneo Eco Tours, Sukau Rainforest Lodge and Borneo Ecotourism Solutions and Technologies (BEST) Society all adopt the 17 United Nations Sustainable Development Goals as guiding principles, whilst the country itself is as an absolute must for animal, nature, snorkelling, scuba diving, trekking and adventure lovers.
5. Bhutan
Haven't heard of this Buddhist kingdom on the Himalayas' eastern edge? There's a reason for that – this tiny land is one of the least visited countries in the world, developing its tourism slowly and deliberately, in an attempt to preserve natural resources and protect its culture. This hidden green get away implements a set tourism tax that goes back to the communities through the employment of local guides, or local families stays. Visitors pay a rather steep fee of US$250 per day. But don't sweat, this means accommodation, food, transport and an official guide are all provided, ensuring you explore the country in the greenest way possible.
And Bhutan's sustainability game doesn't stop there, with a law in place than ensures at least 60% of the country must remain forested for all future generations (it currently stands above 70%). And, get this, Bhutan actually absorbs more carbon than it emits!
6. Peru
A regular at the top of any travellers bucket list, Peru is about way more than just Machu Picchu. Dense in flora and fauna, Peru homes around 25,000 plant species, approximately 30% of which is found only in Peru. The Manu Biosphere Reserve, the Tambopata National Reserve, and the Pacaya-Samiria National Reserve are three of the largest protected rainforest areas in the world, all situated within the county's lush landscape. The government regulates entry of tour groups into these areas, however deforestation is still a battle the country is battling with..
7. Patagonia
Located at the southern end of South America and bordered by Argentina and Chile, Patagonia offers up some serious nature heavy weights in the forms of glaciers, lakes and snow-capped mountains galore, with Torres del Paine National Park potentially taking the crown. Azure lakes, trails that meander through forests, rivers and one giant blue glacier together form one of the most unspoilt places on earth, and a designated Unesco biosphere reserve to boot. Trekking or horseback are the two recommended ways to explore this natural ecosystem without doing damage to the land.
Explore this fascinating sustainable travel destination with Contiki's Patagonia Trail trip.
8. Botswana
For all you wildlife lovers, this is THE green go-to for you. Offering some of the most epic wildlife watching opportunities in Africa, (40% of Africa's entire elephant population) Botswana is home to a heap of lodges which provide conscious safari experiences, with 38% of Botswana's total land area devoted to national parks, reserves and wildlife management areas. As well as conserving and protecting the region, the reserves create jobs for locals, imperative to the economy and livelihoods. The country uses solar-powered boats and electrical vehicles for game viewing, with the aim to offer guests a totally emission-free, carbon-free game viewing experience. Eco lodges, solar lighting and recycled water are also on the up in this wildlife paradise. If you're an environmentally conscious traveller, this is one of the best destinations to visit.
9. New Zealand
You only need to watch a few minutes of Lord of the Rings to see how ridiculously beautiful this country is. Never ending landscapes, glaciers, fjords, volcanic plateaus, subtropical forests, whale and dolphin watching are just a few of the natural wonders found amongst the rolling hills of NZ, so yeah, this country is a must. And to make New Zealand that little bit more appealing, almost one-third of the land has been set aside in national parks, reserves and heritage sites in a bid to preserve the country's ecological heritage. The White Island, Mount Cook National Park, Poor Knights Islands Marine Reserve and Wai-O-Tapu Geothermal Reserve, are just a few of the must go-to sustainable travel destinations in New Zealand offering a unique insight into the history of this country's legendary landscapes. Luxury eco-lodges like The Resurgence near the Abel Tasman in the Nelson area, and eco-tours like Driftwood in Marlborough, also make traveling without negatively impacting the environment more attainable.
GO THERE: CONTIKI TRIPS TO NEW ZEALAND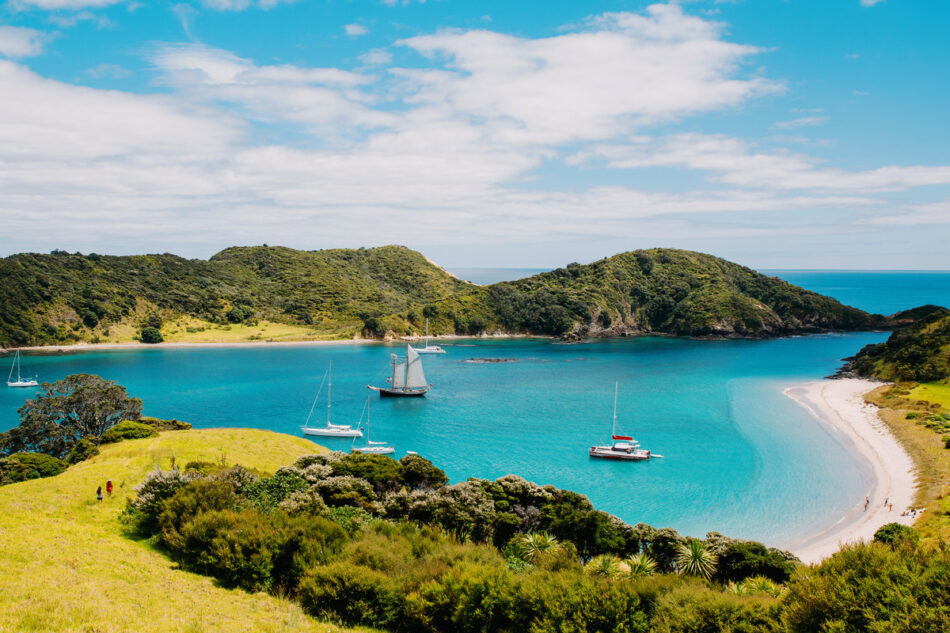 10. Vietnam
Finally, one of the top sustainable travel destinations you need to visit this year is Vietnam. Thanks to its sunny climates, rich culture, exotic foods and very affordable prices, is it any surprise Vietnam is such a hot spot to visit right now? And this county isn't just a pretty face; it's got protected national parks, incredible coral reefs and one of the largest lagoons in the world. Best Sapa Biking Tour, Best Ha Giant Trekking Tour, Cao Son Eco-adventure, and Babe National Park Tour and Mekong Biking tour are some of the incredible activities Vietnam has on offer.
GO THERE: CONTIKI TRIPS TO VIETNAM