11 sustainable travel tips to keep in mind for the future
Share
At Contiki, we pledge to MAKE TRAVEL MATTER®, which is basically our fancy way of saying we're committed to protect and support the people we meet, the wildlife we interact with and the beautiful planet we share. There's a reason that as of 2022, all Contiki trips are carbon neutral. Sustainable travel is the future, and we're dedicated to making it happen.
But what exactly is sustainable travel? Is it all about plastic? Are we really expected to avoid flying? What is carbon off-setting and what does carbon neutral actually mean? You've come to the right place, eco-traveller. From savvy transport decisions to navigating carbon-offsetting; prioritising animal welfare to supporting local communities, we've outlined the small steps we can all take to help us travel more sustainably in 2022.
1. Be more mindful of your destination
We all look for different things when we travel – culture, history, beaches, wildlife – but eco-conscious travellers are increasingly on the hunt for sustainability creds. So, the first step in your sustainable travel journey is to actually choose where you're going to journey to. Here are a few of the most sustainable destinations in the world. They're not just worth a visit: they also have a lot to teach us when it comes to living a more sustainable lifestyle. 
Ljubljana, Slovenia
This leafy, liveable and very loveable city is green in more ways than one. Walking along the banks of the sparkling Ljubljana river is one of Europe's greatest pleasures, and as you watch the flow of cyclists and pedestrians around you it's not hard to see why this is one of the continent's most sustainable destinations. 
The city makes excellent use of its show stopping river; using it to produce clean drinking water without any technological processes. There's never any need to buy single-use plastic bottles when the city's abundant drinking fountains provide free refreshment all year round.  Ljubljana is also the first capital in the EU to make a pledge to become fully zero-waste. And has preserved its public green areas like no other. 
Image source:Kenzie De Schepper / Unsplash
The Azores, Portugal
This gorgeous Atlantic archipelago set in the mid-Atlantic is know for its dramatic coastlines and sweeping green pastures, steaming geysers and volcanic lakes (which they cook meals inside!). But this place isn't just a looker. It's soon to be home to the world's first '100% renewable' energy grid. Utilising its unique landscapes and weather conditions, the island of Graciosas harnesses wind, hydro and solar power to provide 100% of its electricity. Authorities are now looking to use similar systems on the neighbouring islands. It's an exciting glimpse into the future of renewable energy.
Sweden
Sweden is officially the most sustainable country in the world. A ranking it earned for its use of renewable energy as well as social practices such as investment in education and infrastructure. And that education seems to be paying off, as it's not just the state that likes to keep green. In the EU, Sweden ranks first for recycling, the consumption of organic goods and using renewable energy. 
For an idea of just how ahead of the curve Sweden is, its city of Växjö was the first city in the world to pledge to be fossil-fuel free. No, not in 2010, in 1996. Using a sophisticated district heating system, energy-efficient architecture made from timber and efficient public transport that runs on renewables, the city is undoubtedly the greenest in the world. 
San Francisco, USA
The USA isn't usually associated with eco-initiatives, but looking at San Fran, maybe that's a bit unfair. Single-use plastics were banned in the Golden Gate City all the way back in 2007, and its composting and food waste programmes are world-leading. The city's next goals are to reduce reliance on gas-guzzling cars through its public transport network and become totally waste-free.
Chile
Chile makes great use of solar and geothermal energy. The country is keenly aware of the damage that mining can do to its environments, often rejecting lucrative projects in favour of protecting its wildlife. The government is also actively expanding its National Parks, particularly in Patagonia, shielding all of that unique beauty and brilliant biodiversity. 
Image source:Cosmic Timetraveler/ Unsplash
2. Think about how you're going to get there
So, you've picked your dream, green destination. Now you need to figure out how you're going to get there – and how you're going to get from A-B once you've arrived. Transport is one of the most important considerations when it comes to sustainable travel. If you can, spend a little time exploring alternative ways of getting there or researching more eco-friendly local transport once you've reached your destination. Simple.
3. Flying isn't ideal, but there are ways to make it more sustainable
Let's not mess around. When it comes to travel, most of us fly, and it's by far the most fuel-intensive form of travel. If you can travel internationally by train or boat, then you should. But, alas, we can't all travel around on a fully sustainable racing yacht, so if you're left with little option, there's still plenty you can do to make your trip a more sustainable one. 
Firstly, fly as directly as possible. Planes use the most fuel during take off and landing, so by choosing a direct flight rather than making one or more stops, you are ensuring that your flight is far more energy-efficient. We can also help you offset the carbon footprint of your flight. Use our calculator powered by South Pole, who'll provide you with a variety of verifiable carbon offset projects you can support.
Picking your airline is essential, too. Incredibly, there can be up to 26% difference in efficiency between the most and least sustainable airlines. The latest aircraft models are already miles ahead of their predecessors in fuel efficiency, with each new generation of aircraft improving fuel efficiency by roughly 15%. You can compare the least and most efficient airlines at the Atmosfair Airline Index.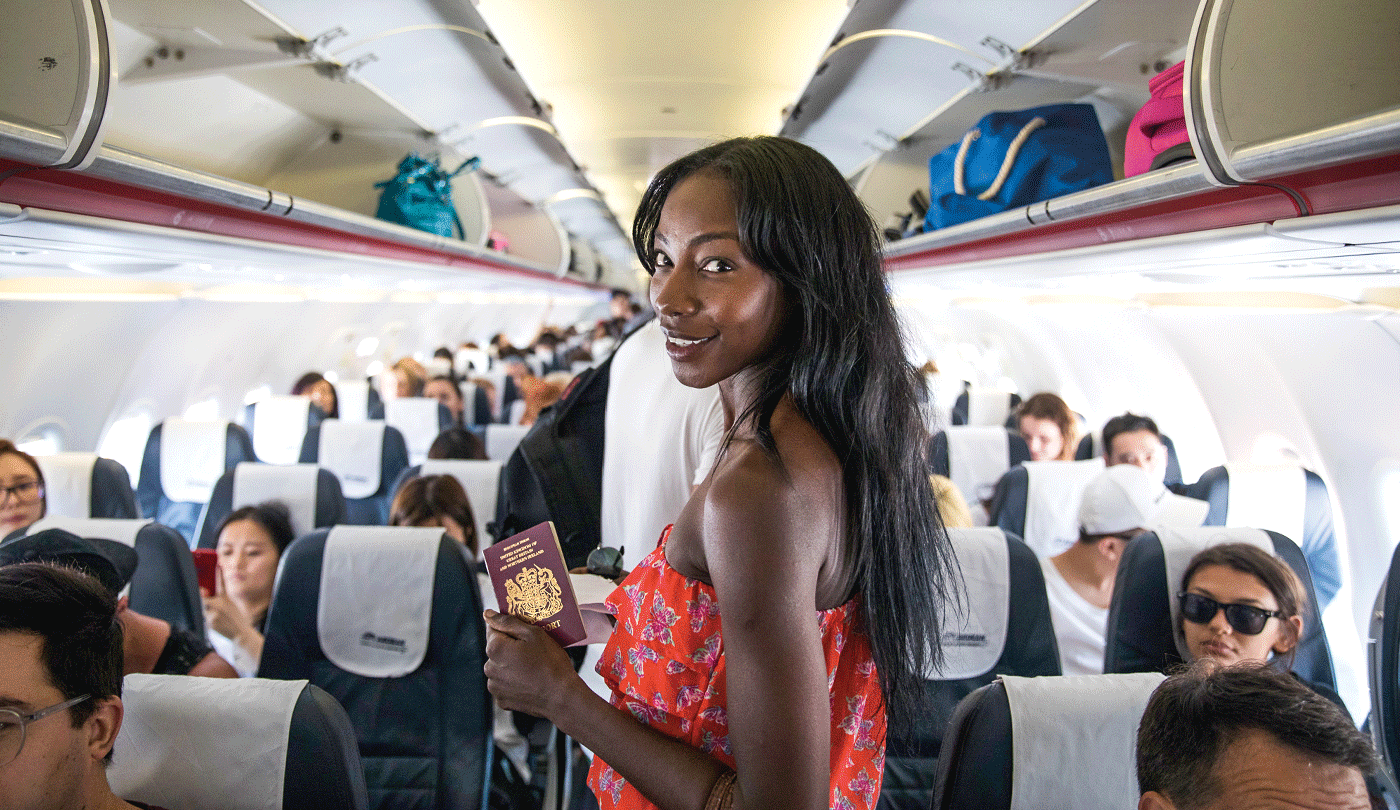 Image source:Contiki
4. What does carbon neutral and carbon offsetting mean?
Carbon neutral is a state of balance – once you've reduced carbon emissions as far as possible, you balance the unavoidable emissions that are emitted with the same amount of emissions reduced elsewhere. The result is zero. Neutral.  At Contiki, we do this by carbon offsetting and purchasing verified carbon credits from our partner, South Pole.
Carbon offsetting is the thing that allows individuals and companies to invest in environmental projects around the world to balance out their own carbon footprint (ie. the amount of carbon dioxide that various activities release into the air). You can read more about Contiki's carbon offset projects here – we won't support any project that's not been verified by a reputable international standard,
Now, carbon offsets only prevent or reduce emissions from entering the atmosphere. This is important and of course comes with great co-benefits for local communities (i.e access to energy, local employment, critical support for biodiversity etc.) But carbon removal is considered by many to be the future. You can read more here about the carbon removal solutions we're investing in with our partner, the TreadRight Foundation.
It's important we all do what we can to progress towards a better future for our planet and the means in which we travel. Going carbon neutral is our commitment to this.
5. Trains are a good shout if you're looking for a greener way to get from A-B
Aside from walking or biking, taking the train is the most environmentally friendly way of travelling. In fact, compared to cars and airplanes, trains emit between 66-75% less carbon. In terms of energy consumption, use of space, and noise levels, trains are far more sustainable too. Rail travel between cities or on long distances produces the least amount of greenhouse gasses into the air out of all forms of long distance transportation. In fact, trains are more efficient than a Prius. We talk more about the transport options you can use to reduce your carbon footprint here.
Image source:Contiki
6. And have we told you about our coaches?
Buses are slightly more fuel-intensive than trains – transporting lots of people with small amounts of fuel. And, well, we don't want to brag, but our sleek fleet of Contiki coaches are one of the greenest ways to travel across Europe. They're all equipped with Euro 6 engines, so sometimes the air leaving the engine is cleaner than the air that goes in.
Image source:Contiki
7. If you can walk or cycle, walk or cycle!
Obviously there's nothing more sustainable than using our own two legs. If you can walk or cycle, do it! If you can't, local forms of transport like rickshaws and tuk-tuks are a good way to support the locals, even if they're not great at keeping your carbon footprint down.
Image source:Contiki
8. Pack a little more mindfully
If we all thought more about what we took with us on vacation, the world genuinely would be a better place. Try to avoid single-use plastics and do a little research on more sustainable products that you can take instead.
Small decisions can really matter, such as a reusable water bottle (check out the Contiki one which has a filter so you can drink safe water across the world), shampoo bars instead of plastic bottles, tote bags instead of plastic bags, and bamboo cutlery instead of that horrible plastic stuff.
When it comes to clothing, sometimes it's worth investing in quality. The culture of fast fashion has a horrific impact on our environment, not to mention the terrible employment conditions necessitated with the mass production of such cheap clothing. Check out Contiki's partnership with ethical fashion brand, TeeMill.
9. Support local communities
To travel sustainably, respecting local cultures and supporting the traditional heritage of local communities and artisans that you visit is a must. For example, when we visit Jordan, we head to the Al Amir Women's Cooperative, enjoy a home cooked meal and chat with the women, learning about their lives and work, while supporting their incredible projects.
When we visit Peru, we support the local artisans and weavers who are keeping centuries-old traditions alive. Sustainable travel is all about providing greater economic empowerment to small communities. Another great way to do this is through volunteering, helping projects such as building schools or wells in impoverished communities. One of our partners, Me To We, is an amazing gateway to getting involved in some inspirational projects across the world. Read more about our MAKE TRAVEL MATTER® experiences that support local communities. 
It can also be as simple as swerving the big chains and supermarkets and try to shop locally more while away.
Image source:Contiki
10. Make sure your wildlife experiences are ALWAYS ethical ones
Travelling sustainably also means supporting and educating yourself on ethical animal experiences and helping to protect the world's most at risk wildlife from extinction. As well  as protecting marine wildlife by cutting out single-use plastics, (and helping clear up beaches and waterways of harmful plastic pollution) it's also about ensuring that your animal experiences are always ethical.
It's all too easy to get sucked into a 'sanctuary', which is in fact a cheap means of exploiting animals for monetary gain, particularly in the case of elephants and tigers in Thailand and India. That's why we ensure our wildlife experiences are always ethical, as we visit rehabilitation centres and educate our travellers and what can be done to support and protect endangered species. 
11. Keep the conversation going
One of the most important takeaways here, is that sustainable travel doesn't end when your trip ends. You learn so much about the world when you travel. Sustainable travel is also about educating others, calling out irresponsible behaviour when you see it and encouraging people to make more thoughtful choices when it comes to booking an adventure. As Shannon Guihan says: "A sustainable tourism industry isn't just a nice idea. It's imperative if we want to keep being travellers."
Ultimately, sustainable travel takes thought, it takes research: it's multifaceted. It's also essential for the future of our planet. 
Image source:@seefromthesky / Unsplash