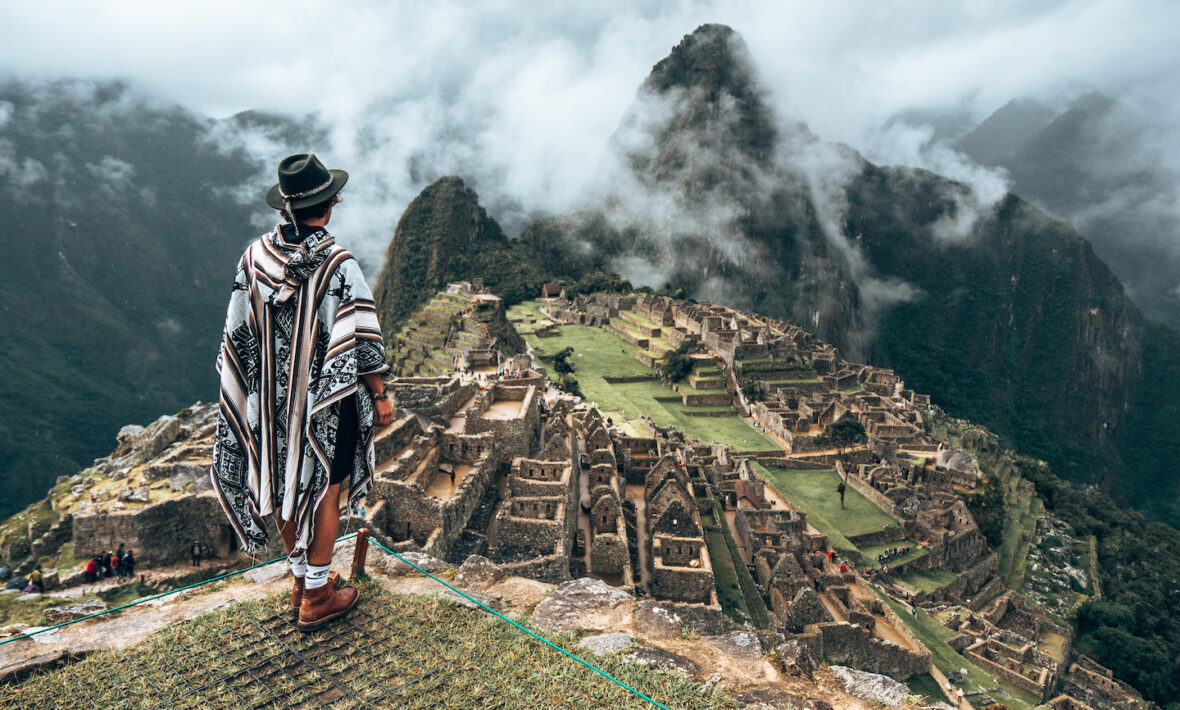 Whether you're catching the train or hiking the Inca Trail to reach the breathtaking heights of Machu Picchu, there's no doubt this Peruvian treasure is on your travel bucket list. The UNESCO World Heritage Site is one of the most famous tourist hot spots in the world, with millions of visitors each year. And if you're thinking about hiking the Inca Trail, or paying a visit to Machu Picchu, we've got you covered with our ultimate guide.
What is the historical and cultural significance of Machu Picchu?
Machu Picchu translates to 'Old Mountain' in the Quechua language. Pretty fitting for the mystic peaks of the Incan site, don't you think? Built in the 15th century, Machu Picchu's sole purpose is still unclear. It may have been a central place of worship, a place for astronomical observation or a place for the royal Incan family to rest during their travels. Based on the size of the citadel of Machu Picchu, historians believe that around 200 – 300 people of a high social rank lived there.
It's considered to be one of the most important heritage sites in the world and sits on top of a mountain 2,430 meters high in the tropical forest. So the site also offers jaw-dropping scenery, a diverse range of flora and fauna and plenty of other plazas, temples and tombs to explore.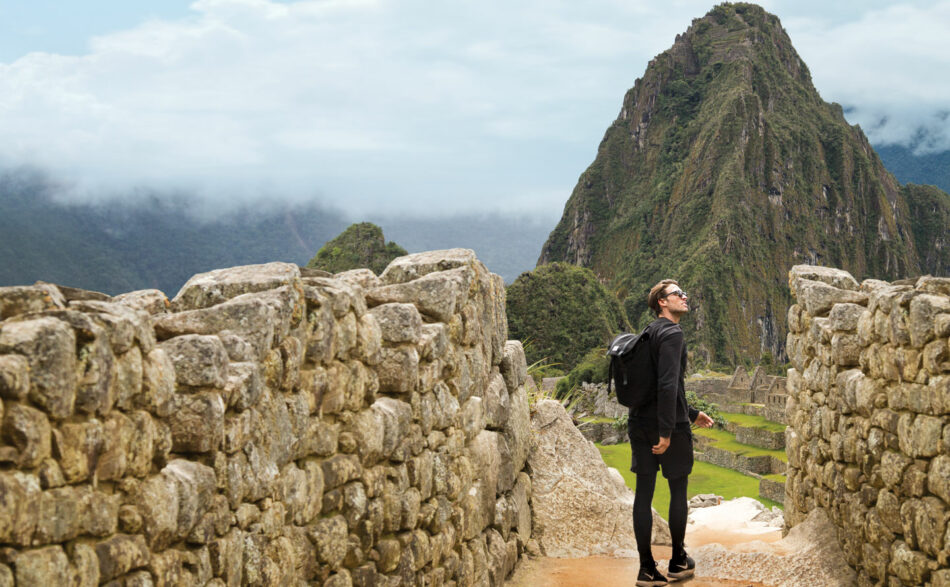 Image source:Contiki
What is the Inca Trail?
The Camino de Inca, or the Inca Trail, is in the Sacred Valley to Machu Picchu in the Andes Mountain Range in Peru. It's the most popular trail for hikers taking the scenic route to Machu Picchu, though other options include the Salcantay Route and Lares Route.
Hiking the classic Inca Trail to Machu Picchu takes most people about four days and requires a guide and a permit. Only 500 permits are handed out each day, with about 300 being given to porters and guides. Permits need to be sorted out six months before your hike, meaning spots fill up fast!
If four days of hiking doesn't sound like your jam, you can try the one-day trek or even take a train.
When is the best time to visit Machu Picchu?
The Inca Trail is open for most of the year, closing in February for maintenance and repairs. The trail may close in Feb, but Machu Picchu is open year-round!
The best time to travel to Machu Picchu is during the dry season, from May to October. Though the high season is the most popular due to the warmer and drier conditions, the shoulder seasons are popular with those looking to avoid the crowds. October to December and March to April are wetter and a little colder, but they make up for it by being much quieter. If you don't mind getting caught in the rain, it's worth considering these months for your trek!
View this post on Instagram
How to get to Machu Picchu from Cusco…
Most travellers heading to Machu Picchu will make their way there from the Peruvian city of Cusco. The easiest way to get from Cusco to Machu Picchu is to take the train to Aguas Calientes, the gateway to Machu Picchu and the Inca Trail.
Leave yourself plenty of time to get to the train station, which is actually located in Poroy about 30 – 60 minutes outside of Cusco. Hop on a train with Inca Rail, Peru Rail, or the Belmond Hiram Bingham train company. Be sure to book your ticket ASAP, because they can book out weeks and months in advance.
How difficult is the Inca Trail hike?
The Inca Trail hike is no easy feat, with hikers averaging about 12km or 7.5 miles a day through the diverse landscape.
Even if you're a first-time hiker, you should be able to manage the trail just fine. Just make sure you prepare for the hike well in advance, and don't forget to factor in the high altitude and rough terrain!
How to prepare for hiking Machu Picchu…
Fitness levels aside, all training for Machu Picchu should include lots of cardio! This will help you process oxygen better at higher altitude and, of course, increase your fitness levels before taking on the hike.
You should aim for light to moderate workouts, with a focus on duration. Try walking, running, swimming, cycling or using a cross-trainer or stair-climber machine in the gym. Remember, you'll be hiking for at least five hours a day! You need to build stamina and strength. Focus on building strength in your legs and upper body with exercises like lunges, squats and shoulder presses.
Along with generally working on your fitness, it's a good idea to try out a few smaller hikes or walking trails in your area if you can. This will get you used to the terrain and it's also a great way to break in your new hiking boots.
If you're an avid hiker with a high fitness level, you still need to make sure you're prepared for this trek with adequate training at least two months before. Not feeling the fittest you've ever felt, but still keen to hike to this wondrous site? No worries, you should aim to kick off your new training three to six months before your trek to give you plenty of time.
What to pack for hiking Machu Picchu…
1. Comfortable shoes
Whether you're taking the four-day or one-day trek, you'll need hiking boots or hiking shoes. You'll also need to make sure they are well worn in before you set off on your adventure. Wearing new hiking shoes on a trek can lead to delightful side effects such as blisters or lost toenails. Think we can all agree that is NOT ideal. If you're camping along the trek, it's a good idea to bring a second pair of shoes like sandals to wear. You'll also need some wool socks for warmth and keeping your feet as dry as possible – And you'll need lots of them! No one wants to wear the same stinky, sweaty socks over the course of four days.
2. Waterproofs
A good waterproof jacket or super chic rain poncho is also essential. Regardless of the season, you should always be prepared to hike in the rain as the weather changes at the drop of a hat – you are up among the clouds, after all. Then, you need layers!
3. Layers
Comfortable tops and trousers, a good jumper, thermal layers for those colder nights and plenty of underwear is essential. Don't forget to bring a hat and sunscreen for the daytime, and a beanie and gloves for when it's colder.
4. Any medication you need
Along with your regular toiletries like painkillers, bandages and hand sanitiser, we recommend talking to your doctor about altitude sickness tablets before making your way to Peru. Depending on where you live and your experience with hiking in a high altitude, you may find yourself more affected than others on your trek.
Though we've just rattled off a lengthy list of things to pack, the important thing to remember is to pack light. Figure out what is absolutely essential and what is not, you're the one who has to carry your pack throughout the hike! See our full packing list here for more details.
Tips for visiting Machu Picchu…
We've already touched on altitude sickness, though it bears repeating. There's no way to really 'practice' being in a high altitude, but there are a number of things you can do to try and minimise the affects of this affliction once you get there:
1. Keep well-hydrated. Bring a reusable water bottle along for the trip – one with an in-built filter – and aim to drink around 4 – 5 litres a day.
2. Be sure to take things slow. Yes, you've been training and feel ready to push yourself on the hike! But it's important to keep your breathing steady and try not to over-exert yourself. Finally, medications like Diamox and Dexamethasone can also help you out, but you should chat to a doctor about what will be right for you.
3. Be sure to bring cash with you. This is so you can make any purchases along the trail or at the site. Plus, you'll need to have some money to tip your Trip Manager and porters at the end of the trip!
4. Pack snacks! One of the most common symptoms of altitude sickness is a loss of appetite. If you pack some snacks like chocolate or muesli bars in your bag, you'll have something to eat if you regain your appetite outside of regular meal times. You'll also be more likely to mindlessly eat a yummy treat even if you're not 'feeling' hungry, therefore keeping yourself sustained for the hike ahead.
5. Finally, bring your passport along for the ride, because you can get it stamped at the gates to Machu Picchu! How cool is that?
View this post on Instagram