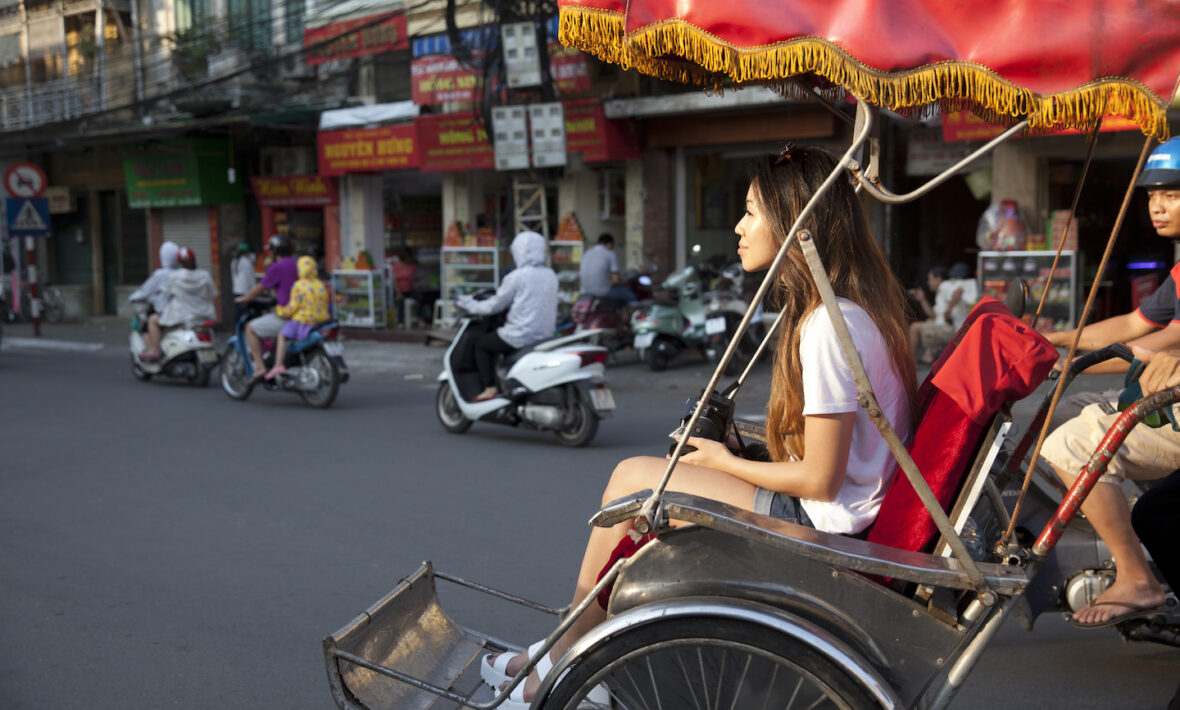 Vietnam is a sensory delight, with an experience, sight, or smell to sweep you off your feet at every turn. From Imperial City, rice fields, Ha Long Bay, and the ancient city of Hoi, Vietnam is the coolest and shiniest gem of Southeast Asia. There's just so much to do! To help you narrow it down, here are 15 of the best things to do in Vietnam travelling as a Gen Z'er.
As far as Vietnam trips go, the possibilities are endless. You want views? We've got 'em. You want amazing food? Check! You want rich culture tours? Way ahead of ya. Contiki's the only way to travel the effortless and trendy way… Get yourself booked on and read on for a glimpse into your (very) near future!
1. Get some clothing custom-made at Yaly in Hoi An
Step inside the shop, where everyone who walks in is greeted by their own personal tailor, and get ready to begin! The tailors will make any piece of clothing you request within 24 hours of the order being made.
When I visited, I ended up buying a tailor-made blazer, that I still wear to this day, which cost me a fraction of the price I'd have paid at home for a lesser quality blazer. Be careful though, it's easy to blow your budget in there…
2. Venture outside of the big cities
Yeah, big cities are cool, and you should definitely see them too; but Gen Z are trail blazers, we make the way, right? Day trips outside of Saigon and Hanoi are a must. Check out a slower, more chilled way of life in rural Vietnam.
Head down to the Mekong Delta to check out the floating markets and stilt houses while cruising along the Mekong on a boat. Row down narrow rivers on a sampan and ride bikes around the local villages to see that money isn't a prerequisite for happiness!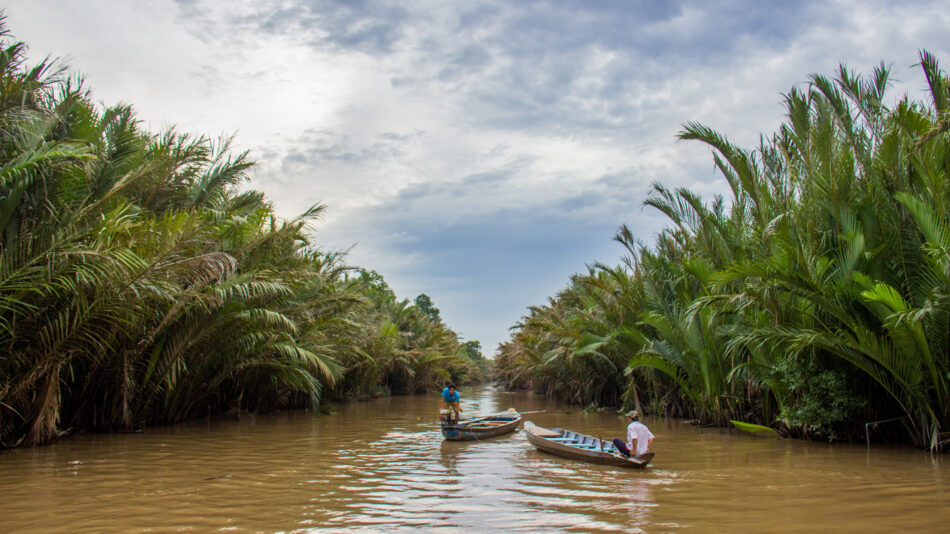 Image source:Contiki
3. Learn about the country's history
One of the best things to do in Vietnam is spend some time taking it all in at the War Remnants Museum in Saigon. The stories and photos on display are quite graphic in detail, but it is the reality of what the country suffered on a large-scale during the Vietnam War. To see how well the country has recovered and moved on from such a horrific period in their history is a testament to the kind of people they are. It will blow you away, and just add to your admiration of the Vietnamese people.
4. Climb to the top of the Ha Long Bay Lookout
It's a very steep and physically challenging 400-step journey to the lookout on Ti Top Island in Ha Long Bay, but wow – the view is worth every step of the way up. It's not exactly an easy descent either, so take your time! Visiting Vietnam is all about soaking up the picture-perfect views and taking mental photographs that'll last you for years to come.
Then, your feet are firmly back on the ground, head down to the white sandy beaches an evening of sipping cocktails under the sunset, watching the bay glow! Perfect photo opportunity as well for future insta dumps.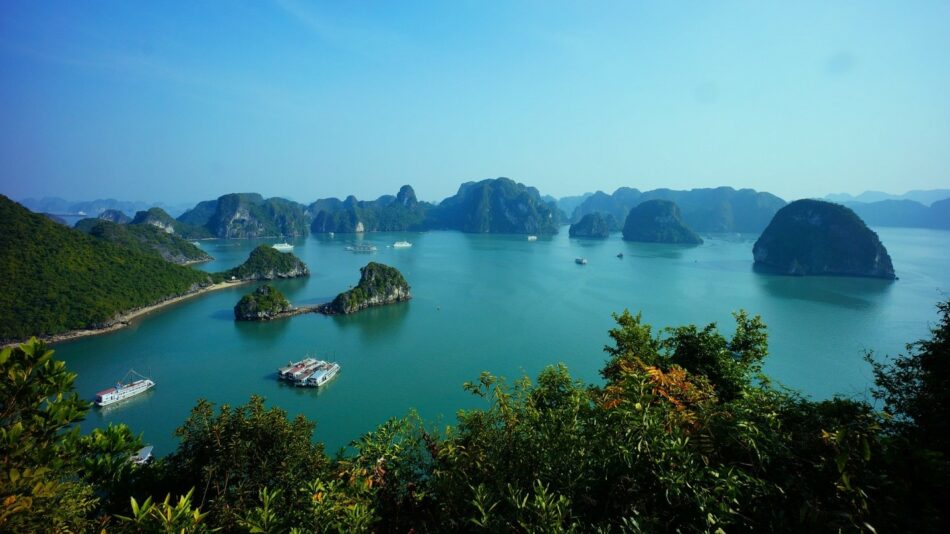 Image source:Contiki
5. Witness the might of Ban Gioc Waterfall
Picture a waterfall with emerald coloured waters, surrounded by lush forestry, a sunrise just above it. Now, picture the exact same waterfall again, and merge them together. That's right, Ban Gioc waterfall is a colliding waterfall along the Quay Son River and we guarantee it's one of the most mesmerising things you'll ever see.
One of the best things to do in Vietnam, and one you cannot miss, is to travel to Cao Bang for the day to see it. This location is one of Vietnam's many most beautiful natural-sites and any traveller worth their salt would make the journey there in a heartbeat!
6. Play some beach soccer
Beach this, beach that, will the beaches every stop? No, and why would you want them to!
This is another one of those magical setting experiences. Once you step off the boat, which drops you off at the island with the Ha Long Bay lookout, you'll be greeted with an idyllic white sandy beach with soccer goals and beach volleyball nets, just waiting for people to take part in a social game.
For the best experience, time your visit to Ti Top Island so that after descending from the lookout, the sun's also just starting to clock off for the day. Did someone say pure bliss?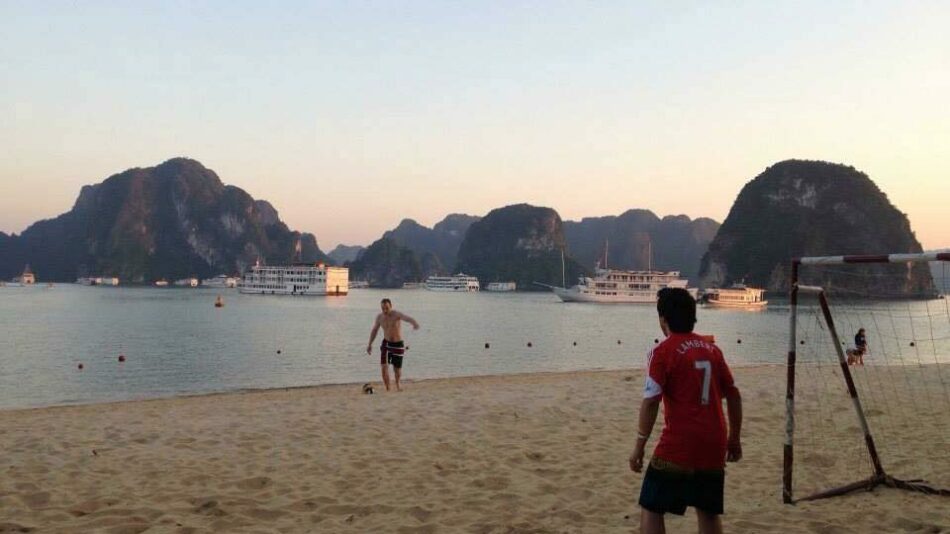 Image source:Contiki
7. Grab a drink on the rooftop of the Pan Pacific (formerly Sofitel Plaza) in Hanoi
For one of the best views of the Hanoi skyline, get the elevator up to the Summit Lounge at the top of the Pan Pacific Hanoi. It's got a great vibe, a great view, and for a place that's a bit fancy, the drinks are still only a fraction of the price you'd be paying through the nose for at home.
You'll feel like you're at the top of the world, sharing that feeling with your new Contiki best friends, and what more can a social traveller ask for?
8. Attempt to cross the road
As terrifying as it is, it's an almost unavoidable experience in Saigon and Hanoi, if you actually want to get anywhere! I'd read up a little about this before I went, but until I arrived, I actually didn't know that in Vietnam, red lights and pedestrian crossings mean very little to the motorists. Until you get the hang of it, it's recommended to follow closely behind some locals who do this on a daily basis!
Don't worry too much though, Contiki's handy dandy Trip Managers are experts in crazy and they'll show you the way. You can trust them with your life!
RELATED: HOW DO I… CROSS THE ROAD IN HANOI?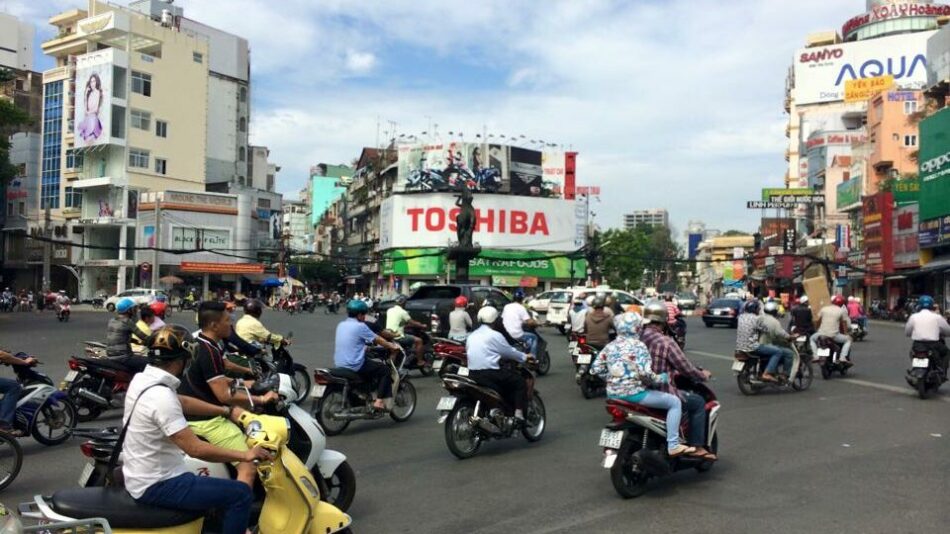 Image source:Contiki
9. Hike through Cat Ba Island
If you love the look of Ha Long Bay but hate being trapped in a hoard of tourists, then hiking in Cat Ba Island is one of the best things to do in Vietnam. Trek through the rainforest here up an intermediate friendly piste and voyage through greenery to the Lookout Tower where you'll be able to gaze upon your efforts. Emerald green mountains stretch until they blur further than the eye can see.
And then, for a treat! Head to nearby Lan Ha Bay, our Ha Long Bay dupe, for a dip in the sea to rinse off the effort of the day and relax. Ahhhhhhhh…
10. Explore caves in Phong Nha National Park
Tired of seeing things from above? Want to get a different perspective of the world? After all, that's what travel is all about. Well, why don't you take a trip down under (not that one) and explore the mossy depths of Hang Son Doong, a cave located in Phong Nha National Park, Vietnam's thickets knot of jungle.
The cave is so deep if could fit a skyscraper in it and walking through it's heart is sure to give you a fresh outlook on life.
Image source:Contiki
11. Discover history in the Cu Chi Tunnels
Let's continue the tunnel fun in Cu Chi Tunnels, Ho Chi Minh city's immense network of underground tunnels. Letf over by the war, the atmosphere here is a lot more sober. Along with our previous suggestion of visiting the War Museum in Saigon, this is an entry for those fascinated with the past.
Once you're done, dust yourself off and take your new found knowledge on a tour of Ho Chi Minh. You'll come out of this excursion a little dirty, but much wiser.
12. Find the best bowl of Pho
This one's kind of a no-brainer, how can you travel all the way to Vietnam and not enjoy at the very least one bowl of pho? A local noodle soup, it's served on street-corners, in restaurants, and every family home.
If you're not much a soup person you can always go for a Banh Mi instead! A simple sandwich of meat and colourful veg that will make any sub lover feel right at home. But really, not going out of your way to try all the foods in Vietnam should be illegal.
RELATED: 5 HANOI FOODIE SPOTS THAT WILL TANTALISE YOUR TASTEBUDS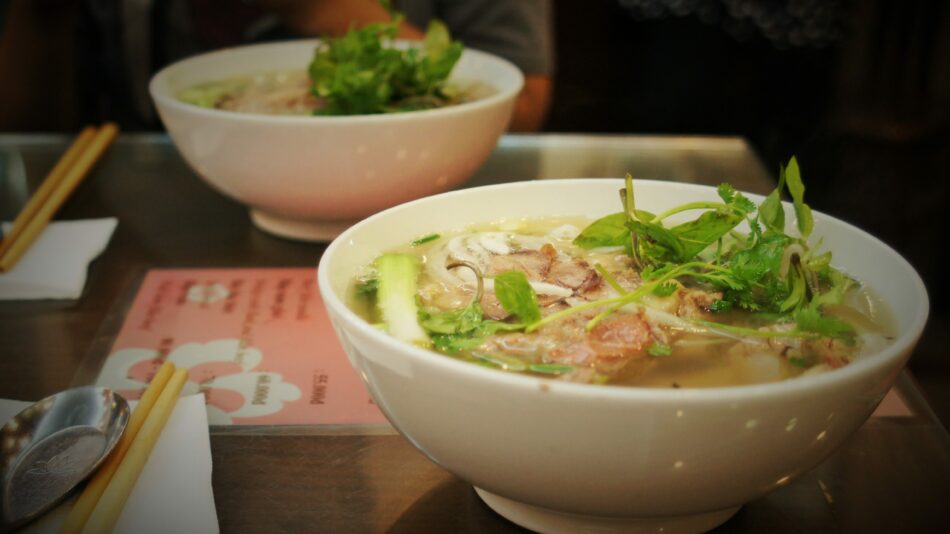 Image source:Natchee Kim / Unsplash
13. Visit Notre Dame (Yes!)
Confused? Don't be. Ho Chi Minh city is home to a smaller Notre Dame Cathedral, reminiscent of the larger one in Paris. And this makes sense seeing as it was constructed in Saigon by French colonialists.
This edition of Notre Dame is a beautiful red brick building with similar twin spires to it's Parisian sister and a large floral-shaped window on the front. Surrounded by tropical greenery, it's got a different flair. But just as worth it!
14. Find your true love in Sapa's Market
Sapa, located in Vietnam's northern mountain region, is a market town with gorgeous views of the Hoang Lien mountains. Every Saturday it hosts a market which people from all over the mountains attend, and the main attraction is the Love Market. This stems from an old tradition in which men and women would sing love songs to each other. How sweet!
This tradition has been kept secret for a while now because of nosy tourists showing a lack of respect, but if your intentions are pure, you may be able to attend and witness romance in action.
15. Float past the Tam Coc rice fields
Just when you thought this trip couldn't get any more tranquil and utopic, we present you with this: a lazy cruise down the Ngo Dong River which meanders between fuzzy fields of pale green rice. As of 2014 this place has been dubbed a UNESCO World Heritage Site and it's not hard to see why. Small rocky mountains, heaved up from the land, dot the landscape to create a truly marvellous painting. It feels like Vietnam was crafted by angels themselves.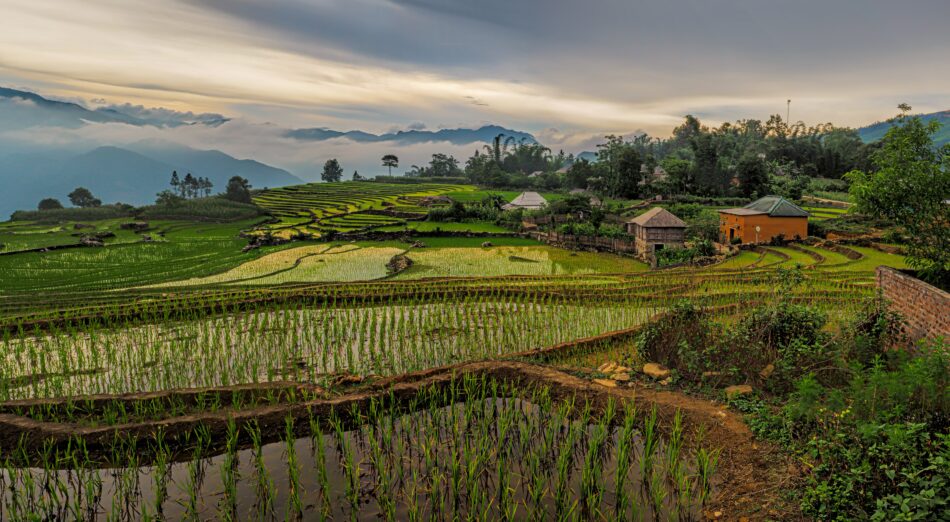 Image source:Peter Hammer / Unsplash