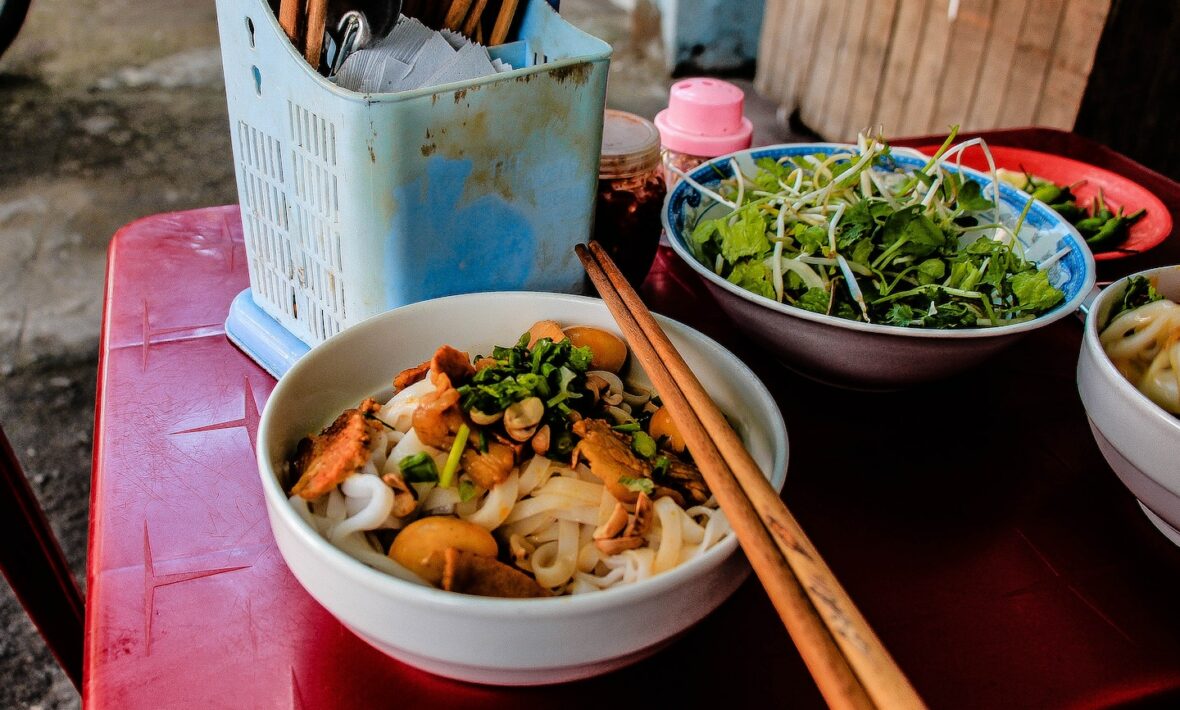 From steaming bowls of pho (pronounced 'fuh by the way) to zingy banh mi baguettes – the flavours of Vietnam are unforgettable. Most dishes have a delicious balance of salty, sweet, hot and sour flavours. Popular ingredients include 'nuoc mam,' a rich and salty fish sauce; sweet cane sugar; citrus fruits and chilli.
Ready to set your taste buds free? Here are five of the best foods you need to try during your travels to Vietnam…
5. Banh xeo
Banh xeo literally means 'sizzling pancake'. Originating from Ho Chi Minh City, this is a popular street food dish. This savory crispy pancake (or as some people call it, a 'Vietnamese crepe') can be eaten with your hands. The pancake itself is very thin but it is filled with lots of vegetables and meat. When the batter is placed on the skillet it makes a sizzling sound, hence the name of the dish. 
The batter is made from an assortment of flour, coconut milk, turmeric, onions, and water. This is then cooked with an assortment of meat, typically pork and shrimp, then served with a Vietnamese dipping sauce. Trust me when I say you will be coming back for seconds.
Image source:Lauren Vejar
4. Goi Cuon
This Vietnamese appetizer is fresh, cold, and so delicious. Goi Coun, or as we call them: 'summer rolls', are perfect to eat on hot days in Vietnam. Traditionally, these rolls are made of shrimp, pork, rice vermicelli noodles, coriander, butter lettuce, Vietnamese mint, and anise basil. You'll find them served with a spicy peanut sauce, sweet and sour sauce, hoisin sauce, or other dipping sauces. Bliss!
The best news? You can easily make them at home and you can customize your rolls to be filled with the ingredients of your choice. First, you need to dip a sheet of rice paper in water to soften it. Lay the rice paper on a flat surface so you can then add the filings. Add a handful of mixed herbs and lettuce so that it is close to the edge of the rice paper. Then, add a couple of slices of shrimp and pork next to the herbs. You can then add the vermicelli noodles on top of the meat. The final step is to roll everything together like a burrito.
3. Cao Lau noodles
Cao Lau noodles are made in a town called Hoi An – one of the most beautiful places in Vietnam and a UNESCO World Heritage site. This dish is an absolute must-try and you'll find many restaurants and food carts in Hoi An serving the noodle dish. Legend has it that only a handful of people know the true recipe on how to make the noodles!
The dish usually includes pork slices that are cooked in a Vietnamese five-spice blend alongside lemongrass, garlic, soy sauce, pork stock and sugar. The smell that comes from the meat alone is drool-worthy! The noodles can be chewy wheat or ramen noodles that may be prepared with bean sprouts, then you eat them in a bowl with a few slices of pork and a couple of ladles of the stock. They're then topped with fresh herbs like coriander or lemon basil.
2. Pho
You can't go on a trip to Vietnam and not taste the country's national dish! The story of Pho tells a lot about Vietnam's history – this noodle soup became popular in the north as a hearty breakfast for the rice field workers. Vietnam was partitioned in 1954 between the north and south and after the French colonization, thousands migrated to the south. That's why pho is now so popular in the south – with the Pho from Saigon spicier and sweeter.
Take note: the locals will eat this soup primarily at breakfast. A basic bowl will include beef or chicken broth, flavoured with zesty ginger and coriander, plus noodles, spring onions and slices of chicken, pork or beef.
1. Banh mi
Ohhhh Banh mi. This drool-tastic baguette sandwich wins the top slot! This French-Vietnamese hybrid includes minced pork, rich pâté, pickled veg, carrot, coriander, chilli and a cooling serving of cucumber. It's so good, you'll find it in restaurants all over the world.