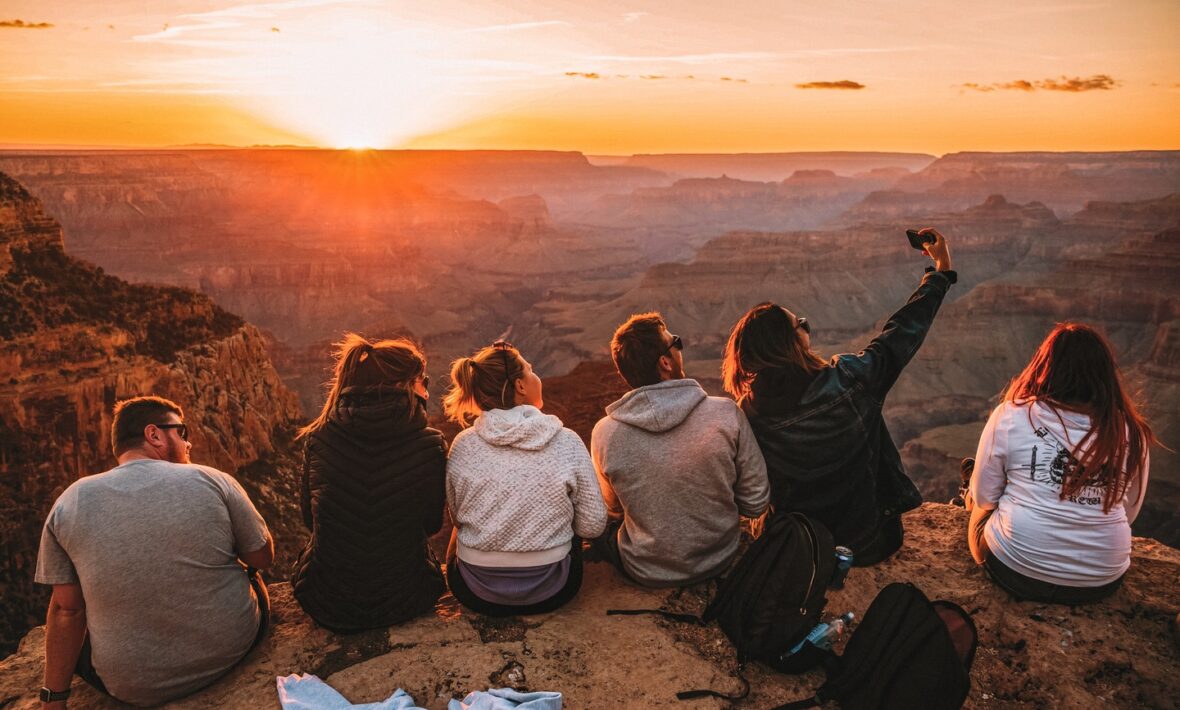 Who's ready to get back out there? After so many months inside our homes, we're ALL excited for when we can start exploring the world again. And who better to introduce us on where to start than Contiki Canada's very own brand ambassadors? This fun group of seasoned travellers have a wide range of interests, knowledge, tips and stories to share to help you plan the best trip possible when the time comes. Excited to learn more? Let's meet the team!
Emma Madro | Calgary, AB
Instagram: @emma_madro
I believe in travel while you're young. To explore the world whilst learning about yourself, making life-long friendships, and experiencing new cultures is such a gift. I didn't have a plan right after high school and made the decision to travel before picking a career path. So at eighteen, my best friend and I packed our bags and hopped a plane to New Zealand on our first Contiki – and the rest is history! I fell in love with the whole experience and after 3 years of traveling the world, I'm now enrolled in a school for travel and tourism. I can't wait to help other people kick off their own amazing adventures!
Favourite Destination: Budapest. The goulash there is literally the most delicious thing in the world! If you go you HAVE to take a river boat tour down the Danube, it's so magical.
Next Contiki trip you want to take: I would love to take the Asian Adventure tour. South East Asia has always been on my bucket list and would have been my summer trip before Covid hit.
Do you love nature and postcard worthy scenery? Ask me about the best hidden locals gems in Banff and Kananaskis!
View this post on Instagram
Lance Dam | Burlington, ON
Instagram: @lancedamm
Travel has become a ritual for me, and every year I look forward to escaping to somewhere fabulous. I'm big on solo travel and traveling with Contiki has helped shape me into the person I am today. I've met some of my most cherished friends on their trips! Although traveling to a new place, especially alone, can feel daunting you'll come back a changed person. For me, it opened up a whole new passion for architecture that I didn't know I had! One of my favourites was when I traveled to Portugal and went to see the palace at Sintra. When I first saw it through the mist, it blew my mind! The colours, the materials – I was so inspired! Now, amazing buildings are the first things I seek out every place I go!
Favourite Destination: Stockholm, Sweden. if you want to indulge in something Swedish have yourself an afternoon 'fika' with a latte and a slice of kladdkaka at Cafe Schweizer in Gamlastan.
Next Contiki trip you want to take: I'm going to be doing the Turkish Sailing or one of the new Detour trips!
Are you as obsessed with architecture as I am? I'll tell you all about the must see buildings, palaces and structures all throughout Europe!
View this post on Instagram
Elaina Rigoni | Calgary, AB
Instagram: @redhead.roundtheworld
I've loved traveling since I was a little girl and continue to love it more with each passing year! For me, travel is all about getting out of your comfort zone and exploring new, unknown places. There's nothing that fuels my soul more than hopping on a plane and taking off into the world. And anything can happen! I met my best friend on an airplane in Costa Rica and the love of my life in a restaurant in Spain. Experiences like this are what travel is all about for me.
Favourite Destination: Spain! It has lots to offer for every different kind of traveler. My tips for Spain; take the path less traveled, spend more than a few weeks, visit the charming little towns and villages and go to small hole-in-the-wall restaurants where no one speaks English.
Next Contiki trip you want to take: I have always dreamt about experiencing a sail trip, either in Turkey or Croatia – or both! When travel opens up again, I'll be heading right back out on a Contiki trip ASAP.
Want to move to Europe? Ask me about how I left Canada, got a visa, and took off to live for a year in Spain!
Corey Van Der Laan | Victoria, BC
Instagram: @shadowpaw
There's never been a better time to save up for that dream trip! While everyone is social distancing and staying safe at home, this is a great opportunity to put money aside that you might have used on a previous trip and carry it forward – hopefully with your vacation days too – for an even bigger one down the road! Travel lets me live as my most adventurous self. It serves as a gateway to explore incredible new worlds, meet the most amazing people, and free myself from the routine of the real world.
Favourite Destination: Bolivia! You have to go see the Uyuni Salt Flats, it's one of the most magical places on earth. It's the world's "largest mirror" so don't forgot wear sunscreen as the sun is coming at you from both above and below.
Next Contiki trip you want to take: I was nearing the end of my amazing odyssey with Contiki when it was cut-short because of Covid. I'd love to finish one of the remaining trips I had planned, such as Coast to Canopies or the Southern African Safari.
Having a hard time deciding which Contiki trip is right for you? Ask me! I've traveled on over 20 Contiki's across the world and would be happy to help you find a trip that suits your needs! You can check out my vlogs about each one on my Insta.
Ally Perpick | Toronto, ON
Instagram: @allyperpick
Life is a collection of moments and I swear, all of the best moments I've had have been traveling! It's wild to look back and see how I've grown and developed as a person, from my first Contiki trip back in 2017 to now. Every place I've gone has shaped me in some way. From the inspiration I felt at the top of Machu Picchu, the freedom of dancing till the sun came up in Mykonos, making lifelong friends cuddled up in a cafe on a rainy day in Prague, to pushing myself to bungee jump in the rainforest in Australia (madness)! Travel can shape you in so many unexpected ways. For me it changed my career as a photographer and now I get to shoot travel photography wherever I go! Be open to the inspiration and go get lost in the wild.
Favourite Destination: Oh Copenhagen for sure! If you want to try one of their famous flæskestegssandwich's hit up Smagsløget in the neighbourhood of Vesterbro. Afterwards for something sweet, you have to go try a flødeboller (my personal fav).
Next Contiki trip you want to take: Well, I'm moving to Denmark, so I'd love to hop on the Scandanavia trip and check out Norway and Sweden! I'd also love to do the Fire & Ice trip to Iceland and see the northern lights.
Looking to up your travel photography game? I'd love to give you tips on how to take the best Insta worthy travel photos, equipment you can use, and all the little tricks I use to get the best shots.
View this post on Instagram
Elaisha Jade | Vancouver, BC
Instagram: elaishajade
I think it's so important to travel while we're young to experience different places and people – it expands your world view! By travelling throughout my late teens and early 20s I've had the chance to broaden my vision of what my life could be. I could go to school in England, start a family in Australia and retire in Italy! The possibilities feel endless. I actually started my travel journey after the death of a friend. Travel has given me an immense level of freedom and shown me that I can truly persevere through anything. No matter what the challenge, I can figure it out.
Favourite Destination: Jamaica. My family has been there for generations and it's so cool to see and experience a place so often stereotyped but through the eyes of my family. It also gives me a fun excuse to practice my creole!
Next Contiki trip you want to take: I'd love to do the Sailing and Cycling trip through Croatia. Also, I just moved to the West Coast of Canada so I might also do the Whistler Ski trip to explore my new home.
Curious about what it's like to travel as a black female? Totally reach out to me to find out about my experiences travelling alone as a black woman and the countries I have felt safe and welcome in.
View this post on Instagram
Emily De Sousa | Niagara, ON
Instagram: @seasidewithemily
I've always thought of travel as learning outside the classroom. It's been the best teacher in my life, giving me the opportunity to learn about new cultures, traditions, religions, and languages. It's moulded me into a more open-minded and empathetic person, which has helped shape how I see the world.
Favourite Destination: Molokai, Hawaii. It's the quietest of the Hawaiian Islands, and in my opinion, the most culturally authentic. There's a lot of Hawaiian history that you can immerse yourself in while still getting the best of the beautiful tropical weather. My top tip for visiting is to go with an open mind and no expectations; just let Molokai surprise you!
Next Contiki trip you want to take: I need a refreshing island getaway after this year! I've got my eye on Contiki's new Croatian Sail, Cycling & Yoga Tour.
Feeling hungry? If you love a unique meal and delicious wines, ask me all about food and wine travel. Pssst: seafood is my favourite, so if you're looking for the best spots to find fresh, local catch, I'm your girl!
View this post on Instagram
Naomi Leanage | Toronto, ON
Instagram: @naomileanage
Travel pushes me to get out of my comfort zone, break my routine and connect with other cultures and people around the world. It also allows me to connect with myself, let loose, and find inspiration!
Favourite Destination: Thailand! From the stunning beaches to the delicious food and very affordable massages (I may or may not have had one every other day), it's the perfect destination. My hot tip is to immerse yourself in local culture by taking a cooking class. Hello pad thai!
Can't wait to share your travel stories? I can help you capture all your memories on video, Tik Tok, youtube, vlogs….Whatever social platform you like, I'm your girl!
View this post on Instagram
Nikki Kaur | Brampton, ON
Instagram: @gigglingpotato
I am actually fairly new in Canada and didn't start travelling until a few years ago! What I realized is that travel is my therapy. I love indulging deeply in the traditions, culture and vibe of wherever I visit. As they say, 'When in Rome, do as the Romans do'. Travel has liberated my mind, body and soul and made me closer to mother earth, nature, wildlife, world citizens and most importantly, to myself. I remember first feeling this when I went to Banff & Jasper and just came back so different! It made me fall in love with my new home of Canada and I felt more myself.
Favourite Destination: Mumai, India – my hometown! If you want to shop from some of the best artisans that specialize in designer jewellery, clothing and souvenirs you have to visit Colaba Causeway.
Next Contiki trip you want to take: There's so much to see in my home country of Canada! My first trip out of isolation is going to be the Canada and the Rockies tour.
Looking for a way to spice up your life? I believe the best moments are spontaneous. I can help you plan the best trip with activities based on your own interests. I know how to make travel special and unique.
View this post on Instagram
Olivia Vik | Vancouver, BC
Instagram: @theoliviavik
Like most people, travel is my escape! But more than that, it's also about personal growth and developing into the person you want to become. I feel it's so important to start this journey while you're young to encourage you to break out of your daily habits and routines. Life is so different in each country you visit – it's important to immerse yourself in different cultures and open your world view! It's my absolute favourite thing to do.
Favourite Destination: Bali! I love the culture and it's really unlike anywhere else in the world. Go stay at the Hanging Gardens, right on the edge of this amazing valley and surrounded by jungle. It's one of those once in a lifetime, have to see-it-to-believe-it places!
Next Contiki trip you want to take: I'm planning on doing the Thai Island tour. Still trying to decide on East or West though. Maybe I'll do both…
Nervous about taking your first trip? I'm passionate about well being, so talk to me about how to maintain your mental health while travelling.
View this post on Instagram
Megan Gougeon | Ottawa, ON
Instagram: @megan.gougeon
Planning a trip is the one thing that never fails to get me over-the-moon excited! It's such a thrill and every experience can be so different. I truly believe travel is the best teacher. So challenge your worldview, take a chance, and book that next adventure. You'll be amazed how much you learn from others and most surprisingly, about yourself. I always knew I wanted to travel but it wasn't until I sat back-to-back with a wild mountain gorilla in Uganda that I was truly hooked. I've been chasing that adrenaline rush around the world ever since!
Favourite Destination: Sri Lanka! The people are so friendly, the food is incredible, and the adventure opportunities are endless. If you're there you HAVE to rent a tuk-tuk! Definitely a bucket list experience.
Next Contiki trip you want to take:
The two I have my eye on for 2021 are the
Ultimate Inca Trail
and the Marangu Kili Climb.
Want to know more travel tricks? I am OBSESSED with travel hacks to make your next trip cheaper, safer, and less stressful. I share everything i've learnt over on YouTube.
View this post on Instagram
Want to learn more? Follow our travel experts, and @contiki to keep up with everyone's adventures as we all start heading back to travelling around the world together. #NoRegrets!