"You can't travel to New Zealand without jumping off something…"  Trip of the week: The Big Tiki
Share
If you've been looking for an excuse to kick start your adventure down under then you're in luck because our latest travel obsession is The Big Tiki. Travel to New Zealand has never been better. 
New Zealand: land of crazy insane adventures, rich Māori culture, friendly marine life, hobbits and the Shire, and people who nickname themselves Kiwis. What's not to love? This 21 day odyssey will take you from the North Island to the South Island, from East to West, and all around the middle. We're leaving no stone unturned – you'll be getting the full taste of New Zealand, and still somehow manage to want more.
We chatted with Richie, our trusted Big Tiki Trip Manager who gave us every little juicy detail on this exhilarating and heartening trip. Read on, and don't forget to book!
Can you give me 3 reasons why I'd love this trip?
It's a bit of everything.
"By that I mean that you get the culture, you get a deep view into indigenous culture and the Māori people. You get the most beautiful nature from lakes to mountains to coastlines. And you get that adventure that really gets your heart pounding. Skydiving over Queenstown, bungee jumping, jet boating; just everything."
"It's everything all in one trip."
Image source:Contiki
This trip is for me if…
"If you have a sense of adventure, if you're interested in Māori culture, if you're a fan of long voyages like the one Bilbo Baggins embarks on (yes we stop at Lord of the Rings' destinations). There's something for everyone on this trip."
What's the most spellbinding view?
All the skydiving spots.
"Anywhere in New Zealand is spellbinding, I can't really pick one spot. But I'll go with the three skydiving spots because you just can't beat an aerial view, and you can't travel to New Zealand without jumping off something. So, one area is above the Bay of Islands and as you're falling you're looking over a cluster of 42 different islands and it's just so cool to see the land and the ocean break apart like that."
"Then there's the skydive over Lake Taupō which is the biggest lake in New Zealand and formally a volcano. It's close by Mt. Ruapehu as well where we get to enjoy a beautiful sunset view over the volcanoes of the area."
"And finally, the last skydiving spot is over Franz Joseph glacier park which is just as cool as it sounds. You're plummeting down from the sky above snowy mountains and a lake of glaciers before – it's all blue and white as far as the eye can see and really striking. I think many people are surprised there are glaciers in New Zealand as well."
Image source:Richie Pepene
How many 'jumping' experiences are there on this trip?
"In terms of how many things you can jump off or out of? Too many to count honestly! There's all the skydiving bits, you can skyjump in Auckland, there's several bungee jumping opportunities. There are canyon and ledge swings which are kind of like jumping? And also the Nevis Catapult which isn't so much jumping as being propelled into the open air, but I think that counts too. 
What's the tastiest food experience?
The Māori Hangi dinner.
"People don't usually think of food when they think of travel to New Zealand, but we've got a really special experience here. When we travel to the Mitai Māori village we're treated to a Hangi feast prepared by and enjoyed with the Māori people."
"Hangi is a traditional way in which the Māori people prepare food: it's cooked underneath the ground in an earth oven, and then you get to watch it be raised from the ground and uncovered. This is how food was prepared in the colonial days and they've retained this tradition; it's really so special to be part of this cultural experience and get to enjoy it as well."
The sweetest stay?
Kaikoura.
"The hotel we stay at in Kaikoura is really plush and cosy, so that's just a great experience anyway. But the reason the stay in Kaikoura is so special is because the hotel is located right on the coast and there's an abundance of marine life on display."
"When you look out your window you can catch dolphins and whales flitting in and out of the waves, seals sunning themselves on the shore, as well as marine birds soaring about. It's just something that gives New Zealand and the whole trip that extra bit of magic."
"We also offer a dolphin experience here as well where you get to immerse yourself in that natural environment and swim alongside dolphins. These dolphins are so naturally inquisitive that they do often come up to people; we just ask that our travellers are respectful and don't invade their space."
Image source:Pablo Heimplatz / unsplash
How about the best spot for culture vultures?
Rotorua.
"I think the thing that makes New Zealand really different from any parts of the world is its indigenous culture, and getting to experience that culture, the Māori one here, is such a special thing that any culture vulture would love! Rotorua is the hot spot for this kind of cultural tourism. "
"This is the hub for all Māori culture and it's where our travellers get to experience a taste of those rich traditions, like with the Hangi meal. There are a lot of opportunities in the city to delve further into the culture, with sites such as Te Puia which is home to the New Zealand Māori Arts and Crafts Institute, or the neighbouring Whakarewarewa which is a Māori village located in a geothermally active area."
What's the most jaw-dropping included experience?
The dark sky experience.
"On our last day in Lake Ohau we go on a star gazing expedition where the travellers get to learn all about Māori astronomy and blend that knowledge with scientific fact, as well as storytelling." 
On a night where the sky is clear the view is just absolutely breathtaking – it's a cluster of bright patches and stars over a blanket of black. Most city-slickers won't have seen anything like it and it's just a beautiful way to end the Kiwi adventure."
Image source:Mike Swigunksi / unsplash
Which Free Time Add-On will give my friends the most FOMO?
The Canopy Tour.
"When we're in Rotorua there's this ziplining canopy tour that our travellers can opt into and it's just stunning."
"We take them to these native forests at sunrise and the travellers get to zipline from tree to tree, swinging like monkeys, as the sun is coming up through the lush greenery. We bring breakfast and coffee as well, and this is also right at the time when the birds start to wake up and you're just surrounded by chirping and birdsong."
"It's kind of surreal honestly."
How crazy is the trip?
"In terms of how much thrill-seeking activities there are? I'd put it at an 8.5/10 on the crazy scale. The first quarter and last half of the trip are just jam-packed with adventure opportunities. All the jumps, bungees, and swings of course; but there's also hiking, caving, glacier walking, helicopter rides, speed boat rides, white water rafting."
"If you're an adrenaline junkie or just want to feel alive then travel to New Zealand is exactly what you need – we're an active nation and we don't plan on taking a break!"
What will surprise me about the trip?
How much there is to do.
"You can go shopping in the big cities of Auckland and Wellington, you can learn history in Waitangi, experience indigenous culture in Rotorua, have the adventure of a lifetime in Queenstown, and marvel at the beautiful scenery along the way. There's truly something for everyone on this trip and it's so well rounded."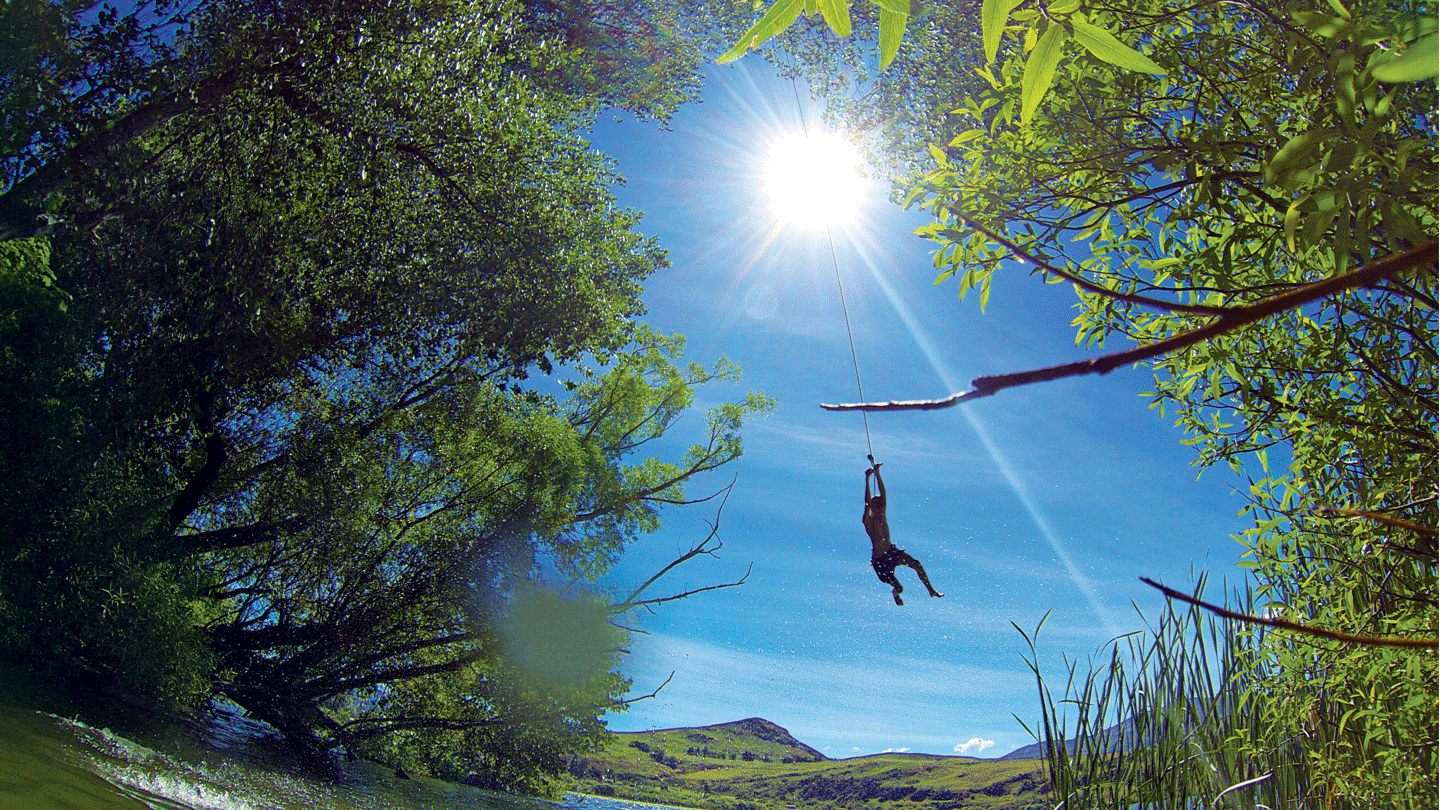 Image source:Contiki
If this trip was a song it'd be:
"'Don't forget your roots' by Six 60. They're a Kiwi band and there's no band that represents New Zealand better than them."
If this trip was a drink it'd be:
"V Energy drink – it's the Kiwi version of a Red Bull and this trip is so action packed that an energy drink just perfectly represents that."
Describe this trip in 3 words:
"Action, beauty, culture."
Which part of the trip makes you love your job?
"I ran trips through Europe and all over Asia before running them in my homeland of New Zealand, and my favourite part of being a Trip Manager has always been watching travellers discover and experience these places for the first time. You see the look on their face, how excited they are – it's magic."
"I never thought that travel to New Zealand would get the same reaction, though, but I was so wrong, the travellers just get blown away by things that I would think are pretty normal or that I'm used to. So, I guess for me, seeing how much our Contiki travellers are amazed at the country and the culture and everything that comes with it is just mad to me, but it's so cool. And it made me realise that actually New Zealand is so cool and I shouldn't take it for granted."
Here's what our travellers have to say:
"The trip was amazing, lots of beautiful views, plenty of activities to choose from. The itinerary is fast paced and dynamic which is fantastic. Our Trip Driver was a legend!"
"Best trip ever! I met amazing people here and the Trip Manager made it such an enjoyable journey. Insane amount of things to do and I was with such a great group – it's an unforgettable experience I would recommend to everyone."
"The Big Tiki was amazing! I particularly loved the Free Time Add-Ons and our Trip Manager was an absolute legend and made the experience so much better."