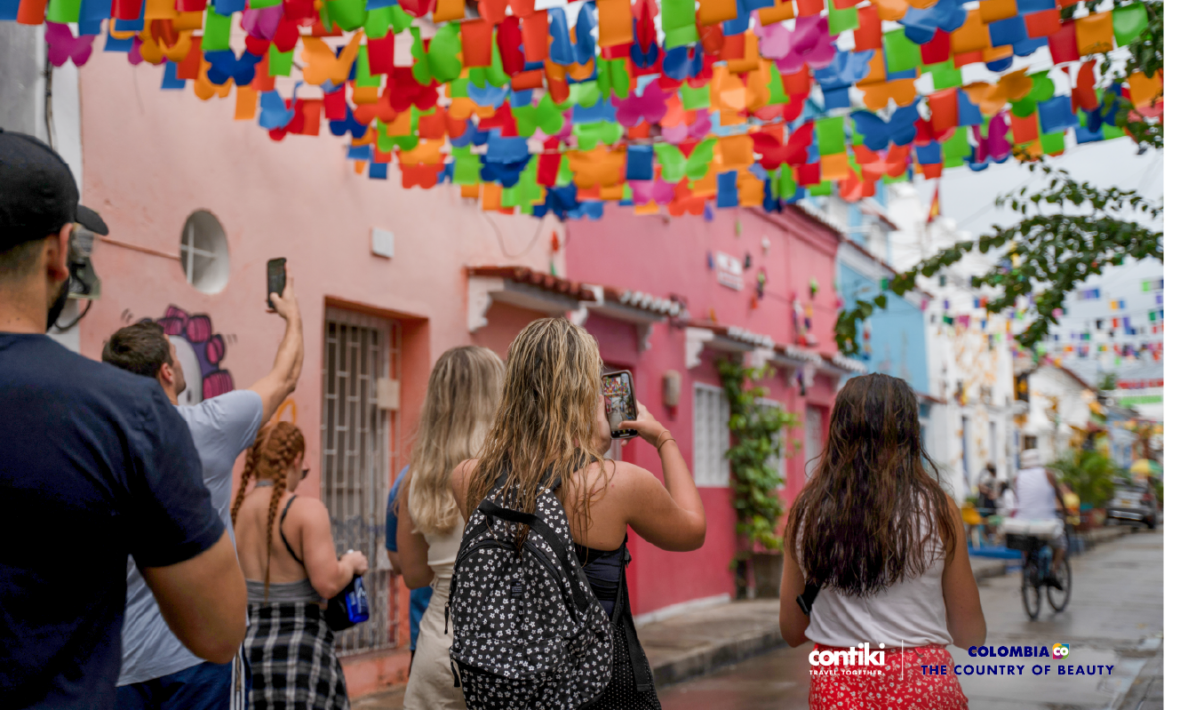 In partnership with Colombia.co
From the vibrant and floral streets of Cartagena all the way to the rainbow-coloured waterfalls of Serrania de la Macarena national park, Colombia, the country of beauty, is teeming with incredible diversity – no one corner is the same.
It's for that very reason that you should go ahead and explore all of Colombia's 6 stunning regions right now, and leave no stone unturned! To help you along your way, we chatted to our Hola Colombia Trip Manager, Jhonatan Fernandez, and he gave us the intimate local details on some of the best things to do in each region that you simply can't miss.
Eastern Colombian Andes Region
Sweeping valleys and moorlands make up this naturally stunning region of Colombia, and it's where you'll find the sky-high capital city of Bogotá! Here are 3 of the best things to do in this region.
1. Tour the street art
Taking in the street art that paints its way across Bogotá is one of the most vivid experiences you will have here. Since graffiti is no longer considered a crime, Bogotá has become a global hotspot for talent, drawing both local and international painters to the city to further their passion for art.
You can take a walking tour of some of the best artistry with Contiki on our Hola Colombia trip and discover that the city is veritably teeming with both local and international talent who express themselves in different and stunning styles.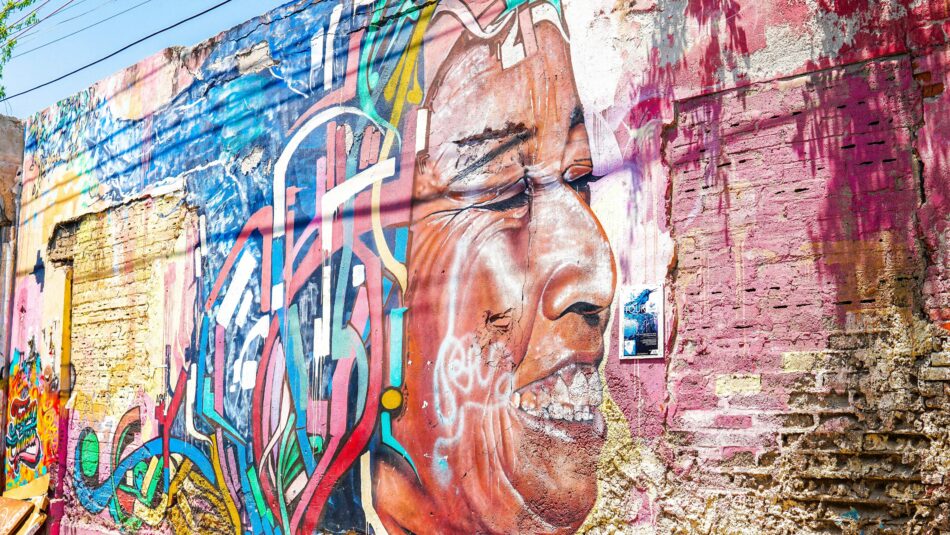 Image source:Jorge Gardner / unsplash
2. Try the local 'Ajiaco' and enjoy delicious street food
This traditional dish, known as Ajiaco, is prepared with potatoes, various Colombian herbs, chicken, maize, and spices. It's then topped with cream and capers. Thick, cosy, and satisfying – it's a great way to meet Colombian flavours head on!
For most Colombians, street food is a daily mainstay. Everywhere in the country, from parks and metro stations to busy crossroads, there are vendors offering a wide variety of corn goods and delights with meat, in addition to wonderful fruits. Enjoying a sample of these treats will give you a passion for local products and cuisine and keep you coming for more.
3. Go high by cable car to visit Monserrate, and duck low for the unique Salt Cathedral of Zipaquira
For some of Bogota's greatest views, go to Mount Monserrate, which is more than 10,000 feet above sea level. After a 1.5-mile stroll through the Colombian forest, you'll reach the spectacular 17th-century church and pilgrimage site that offers a gorgeous city view and a chance to uncover some history. Afterwards, head to the outdoor market above the mountain, which offers handcrafted goods and souvenirs from Colombia, or take a break in the cafe located on the hill.
Or, if you'd rather keep it down to (under) earth, why not visit the fairly unique and fascinating Salt Cathedral of Zipaquira? This Roman Catholic chapel was built inside a salt mine almost 180 metres underground, and is a common pilgrimage destination. Lit up with neons and floor-lights, it's honestly a really cool place to visit whether you're there for worship or not.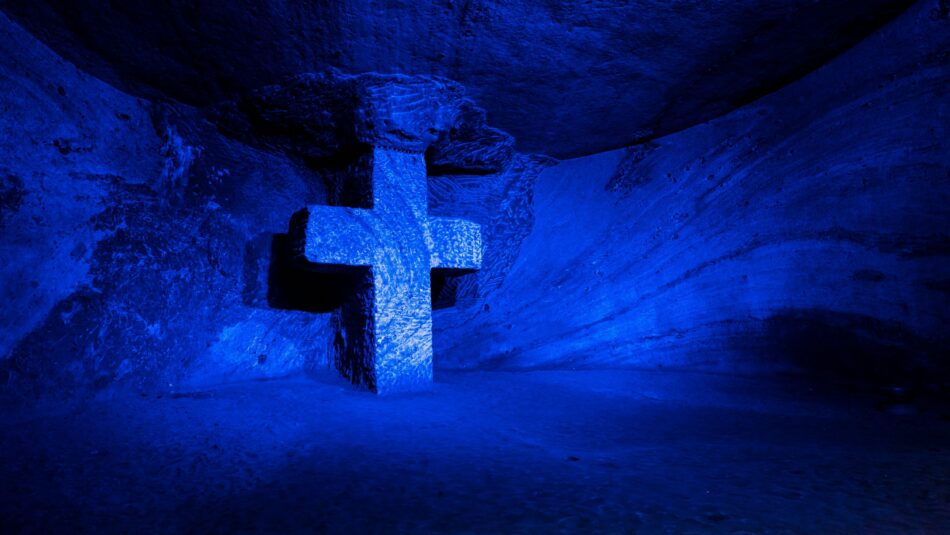 Image source:Guillaume de Germain / unsplash
Western Colombian Andes Region
The most populated area of Colombia, this region is vibrant with people and cultural activities – you won't be bored here.
1. Taste the absolute best coffee in the world
You may be wondering why Colombia is known as the coffee capital of the world. Well, it's because the country just so happens to be an incredibly convenient place for growing coffee beans because of the hilly topography, its tropical location, and the perfect blend of rainfall and sunshine.
As such, the coffee in Colombia is phenomenal – any coffee lover worth their bean must head for a pilgrimage here ASAP, and lucky for you, Contiki will take you to visit a coffee farm right in the heart of the country's coffee zone so you can learn all about how your favourite drink is made and sample some as well!
2. Trek through the Cocora Valley
If you're envisioning a tropical holiday surrounded by the world's tallest palm trees, lush green rolling hills, and the sweet squawking of parrots, then a trek through the Cocora Valley is exactly what you need.
As part of the Las Nevadas National Park, the Cocora Valley is well-known and fairly popular – people come from every corner of the world to catch a glimpse of the palm trees (they're seriously tall) and spend a slow easy day meandering under the sun. It's a great way to catch some fresh air after an evening of celebration in Medellin.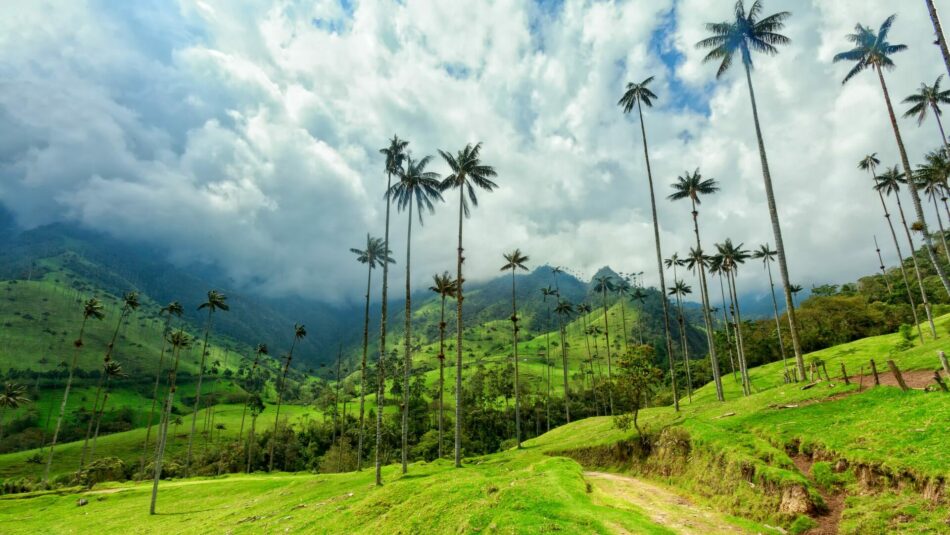 Image source:Contiki
3. Visit the City of Eternal Spring
Bustling with 2.5 million people, Medellin is the shining jewel of the Western Colombian Andes region and it's as vibrant and energetic as you can imagine. If you're one for a night of partying, then Medellin is the place for you. With a nightlife to rival even Vegas you can get lost in glittering pubs and clubs and dance all night until your feet fall off.
Great Colombian Caribbean Region
If we told you Colombia was home to jungle-clad mountains and also glacier caps would you believe us? Well, you should, because it is, and it's fantastic.
1. Get down to some traditional folk music and take a Salsa dance class
Colombian music reflects the country's culture through several genres, both traditional and modern, which are tailored to the specific characteristics of each geographical area. As such, we definitely recommend checking out and embracing the traditional music of each Colombian region to get a full orchestral understanding!
And if you really want to embrace Colombia's musical culture, then you should 100% take a Salsa dance class. Pick a partner from your Contiki crew and let your mind and body enjoy the rhythm of the music.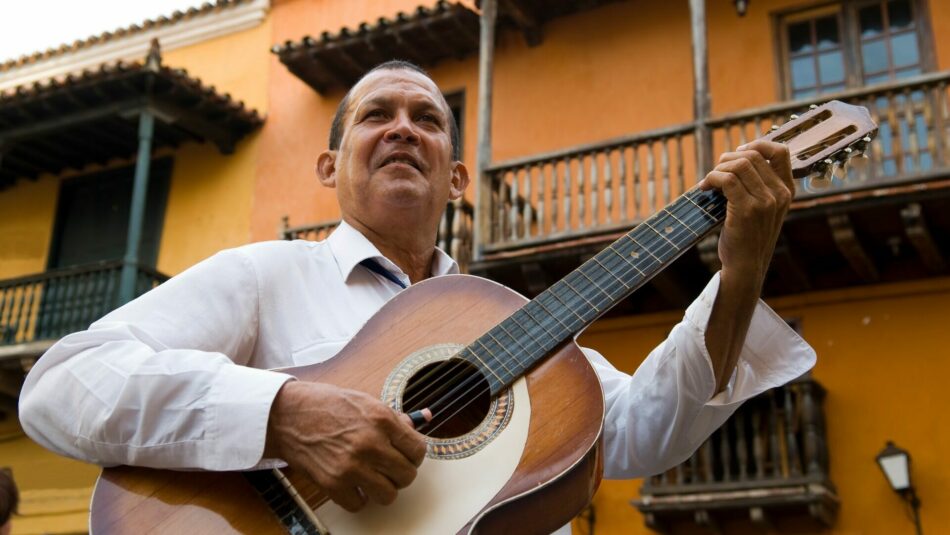 Image source:Contiki
2. Relax on a yacht tour around Cartagena Bay
In the mood for a lazy night and also dying for some skyline shots of buzzing Cartagena? Enjoy a yacht tour of the shimmering bay accompanied by great music, some drinks, and a pack of amazing new friends.
You'll catch views of the palm-tree lined beaches, the glitzy skyscrapers, and just the generally enchanting atmosphere of this well-rounded city. Not to mention, this is the perfect bonding opportunity for you and your new Contiki best friends.
3. Hike and swim around Tayrona National Park
Tayrona National Park is an amazing location, Jhonatan proclaims it to be among the most breathtaking locations in all of South America. Flanked by Caribbean beaches on one side (that gorgeous bluest of blues water!!!) and the thick and lush jungle on the other side, we can't help but agree.
Thanks to the two distinct biomes existing together, the park is home to a wide variety of critters and some impressively diverse fauna and flora. There are more than 50 types of coral reefs flourishing here, as well as many tropical fish species that can be glimpsed along the shore.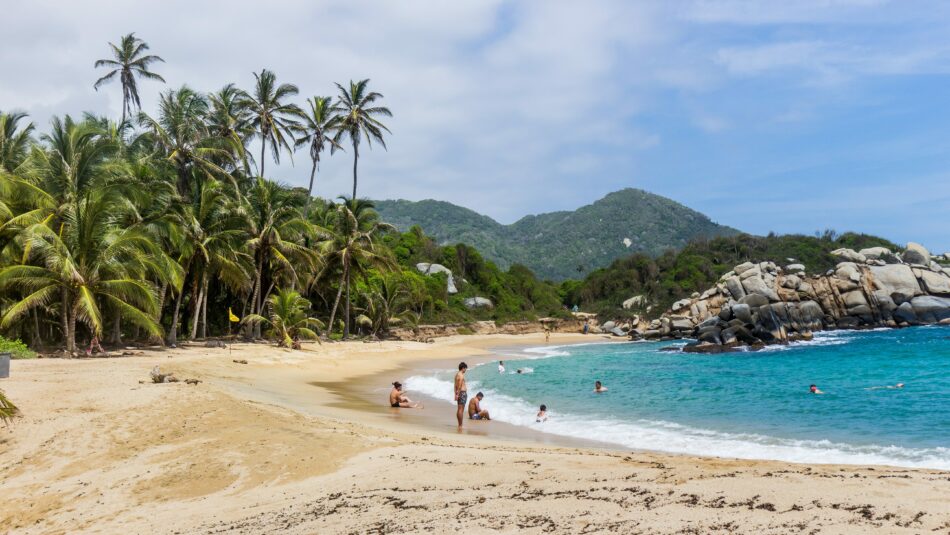 Image source:Levi Ari Ponk / unsplash
Colombian Amazon Region
The vast diversity of plants and animal species found in this area of the country contribute to Colombia being the most biodiverse country in the world per square kilometre. Crazy, right? Check it out for yourself.
1. Make a base of exploration in Leticia
If you want to explore the eco-gem that is the Amazon jungle but need a place to rest up between excursions then we recommend making a temporary home out of Leticia. This town is built up with all the regular infrastructure like any other, except it also has views on the Amazon river, as well as a town-square decked out with a lily-pad-filled pond and parrots roosting from above!
You can also take an excursion just up the river to visit the eco-village of Puerto Nariño which provides an immaculate model for sustainable living.
2. Discover the extent of the Amazon's biodiversity
We all know the Amazon is crazy diverse, but just how diverse is it? Well, Colombia is home to over 1,900 bird species, with many of them being indigenous to the Amazon, as well as 500 mammal species, and thousands of plant species; many of which are endemic to this specific region and can't be seen growing anywhere else.
You can learn all about this extensive plant and animal life, as well as the various civilisations living in the Amazon, on canoe trips along the Amazon river and walking tours through the jungle itself. Just make sure you pack adequate clothes – it's gonna be sticky!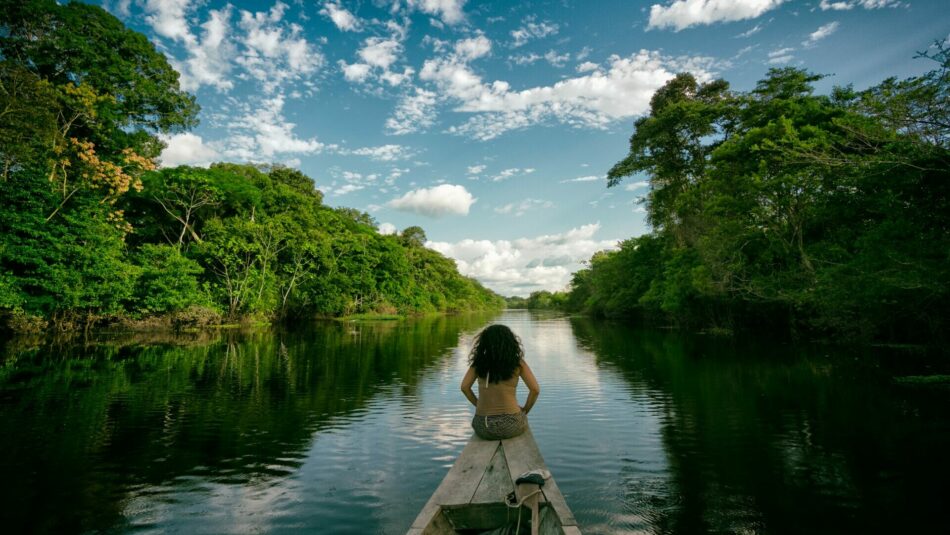 Image source:Contiki
3. Connect with local tribes
There are many indigenous groups living in tandem with nature in the Amazon today, and one of the most amazing things to do in Colombia is respectfully pay them a visit. Three tribes in particular stand out among the many that call Colombia home: the Huitoto, who are primarily found along the Putumayo River, which marks the border with Peru; the Tikuna, who are primarily found in the Amazonas River basin around Leticia (the tri-border); and the Makuna, who are primarily found in the Vaupés region that borders Brazil.
Learn all about their cultural traditions as well as their relationship with nature and what living in such close proximity to one of the most biodiverse jungles in the world is like. Who knows, maybe you'll decide you want to move as well!
Colombian Massif Region
Enjoy the peace and quiet that comes with visiting a region so close to majestic and looming mountains.
Smattered in the history of pre-Hispanic communities thanks to its archaeological heritage, San Augustín Archaeological Park is an absolute must see in the Colombian Massif Region. The remains of lost civilisations, spiritual cultures, and early human rituals can all be found in this impressive park which is steeped in a magical atmosphere.
Home to the largest collection of religious monuments and sculptures in Latin America, the San Augustín Archaeological Park is a unique location and one that all history buffs, especially those interested in ancient civilizations, should make a detour to.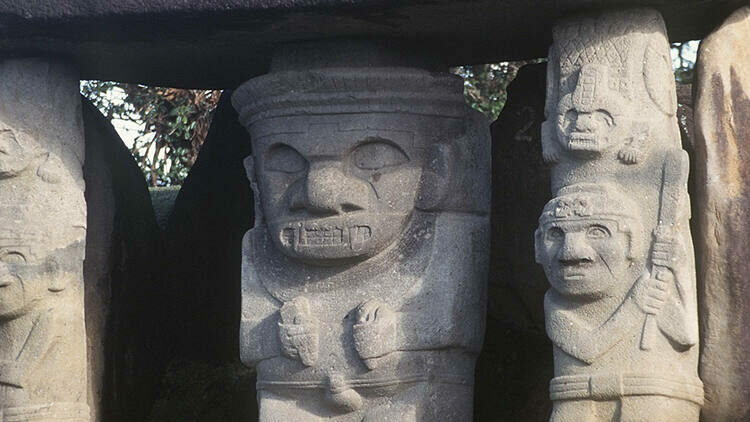 Image source:Martin Grey / UNESCO
2. Stroll through the floral scents of the Orchid Nature Reserve in Tolima
Not that Colombia is lacking in beautiful nature experiences, but if you're hungry for more then a day trip out to the Orchid Nature Reserve is a must! Stroll down luscious paths filled to the brim with 180 different species of orchids, as well as over 8,000 different plants.
If you end up falling petal over stem, you can spend a starry night camping in the reserve.
3. Feel regal with a visit to the Sanctuary of Las Lajas
This Roman Catholic basilica built in the canyon of the Guáitara River is a sight for sore eyes. The grey and white stone that it's built from carves a striking and stark figure, enveloped with the many green hues of the valley.
The basilica was built as a place of dedication for the Virgin Mary, and The Marian shrine is a gorgeous reminder of that. Whether you're a devotee or not, a walk around the area and up to the Sanctuary of Las Lajas is well worth it just for the Insta snaps.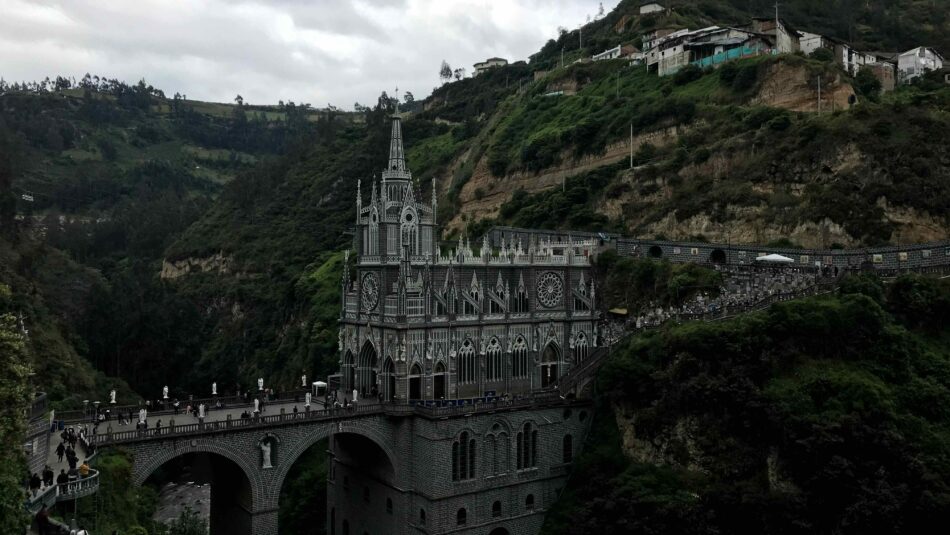 Image source:Omri D. Cohen / unsplash
Colombian Pacific Region
This sunny region is filled to the brim with beaches and gorgeous ocean views for those classic holiday vibes.
1. Explore the beautiful city of Cali
Cali is the largest city in the Pacific region, and it's the world centre of salsa dancing! So get ready for a boogie. With its high concentration of "Zonas Rosas" (pink zones / LGBTQIA+ quarters) which are home to many bars, restaurants, and clubs; Cali is the ideal destination for night owls. Among many other attractions, you can stroll through the city during the day, go to El Gato del Río, and ascend to El Cristo Rey. It's a city thrumming with energy, you'll never get bored here.
2. Find wonder through an ocean safari
Slightly isolated from the rest of the country, the Pacific region is the perfect location for marine lovers to gather and seek and off-the-beaten-path adventure. Hop on a boat with your crew and enjoy an ocean safari designed to help you spot some of the wonderful marine life of Colombia.
Best case scenario you get to spot some whales and dolphins, worst case scenario you don't get to see any wildlife but you get to spend the day on a boat under the glorious sun! Sounds like a win win.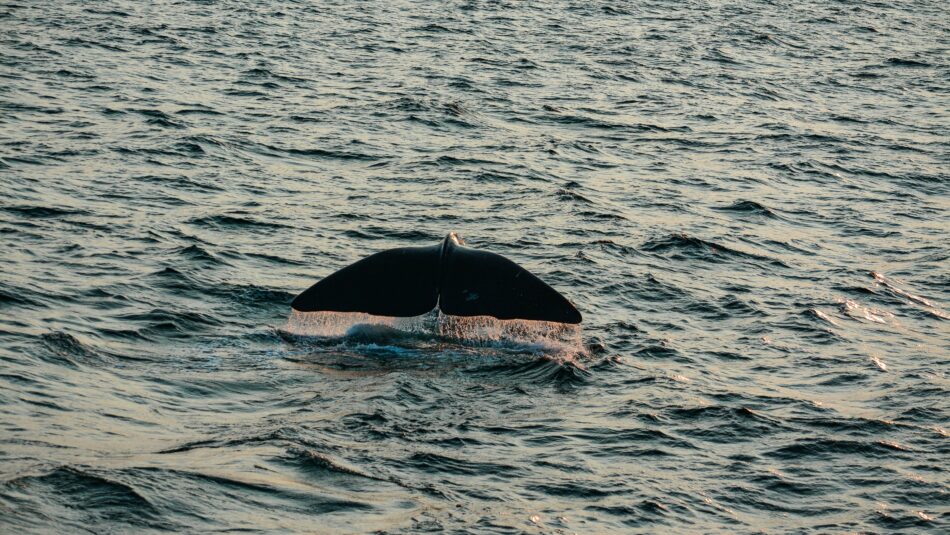 Image source:Alain Reider / unsplash
3. Observe whales from June to October
Apart from tourists, a frequent visitor of Colombia's Pacific region is the humpback whale which makes this area its home from early summer to late autumn. These whales head to the Antarctic for mating season and then together swim back through the pacific depths to show themselves and resurface in this area. If you can catch a glimpse of these awesome pods you'll be in for a treat.
Right, so, what are you waiting for? Book Hola Colombia with Contiki to experience these things and more!