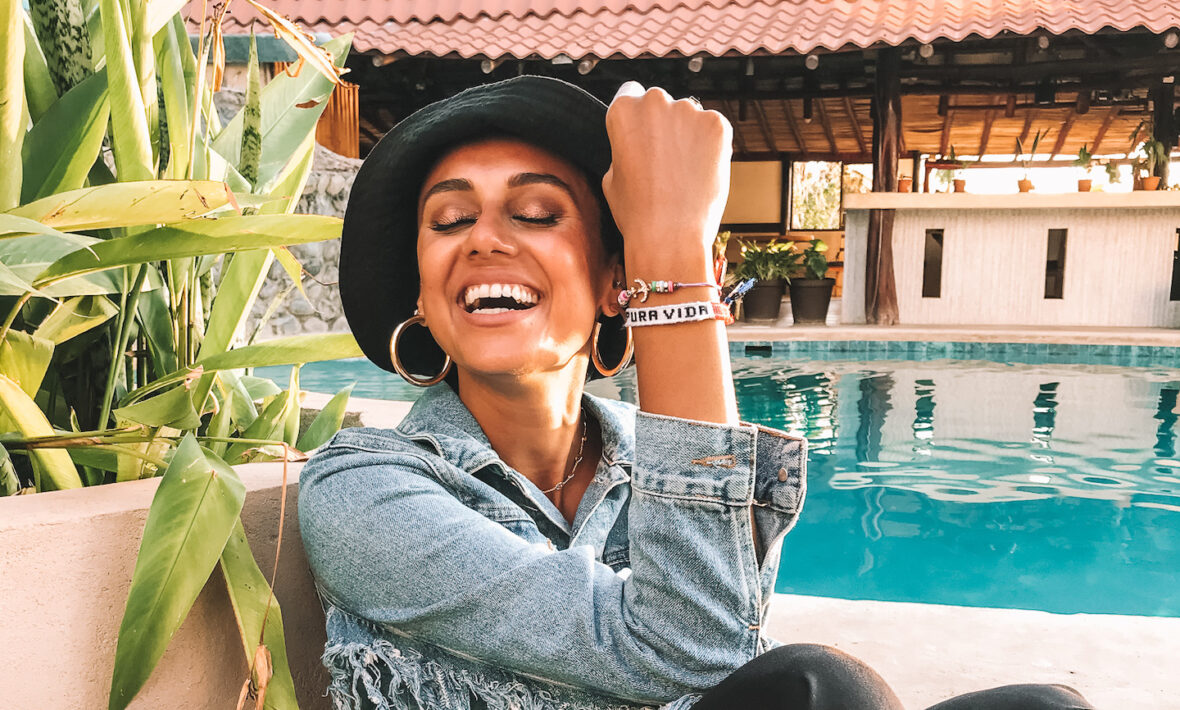 Meet Mariah Idrissi and Saira Arshad. Mariah is a model and public speaker, and Saira is a teacher, travel blogger and all-round digital nomad. We partnered with these incredible women to help them experience the Costa Rican way of living – from the eco-friendly culture to the 'pura vida' (pure life) philosophy.
So, how accessible is a Contiki trip for solo Muslim women travellers? Read on to hear about Saira and Mariah's experiences of the Viva Costa Rica trip…
Hi Saira & Mariah – tell us about you…
Mariah: I work as a model and I do public speaking and consultancy for brands.
Saira: I'm a primary school teacher, based in the Middle East for the past six years. I'm currently making the transition from Dubai back to Toronto, and also travel blogging when I get the time!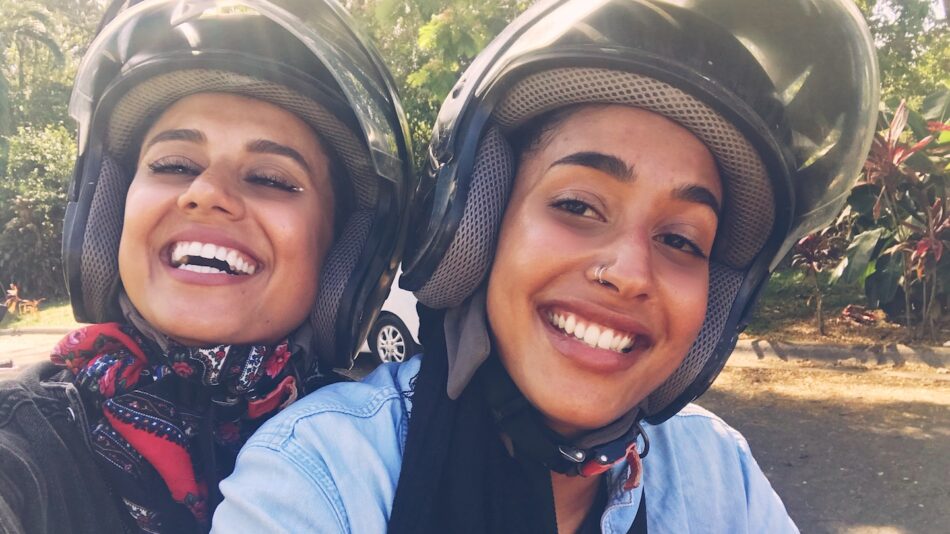 What were your expectations before travelling to Costa Rica?
Mariah: Costa Rica was on my bucket list and I thought this trip was a sign from God! I'd heard of Contiki but I didn't know too much about the company, so I was excited to do something completely new.
Saira: I thought this was the coolest opportunity. I usually do a little research before I go somewhere, but this was one of the places I didn't. I figured everything was already planned so I thought we're in this new country here together, let's just go in and try the full Contiki experience.
Was there anything you were nervous about before going?
Saira: A little in terms of the people. When I travel I don't tend to join day tours, I'd rather explore on my own. This was more of a long-term day tour, with people from all different walks of life. We're fortunate enough to travel a few times a year and for a lot of people on this trip, this was the only one they could take in a year. I think this made us appreciate the trip even more.
Which was your favourite destination in Costa Rica?
Mariah: Jaco Beach or Playa Tamarindo – sometimes we had free days on the beach and we just chilled.
Saira: The National Parks were really beautiful, I wish we could have stayed longer. Manuel Antonio was breathtaking with its rainforest, beaches and coral reefs.
And your fave dish?
Saira: We came across this little hut that had a plastic sign claiming to serve 'The Best Tacos in Tamarindo.' We were sceptical but thought, 'whatever let's go try it.' And seriously, they were the best tacos in town. I've been thinking about them since.
Mariah: One night we also had an authentic Costa Rican meal at home with a family. We made our own tortillas. I'd say Costa Rican food is like a combination of Mexican and Caribbean food, with all the colours and flavour.
Saira: On the last day we had an iced coffee with churros and it was amazing. I'm more of a tea drinker but I loved going to the coffee plantation to see the end to end production of it. Usually I'm not a fan of tours, but the coffee and chocolate ones gave us a new-found appreciation for both!
What did you love most about the country?
Mariah: How visually beautiful it was. One minute you're in a rainforest and then you're on a tropical beach, and the mountains as well – breathtaking. It was so cool to have all these different types of sceneries in one place. There was also so much promotion for eco-friendly travel and looking after the environment, I've never seen that so much in any other country I've been to.
Saira: Yes, the geographical landscape and the climate blew me away. The beaches were super hot. We loved how untouched some of the regions were – we saw iguanas just walking in the wild and crocodiles on the beach!
How did you find travelling in a group?
Mariah: We loved the group but I think we felt lucky to be together so we could have the best of both worlds. I think you just have to know yourself though. If you know that you're naturally quite extroverted and sociable then I'd definitely go alone. If you're not that character, it's probably better go with someone you already know and share a room with them.
And how was your Trip Manager?
Mariah: He ticked all the boxes for a great Trip Manager! He also taught us loads of extra things about the country, like the fact that Costa Rica is a blue zone. I had no idea what these were before but they're scattered around the world and are like reservations for people who live exceptionally long lives, so over 100 years old.
Saira: He would also often get out his telescope to help us spot wildlife in the distance, he was so knowledgeable of the nature and local landscape, he put it all into context for us.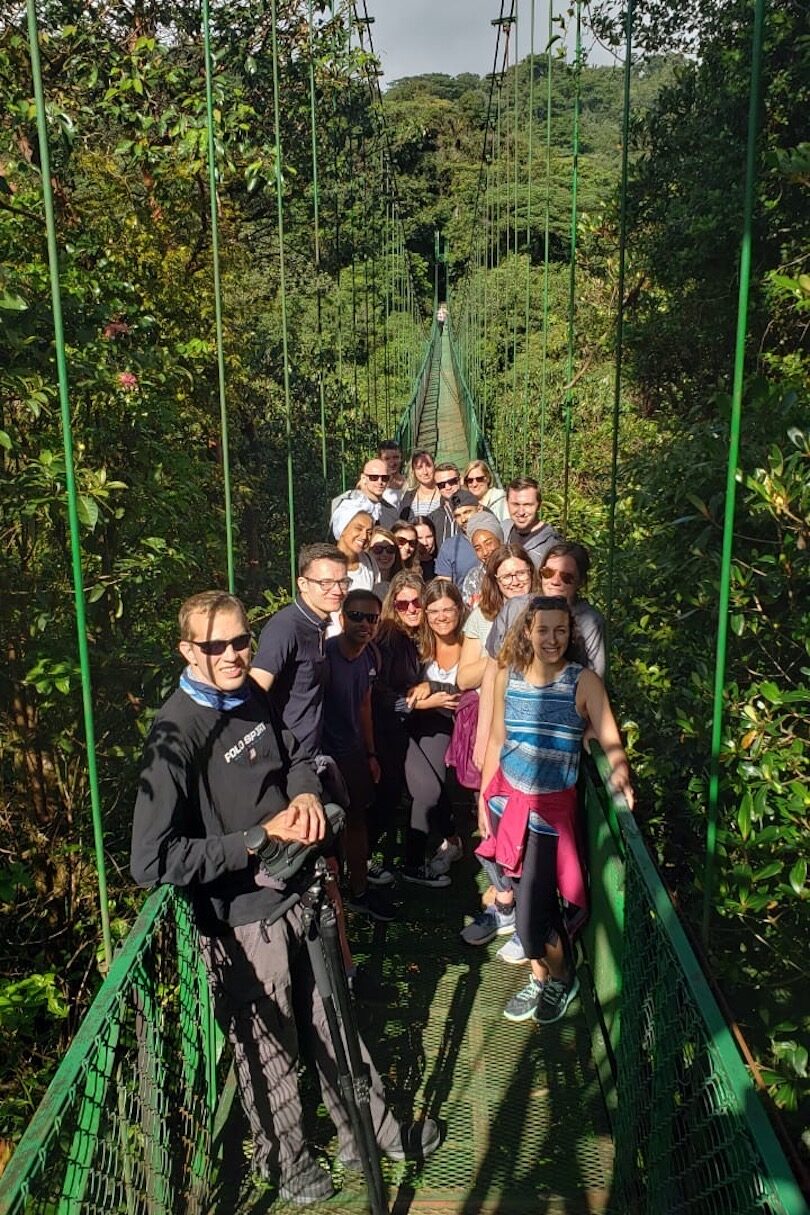 What were the wildlife highlights?
Mariah: When Saira nearly got robbed by the monkeys! We saw these two girls who nearly had the same problem, but they were sunbathing topless and just running!
Saira: He was so smart – walking up to my bag, opening up the flap and taking things out to have a look at them. But honestly, seeing the wildlife just going about their day was amazing – from monkeys on the road, to sloths, giant iguanas and poisonous frogs. They were just there naturally living their best lives!
What was your community asking you as you travelled?
Saira: They wanted to know whether it was safe and what the food was like (whether the meals were suitable for a Muslim diet and whether you could get Halal food or just go for veggie options). They also wanted to know how accessible Contiki was and what it was like travelling as solo Muslim women.
Mariah: We actually didn't miss meat at all, there were so many local fish and veggie options everywhere.
Saira: They also had a lot of questions about our modest swimsuits. I wore a Lyra swimsuit and Mariah a Nike burkini in Tamarindo, and our community had a lot of questions about how mine worked and how the pieces were meant to be put together.
View this post on Instagram
How did you find the swimsuits?
Mariah: My one wasn't the most practical! I didn't like the ankles as they kept capturing all the sand. Saira's were more like leggings and she could just shake hers out!
Saira: I would have worn mine again for ziplining as it had dual functionality, both in the water and for day time excursions.
What are the biggest misconceptions when it comes to modest fashion?
Saira: That it has to be ugly and frumpy, or that you have to be entirely covered. Modest fashion can still be very fashionable and a lot of other women from different faiths or those with no faith just choose to cover their bodies. More and more people are tapping into modest fashion I think and it's becoming more open.
Did you feel safe?
Mariah: Yes, I didn't feel any threat and we've been to some of the most threatening places in the world! Costa Rica doesn't even have a military, so that says a lot I guess!
Saira: I'd say when you're travelling anywhere on your own and as a woman, you're already standing out as a tourist and drawing attention to yourself, so just be mindful. If the worst comes to worst, just ask the locals! Take precautions wherever you are, and when in doubt just ask!
What other advice would you give to anyone travelling as solo Muslim women?
Mariah: Knowing our audience, I'd suggest that if you want to travel solo, try a short Contiki trip first. If you're going to go for a week plus, then maybe go with a friend, partner or sister for the first time so you get the best of both worlds.
There are also certain activities that our audience can't necessarily do – particularly water activities. We didn't do them because other people can get in and out of their bikinis so easily, whereas we'd be stuck in our wet clothes all day. But it wasn't a problem, we didn't feel like we were missing out. You just need a bit of forward planning, and think ahead about what you might do and what you might not.
Saira: With Contiki you have a rundown of your trip itinerary, so I'd suggest going through these to see if there are any activities that stand out and to see if the majority of the itinerary matches up with your ideal holiday.
With travel in general, just be open-minded. You're leaving the comforts of your own home to experience someone else's reality, so there are always going to be challenges. Accept sometimes that you'll be out of your comfort zone!
Mariah: when you go with that mindset, you enjoy every moment and you actually look forward to something different.