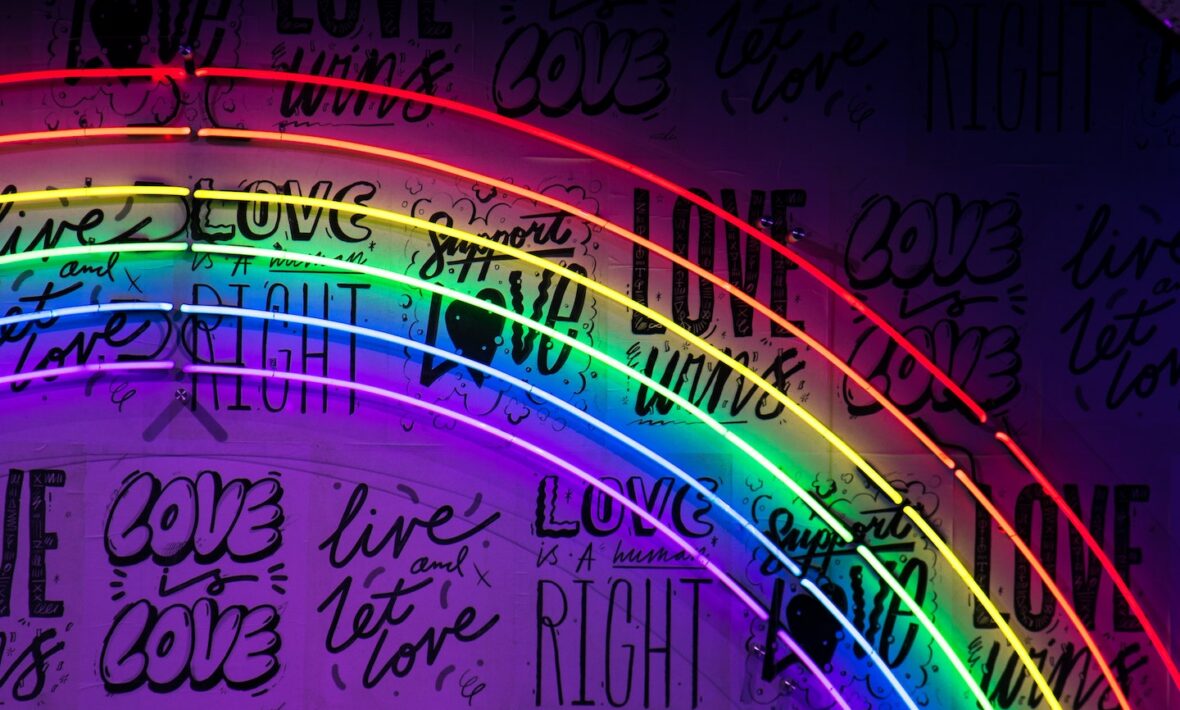 LGBTQI Muslim group Imaan has organised the UK's first ever Muslim Pride festival. Originally scheduled in April, the festival will now be happening in winter and will bring together a community of people who face homophobic, transphobic and Islamophobic abuse, just for being themselves. Here are a few things you need to know about the event also known as 'Imaan Fest'…
1. The festival has been rescheduled to December 2020
Like all things 2020 related, the festival should have been on Saturday 11 April however it was postponed due to the Covid-19 outbreak. Instead the organisers took the difficult decision to move the festival, and it will now take place on Saturday 12 December 2020 in London, where it will hopefully be bigger and better than ever. The group has called out for queer Arab speakers, wellbeing experts and service providers to take part in some epic panel discussions.
Our announcement about #MuslimPride #ImaanFest pic.twitter.com/spRXoRBsou

— Imaan LGBTQI (@ImaanLGBTQ) March 16, 2020
2. The festival was founded by a LGBTQ charity
Imaan is the UK's largest LGBTQI charity, founded in 1999 in London. Its main aim? To help reconcile faith with sexual and gender identity. One of the biggest steps they've take to help achieve this is successfully raising over £10,000 within the LGBTQI community, which was crucial to funding the festival. With the extra funding, the organisers hope to subsidise a number of places for those who can't afford to attend.
3. Imaan's community is celebrating 20 years
Back when Imaan started in 1999, social media wasn't really a thing. Instead papers were the main media outlet, with gay press such as the Pink Paper sharing the charity's message. As time progressed, the organisation became involved in Pride documentaries and started using social media platforms such as Twitter to share their message. Subsequently the charity has become the leading Muslim LGBTQI charity over the past 20 years. Check out this video to learn more about their history…
4. The charity has faced historic Islamophobia
The intersectionality of being gay and Muslim means facing many battles, both within the community and from others too. After the 9/11 NYC attacks Islamophobia (hatred towards muslims) particularly ramped up. This subsequently resulted in homophobia becoming far more prevalent for Muslims. The charity has battled this over the years and provided a safe space to try and move past these prejudices.
5. Imaan's co-founder speaks openly about the pressures they've faced
Faizan is one of the founders of Imaan and also the #ImaanFest director. They have spoken openly over the years about the pressures LGBTQI Muslims face, especially when it comes to choosing between sexuality and religion. When talking to global LGBTQI platform Pink News, they said: "Often LGBTQI Muslims are caught in the middle of Islamophobia and homophobia, so we want to provide a safe and inclusive space where people feel like they do not have to choose between identities and that they can be LGBTQI and Muslim without pressure from those who say otherwise."
? It's my birthday and Alhamdullilah I'm old! As a young queer Muslim there were times I thought I wouldn't survive this long. I'd never have believed in a million years that I'd end up with the life I wanted. #Alhamdulillah #Pride pic.twitter.com/flGx1YkjHa

— Faizan Imaan LGBTQI (@Faizan_Imaan) June 19, 2020
6. The festival is all about celebrating community
According to Imaan, the UK's first Muslim Pride will give individuals an opportunity to stand together and celebrate their community, while also working towards equality for the Muslim LGBTQI community. To find out more about this, have a read of their Crowdfunder campaign statement.
7. The festival will include queer Muslim speakers
Speakers for the April event included US black bisexual Muslim activist and author Blair Imani, who went viral last year after releasing her first book, Modern Herstory and her parents' expressions of pride. As well as queer British-Iraqi writer and filmmaker Amrou Al-Kadhi and Asifa Lahore – Britain's first out Muslim drag queen and trans activist. It's unknown if these speakers will be part of the rescheduled December event as yet. Watch this space.
8. You can get involved in other upcoming events
To hear more about the movement, speakers and exact information on the festival being rescheduled, sign up to Imaan's newsletter or follow the charity on Twitter to stay up to date.