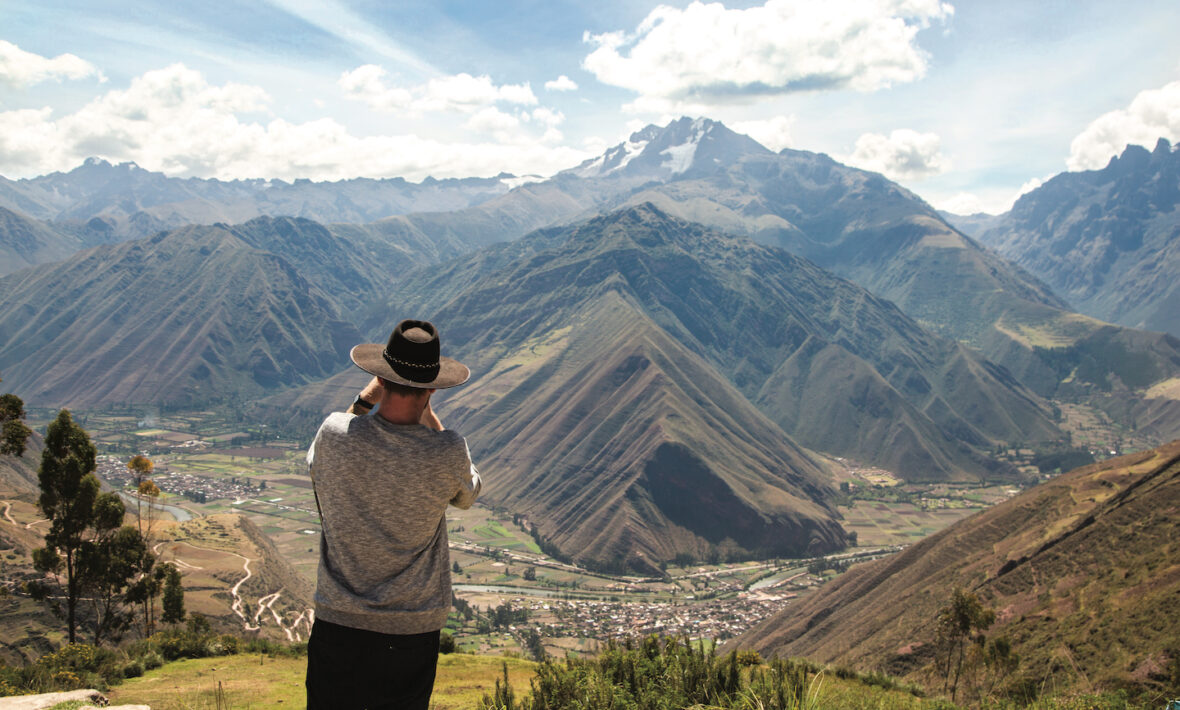 Next up on our virtual Contiki tours series is the one and only Peru. From a jaw-dropping 360° adventure to one of the world's most iconic travel spots, Machu Picchu, to the vibrant shores of Lake Titicaca – South America's largest freshwater lake and home to a fascinating community of Peruvian weavers. We've got Trip Manager tips, the PERFECT Contiki Day Songs (don't blame us when they get stuck in your head) and a few clever ways to recreate the trip at home. Enjoy your next virtual Contiki tour…
1. Experience the climb to Machu Picchu
Join us on an epic 360° tour of this mystical ancient citadel, and watch it rise from the misty mountains yourself….

The standout experience:
As a four-day trek, hiking the Inca Trail is no walk in the park. The Ultimate Inca Trail Contiki adventure takes you through ancient pathways, lush cloud forests and high into the Andean mountains, until you reach the breathtaking Sun Gate. It really is the most spectacular and rewarding trek in the world.
The Trip Manager says:
"Machu Picchu is one of the world's seven wonders for a reason. This magnificent 15th-century Citadel was a forgotten Incan masterpiece, unknown to the outside world until 1911. Then Hiram Bingham discovered it on his great Peruvian expedition, and today it's one of the most recognisable sights in travel. I love watching my travellers' faces as they spot the snaking walls for the first time, emerging from the misty Sacred Valley. There's no comparison in the world, other than maybe the pyramids – a true jaw-dropping, spine-tingling ancient wonder."
The Contiki Day Song:
To help you imagine that heart-pumping feeling as you reach the end of this epic trek, tune into Pumpin Blood by NONONO.
Recreate the trip at home:
You've not lived until you've had a sip of this lip-puckering cocktail – plus it's best served alongside your virtual Contiki Tour to Peru. Create the refreshing taste of Peru at home with this easy recipe. 
Ingredients:
2 ounces / 60ml pisco (you can get it online) 

1 ounce / 30ml simple syrup

3/4 ounce / 20ml lime juice

1 egg white

2 to 3 dashes Angostura bitters
Method:
Mix the pisco, lime juice, simple syrup, and egg white in a cocktail shaker.

Add ice to fill, and shake vigorously. Alternatively, you can use a blender if you don't have a shaker.

Strain into an old-fashioned glass, and sprinkle the Angostura bitters on top of the foam.

Serve immediately.
Read more:
Dreaming of your own Peruvian trekking adventure? You need to read our ultimate guide to hiking Machu Picchu.
2. Explore the cultural city of Cusco
Join us on a 360° tour of Cusco – Peru's historical and cosmopolitan city. It may be the gateway to Machu Picchu, but it has so much more to offer, including llamas, epic cathedrals, artisan shops, and of course, Incan ruins.
The standout experience:
There's a lot to do and see in Cusco, so you'll tick off the essentials on the Peruvian Highlights Contiki trip. First, a stop off at a llama farm to show some love to these furry favourites up close (and get some selfies, of course). Then stop off to witness the ancient Incan art of weaving by a group of talented local artisans. There's also the chance to spot the Incan farming technique of terracing, as well as the 'salineras' (salt mines).
The Trip Manager says:
"Cusco is where our journey into Machu Picchu begins, but it's got so much more to offer than the Incan citadel. From fluffy llamas to artisan craft shops, weaving societies and salt mines, as you stroll the cobblestone passages you'll realise that this city has so many wonders to unpack."
The Contiki Day Song:
The perfect song for this amazing cultural experience? All The Way – Timeflies.
Recreate the trip at home:
Weaving is an ancient Peruvian art that you can practise at home with a few easy-to-find items. Wall hangings are a great way to cut your teeth on weaving and a super simple way to brighten up your interior. Check out this guide to get started…
You will need:
loom

cotton yarn

yarn for your weft

wooden dowel rod

tapestry needle

shuttle

shed stick

scissors
Method:
Read more:
This Cusco based weaving centre isn't just keeping traditions alive, it's changing lives – read about the amazing story behind the Cusco centre.
3. Immerse yourself in beautiful Lake Titicaca
Join us on a fun guided tour to Lake Titicaca. Known as the 'birthplace of the sun' by the Incas, this is the largest freshwater lake in South America. Watch as we sit on the banks of the lake and sing songs with the locals.
The standout experience:
For a taste of ancient Peruvian life, you need to visit the shores of Lake Titicaca on our Peru Panorama Contiki trip. Jumping in a triciclo (a three-wheeled bike taxi) we'll bump our way down to the port and get our first taste of life on the lake. Our boat ride will take us first to Taquile Island, which to this day remains one of the most culturally intact communities in the whole of Peru, and it's here you'll meet the local weaving community. We'll also stop off at the Uros Islands (AKA the floating islands). Stepping off the boat you'll feel like you're walking on a water bed – unsurprising given the islands are made entirely from reeds. Here, we'll hang with locals and visit a fish farm.
The Trip Manager says:
"The Andean people refer to Lake Titicaca as 'The Sacred Lake'. Incan mythology says the first Inca king, Manco Capac, was born here, making it the birthplace of civilisation. The people who live around the lake still make offerings to ensure there will be enough totora reeds to build their houses, enough fish to catch and for the climate to remain mild. The island community survives by selling textiles and totora reed boats to tourists, so I love taking travellers here to support the local people by stocking up on some amazingly unique souvenirs."
The Contiki Day Song:
This is such a musical experience, and nothing beats the traditional songs of the island community. However, for something fun and anticipatory, listen to All Night by Crystal Fighters!
Recreate the trip at home:
Did you know that listening to water sounds can help to reduce your cortisol levels, which is our stress hormone? For major chill vibes, plug into this Famous Water playlist on Spotify, including a track that will bring the shores of Lake Titicaca to your living room!
Read more:
Intrigued by the community of Lake Titicaca? Go deeper into their story with our investigative article – how the people of Lake Titicaca live will blow your mind.
And that's your virtual Contiki tour to Peru! Because if we can't travel, we can at least keep dreaming…