Volunteering in Laos: my unforgettable experience
Share
Sandwiched between Thailand, Vietnam, and Cambodia, Laos was once primarily known in the West for drunken, sunburned European and Antipodean travellers tubing down the bar-lined Nam Song river in Vang Vieng. But in recent years, volunteering in Laos has become more popular.
Despite a bit of a tourism renaissance, it still goes under the radar when it comes to the most popular countries to visit in Southeast Asia. Yet, it's a diverse land that's home to some of the best scenery in the region, as well as enough cultural artefacts to make Indiana Jones feel awed. Nowhere is this more obvious than the former capital, Luang Prabang, which is a charming mixture of serene temples and French colonial architecture; its centre has even been designated as a UNESCO World Heritage site.
With that all said, Laos remains a relatively poor country, with many of its most educated locals emigrating to China, Japan, or the West. As a result, the opportunity to practise English is in high demand, especially among children and teens in the major population centres. In Luang Prabang especially there are dozens of informal programmes where travellers passing through can give an hour of their time to converse with some of the local youths, to help them to sharpen their language skills and learn a little about Western culture. After nearly six weeks of living the relatively selfish lifestyle of a backpacker, my girlfriend at the time and I were ready to give something back (or at least try to), so we signed up for a session. And, as with all the best decisions people make while travelling, we did so without really knowing what we were getting into.
The Western impulse to do charity work while travelling through the global south is a double-edged sword. While there's no doubt that people sign up to various projects with the best of intentions, many options for this kind of activity are tinged with a hint of paternalism. In Laos this feeling is especially acute as it's been a victim of Western imperialism at its worst: it remains the most heavily bombed country in history thanks to US skullduggery during the failed war on Vietnam. 
However, unlike many charity projects which take away opportunities for employment for locals, or try to enforce cultural values in exchange for basic services, helping kids and teens improve their English doesn't have too much of a downside. Most services are run in conjunction with schools, and the pupils are all there of their own volition. Basically, it didn't feel like the sort of thing people do for a photo opp, so we felt comfortable that giving our time would make a positive difference.
We turned up to the venue expecting some sort of briefing, but myself and other English-speaking travellers volunteering in Laos were pretty much plunged into the deep end as soon as we walked through the doors. As we entered the hectic classroom, the older Laotians who organised the session foisted a couple of kids on us, and that was that. We were sent to our own little spaces with the instruction to talk about anything we wanted. Much like being in the supermarket and being faced with dozens of choices for what is effectively the same product, this induced a brain paralysis in some of the volunteers.
Thankfully, in a reversal of what I thought the experience would be like, the kids were well practised in coaxing young people volunteering in Laos out of their shells. Their confidence was especially helpful to my ex-girlfriend, who despite having a great level of English was more comfortable in her native tongue (French). Within a few minutes we were all chatting away.
In a group of three – one teen, one kid of around ten, and myself – we immediately launched into a conversation about what the young people I was talking with wanted to be when they grew up. Both were keen to improve their English enough to be able to study at a Western university, so they could return and improve their country. Talking to the other volunteers after the session, this appeared to be a common theme. 
We quickly moved onto other topics, covering everything from television shows they watched to help with their English (Friends is apparently a firm favourite) to the best places to grab food in the city (street stalls and chaotic backstreet operations, as opposed to the opulent restaurants that lined the Mekong). The actual teaching element was more about correcting pronunciation and improving vocabulary, but even that wasn't too strenuous – the kids were all confident and friendly, with one even making fun of my (admittedly battered) walking boots. At one point, the teen I was with turned around and tried chatting up my ex, with surprising proficiency.
The hour rushed by, with very few stilted silences and plenty of insightful moments. Although it's the worst kind of cliche, I came out of the session feeling like I had probably learned more than the kids I was supposed to be helping. Sure, I'd given them a few fancy words and some grammar pointers (marking nouns with articles was a bit of a struggle for them, as Lao doesn't really do that), but what I'd gained in return was an insight into how these young people saw their nation, both good and bad.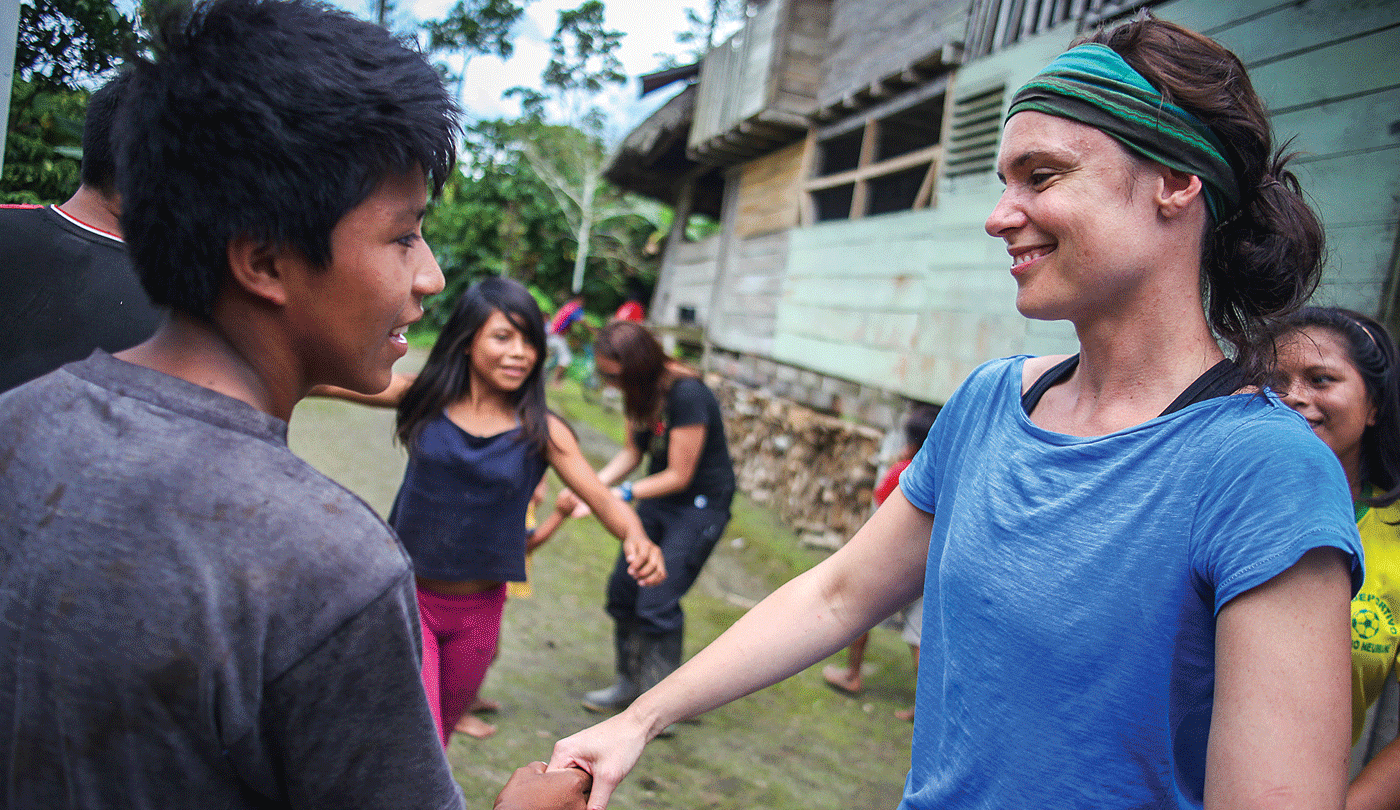 Despite the overwhelming desire to leave the country for education, many were dead set on coming back afterwards, so that they could help Laos blossom into the nation they knew it could be. The youths had a sense of optimism that was infectious, and although Laos does have a number of serious, deeply rooted problems, with a young, hungry, and talented population, they could easily see the  sort of growth and prosperity that nearby Vietnam has experienced in recent years. 
We left the session as dusk was draping over the city, and the air had finally cooled enough that we weren't covered in a film of sweat the second we stepped out the door. Although I'd grown to love Laos in the short time I'd been there, after volunteering it really did feel like I'd made a connection that ran deeper than just an appreciation for its beauty and culture. While I'm under no illusions that giving an hour of my time was some grand act of service, I also feel like it enhanced my understanding of the country more than any guidebook or walking tour ever could. Charity might not always be so giving, but in this case I couldn't have asked for a better present.