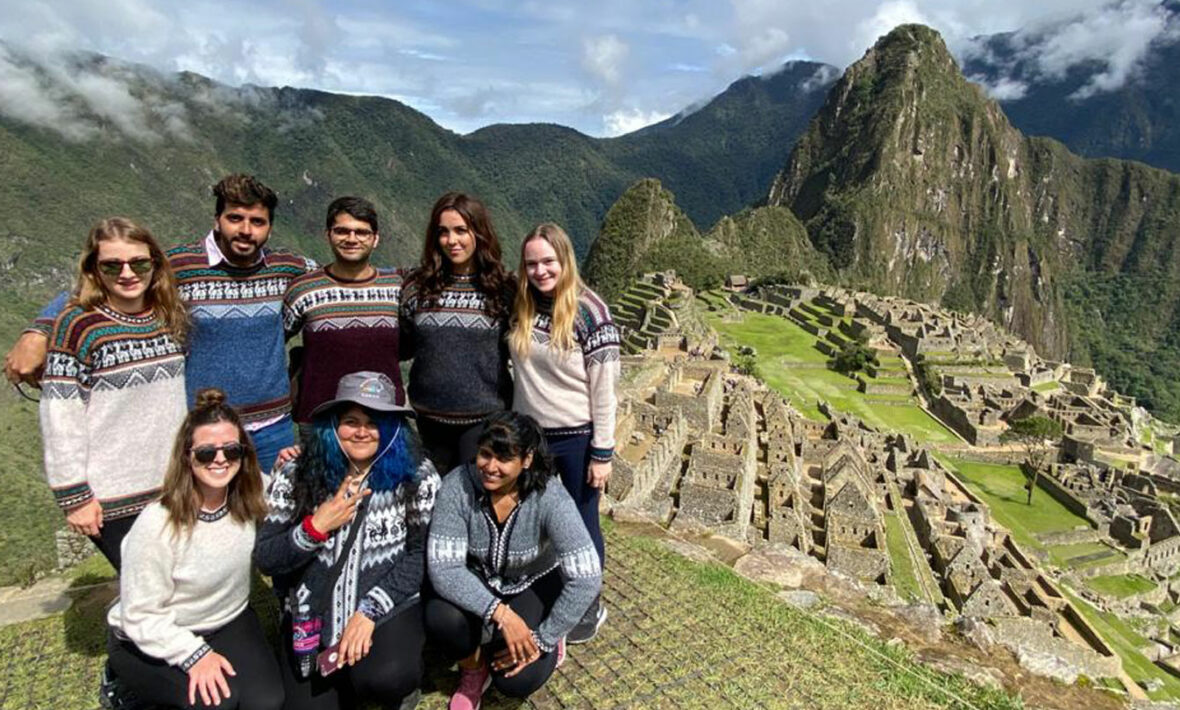 Thinking about travelling to Peru with Contiki? Last November, I decided to travel to Peru with Contiki on the 11-day Peru Panorama trip with my boyfriend. I didn't know much about Peru, other than it was home to one of the seven wonders of the world – Machu Picchu. We packed our bags and left for our long flight to Lima, Peru. I was blown away by the ancient sites, culture, food, landscape, people, and animals of colourful Peru. If you haven't already, you must add this country to your travel list! Here's why…
Your trip will start in Lima
You can't visit Peru without visiting it's capital city, Lima. Nestled on the Pacific Coast, this city is one of South America's largest cities and home to one third of Peru's population. Lima has a lot to offer. I recommend arriving a day early so you're not only well-rested, but also have some extra time to explore. You'll also want to devour as much ceviche as humanly possible because the seafood was by far the best in Lima.
After one full day of exploring, our adventure started early in the morning. We met up with our group and our local guide who brought us to some great places. We got a chance to visit Parque Del Amor, Plaza de Armas, and Iglesia y Convento de San Francisco. My favourite neighbourhood was the Bohemian region of Barranco. It's an artsy district with a vibrant cultural scene. Make sure your phone is charged because there's tons of street art and graffiti to make picture-worthy memories.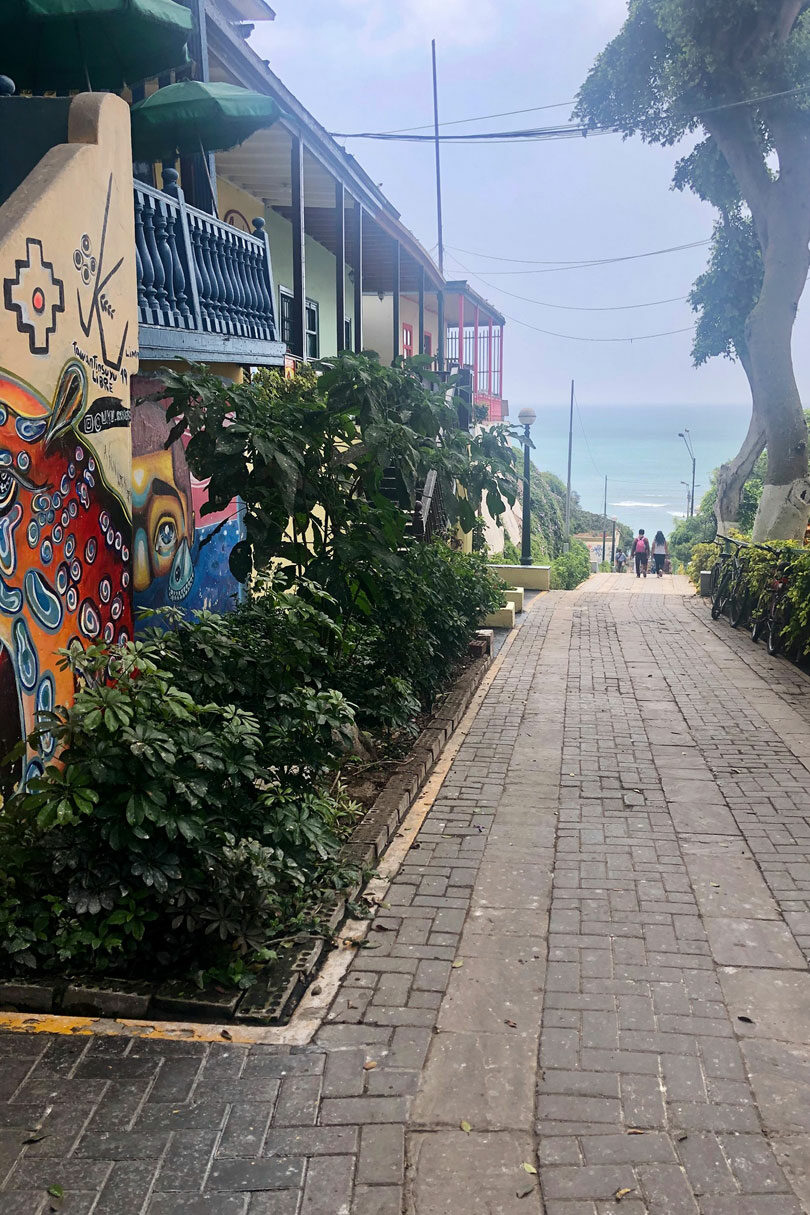 Image source:Kelsey Gostelow
You get to hang out with the locals in Lake Titicaca
You'll get to visit South America's largest freshwater lake, Lake Titicaca. I found the experience was extra special on the Peru Panorama trip. We got to visit two local communities – one on the Uros Islands and Taquile Island. One of the best meals the entire trip was on Taquile Island. The views during lunch were absolutely amazing, and were comparable to Santorini in Greece! We also had the opportunity to hang out with the locals and learn about their weaving culture that has been passed down through the generations. One memory I'll never forget is playing a few games of sports with the locals because the competition was fierce.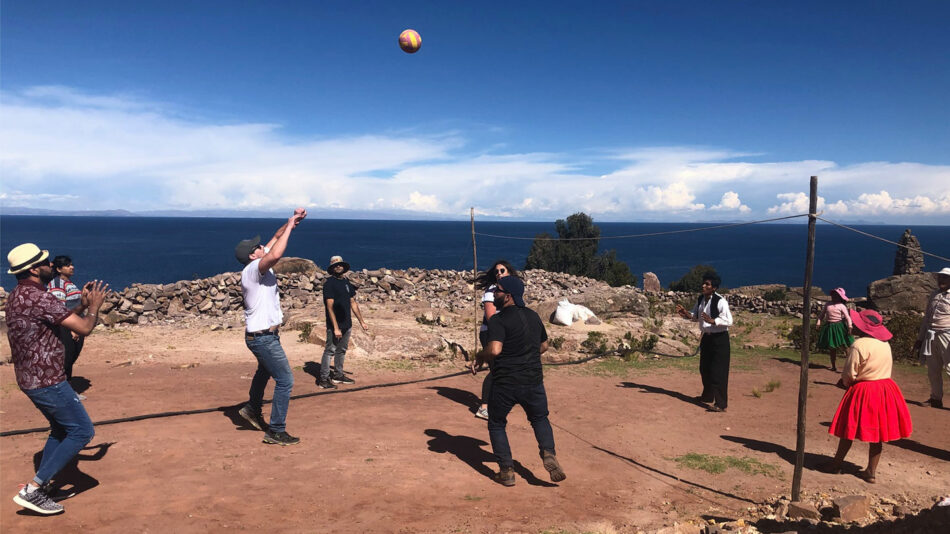 Image source:Kelsey Gostelow
You get to see Machu Picchu, twice
If you opt to take the 1-day trek, you will in fact have the chance to see Machu Picchu twice! And if you experienced incredibly wet weather one day (like me), you'll be grateful for it!
On the trek day, we were dropped pretty much in the middle of nowhere, at KM104 and started our hike up to Machu Picchu. It was an overcast sort of day to start but ended up being a torrential downpour. Weather changes like this are very common in South America, so pack wisely! There is supposedly an epic moment where you see Machu Picchu through the sun gate – yeah, no we could barely spot it through the clouds but made the best of it anyway, of course! After being soaked from head to toe we made our way back to our cozy hotel after our first glimpse of this seventh wonder and prayed to Pacha Mama for a warmer day the next.
And guess what, we lucked out! The second day we took our civilized selves up to MP by bus and had an incredible time exploring in the sun and getting those epic must-have photos. So I encourage you to opt for the 1-day trek, not only to see Machu Picchu, but to also appreciate the site for all it is. You'll see why the Incans were so fit, see some really cool ruins on the way up, and have a better chance of getting nice weather one day or the other.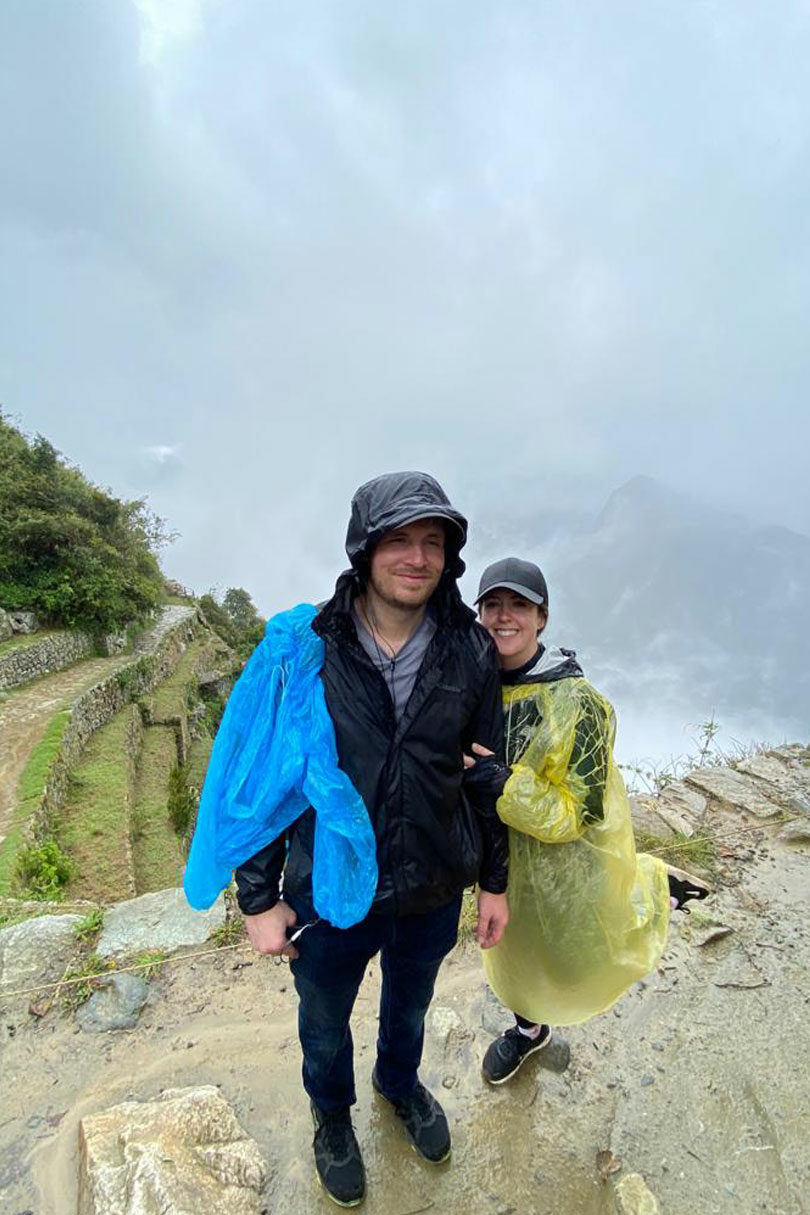 Image source:Kelsey Gostelow
There's more to Peru than Machu Picchu
Of course Machu Picchu was a big highlight, but there's so much more to Peru that I didn't realize before the Peru Panorama trip. You'll visit ancient cities like Arequipa, which is this beautiful colonial town called the 'White City'. You'll also want to spend some time exploring La Ciudad Blanca and Cusco, which was the former capital city of the Incas. Some experiences you can't miss in Peru include learning how to salsa dance or how to cook authentic Peruvian cuisine. But the people are one of the most amazing things about this country. The people of Peru are so warm and friendly, which made for a very welcoming experience when exploring the different towns and engaging with the locals.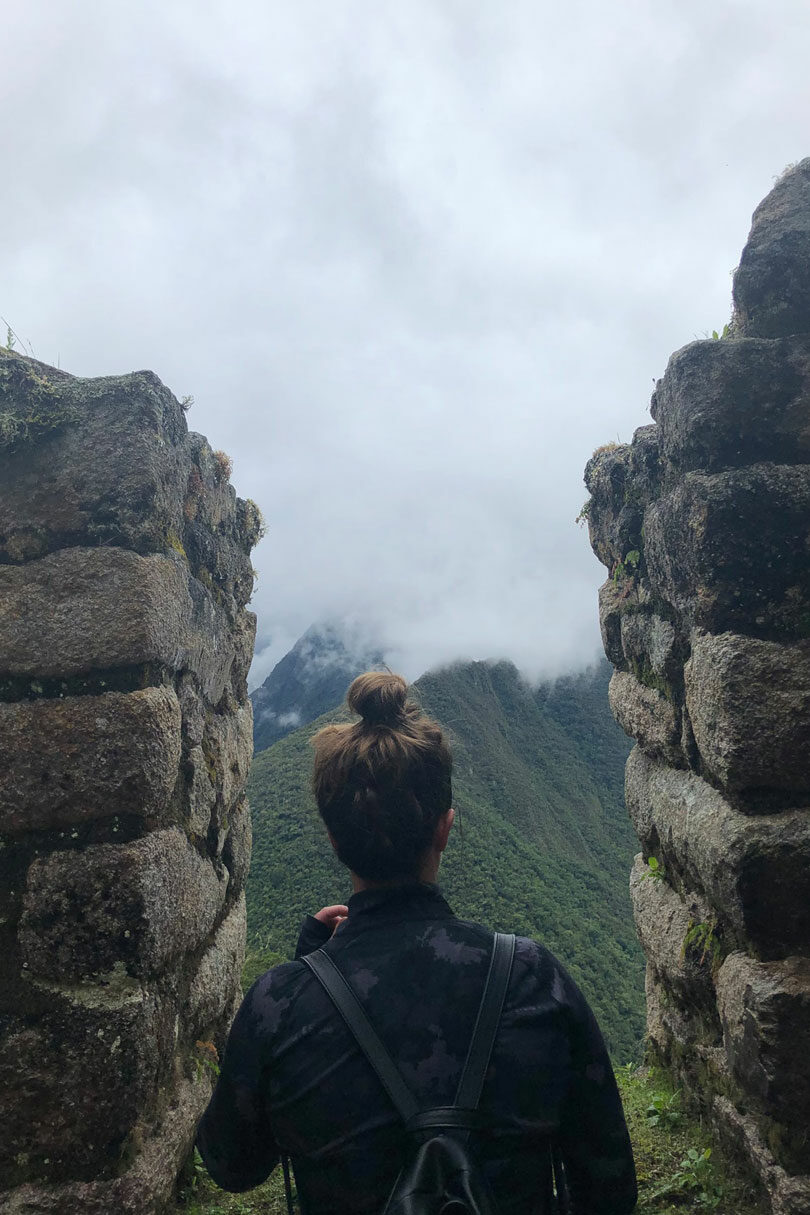 Image source:Kelsey Gostelow
You'll want to shop a lot
I purchased so many locally made blankets that one local started calling me 'the blanket lady' because I kept coming back to her stall! I do love my textiles especially when I can support the local communities and bring home some really unique items. Peru's textile production actually dates back over 10,000 years ago, so it's a great country to invest in some great finds. A part from colourful textiles, you can find hand painted art, nice ceramics, and just about anything with an alpaca on it, so don't forget to support the locals while you're visiting!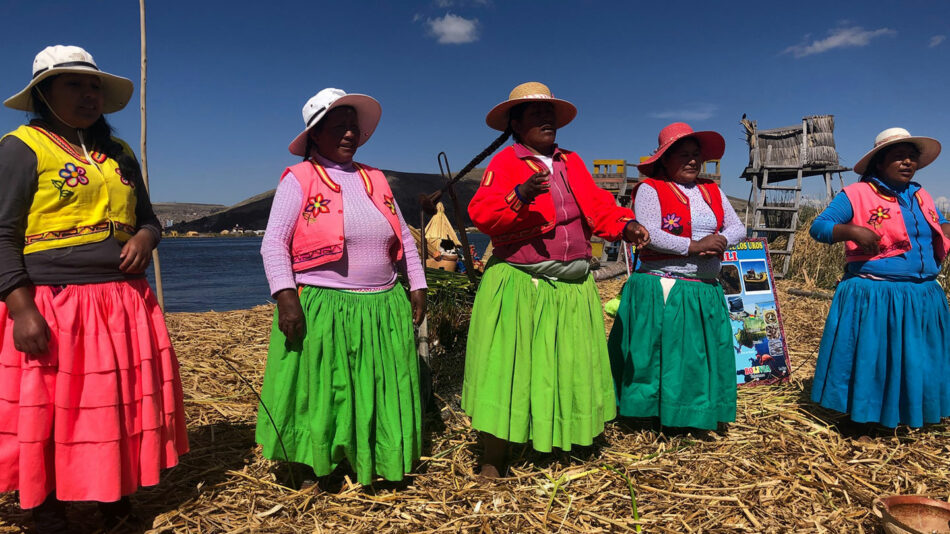 Image source:Kelsey Gostelow
Contiki Latin America is loaded with value
I really didn't spend that much on extra activities or food. Compared to other trips I've been on with Contiki, I found the Peru Panorama trip to be jam-packed with inclusions. This is pretty standard for Contiki Latin America so if you're considering Peru or any other trip in the region, expect the unexpected! Be prepared for early starts nearly everyday but know this is done so that you can see and do ALL of the things. The coach will stop frequently for snack and restroom breaks, and to get you those epic llama or alpaca selfies. Don't forget to enjoy your down time on the coach. Some of my favourite parts of the trip happened to be on 'travel days' driving in the Andes mountains, listening to music, and really taking in the scenery. I was literally blown away with how much I saw and did in 11 days – there is no way I could have done what I did on my own.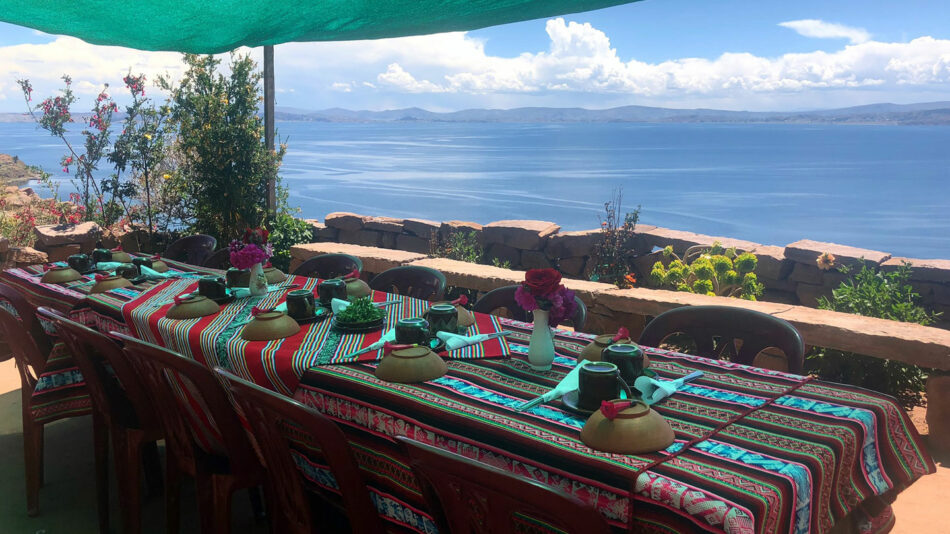 Image source:Kelsey Gostelow
You'll wish you booked a longer trip
The trip wraps up in Cusco and most international fights depart from Lima so you'll have to make your way back to the coast if you plan to go home. It was difficult to say goodbye to my new friends, and my new love, Peru. It's a country I won't be forgetting anytime soon!

Although the Peru Panorama trip was amazing, one thing I do regret is not booking a longer trip. You can actually do a really well-rounded trip if you book Peru Uncovered. The itinerary is the same as the Peru Panorama but you get to explore the Amazon. I found the trip just got better every single day so I can imagine that a few extra days in the jungle wouldn't hurt one bit.
So if you're thinking about going to Peru, it's one you just cannot miss. Since returning back home, I've been telling everyone about my trip. Not only was it an travelling to Peru an amazing experience, I made a ton of new memories and checked items off my bucket list. And if Machu Picchu isn't enough to convince you to make the trip, maybe seeing an alcapallama or two will.