Queen's Gambit. If you know, you know (and let's be honest, most of us do). Who'd have thought a show about chess would have us quite so gripped? Now viewed by over 60 million households globally, it's officially Netflix's most popular limited series to date.
Anya Taylor's regal performance of Beth Harmon, the absolute Queen of the male-dominated chess world, is both captivating and moving. Poised, graceful, whip-smart – and with a killer wardrobe to boot – she's also deeply troubled and battling addiction. 
The richness of her story is elevated by the stunning backdrop to the entire ensemble. Majestic buildings, resplendent promenades, bright lights, big cities – Mexico, Vegas, Paris, Moscow…. you name it, Beth sees it all. We take a look at some of those key scenes and where you can visit. Spoiler alert: most are filmed in completely different locations to what you see in the show. 
1. The orphanage where Beth first learns to play chess
This building is the Kentucky orphanage where Beth grows up and is first introduced to chess – and her subsequent addiction to those green pills. In reality, this is Schloss Schulzendorf Castle located just outside Berlin. Built in 1889, it was owned by a Jewish-Israel family before being seized by Nazi German's in WWII after they fled the country in search of safety. The property was finally returned to its original family of owners in the 1990s.
Image source:Photo by Clemensfranz
2. Beth's home in Lexington, Kentucky
When Beth is adopted she moves into this house with her adoptive parents, The Wheatley's, set in Lexington, Kentucky USA. It presents the well-kept facade where both Beth and her mother conceal their various dependencies on prescription pills and alcohol over the years, behind closed doors. The house itself is located in Cambridge, Ontario, Canada – and it's a privately owned residential property. So whilst you could visit to snap the outside of Beth's home, you won't be able to go inside! 
Image source:Netflix
3. The Ben Snyder Department store in Kentucky
Beth first visits the Ben Snyder store with her mother to find school clothes. It's also where she lays eyes on a beloved chess board, and a fancy dress – both of which she returns to buy with the winnings from her first chess tournament. The exterior of the store was filmed in Toronto, Canada, but the interior is actually filmed at the 'Humana' at Berlin's Frankfurter Tor, a secondhand and vintage clothing store. 
Image source:Atlas of Wonders
4. Hotel Cincinnati, Ohio
In episode 3, Beth and her mother Alma travel to Cincinnati, Ohio so Beth can compete in the open chess tournament – it's the catalyst for her claim to fame as the chess prodigy to beat. And a female one, no less. It's an exciting time for both mother and daughter, and their first taste of the high life; but those glamorous hotel and lobby scenes are actually filmed at the Rathaus Spandau town hall in the west district of Berlin.
Image source:Wikipedia
5. Hotel Mariposa for the Las Vegas US Open
Ah, the nail-biting scenes of the Las Vegas chess tournament! It's where Beth competes with chess-champion and male prodigy Benny Watts, and experiences her first professional loss. The Hotel Mariposa is also filmed in – you guessed it – Berlin. It's shot at the Palais am Messe-Funkturm which is a 1950s ballroom that you can both visit and book out for events (should you wish). And if you remember the entrance scenes, lined with Vegas-style palm trees? Those were digitally modified for effect.
View this post on Instagram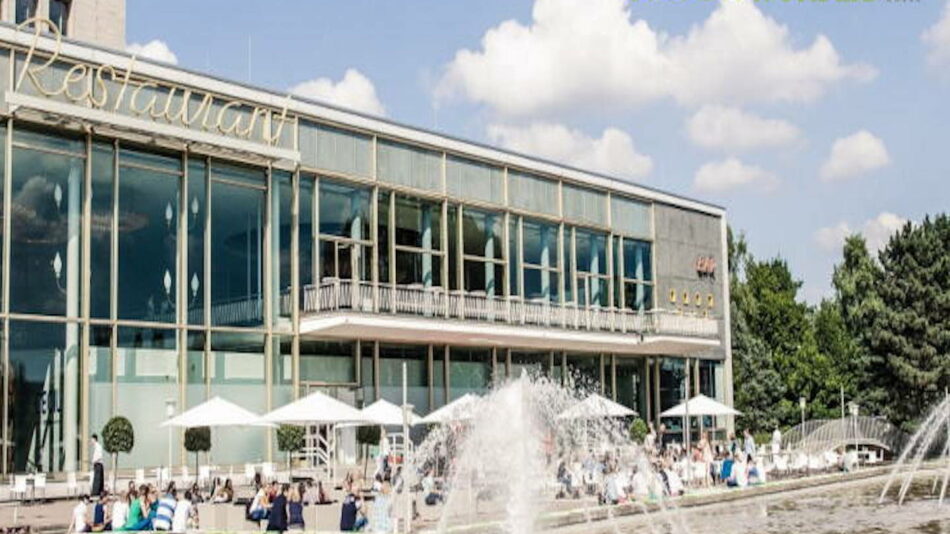 Image source:Atlas of Wonders
6. The Aztec Palace Hotel, Mexico City
In the fourth episode, Beth and Alma travel to The Aztec Palace Hotel in Mexico City — otherwise known as the Friedrichsstadt-Palast in Mitte, Berlin. This is where Beth takes on the mighty Bergov, the Russian world chess champion. Built in 1984, the famed Palast used to be a circus but today it's a theatre that you can visit and see hundreds of performers light up the stage.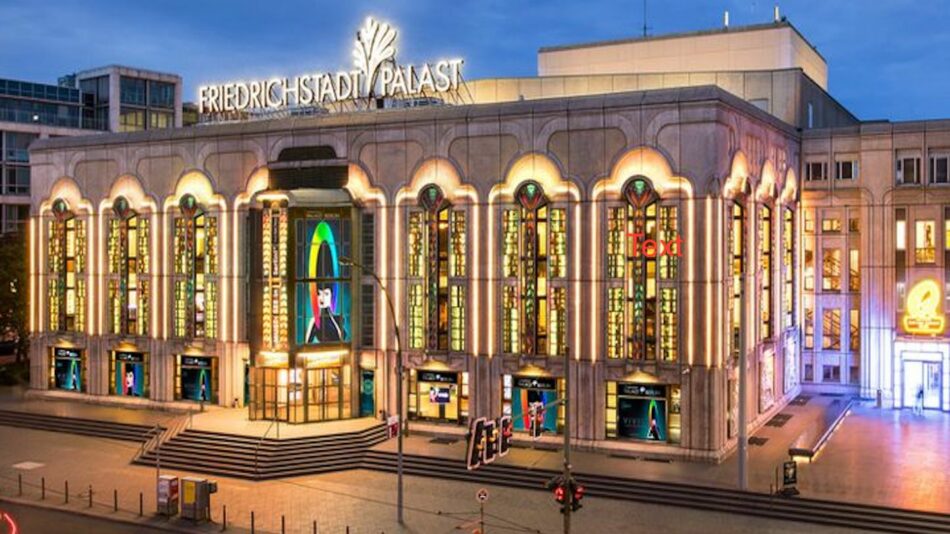 Image source:Holiday Pirates
7. Ohio US Championship
In episode five it's 1967 and we see Beth competing on campus at the Ohio US Championship. The college campus is actually filmed at St. Andrew's College in Aurora, Ontario, but the inside hall where she plays the tournament is another Berlin location: the Protestant University of Applied Sciences. 
Image source:Netflix
8. Paris Tournament
The opening scene to Queen's Gambit features the Paris Tournament which is shot in Berlin at Haus Cumberland. Built in 1911, Haus Cumberland used to be a hotel but is now a primarily residential property – so you might not get a sneak peek of the inside if you visit.
View this post on Instagram
Also featured in this episode is the Bode Museum in Berlin. Remember the scenes with Beth sat in the cafe the night before her tournament, drinking one too many cocktails with Benny's friend, Cleo? That's here.  On a regular day, you can come to admire the museum's collection of marble statues, sculptures and stunning architecture.
Image source:SMB Museum
9. Moscow Tournament
The final episode sees Beth travel to Russia to take part in the climactic Moscow Tournament – it's the pinnacle of her chess career, and it's where she faces Bergov once more for a final showdown. The impressive building we see in this episode with its 60-foot ceilings and grand exterior is Baerensaal aka Bear Chamber, Berlin's old city hall.  
View this post on Instagram
Image source:Travel Awaits
10. Rose Garden Square
The final scene sees Beth walking the streets of Moscow, greeting other chess players, coming back full circle to the type of modest games she first enjoyed with her beloved janitor in episode one. It's a true coming of age story with Beth symbolically dressed from head to toe in white – the Queen of the board. This part is filmed on Karl-Marx-Allee, Rose Garden square, Berlin. It's probably one of the easiest locations for fans of the show to visit. 
Image source:Chess Base