29 best foods in the world worth travelling for
Share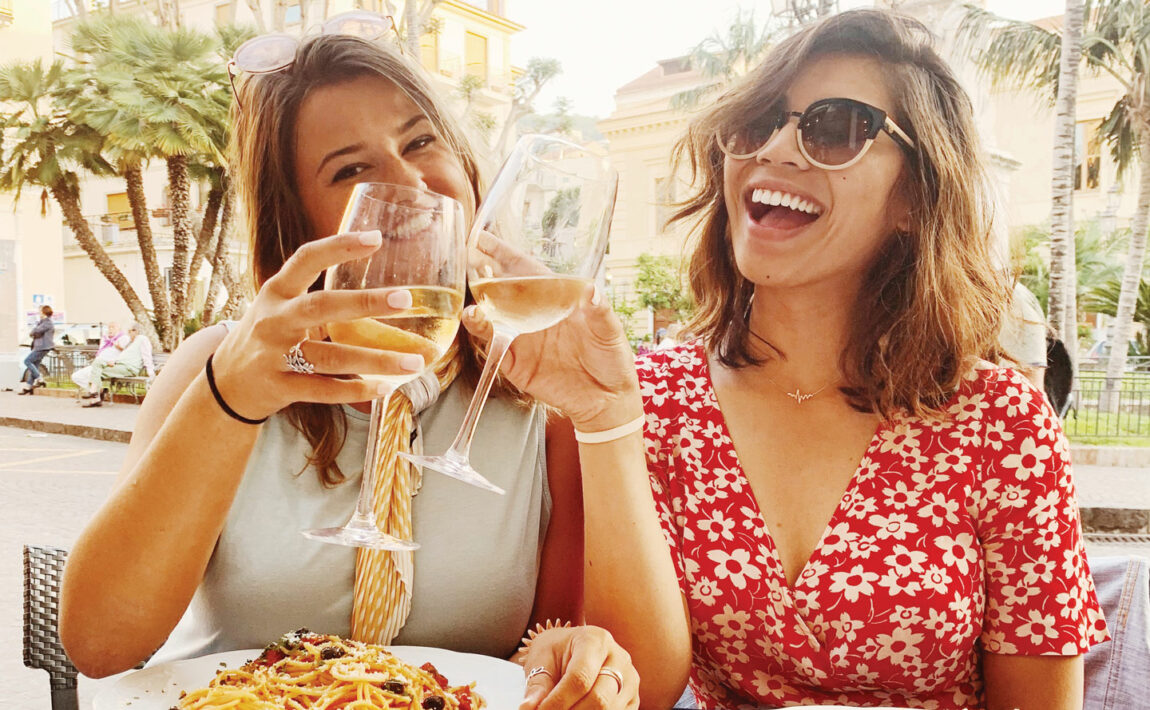 From Masala Dosa in India, to Peri Peri Chicken in Portugal, to Xiao Long Bao in China, our foodie bucket list is so long, we'll be eating our way through it for a lifetime. No complaints here, though! Food is one of the best parts of travel, and some dishes are so epic they're simply worth travelling for. We've taken on the very difficult task of uncovering 29 of the best foods in the world to help you map out your next culinary adventure. You're welcome…
1. Neapolitan Pizza, Italy
Fresh tomatoes, basil and mozzarella: it doesn't get much better than this. Italy is worthy of a spot on any foodie's European Bucket List, but the classic Neapolitan Pizza is the top tier of Italian food. If you're looking for the best of the best foods in the world, Gino e Toto Sobillo Pizzeria is an iconic eatery worth checking out.
View this post on Instagram
2. Xiao Long Bao, China
Is there anything better in this world than a steaming hot plate of xiao long bao? These delicious dumplings filled with pork and unbelievably delicious broth are a staple in China, especially in the Wuxi and Shanghai regions. Though you can get a pretty excellent serving of xiao long bao in many Chinese eateries around the world, nothing beats trying this dish in its home country.
View this post on Instagram
3. Tajine, Morocco
Another hearty dish worth travelling for, the aromatic tajines of Morocco will exceed your expectations in every way. For those who don't know, the tajine – or tagine – is a traditional ceramic or clay cooking vessel used to slow-cook vegetables, spices, broth and meat like lamb or chicken together in one dish. What's left is a spicy stew of sorts, only about one million times tastier.
View this post on Instagram
4. Paella, Spain
Flavoursome and fun, the paella of Spain is iconic for a reason. Though the meal is originally believed to have come from the Valencian region, it's now known as one of the most delicious and readily available dishes to try in Spain. Rice, saffron and other seasonings, vegetables and meat like chorizo, chicken or seafood are cooked together in a large pan. The result? A sizzling, savoury dish worth crossing continents for.
View this post on Instagram
5. Fried Chicken, USA
Sure, there's probably a KFC within driving or walking distance of most towns and cities. But there's nothing quite like the glorious spicy seasoning and crispy batter of fried chicken in the USA. Memphis, Tennessee, Louisiana and more; the southern states are renowned for their simple, yet spectacular, fried chicken.
Check out Gus's World Famous Fried Chicken in Memphis, Tennessee, for spicy fried chicken served up with beans and slaw. For a classic serving of double dredged fried chicken with sides like cornbread, mac & cheese and collard greens, head to Martha Lou's Kitchen in Charleston, South Carolina. Or try something a little different at Beasley's Chicken + Honey in Raleigh, North Carolina, where – you guessed it – their salty, crispy chicken is slathered with sticky honey sauce.
View this post on Instagram
6. Pastel de Nata, Portugal
Pastel de nata, or Portuguese tarts, are little egg custard tarts, dusted with cinnamon, icing sugar, or both, depending on where you eat one (ONE?! You'll be eating at least seven). These addictive desserts can be bought for a small price at almost any eatery but Pastéis de Belém and Fábrica da Nata in Lisbon are two of the most famous spots.
View this post on Instagram
7. Arepas, Venezuela
A staple of Venezuelan and Colombian cuisine, arepas are fluffy patties made from maize dough. They're often stuffed with tasty ingredients like cheese, beans or shredded pork. They can also be cut in half and used as ends of a sandwich. However they're served, you can find affordable and delicious arepas at street stalls and restaurants across Venezuela.
View this post on Instagram
8. Pho, Vietnam
After a day of sightseeing, there's nothing quite as wholesome or hearty to fill you up as a warm bowl of Pho. This traditional Vietnamese soup combines flat rice noodles, ginger, aniseed, chilli, coriander, cinnamon and assorted spices with your meat or vegetables of choice in a flavoursome broth. Though you can get your hands on this slow-cooked soup almost anywhere in Vietnam without being disappointed, some of the best are considered to be Pho Quynh in Ho Chi Minh, Pho Thin and Madame Hien in Hanoi.
View this post on Instagram
9. Pav Bhaji, India
Fast food, but add a little ~spice~ and you've got Pav Bhaji. This quick dish is especially common to eat as a snack in Mumbai, where it became a popular worker's lunch. The street food dish consists of mashed spiced vegetables like onions, potatoes, carrots, tomatoes and capsicums in a thick sauce. Sometimes it can be topped with ingredients like cheese, mushrooms or extra onions; but it's ALWAYS served with a soft white bread roll for scooping up the saucy mixture. It's gloriously tasty and seriously cheap: an ideal combo for the hungry traveller.
View this post on Instagram
10. Lahmacun, Turkey
Lahmacun – often colloquially referred to as Turkish Pizza – is a simple street food consisting of a round, thin piece of dough topped with minced meat, vegetables and spices. Common ingredients include beef or lamb, onions, tomatoes, pine nuts, parsley, cayenne pepper, paprika, sumac, chilli flakes and cinnamon. If you're travelling through Istanbul, Halil Lahmacun and Tatback are two popular spots to sample this savoury snack.
View this post on Instagram
11. Ceviche, Peru
Without a doubt, Peruvian Ceviche is one of the best foods in the world. Even if you don't think 'raw' fish is your thing, this fresh and zesty dish will win you over. Ceviche involves curing small slices of raw white fish with citrus, typically lime juice, and spiced with chilli, aji, coriander and other ingredients like onion, capsicum, garlic or tomatoes. It's seriously good!
View this post on Instagram
12. Tom Yum, Thailand
An iconic hot and sour soup from Thailand, Tom Yum is a broth made with ingredients like lemongrass, kaffir lime leaves, galangal, lime juice, fish sauce, coriander and chilli peppers. Served up with different meats and vegetables depending on where you order, the most popular is Tom Yum Shrimp Soup with prawns, and sometimes noodles and coconut milk added to the mix.
View this post on Instagram
13. Empanadas, Argentina
Who doesn't love a snack that's tasty, hand-sized and cooked in its own little food container? In Argentina, this South American street food (which look like moon-shaped pies) is filled with anything from beef and shredded chicken to cheese and spiced potatoes. The one thing they have in common is flavourful spices and a crispy, flaky outer shell. There are so many variations, you can spend your whole trip sampling each individual kind… and we recommend you do.
 

 

 

View this post on Instagram

 

 
14. Poutine, Canada
Poutine is undoubtedly one of the best comfort foods in the world. Crunchy hot chips – AKA french fries – are slathered in a rich gravy and topped with sheep's curds. Oh, Canada, how we love you. From Quebec in the East, where this rich dish originated, to Vancouver in the West, poutine is a hearty snack food or pub dish you can find just about anywhere.
View this post on Instagram
15. Currywurst, Germany
A play on the more traditional bratwurst of Germany, currywurst is a popular street food adding spice and flair to an old favourite. Pork sausages are steamed and fried before being covered with the signature curry ketchup; a mixture of ketchup or tomato paste with curry powder and other spices like paprika, chilli and cinnamon. They're cheap, readily available in cafes and street vendors, and can be served up with different flavours. In Berlin, some of the most popular spots include Bier's Kudamm 195, Curry Baude, Curry 36 and Witty's.
View this post on Instagram
16. Shakshuka, Israel
A classic North African and Middle Eastern dish, Shakshuka is basically a warm bowl of spicy baked eggs and a signature breakfast dish in Israel. It combines tomatoes, onion, capsicum, garlic and spices like paprika, cumin, cayenne pepper, nutmeg and harissa. After simmering these ingredients together to create a chunky stew, you then crack eggs into the dish. Extra ingredients like chorizo, eggplant and halloumi are common, and toppings include fresh coriander or crumbled feta.
View this post on Instagram
17. Mochi, Japan
Colourful, soft and sweet: Mochi is one of many unique treats to try in Japan. It's a simple little rice cake, made from the glutinous sweet rice mochigome or the sweet rice flour mochiko, which is combined with sugar, sweetened red bean paste and other fillings.
View this post on Instagram
18. Pierogies, Poland
In the cold winter months, nothing will keep you warm like a delicious pierogi. Unleavened dough is cut into small dumpling parcels, filled with savoury food like potato, sauerkraut, cheese or ground meat and cooked in either boiling water or a hot pan. These wholesome little dumplings are often topped with ingredients like fried onions, sour cream or lardons before being served. We have dreams of heading back to Poland and ordering these bad boys by the dozen!
View this post on Instagram
19. Tacos, Mexico
Enchiladas. Tamales. Mole. Is there anything Mexico can't do? Nope. Every single dish in this spice-loving nation is outstanding. But you can't go past the tacos when you're travelling through Mexico. In particular, the Tacos Al Pastor are a must-try. Spit-roasted, marinated pork is sliced up, served on a corn tortilla with chopped onions, pineapple, coriander and lime. Extras like guacamole, pico de gallo and cheese make this knockout dish even better!
View this post on Instagram
20. Frites, Belgium
Okay, we hear you saying "they're just fries" and raise you "but this is the birthplace of fries." The humble hot chip is celebrated as one of the best street foods of Belgium, thanks to a lengthy history of deep-frying potatoes. Double fried, served in paper cones with a healthy dollop of mayonnaise, ketchup or mustard – a serving of frites will change your life and keep your tummy full as you take on the sights of this breathtaking country.
View this post on Instagram
21. Peri Peri Chicken, Portugal
With origins in Mozambique, Peri Peri Chicken is a truly international dish. The chicken is marinated in peri-peri chillis, garlic, red wine vinegar, salt, and cooked in with ingredients like onion, pepper, bay leaves, paprika, pimiento, oregano, basil and tarragon. The chicken is cooked over charcoal barbeque, spit-roasted or roasted in a wood-fired oven. It's seriously one of THE best foods in the world to try. Some of the tastiest spots to sample these spicy chickens in Portugal are Bonjardim and Frangasqueira Nacional in Lisbon, Mullens in Lagos or Pedro dos Frangos in Porto.
View this post on Instagram
22. Chilli Crab, Singapore
In a land of Michelin Star street-food, you'll be spoilt for choice here. Still, if you're visiting Singapore, your must-try dish of the trip needs to be the signature Chilli Crab. Mud crabs are stir-fried and heavily coated in a thick red sauce made of tomato paste or ketchup, ginger, garlic, soy sauce, eggs, sambal and spices. Some of the best places to try this include: Keng Eng Kee Seafood at Alexandra Village Food Centre; Mellben Seafood on Ang Mo Kio; Long Beach in the East Coast Seafood Centre; and Jumbo Seafood in The Riverwalk
View this post on Instagram
23. Masala Dosa, India
A savoury, spicy street snack, Masala Dosa is a stuffed pancake or crepe made from lentils and rice. The stuffing is made from potatoes, grains, onions, curry leaves and spices. It's often served with chutneys or sambar to offset the spiciness and add even more flavour. Popular in South India especially, you can pick up a tasty Masala Dosa for just a few bucks at markets or vendors.
View this post on Instagram
24. Gyro, Greece
Spit-roasted meat, tomatoes, onion, tzatziki and hot chips: there's no denying that ordering a Gyro is a real "treat yourself" moment. This hearty fast food is typically served with pork or chicken, though lamb, beef and even vegetarian options like falafel are served up in most shops and stalls. If you're hopping through the Greek Islands, be sure to check out Pitogyros in Santorini and Grill Roussos in Paros.
View this post on Instagram
25. Fish & Chips, The UK
There's something about the beer-battered fish, thick-cut hot chips and mushy peas served up in the UK that calls to us. From corner-store chippies to fancy restaurants, there'll be no struggle to find a parcel of glorious fish & chips over here! Some of the best include Frankie's Fish and Chips in Brae, Fishers and The Chipping Forecast in London, The Lower Deck in The Isle of Skye, Fish 'n' Fritz in Weymouth and The Bay in Stonehaven.
View this post on Instagram
26. Sushi, Japan
One of the most delicious – and fun – experiences you can have in Japan is visiting a sushi train restaurant. The modern Japanese sushi trains are futuristic and extravagant, with colourful plates, vibrant decorations and, of course, artfully created sushi. Meanwhile, the more traditional restaurants offer up the old-school charm and classic dishes. Seafood sushi is the most common to try, with squid, eel, yellowtail and salmon among the most popular fillings. The historic Izuu restaurant in Kyoto, Harukoma in Osaka and the high-tech Uobei in Tokyo are all on our sushi bucket list.
View this post on Instagram
27. Melktert, South Africa
Another tart worthy of a spot on this list, Melktert – or Milktart – is an iconic South African dessert. This simple treat consists of a sweet pastry crust and a creamy filling made of milk, flour, sugar, and eggs. Sometimes a little vanilla extract or cinnamon will be thrown in the mix for an extra dose of sweetness. District Six and The Whippet Coffee in Johannesburg serve up two delicious versions of this pie, though you can get your hands on a Melktert at most bakeries or cafes around the country.
View this post on Instagram
28. Spaghetti, Italy
How can we talk about food and travel without talking about the one true icon, spaghetti. Classic Carbonara, the popular Cacio E Pepe, the tasty eggplant of Sicilian Pasta Alla Norma, or simple Spaghetti Aglio E Olio. From Rome, to Sicily, to Florence, every town, city and corner of Italy offers up mouthwatering plates of spaghetti. In fact, you can check out more of our thoughts on this with our round-up of the best places to eat pasta in the world.
View this post on Instagram
29. Pavlova, New Zealand
While Aussies and Kiwis like to debate who the true master of pavlova is, it's kind of agreed upon that the dessert originated in New Zealand. The meringue 'cake' is sugary and flaky on the outside, and soft and airy on the inside with a marshmallow-like consistency. Topped with fresh cream and seasonal fruit like strawberries and kiwis, it's the perfect summer treat.
View this post on Instagram