15 best places to visit in Georgia
Share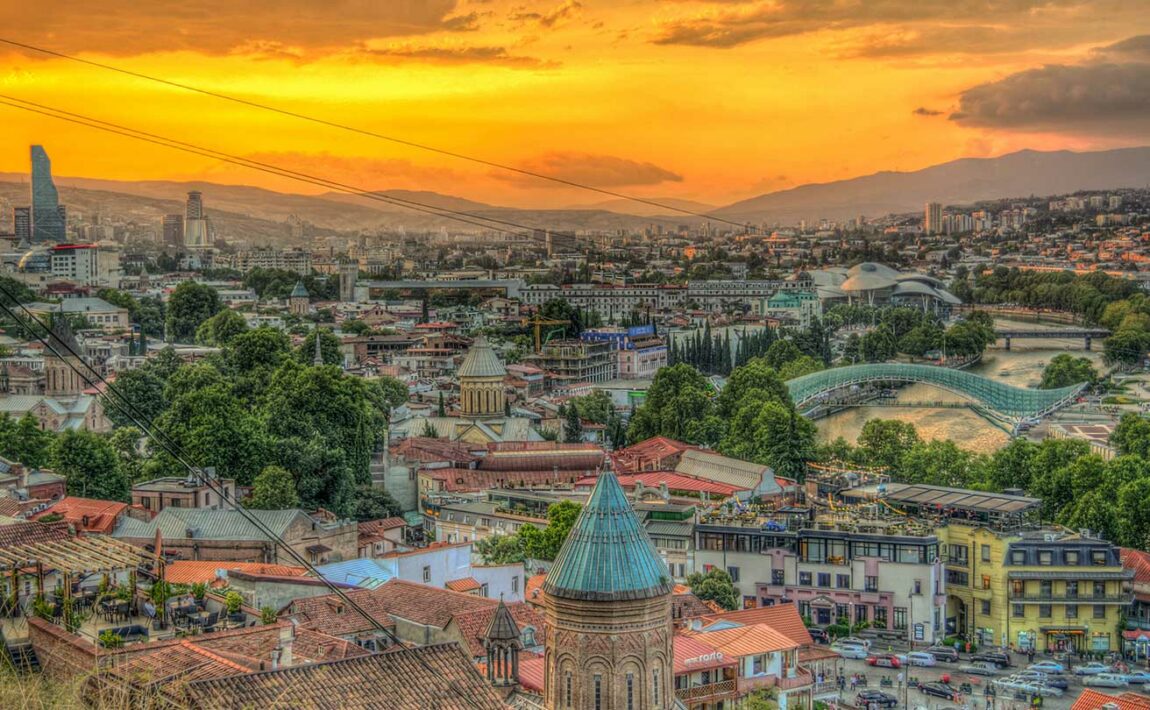 Ever thought about travelling to Georgia? You definitely should. It's one of the most exciting up-and-coming tourist destinations on the scene right now, with a little something to please everyone. 
Georgian people are famous for their hospitality, there's a thriving techno scene in the capital Tbilisi, the mineral waters are on point, you can travel easily from wine regions to huge glaciers. Georgia is steeped in history too; religious landmarks and centuries-old towers are dotted across the country, and the old soviet architecture is fascinating to behold. 
Visiting Georgia is easy on your wallet too, so you'll get a cracking night out (and get to roll back to plush accom afterwards) at a very reasonable price. Here are 15 of the best places to visit in Georgia.
1. Tbilisi
Your trip just won't be complete without a visit to the capital. Whether you plan to cut shapes 'til the early hours in the nightclubs (which give Berlin's nightlife scene a run for its money) or kick back at the cosy cafes, you'll feel right at home here in Tbilisi. Don't miss the cobbled streets, the colourful old town, the Holy Trinity Cathedral or the Mother of Georgia statue – which you can get to by cable car ride. And yes, the views from said cable car ride are sublime indeed. 
Looking for an extra-authentic Tbilisi experience? Try visiting one of the region's famous underground markets, or washing away your day's adventure by taking a dip in the sulphur baths of Abanotubani.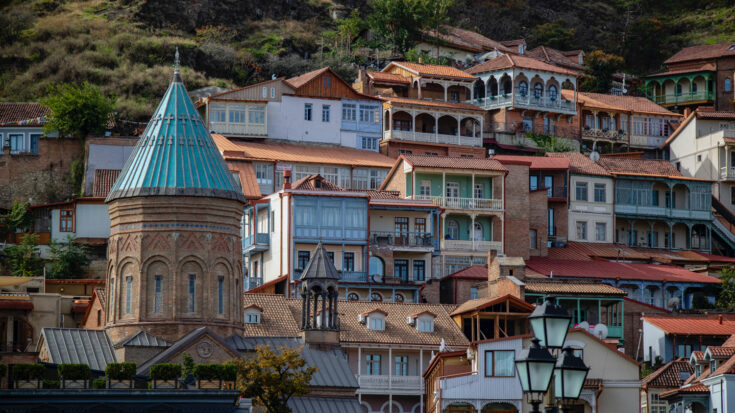 2. Narikala Fortress
Definitely one of the best places to visit in Georgia if you're into your ancient history – and timeless views. Dating back as far as the 4th century, Narikala Fortress overlooks Tbilisi from above, so you get a lovely view from the bottom and the top. When visiting the fortress, don't forget to check out the botanical gardens too.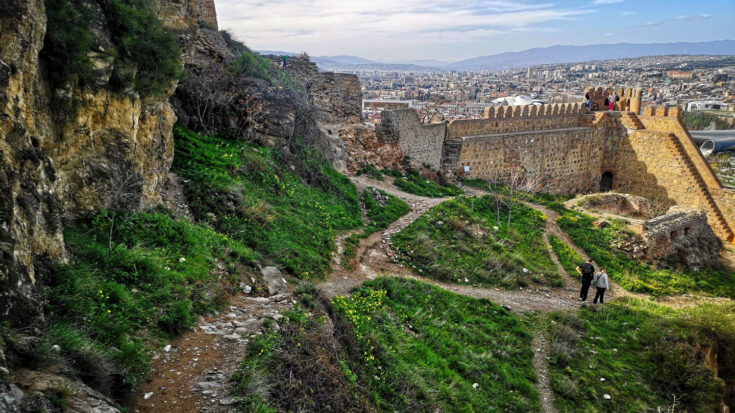 3. Sighnaghi
Sighnaghi is the capital of Kakheti, which is Georgia's famous wine region. Love to hike and explore pretty vineyards? Passing mountain vistas as you go? This is the perfect area for you.
Sighnaghi is also nicknamed Georgia's 'city of love' because so many people go there to get married. As you explore the picturesque city with hearts in your eyes, keep an eye out for the knitting ladies (that's your souvenirs sorted.)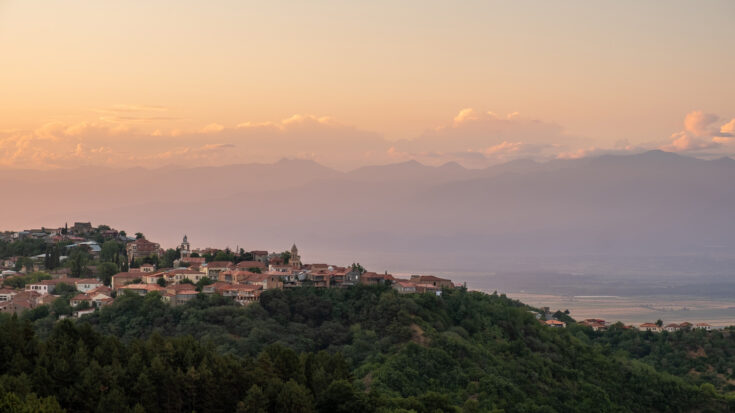 4. Sagaradejo
Wined and dined but far from finished? Sagaradejo is another jewel of the Georgian wine region, with lots of pretty eating/drinking spots. 
5. Mtskheta
Once the capital of Georgia, still one of its oldest cities… Mtskheta is now a haven for UNESCO World Heritage Sites like the famous Svestiskhoveli cathedral – steeped in religious significance. Taking a drive on the Georgian Military Highway? Mtskheta is the perfect place to get out and stretch your legs (and your imagination.)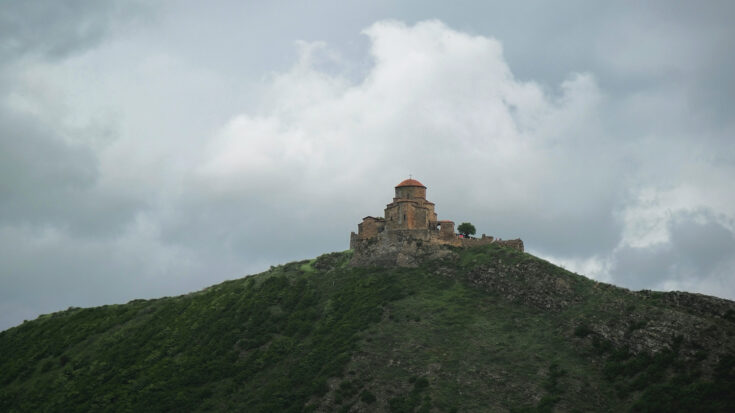 6. Jvari Monastery
And if you do stop off at Mtskheta, it's only logical to visit the nearby Jvari Monastery too. Another UNESCO World Heritage site, this orthodox Georgian church is pretty much unchanged since it was first built, back in the 6th century. 
Sitting at the summit of the Javri Mount, surrounded by the Mtkvari River, you'll also get more great views to add to your collection – especially if you're there to watch the sunset.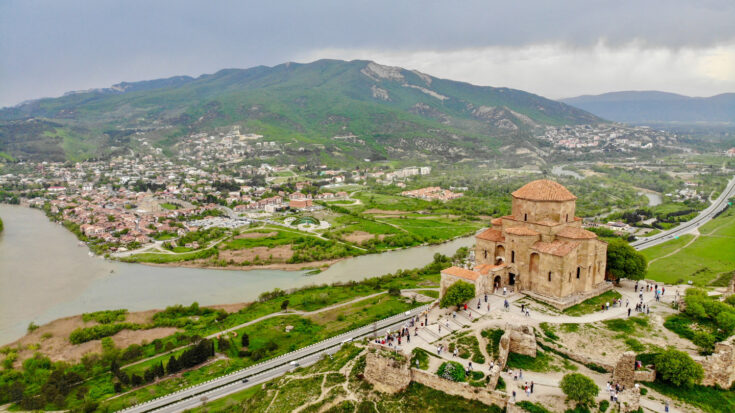 7. Stepantsminda
This small town boasts a huge natural landscape. Home to numerous hiking spots, and also the chance to take a helicopter tour or ride a quad bike. Don't miss the Gveleti Waterfall or the Gergeti Trinity Church. And don't forget to charge your camera!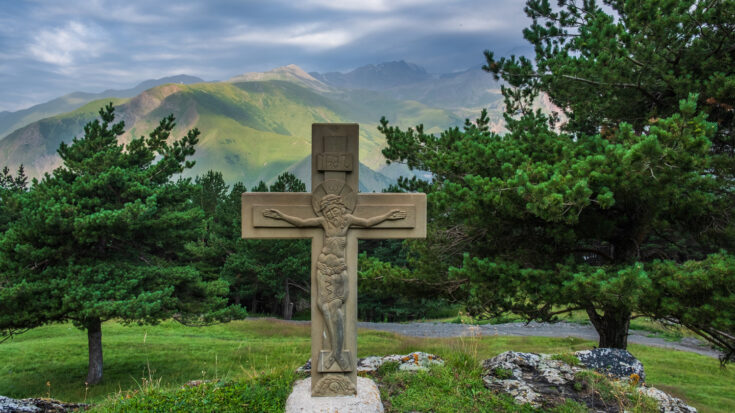 8. Sno
Sno is definitely one of the best places to visit in Georgia if you're here for something a little out of the ordinary. The region is famous for its giant head sculptures, carved into stone. There are six in total, and each one is built to commemorate a different figure in Georgia's history. 
And while you're here, Sno is also a great place to go horseback riding.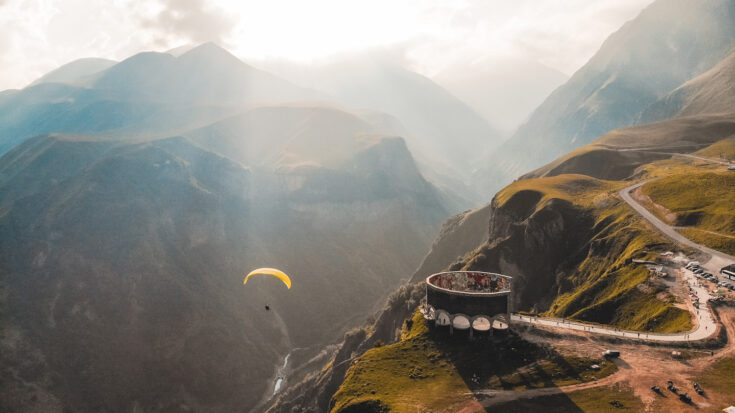 9. Juta
A small village, high up in the Caucasus mountains. The snow-capped Caucasus mountains. Indeed, Juta valley is one of the best views you'll get in Georgia. Period. In love yet?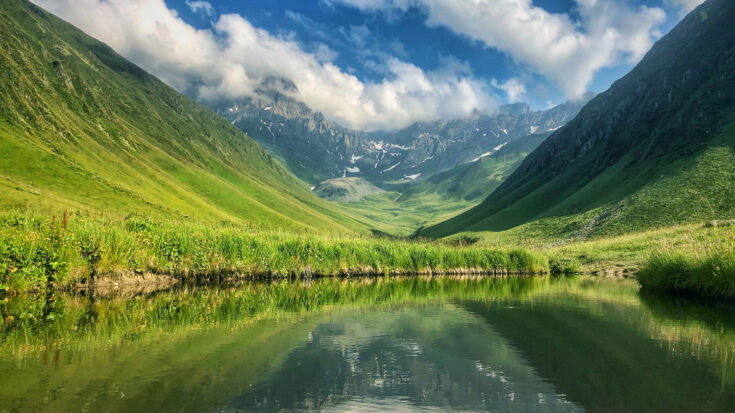 10. Kaspi
A small village, high up in the Caucasus mountains. The snow-capped Caucasus mountains. Indeed, Juta valley is one of the best views you'll get in Georgia. Period. In love yet?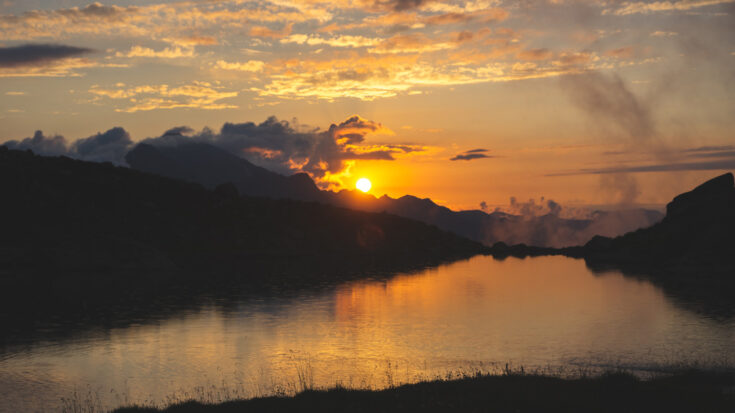 11. Gori & Uplistsikhe
Gori and Uplistsikhe go together like a sword and holster. Especially for history buffs. 
Gori was the birthplace of Stalin. Love your 20th century history and want to get a flavour of what life was like for those living under the rule of the Soviet Union? Don't miss the Stalin museum. And while you're in Gori, go check out Gori Fortress. (You won't be disappointed.) 
Uplistsikhe is a historical haven too, but way older. Waaaay older. This rock-hewn ancient town dates back to the iron age. Part cave complex, part town cut into rock – it's a geological giant and you don't want to miss it.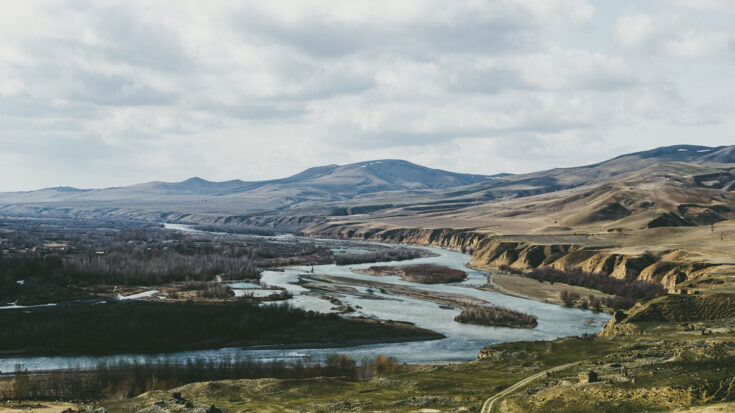 12. Kutaisi
Kutaisi is a city in the west of Georgia, home to Bagrati Cathedral and the David Agmashenebeli Square – with the Colchis Fountain in the middle that lights up at night. Looking for the perfect setting to tuck into your qababi (Georgian kebab)? This is it. 
Looking for some daytime activities in Kutaisi? Don't miss the colourful Botanical Garden, and the sports museum.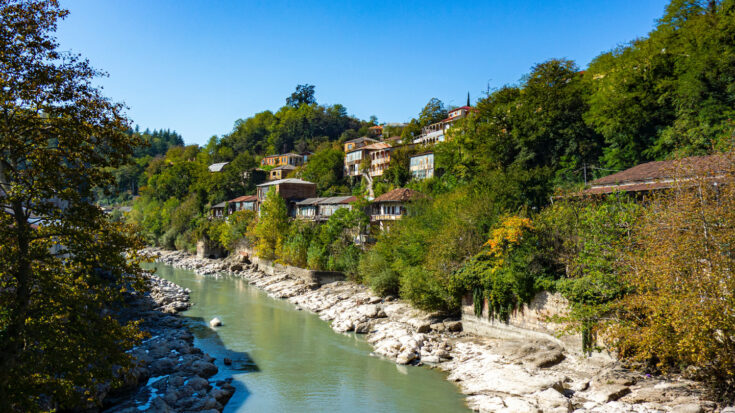 13. Martvili Canyon
Martvili Canyon could have been lifted straight out of Zelda. Or Lord of the Rings. 
Picture it. A beautiful, eroded canyon. Cascading waterfalls. Caves. Tall cliff faces with hanging moss. Gliding on water that's so clear you can see the riverbed below. It's peaceful. It's tranquil. It was once the exclusive bathing place of Georgian nobles – and it's easy to see why. This is one of the best places to visit in Georgia. Flat out. No questions asked.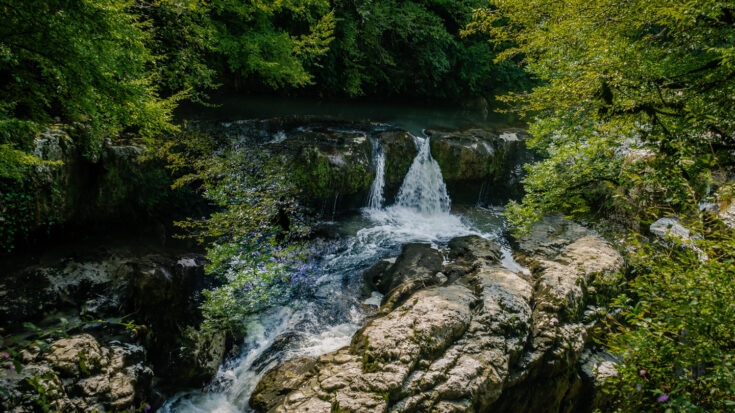 14. Svaneti
Perhaps Georgia's prettiest region, Svaneti is nicknamed 'the land of a thousand towers' but it's the natural beauty that takes the mantle. You'll see deep gorges, snow-capped peaks and multi-coloured flowers. More importantly, you'll get them all in the same picture too. Take that, Instagram followers! 
Do it for the historical sites. For the glaciers. Also, while you're there, don't miss a day trip to Ushguli – one of the highest permanent settlements in Europe.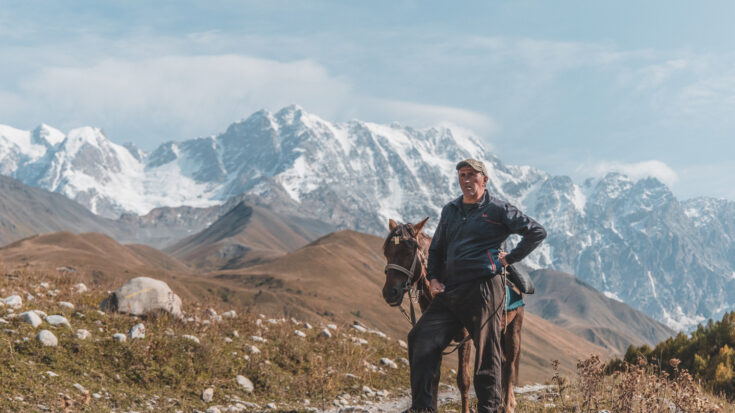 15. Tusheti National Park
Hikers, this is your time to shine. And to hike. This huge protected area has a whopping 11 tourist trails, and some are up to 6 days long. You can go horse riding, bird watching, hiking, biking and much much more. 
You can also try Tushetian cheese. And if you're here for the folk festivals, you can even enter a bow and arrow competition. 
Want to see the very Best of Georgia, with accom, transport, experiences and new friends to share it with all included? Check out our brand-new Contiki adventure!