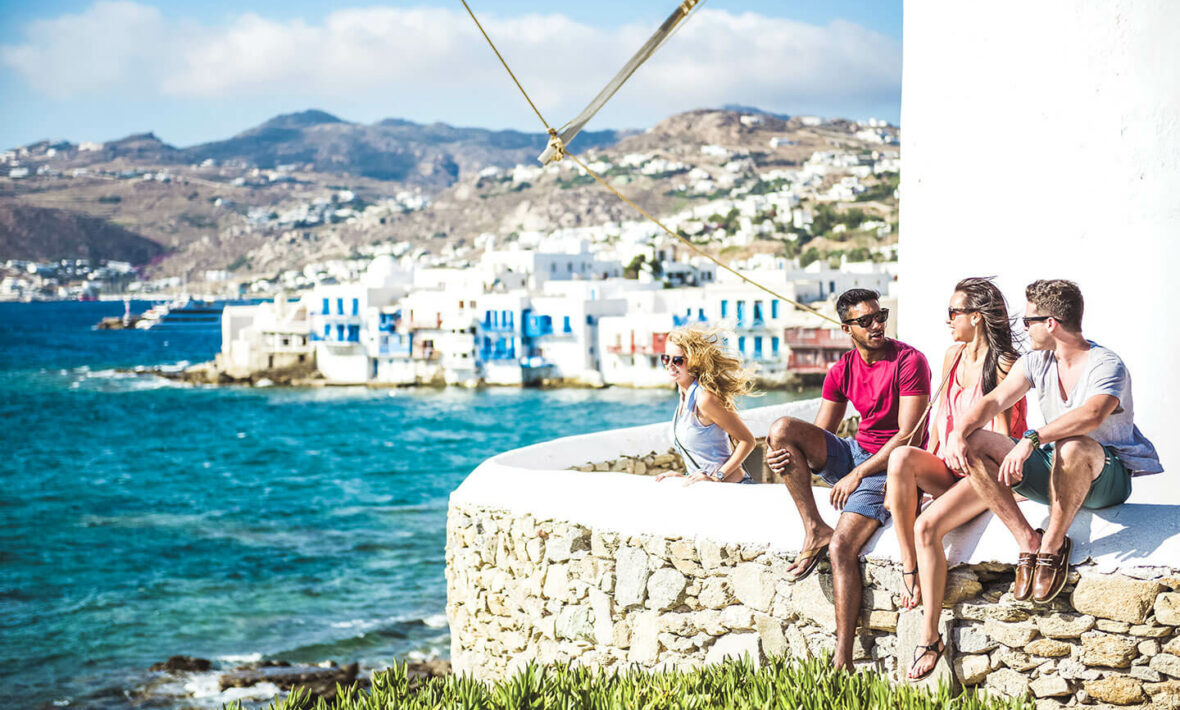 We've always loved Greece. And, I mean…what's not to love? Lazy days sailing between paradise islands. Partying in Mykonos. Gawping at otherworldly Santorini sunsets. Exploring ancient ruins in Athens and Naxos. Falling for the steep villages and pure white coves of Corfu. Then there's the souvlaki. The ouzo. The gyros. The salads. The wine. Arghh just get me to Greece already.
But where to begin? Well that's a very good question. So good in fact, we thought we'd answer it. So, from ancient ruins to vibrant towns, sandy beaches to olive groves, here are the best places to visit in Greece.
1. Athens
Let's kick things off with Greece's storied capital, Athens, shall we? And for history buffs, you may have just found heaven. This place is jam-packed with archeological sites and wonders of antiquity. Take the Acropolis, home to the Parthenon, built as a temple wayyy back in 447 BC. (Yep, nearly 500 years before JC himself).
Then there's the Temple of Olympian Zeus, with those famed columns, theatres, baths and even an ancient aqueduct system. But Athens ain't just about the ancient ruins. It's home to some of the best street art in Europe. The food is unreal. The culture rich. And there are some beaut beaches nearby too. For all these reasons and many more, it's undoubtedly one of the best places to visit in Greece.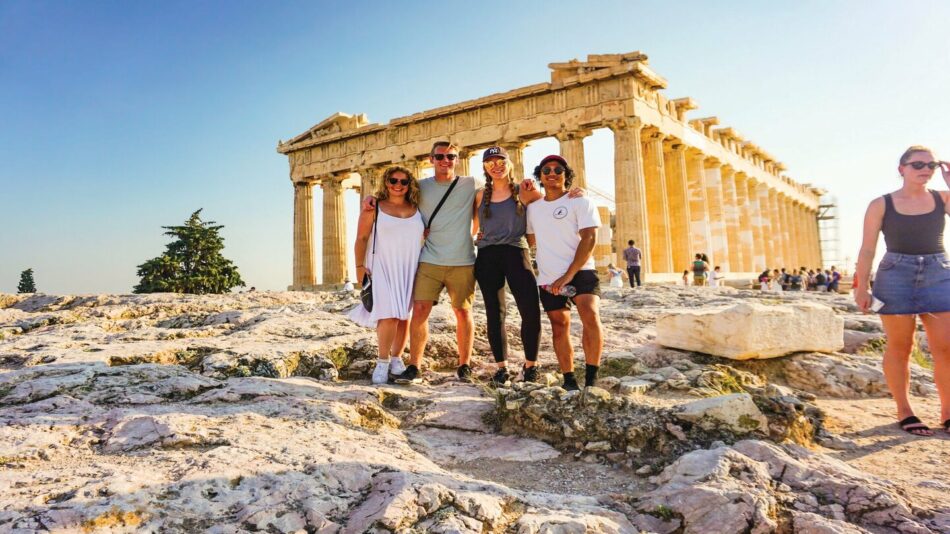 2. Santorini
Santorini, an impossibly pretty volcanic island set in the southern Aegean, is easily one of the best places to visit in Greece (there's a reason our travellers never want to leave).
From its mountainous villages and towns you can take in sweeping views of the sparkling sea and iconic Cycladic houses. Then there's the sunsets, as rich and magical as any you'll find anywhere in the world. The caldera's black rocks contrast with pure-white buildings and cobalt blue skies, making this place a photographers dream.
Add sandy beaches to the mix and you're looking at a pure island paradise. Speaking of which…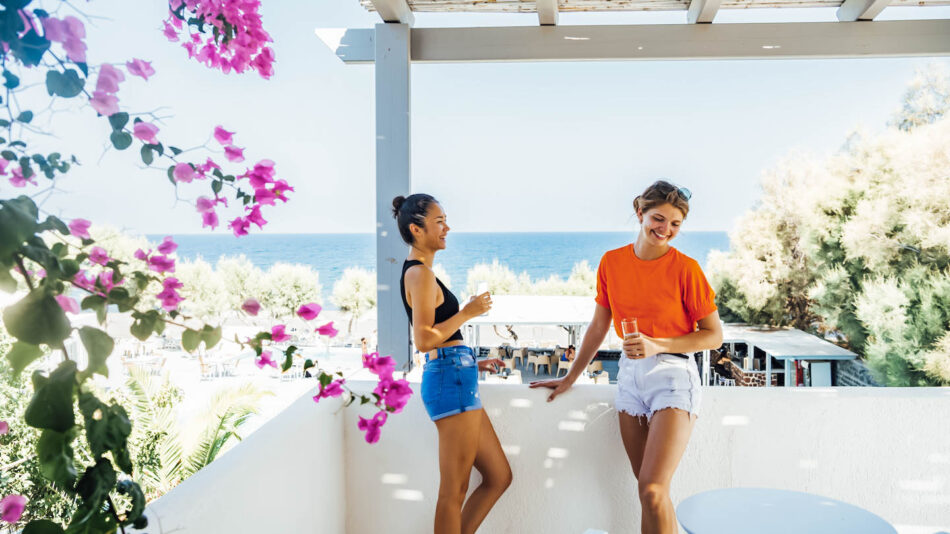 3. Mykonos
Though not quite as pretty as Santorini, Mykonos is still one helluva looker, with its white-washed houses and mediaeval windmills.
In peak season, Mykonos is an island of supermodels, celebrities and jet-setters, mooring their yachts, putting on their Gucci shades and soaking up the good life. And who could blame them? Sipping ouzo on Little Paradise Beach while teals waters lap against powdery white sands is one of life's greatest pleasures. And, as you'd expect for a playground for footballers and models, the nightlife in this place is pretty unreal, too. Bonus tip: with all its good vibes and beautiful scenery, Mykonos is also one of the best places to get over a break-up, so if you're looking for a solo vacation to restore your positive energy, this is a great place to start.
4. Rhodes
All roads lead to…Rhodes! Abound with spotless beaches, intriguing ancient history, banging nightlife and sweeping woodlands, this place truly has it all. Explore the ancient Acropolis of Lindos. Gawp at the imposing Palace of the Grand Master. Visit the harbourside where the Colossus or Rhodes (one of the wonders of the Ancient World) once towered over everything. Or just sip a beer and gaze down at a turquoise bay. That's allowed too.
5. Crete
As you'd expect from Greece's biggest island, Crete has a lil' something for everyone: from kicking back on some of the best beaches in Greece (like Agios Nikolaos – stretching 16km along the glittering coast), to taking day trips to ancient fortresses, fishing villages, olive groves, ornate mansions and more.
But our fave part about this place has to be the food. Every single village seems to have its own signature Cretan cheese. And then there's dakos, a delicious meze with barley rusks, tomato and cheese, not to mention the fried snails fried with flour and wine (don't knock 'em 'til you've tried 'em).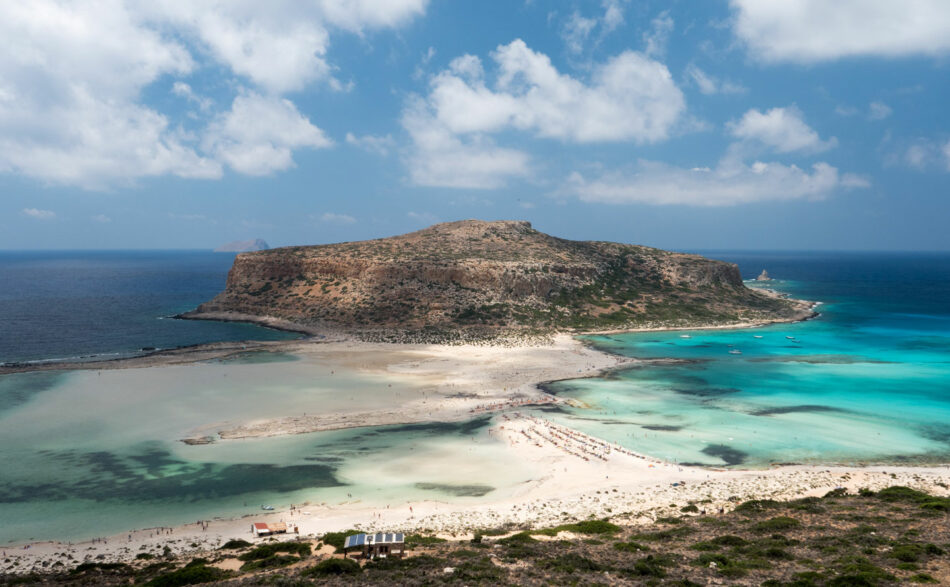 6. Meteora
Meteora (meaning 'hovering in the air' ) is a monstrous rock formation in Central Greece. The soaring cliff-faces are impressive enough, but this place's main appeal comes from how the rocks have historically been used. Between the 14th and 16th centuries, monks, threatened by Turkish occupation, starting building monasteries higher and higher into the sky.
Today, these mind-boggling buildings showcase a variety of Byzantine architecture and truly spectacular views of the soaring valleys bellow. If you've got a head for heights and don't mind climbing a lot of steps, this is undoubtedly one of the best places to visit in Greece. (Some of them have cable-cars, too, if the ol' calves are burning).
7. Hydra
Modest in size but abundant in charm, Hydra is an ideal Greek destination to kick back, soak up the sun and enjoy the beautiful beaches. Famed for its stunning harbour and ochre coloured 'arhontiko' standing proudly above it, this is one of the best places to visit in Greece for lovers of architecture (keep an eye out for the gorgeous neoclassical buildings!).
8. Delphi
The storied town of Delphi has been attracting tourists from all over the world since wayyy back, so if you're looking for archeological sites, this is the place to be.
In ancient times Delphi was considered a sacred patch of land where mortals could communicate with the gods. Today, it's easy to see why it has always been associated with the divine, thanks to its majestic mountain views and bright, wide sky.
9. Thessaloniki
Greece's second city, Thessaloniki is famed for the sea views, as well as its elegant fusion of ancient and modern Greece. Thrumming with music and nightlife, especially along the buzzy waterfront, Thessaloniki also has its quieter, more antiquated charms, such as the imposing White Tower and the Arch of Galerias, dating back from the 4th Century.
10. Naxos
Venetian mansions. Terraced mountain villages. Marble quarries and twisting cobbled pathways. A Greece vacation package must include Naxos – the largest island in the Cyclades. Make sure to explore standout villages Apiranthos and Chalki, and sample some world-renowned cheese (washed down with local wine or Kitron, a peppy liqueur).