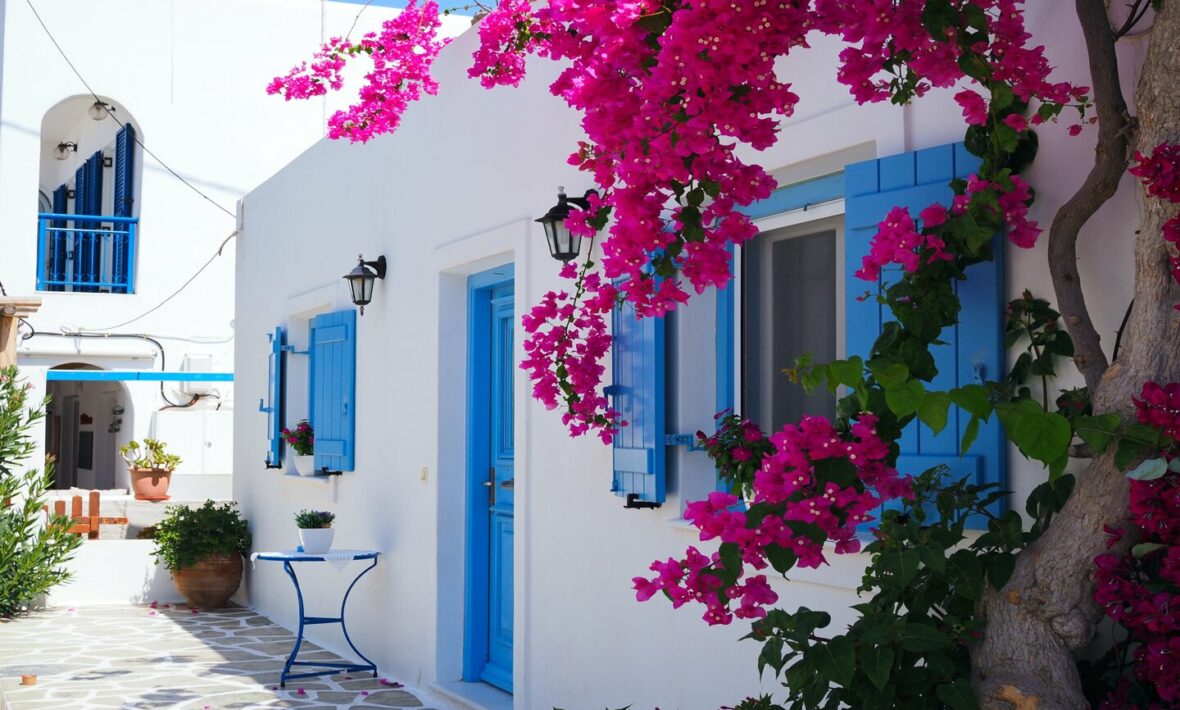 Looking to book your first Greek island hopping trip, but not sure where to start? We're here to help. Greece is one of the most beautiful and popular destinations in the world, attracting millions of travelers every year. And hey, we totally understand why. Silky sandy beaches, warm climate all year round, vibrant night life and delicious food – what's not to like?
We know you're eager to start planning, so let's get into it.
When is the best time to visit the Greek islands?
Typically, the best time to visit Greece is during the shoulder seasons, meaning from April until mid-June and from September to October. During these periods, the weather is warm, but not too hot (with temperatures ranging from 24°C to 28°C) and there are fewer tourists around, which gives you the freedom to explore on your own time and to relax on the beach with less crowds around.
Getting to Greece
If you want to kickstart your Greek island hopping adventure, the best way to get to Greece is by plane. The most important airports in Greece are located in Athens, Heraklion, Thessaloniki, Chania, Rhodes, Corfu, Santorini, Mykonos, Zante, and Kos.
Most international air companies will have regular direct flights to Athens. But we recommend researching and booking ahead of time. Flight fares can vary greatly depending on the period and airline, so make sure to book in advance in order to get the best deal possible!
If you're traveling from Europe and you don't mind spending a bit more time on the road, you can also get there by car. You can enter Greece by car from any of its land neighbours, with the best route being through Austria, Slovenia, Serbia, and Macedonia, with great highways and a decent number of gas stations.
If you want to completely relax and enjoy the scenery and don't mind the long travel time, you can also take a train. There are a number of train services available. For example, if you're traveling from London to Athens, you can take the Eurostar or the SNCB.
How to get around the Greek islands
Ferries
The best method of Greek island hopping is by ferry. The travel time between them ranges from 45 minutes – 2 hours.
Ferry tickets need to be bought in advance, at least 24 hours before departure. When it comes to Easter, Christmas / New Year and other peak times, however, these need to be booked at least ten days in advance.
Ticket prices vary depending on the route and on the distance. A great website for checking out prices, ferry schedules, and for buying your ticket is Ferryhopper.com.
Driving
Driving around Greece is a great option if you want to explore more of this magnificent destination. Whether you choose to bring your own car or rent one there, it will certainly make your Greece holiday more enjoyable.
A few tips:
You must be at least 21 years old and you need to have held your licence for at least a year in order to rent a car in Greece

With the exception of EU residents, you need to have an international driving license in order to drive in Greece

The speed limit in the city is 50 km/hour and on the highways 120 km/hour

There's a zero tolerance policy on drink driving

It's illegal to use your mobile phone while driving

Keep to the right-hand side of the road
Buses
If you take a bus from Athens, you can reach all main cities in Greece. There are two main bus stations in Athens: Kifissos and Liossion.
From the Kifissos bus station you can take buses to cities in Greece, and also to the Ionian islands.
From the Liossion bus station you can reach the Sterea region, the towns of Northern Greece, and the island of Evia.
Trains
Train networks are limited and they're usually slower than their bus equivalent, so it's not the preferred method of transportation in Greece. The Greek railway network is run by OSE. On the flipside, train tickets are often times much cheaper than other means of transport, especially if you choose to buy a return ticket, so if you're looking to limit your spend, this is the best way to go.
What are the best Greek islands to visit?
1. Mykonos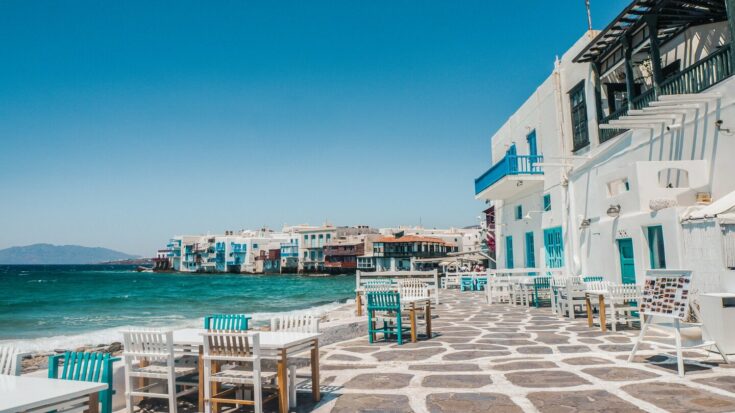 Image source: Johnny Africa on Unsplash
There's no better way to start your Greek island hopping adventures than with Mykonos. This enchanting Greek island is famous for its vibrant nightlife, pebbled streets, whitewashed houses and, of course, some of the best beaches in the Mediterranean.
2. Paros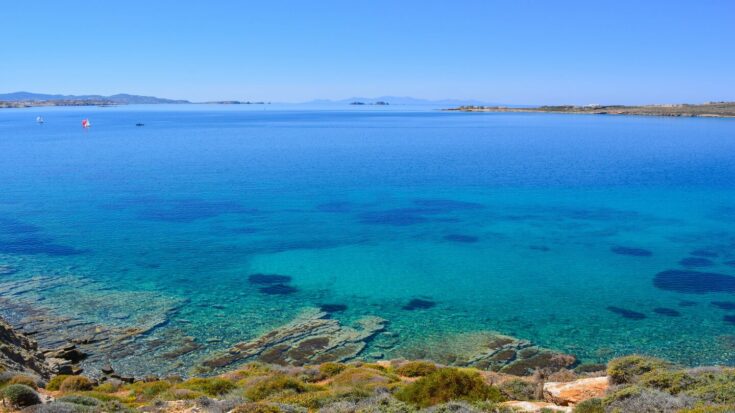 Image source: Nefeli Kavvada on Unsplash
Aside from the large variety of beaches (quiet, sandy, breezy etc.), Paros is a great destination for watersports. From kayaking, jet skiing, kite surfing, there's an abundance of water-related activities that adventure-seekers can practise here, so if you're looking for a bit of adrenaline, Paros is the right island for you.
3. Santorini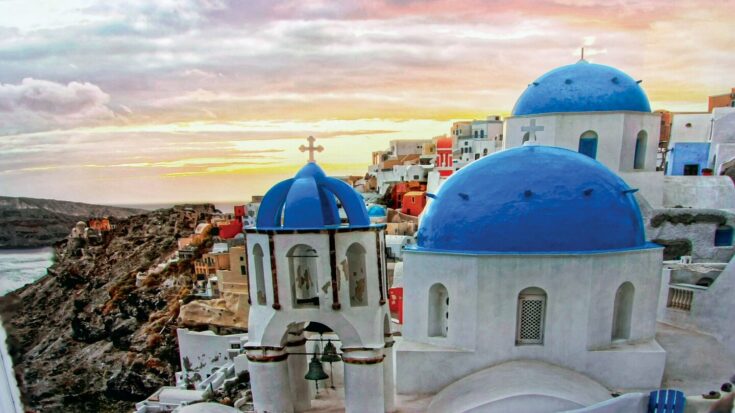 Image source: Contiki
Santorini is one of the most popular islands in the world and one of the best places to visit in Greece, so it's essential that you add it to your Greek Island Hopping itinerary. From delicious cuisine to sun-kissed beaches and picturesque views, this Greek hotspot has it all. Witness the sun set on the island, swim in the healing waters of Nea Kameni and make sure to visit the archaeological site of Akrotiri.
4. Ios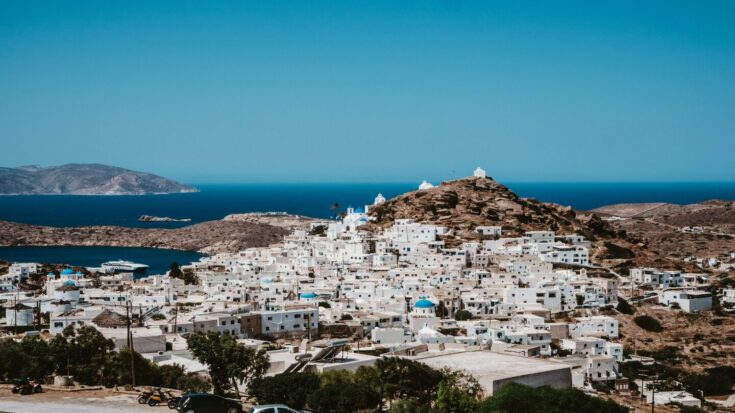 Image source: Johnny Africa on Unsplash
This popular Cycladic island should definitely be on your Greek island hopping list. Known for its all-night partying, loud music, festivals, and water sports, this island is a great choice for active people who are looking for beach vibes, but also non-stop entertainment.
How long do you need for Greek island hopping?
In order to fully immerse yourself in the authentic Greek life and culture and explore as much as possible, we recommend spending at least 2-3 nights on each island, so if you're planning to visit the four ones mentioned above, it would take you a little over a week.
While this does involve moving around a bit, it is absolutely doable, especially with a touring company taking care of all the details for you.
Is island hopping in Greece expensive?
It depends on the duration of your trip and how much you're willing to spend, but generally it will be around 140-150 Euros per day for accommodation, food, transportation, and various activities included.
Greek island hopping with Contiki
Sure, traveling on your own can be fun, but what if you could experience the joys of a Greek island trip without the hassle of having to plan it? And what if you could make new friends along the way? With Contiki, all that is possible. And more. We've made social travel our mission and we're here to help you discover the world in a fun and immersive way, and create lifelong bonds between our travelers. Learn more about how Contiki works.