Best things to do in Amsterdam at Christmas
Share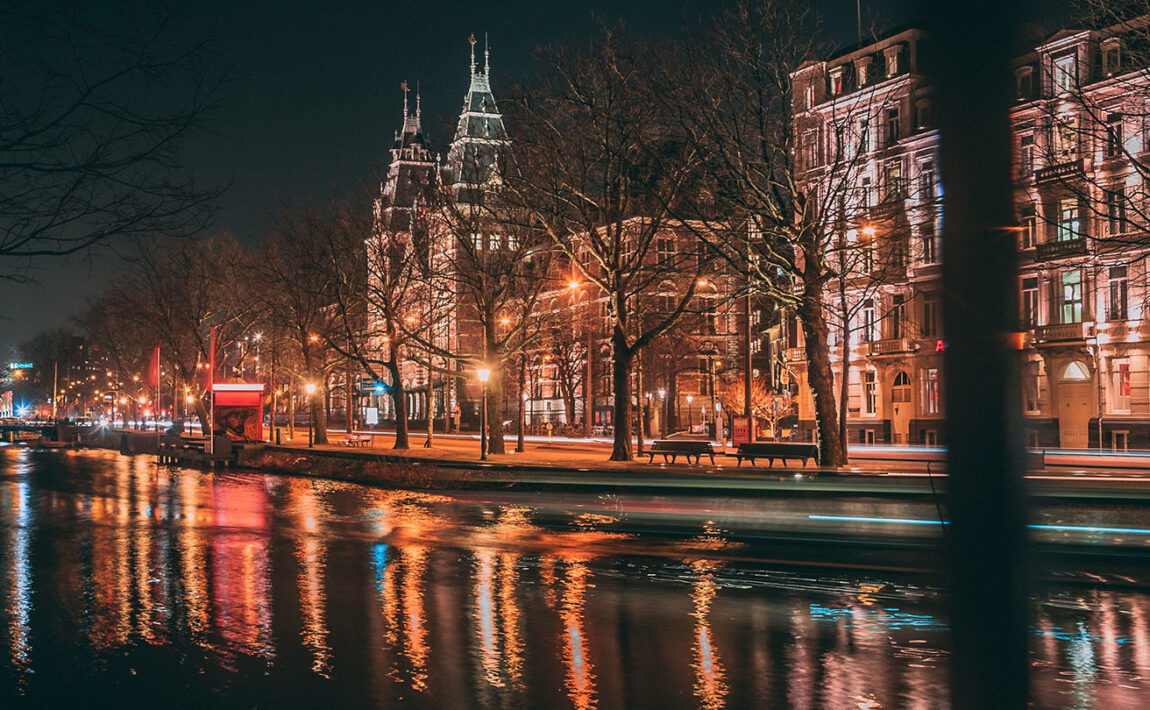 Spending Christmas in Amsterdam? Lucky you. A mini-break to Holland's vibrant capital is sure to get you feeling festive AF. Before we know it, Christmas is over in a flash, so plan which of Amsterdam's dizzying assortment of attractions you'll visit first. Not to mention where to find the most delicious, freshly-baked Dutch appeltaart in the city… 
To help spread some yuletide joy, we've trawled our travel trove for the best things to do in Amsterdam at Christmas. That way, you can ditch the tourist traps and get yourself fully infused, marinated and basted with nothing but authentic. Dutch. Christmas. Culture. 
Oh, yeaah. Just like nan's famous turkey, but you'll be filled up with whimsical travel trivia instead of sage & onion stuffing. Such as… Did you know it's Dutch tradition to give presents on December 5th, the day of Sinterklaas, instead of Christmas Day? 
If you're travelling with your partner, just be sure to let them know you'll be accepting gifts on both national holidays!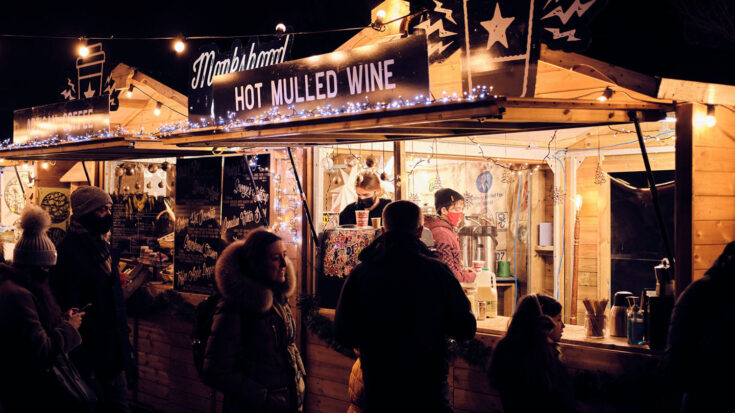 1. Warm up with mulled wine at the Christmas Markets
Blimey, wintertime feels a tad chilly in Amsterdam. Luckily, there are gallons of mulled wine waiting for you, here at one of Europe's best Christmas Markets. A steaming mug of spicy, orange-infused wine (or three) is sure to warm your belly on a frosty festive eve. Not to mention trays of oliebollen, naughty little doughnuts dusted thoroughly with icing sugar while they're hot. 
Locals might point to potterjas pancakes with all their oozy, buttery charms as the true national specialty. But caramel stroopwafel or fried bitterballen meatballs are just as deserving on the list of Dutch comfort foods you've got to try at the Amsterdam Christmas markets. 
Head to Amsterdam Winter Paradise for the giant ferris wheel, ice skating, Christmas lights and all the cute festive feels. But you'll want to hit up Sunday Market at Westergas, one of Amsterdam's most diverse creative hubs, to buy your Christmas presents. 
With edgy fashion picks, handmade art, and local delicacies, this market is full of unique finds. If all else fails, you'll almost certainly find a weird item you can gift yourself as a souvenir. Or even better, an easy solution for your secret santa at work. Like, sorry if a pair of Dutch wooden clogs wasn't on your wishlist, Karen.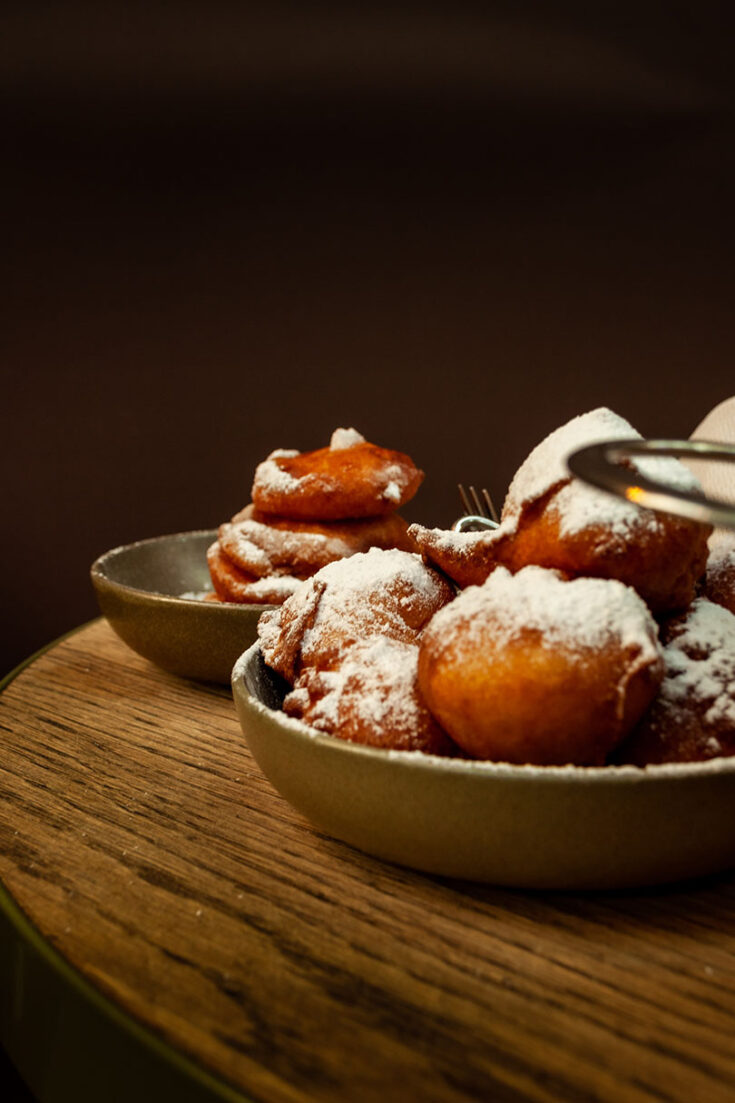 2. Have a 'lightbulb moment' at Amsterdam Light Festival 
As the nights begin to get longer and darker, Amsterdam turns on the light with a myriad of installations, artworks, and curiosities. 
The light festival is recognised for 'shining a spotlight' on the innovative and the beautiful alike. It's been drawing in larger crowds every year: families and tourists, alongside leading designers and architects, artists and bohemians. If you're ever going to have an epiphany about quitting your job to travel the world, it'll be here. 
As the installations live all over Amsterdam, you can experience the festival by walking, cycling, or a glittering canal cruise (which we totally recommend.) Running between November and January, need we say the Amsterdam Light Festival is a must-go if you're visiting the city over Christmas? Now, get off your butt and move it!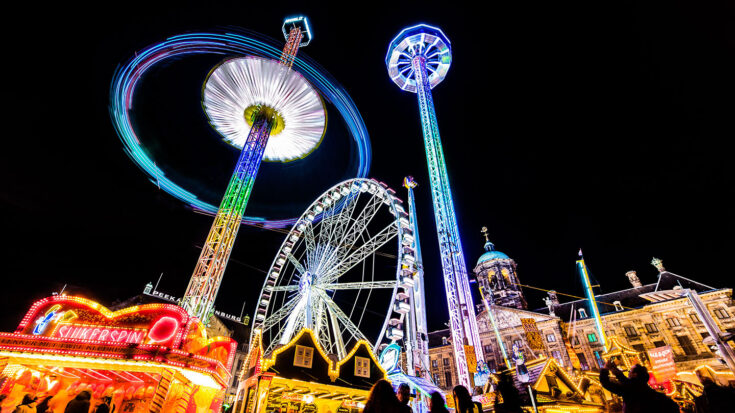 3. Gawk at the huuuge Christmas tree on Dam Square
Could it be Christmas without a tree? We think not. After all, the presents have got to go somewhere. You're unlikely to find any gifts underneath the 20-metre Christmassey Hulk on Dam Square, but there'll be market stalls, carol singers, and hot food sold during the annual illumination ceremony. 
Every December, the people of Amsterdam gather to turn on their Christmas lights. 40,000 LED bulbs later, their glittering green giant almost outshines its neighbour: the pearlescent gold walls of Amsterdam Royal Palace. Save some space on your Polaroid for this one. 
With de Bikenkorf just a stone's throw away, one of Amsterdam's flagship department stores, you can gawk at the gigantic Christmas tree and grab groceries while you're at it.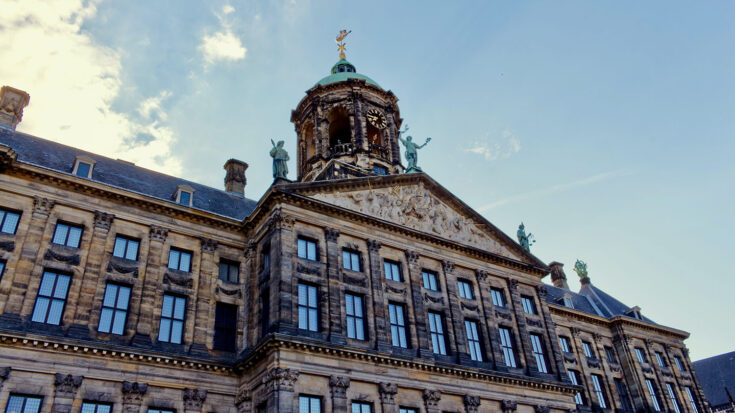 4. Pig out on traditional Dutch appeltaart at Winkel 43
Warm apples and currants, cooked until they're rich and fragrant with cinnamon. Encased in a crisp, buttery pastry. Finished with a dollop of whipped cream, still deliciously cold from the fridge. Could one resist?
Appeltaart predates almost all of it's appley rivals: French tarte tatin, Czech strudel, and America's apple pie. First appearing in Dutch cookbooks in 1514, it's a staple dessert in most cafes and bistros across the country. But Amsterdam at Christmas calls for the best.
Go to Winkel 43 for your appeltaart – or bear the risk of soggy, underbaked consequences.
They'll look after you from 7am coffee service till the evening, with baked apple confections that have earnt long-standing appreciation from their Noodermarkt neighbourhood, and of course, those who visit Amsterdam.
View this post on Instagram
5. Watch Amsterdam wobble on a boozy canal cruise

In the mornings and afternoons, Amsterdam's canals reflect the Dutch pace of life: slow yet content, measured yet slightly off-kilter. But it's after dusk that these winding waterworks come to life. 
Van Gogh, Holland's most famous painter, knew that stars and twinkling apartment lights take on a drunken wobble in the evening, bursting with colour on the murky canal water. It's no wonder that some of his most beautiful artworks are cityscapes at night, including his beloved Amsterdam. 
What better way to experience this than being slightly tipsy yourself?
Take a boozy canal cruise across Amsterdam with fellow travellers and feel the city's pulse as you glide. A cruise with unlimited drinks is surely preferable, like you can opt for on our 5-day Amsterdam at Christmas trip. Who knows, maybe you'll be inspired to paint a masterpiece when you get back home?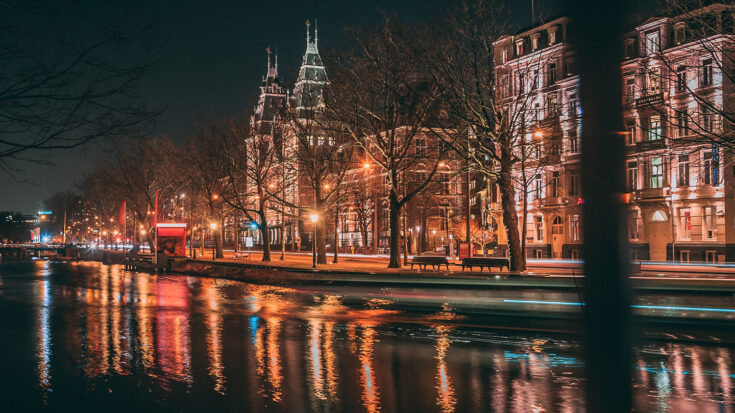 6. Wobble some more at the ice skating rinks in Amsterdam
Ice skating: thrilling when you're good at it, slightly terrifying when you're not. But even if you're not a trained figure skater, there's lots of fun to be had at ICE* Amsterdam.
This outdoor, courtyard-style rink might look cold, but the atmosphere is warm, toasty and full of good vibes. There's a cosy bistro alongside, and most years, market stalls and dazzling Christmas lights. Just seeing all the other skaters whiz and whirl around the courtyard-style rink is a memorable sight. Tickets are around five euros, with a slashed entry fee if you bring your own skates.
The circular Jaap Eden Ice Rink in Radioweg is also good, charging around seven euros and adorned with plenty of seating and refreshment options. On weekends, they throw disco skating nights where you can move and groove on that slidey, slippery surface. 
Lord help you.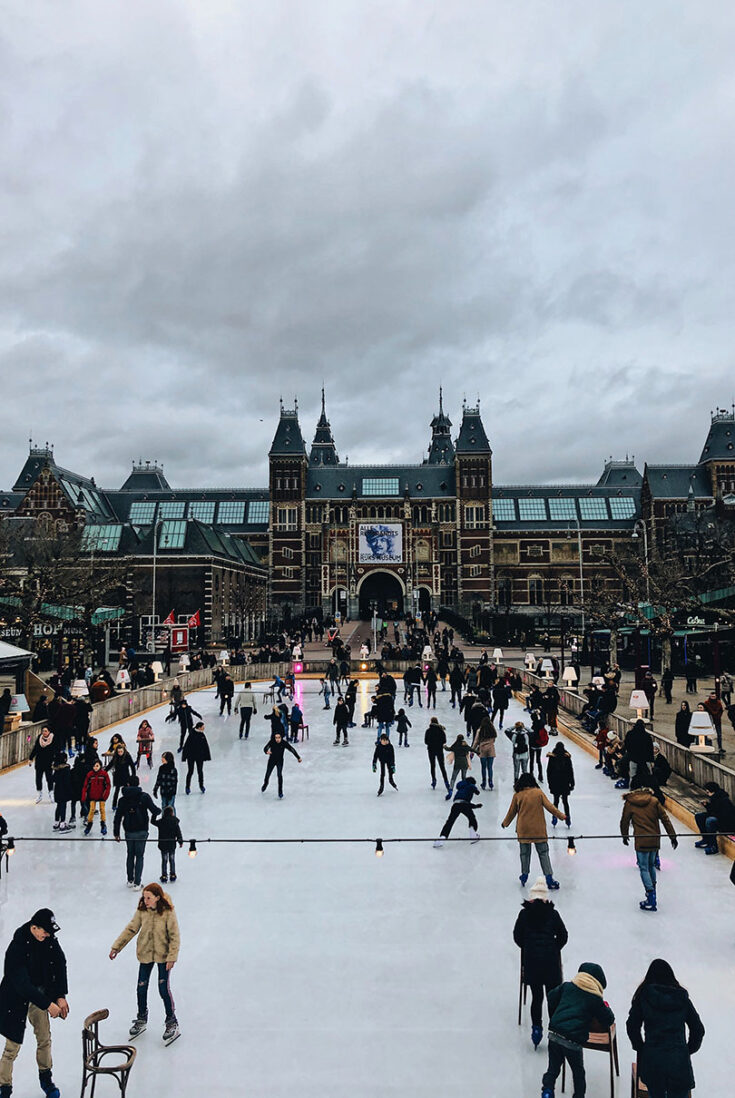 7. Sing Christmas carols badly at a local Dutch church
There are two types of people in this world. Some of us would leap at the chance to sing 'Silent Night' in a church, hitting all the high notes like an angelic Mariah Carey. Others just seem to prefer the silence. We get it, singing in public might be a divisive topic – but when in Amsterdam at Christmas, different rules apply. 
The city becomes a hive of choral energy at this time of year, as orchestras and choirs take over the concert halls. Several local organisations, including Christ Church in Groenburgwal, host festive events, where you can try your hand at harmonising those hoarse vocals. 
You'd be hard pressed to find anything as festive as singing carols with new friends. Hymn books at the ready and hark thou hear; Amsterdam is about to hear the angels sing. 
8. Hit the Red Light District for the… museums? 
The Red Light District, or 'de Wallen' as locals call it, might not be the most heart-warming place you'd think to visit at Christmas. The area is undeniably (and proudly) Europe's hub for legal prostitution, sexual freedom, and hundreds of live performers that wave from their windows. 
Now listen, we don't really want to know if you're feeling naughty or nice… you can explore the Moulin Rouge in your own time! The area is just as famous for its unique range of museums. No, really!
For a crowd-pleasing excursion, head to Ripley's Believe it or Not (weird, wacky, immersive) and the Micro Amsterdam (microscopic, interactive, absorbing). More niche and intriguing visits include the Hash, Marijuana and Cannabis Museum, the Erotic Museum, and The Museum of Prostitutes – Red Light Secrets. 
Whichever quenches your curiosity, the Red Light District (around 500 metres away from Centraal Station) is a must-visit when in Amsterdam. Especially after a few rounds of carol singing at your local church.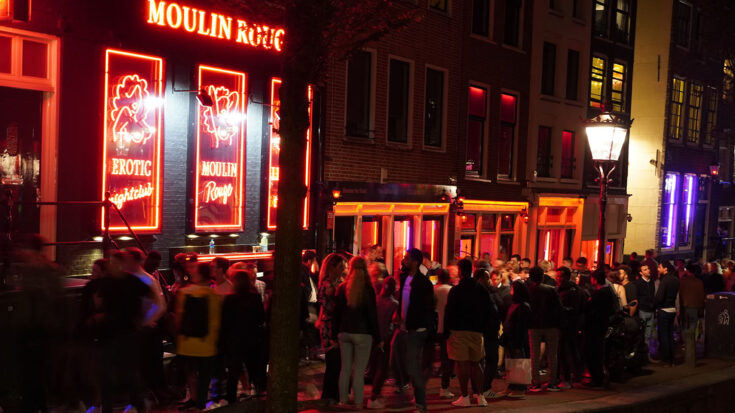 9. Go for a Christmas Day walk in Vondelpark 
We love Vondelpark at this time of year. With 45 hectares of hills, lakes, and stunning viewpoints, it's the city's largest park (and the prettiest, we reckon.) If you're lucky, you'll get some snow in Amsterdam for Christmas, transforming the landscape into a winter wonderland. 
Because Vondelpark is open all year round 24/7, it makes for a particularly lovely walk on Christmas morning. Bring along picnic blankets, warm things, and festive food to gather with friends afterwards. With all that brisk Dutch air and a dewy horizon ahead, you might just start planning your next travel adventure?