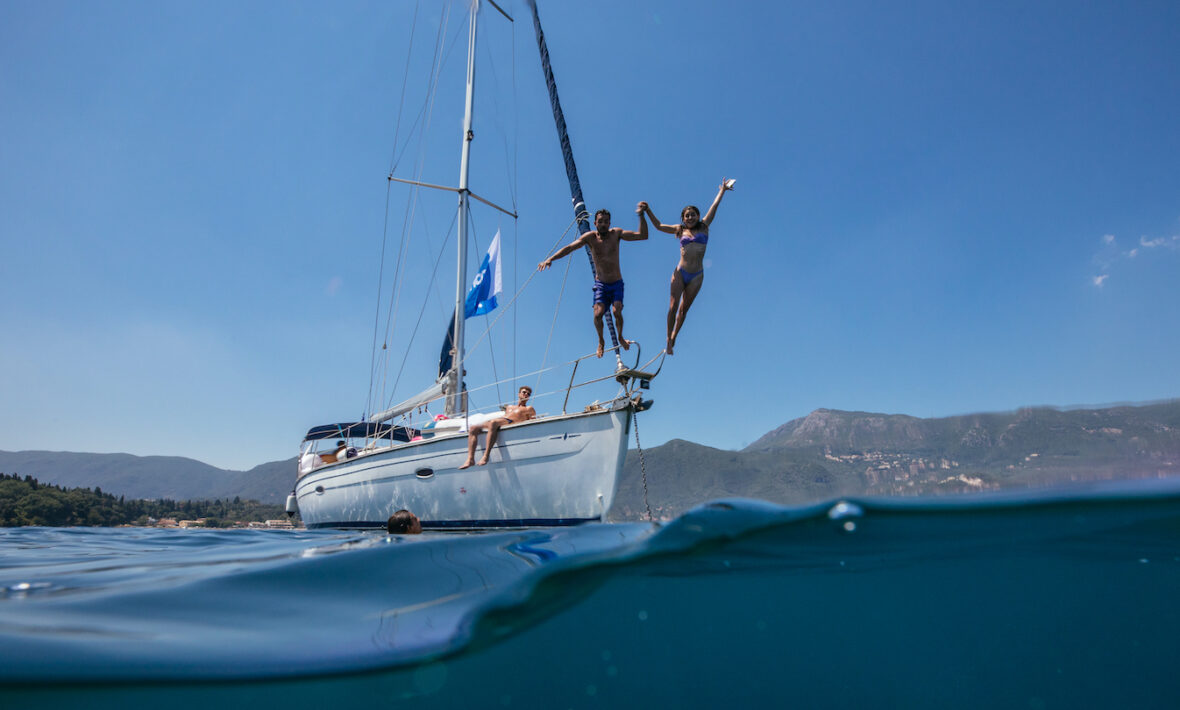 Euro Summer '23 has sadly come to a close, but Euro Summer '24 is on the horizon! If you feel like you missed out on warm Paris days by the Seine or posting pictures of your Aperol to every social platform you own, then now is the perfect time to plan ahead! And group travel might just be the solution for you…
Not convinced? Neither was Isabella Torchia, a BuzzFeed writer who worried that she'd be the only thirty-something in a pack of early 20 year olds. Her mind was quickly changed though and you can read all about it in her tell-all here. Now we're determined to change your mind too, so on top of Isabella's article, we've also got some reviews from our very own Contiki travellers who used to be just like you!
Isabella's trip
As she'll tell you in her honest and hilarious piece, Isabelle wasn't quite convinced by us. But, being a queer woman, she was intrigued by our Contiki Pride trip, the one that takes you from London to Paris to Amsterdam for a week-long LGBTQIA+ celebration and an invitation to the iconic Amsterdam Pride!
And guess what? She LOVED it! (Duh.) But why? For Isabella it was a few things that changed her mind.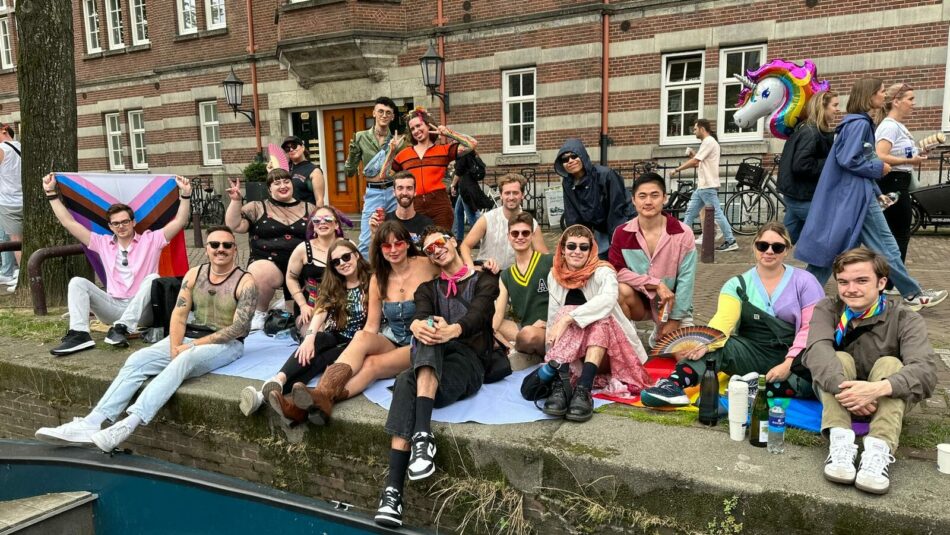 Image source:Isabella Torchia
Contiki's top 3 hits!
Firstly, the fact that the group was a healthy mix of all ages between 18-35 so no one felt out of place, and she did in fact make friends! Secondly, it was the fact that the trip offered special destinations and attractions and not just the generic tourist traps – she felt like she actually learned something about each country's unique culture and history. The trip also had plenty of free time to break away and make the experience truly your own. And lastly, Isabella realised that, actually, having someone else plan your entire holiday and sort out all the travel and accommodation is a pretty brilliant thing.
Turns out she just had the wrong idea the whole time…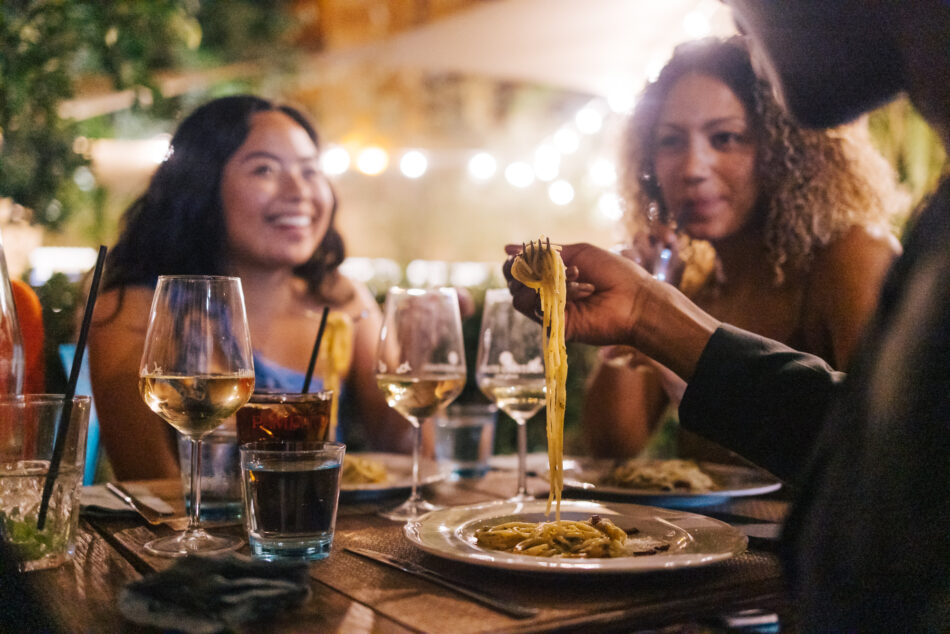 Image source:Contiki
What about other travellers?
We're so glad you asked. Many people are unsure about group travel to start off with and that's fair. Equally as common, though, are the people who board the Contiki coach for the first time and have their minds completely changed.
Here are a few recent Contiki travellers who were blown away by their experiences and would recommend you book that trip ASAP. But don't take our word for it, take theirs…
Come one come all and celebrate Pride!
Timothy Apisai – Contiki Pride
Timothy also went on our Contiki Pride trip. Timothy's stand out compliment to the trip was just how kind and inclusive the experience felt: "Although our Contiki group was small, it was a very intimate way of exploring some of Europe's sights such as the Eiffel Tower in Paris or Big Ben in London. This trip provided a space for queer and non-queer individuals to truly find comfort in being able to explore these sights whilst being able to be our unapologetic selves."
Get your fill of festivities and meaningful encounters
The Trip Manager, Scott, proved to be an excellent and knowledgeable guide and Timothy came away from this experience having learned new things. He was impressed by the care taken in choosing destinations and attractions. "We were able to learn about the history of the LGBTQIA+ community in these cities and the optional add-ons were very thought out. One thing I take away from this trip was the 'Canal Refugee' add-on which saw us explore the canals of Amsterdam while hearing a very touching and powerful story from our tour guide who spoke of personal experiences with sex trafficking."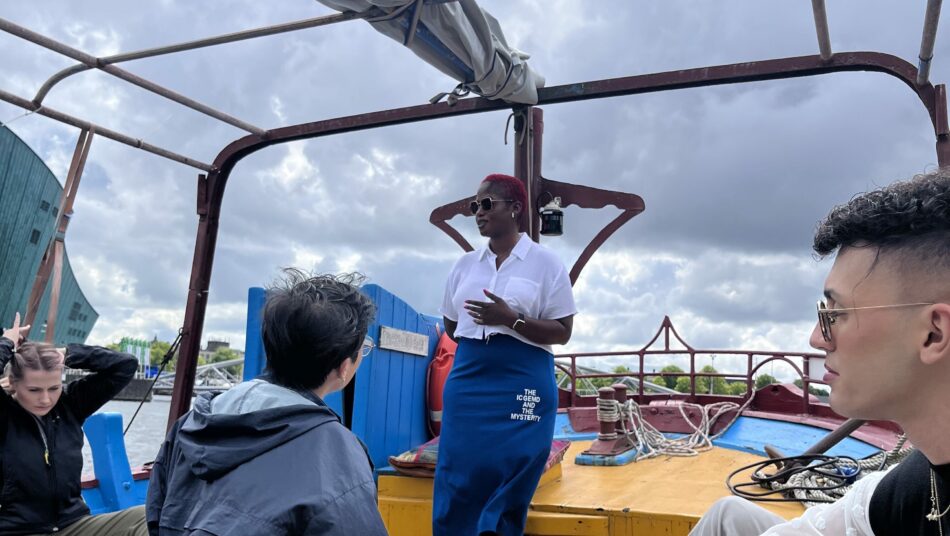 Image source:Isabella Torchia
Add a sprinkle of character growth maybe?
Most of all, Timothy was surprised by the journey of self-discovery that he and other travellers were able to go on on this particular trip. "One thing that will stick with me is the fact that I, being an openly gay man, was roomed with a straight man who, at the end of the trip, told me this: 'I was happy to be a part of this trip. Although I am straight, I've realised that I may not be as comfortable in my own skin [as] I thought. I looked around and saw all of [you] being so comfortable in what you wore, what you said, and how you presented yourselves, and I realised just how happy you all looked. That made me happy.' That was so powerful."
Wow, who knew Contiki was about so much more than just travel? (Spoiler alert, we did!)
"I believe Contiki can do more to promote such a tour because it's not only for us queer people but for all. Truly an inclusive trip. Will definitely do it again before I turn 35." All Contiki trips, whether they're pride trips or not, are inclusive to people from all walks of life and everyone is welcome! In fact, our philosophy is the more the merrier! So come along and meet fantastic people from all corners of the world.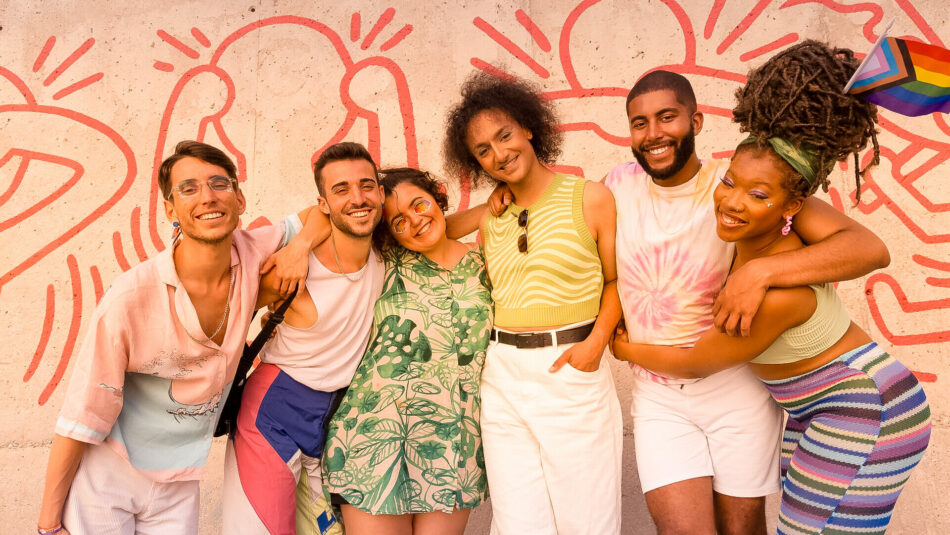 Image source:Contiki
Pink News rate it too
In fact, Contiki Pride has been a smash hit across different platforms! Praised by Pink News, the LGBTQIA+ media authority, as a trip that 'brings together young LGBTQ+ people […] with unmissable Pride trips full of fun, friendship, and unforgettable moments", Contiki Pride, and our soon to come brand new Pride trips aren't to be missed!
We sent Shannon Rosanna, model and creative based in bustling London, on our Contiki Pride in 2022 and she had what she describes as an "eye-opening and unexpectedly emotional experience" surrounded by people that love who they love and aren't afraid of showing it. 
It's all about spreading that good good lovin' baby!
You can read about Shannon's experience in Pink News' article and also in a catch up chat we had with her and other LGBTQIA+ members of the Contiki crew (notably Trip Manager Scott, and our LGBTQIA+ Ambassador Aisha) all about the importance of community and support.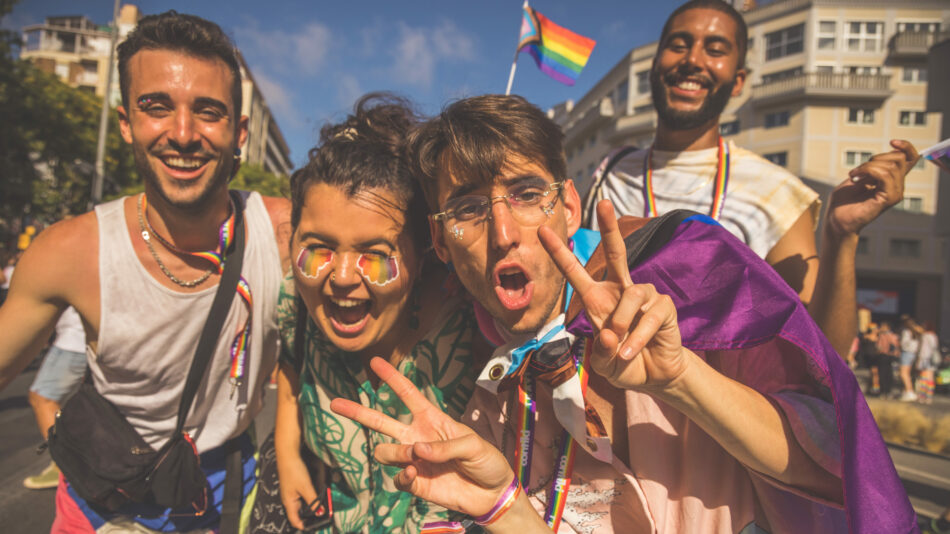 Image source:Shannon / Contiki
Catch that pesky European Travel Bug? So did Maya!
Maya Carter – European Adventurer
Maya recently travelled on the 37 day behemoth that is the European Adventurer. It's one of our iconic European tracks which takes you all over the continent, exploring well-known cities as well as the nooks and crannies full of hidden gems.
There's just SO. MUCH. EUROPE!
Maya was impressed by the wide breadth of the trip and just how much of Europe she was able to see and experience. "The European Adventurer was the most incredible 37 days of my life. The countries you go to give you such a wide range of Europe. Each place brings so much fun, culture, adventure and so much more."
You're never too old to ask for help, and you should!
She was able to explore new and amazing foods, cultures, and worlds, accompanied by a Trip Manager and Trip Driver who guided the way and offered a helping hand when needed: "All the activities were fantastic, the itinerary is amazing. The trip manager and driver were both phenomenal. Both were incredibly knowledgeable, helpful, trustworthy and would do anything for each person on the trip."
Moreover, Maya was also dazzled by the range of activities on offer: "All included experiences were so much fun and gave you so much of the culture and lifestyle in each country so I would highly recommend doing them. It also brought the group together as a whole."
"Please book this trip, you will never regret it." You heard her, what are you waiting for?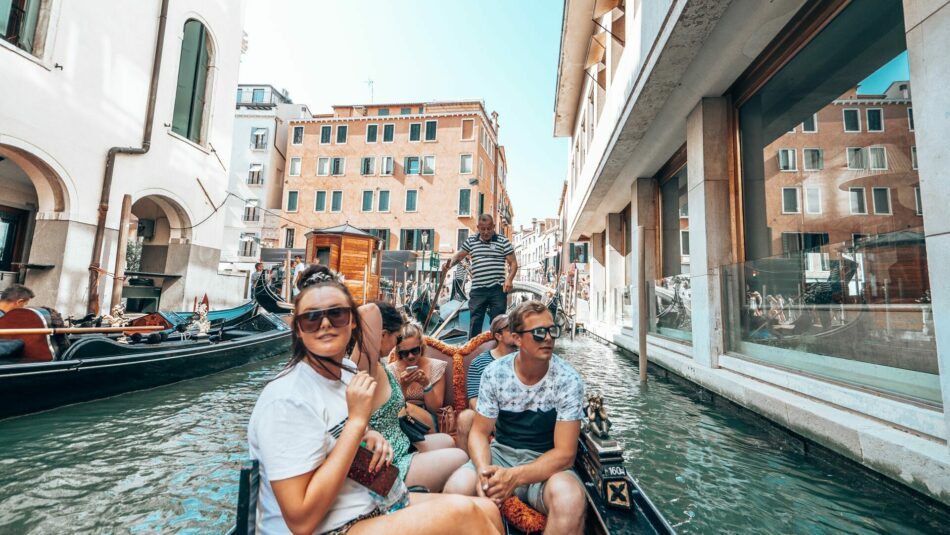 Image source:Contiki
Man, this bug is contagious, hey?
Emily Bortolotto – European Escapade
Another one of our iconic hefty European tracks, the European Escapade takes you on 23 days travelling through our western European favourites with a mix of chilling, adventure, and nightlife!
Don't worry, you don't have to lift a finger
With a trip that heavily focuses on the good vibes and the good life, having to plan everything and hustle from country to country would be a pain, right? Luckily we do that for you, and Emily is here to testify! "They provided everything possible: the itinerary is easy to follow and there are plenty of included activities. There's easy communication with the Trip Manager, and the support prior to the trip was great which allowed me to stay calm as I knew everything had been sorted before I started."
We'll squeeze as many countries and cities as possible into your itinerary with all the best bucket list moments without you having to worry about anything! No getting lost, no bookings falling through, no delayed flights. Just a good time! Emily "would recommend the European Escapade to anyone wanting to travel!"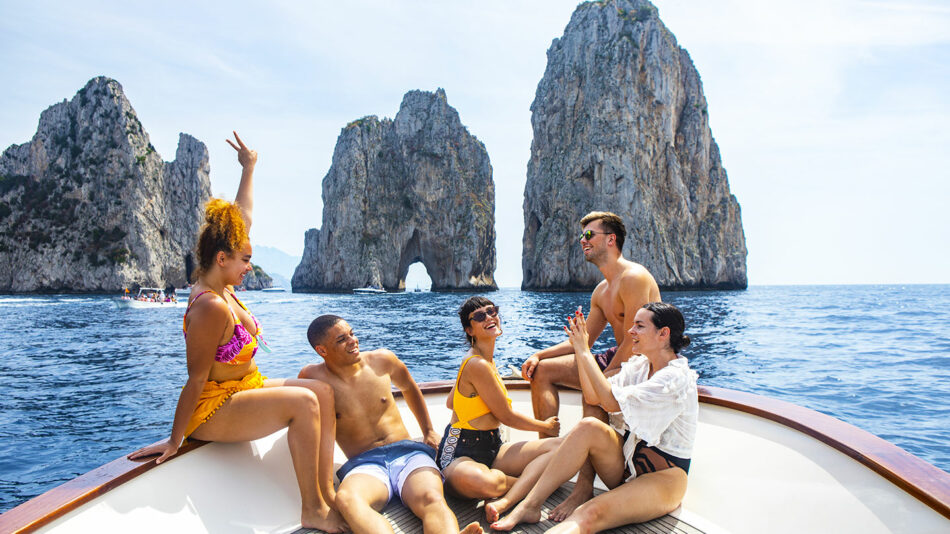 Image source:Contiki
I think we found our Euro Bug culprit…
'Oops, sorry guys!' Olivia Harden, may have predicted Euro Summer '23 and laid out her 6 BEST reasons to book group travel to Europe WAY ahead of the curve! Well played, Olivia. So, if you're looking for someone to blame, blame her…
Writing for Matador Networks, Olivia has pioneered the latest travel trend since January and she wisely detailed her best reasons why you should book some sexy sweet social travel (number 1 obviously being that you'll have the time of your life and make all your friends back home jealous beyond words).
It's all about the comfort zone and beating it to a pulp!
Olivia highlighted this as the biggest must do while social travelling: the social part of course!! Go out and meet new friends, you'll have pen pals for life! Even if you're shy, remember that the whole group is in the same boat as you. If you can be the first person to say 'hi' to someone, then you've won. It's the connections you make that'll keep you coming back for years…
You'll also be encouraged to try new and exciting things like foods and delicacies from all over the world that may seem foreign to you but will delight you in unexpected ways. Never yuck someone's yum because it just might end up being your yum too!
Well, maybe don't beat it to a pulp, you can keep some of it…
You don't have to throw caution to the wind, says Olivia, you can, and should, remain a responsible adult. Stay on top of your budget by hopping on the Free-Time Add Ons you're interested in, and hopping off the ones you just don't care about – it's all good with us! We want you to have the best time possible, and only you know yourself best.
And if you're really in a pinch, don't worry, the whole Contiki team has got your back 24/7 (yes, really!) support available and a trustee Trip Manager and Trip Driver who are always at your disposal.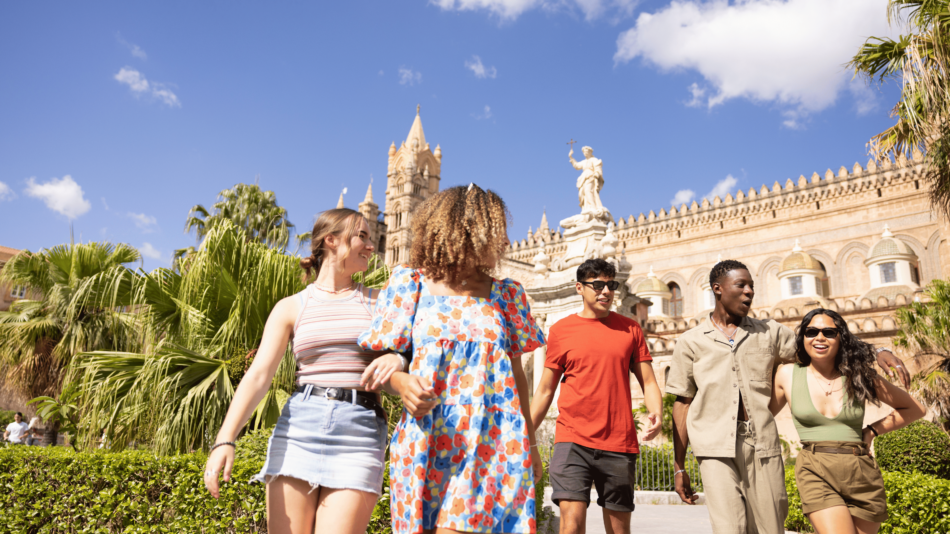 Image source:Contiki
Fancy a piece of that idyllic island life? Yes, but make it Greek!
Nikita Wolfgang – Greek Island Hopping Plus
Nikita managed to snag themselves a spot on one of our most popular and most in demand trips, the dazzling Greek Island Hopping! It sounds just as dreamy as it is: 11 days of sea and sun cruising just off the Greek shores and jumping into endless blue water.
Get in touch with the thump thump of great nightlife and the thump thump of your heart as you discover both sides of the coin!
Contrary to popular belief though, it's not just party, party, party, and Nikita is here to confirm that: "A quintessential Contiki trip! A perfect mix of experiencing culture, tasting good food and bathing in the sun with heaps of night life. 2 days on each island gave us enough time to explore and rest up. Highly recommended as anyone's first Contiki!"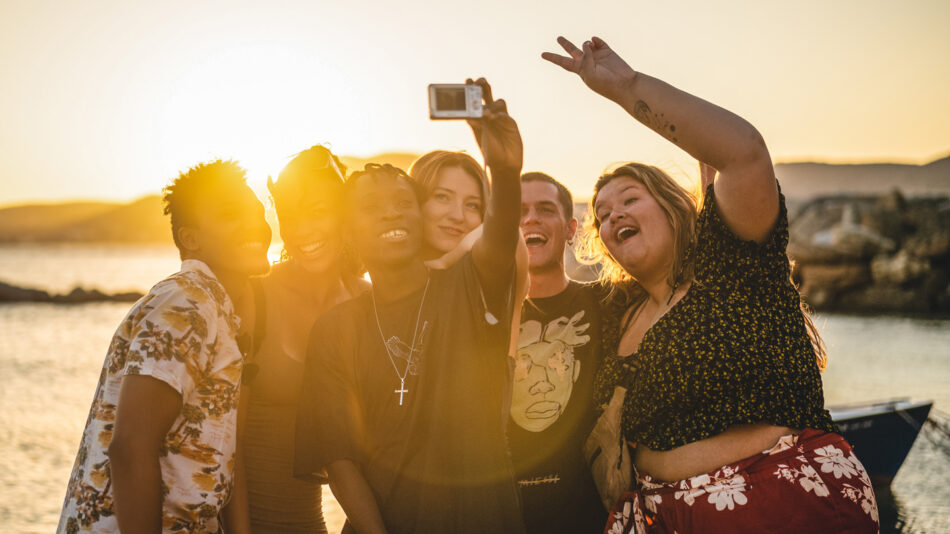 Image source:Contiki
So there you have it, what's stopping you from booking your spectacular Euro Summer '24 with us?