How to connect with First Nations cultures when travelling in Australia
Share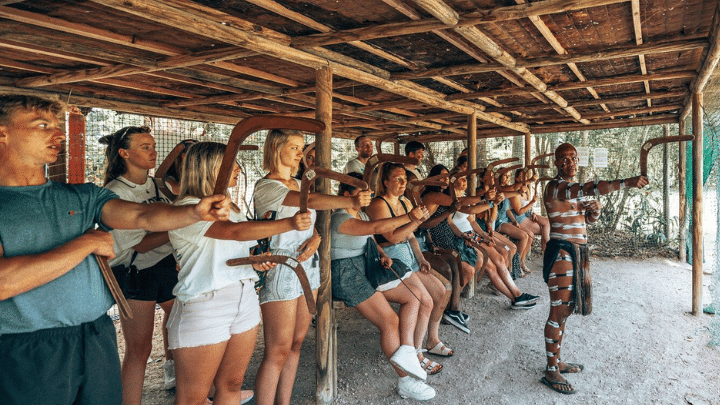 Contiki acknowledges the Traditional Custodians of country throughout Australia and their connections to land, sea and community. We pay our respect to their elders past and present and extend that respect to all Aboriginal and Torres Strait Islander peoples today.
Aboriginal and Torres Strait Islander people are the first peoples of Australia, and they have been the caretakers of this land for millennia. In fact, Aboriginal culture dates back more than 60,000 years – making Australia's indigenous history older than the Pyramids of Egypt! While the diversity of customs, languages, beliefs, and culture within First Nations communities is as broad as the continent itself, the connection to family and the connection to Country are at the heart of all Aboriginal and Torres Strait Islander cultures across Australia.
From the shores of K'gari to the rustic Red Centre, the diverse landscapes and natural wonders we visit on our trips hold incredible cultural significance to the First Nations people of the lands. As a founding partner of the not-for-profit TreadRight Foundation, we honour Aboriginal and Torres Strait Islander cultures, and are committed to encouraging the traditions and arts of the communities we visit to thrive.
Honestly, visiting Australia without experiencing Indigenous culture first-hand is like travelling to Peru and not hiking Machu Picchu, or going to Italy and not eating a single bowl of pasta. (A true travel sin). First Nations people are eager to tell you their stories and share the meaning of their cultures with you, so we've partnered with passionate Indigenous communities across Australia to give you authentic Indigenous experiences on our trips in Queensland, the Northern Territory and Western Australia.
Want a sneak peek? Read on for the deets on 5 of the Indigenous experiences offered on our trips around Australia.
1. Create your own traditional dot-painting
The beating heart of Central Australia, Uluru-Kata Tjuta National Park is home the Anangu people, who are the Traditional Owners of the land. Uluru is a sacred site for the Anangu people, and witnessing the rock bathed in the golden glow of an Australian sunrise is truly an unforgettable experience.
On both the Uluru Explorer and Outback Adventure, our travellers can choose to join a Maruku dot painting class led by local Anangu artists. In this workshop you'll uncover the meaning behind popular symbols often seen in Aboriginal artwork, and learn about the tools and methods used to create these unique paintings. Not only is this an insightful glimpse into an ancient art form, you'll create your very own painting to bring home as a special souvenir from your time on this sacred land.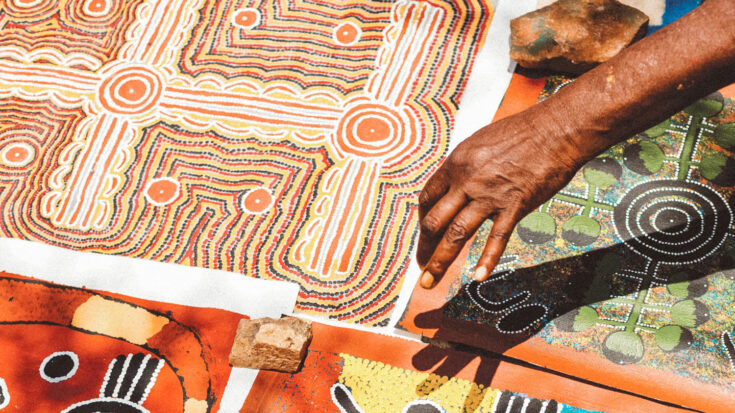 2. Discover the Daintree Rainforest with the Kuku Yalanji people
A highlight of our North Queensland Adventure is the day trip to the ancient (and extremely culturally significant) Daintree Rainforest. Here, we meet the local Kuku Yalanji people and learn about their rich Aboriginal culture and history. Beginning with a traditional smoking ceremony, the day is packed to the brim with activities including an art class at the Janbal Gallery, the opportunity to learn about Dreamtime stories, and of course, time wandering through the lush rainforest in search of an elusive cassowary.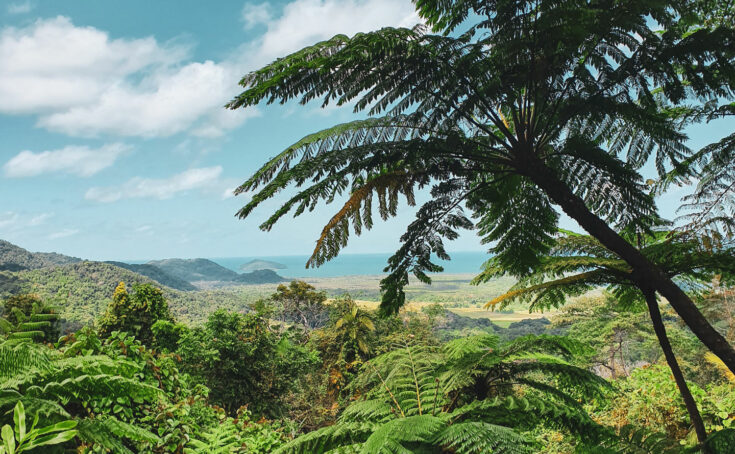 3. Learn how to throw a spear at Pudakul
Pudakul Aboriginal Cultural Tours is a 100% fully Aboriginal-owned and operated business that delivers an original, authentic experience with a focus on culture and nature, based on local knowledge and history. Here, you'll immerse yourself in Aboriginal culture, meet a local family in their home, learn about the significance of the Didgeridoo, and join a guided walk along a bush tucker and medicine track. The experience our travellers' are always keen for is the chance to test their spear-throwing skills, with a little guidance from the pros of course.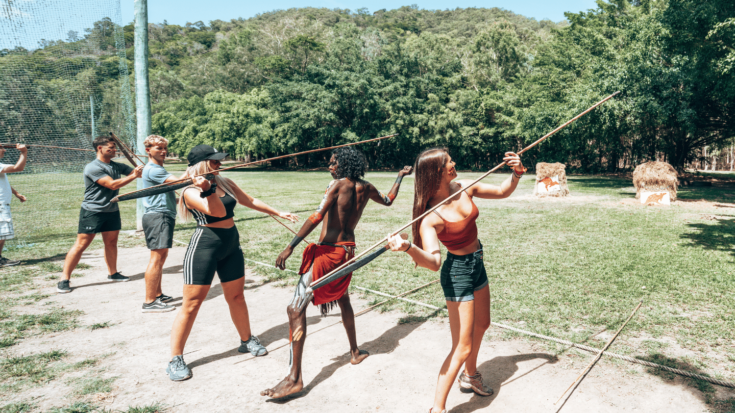 4. Dig into quality 'bush tucker'
If it's a memorable meal you're searching for, this MAKE TRAVEL MATTER® Experience (included on the North Queensland Adventure and The Big Walkabout) is an interactive Bush Food tutorial and dinner you'll be drooling over for years to come. An experienced Indigenous chef will guide us through a history of bush tucker, as you sample a variety of native spices and fruits, explaining their tastes, origins, and traditional uses before we enjoy our dinner, which features native game. A cultural feast, that is unexpected in all the best possible ways, and the perfect introduction to First Nations flavours.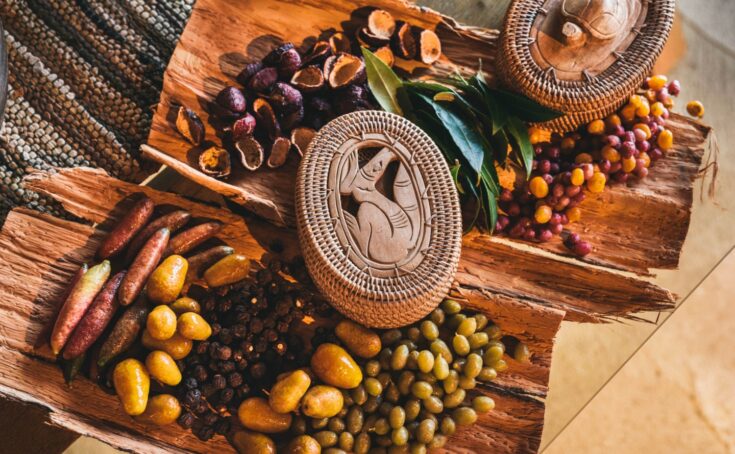 5. Take a day trip to K'gari (Fraser Island)
Travellers heading on the Beaches & Reefs trip, prepare for pinch-me moments a plenty. During a day trip to K'gari you'll see dunes, lakes, rainforests, dingos and shipwrecks all packed into the world's largest sand island. K'gari was previously known as Fraser Island, but we think it's new name is a way better fit as K'gari means "paradise" in the local Butchella language. The Butchulla people are the Traditional Owners of K'gari and the island contains many sites of spiritual, social and archaeological significance.