Loved London? Discover these other great British cities
Share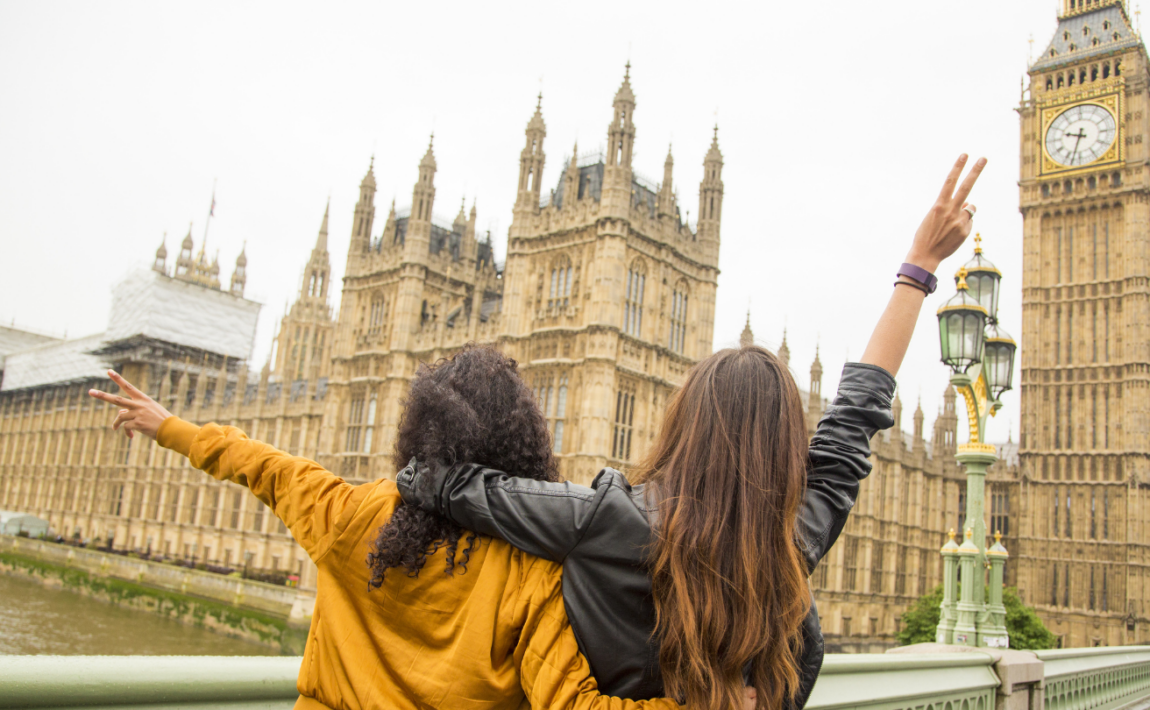 It's easy to fall in love with London. The impressive diversity of things to see, taste, explore and experience in this iconic city see lots of travellers start their journey through Great Britain here. But beyond the icons like Big Ben, Buckingham Palace and the Tower of London, there is another, surprisingly unexpected, side of Britain just begging to be discovered.
From Liverpool's lively music scene to the quirky seaside town of Brighton, these are the seven British cities you have to visit on your next trip to Great Britain.
1. Brighton
Kicking off with England's most iconic seaside city, Brighton is pretty well-known for its lengthy 525-metre Brighton Palace Pier, home to dazzling carnival attractions, arcades and famous fish'n'chip spots. But after taking some time to explore the city, you'll soon be in on the secret that panoramic ocean views are the least of what this captivating part of Great Britain has to offer.
For starters, the nightlife in the city is electric. Sip on cocktails in a cave at the Tempest Inn, prove you're tee-riffic at glow-in-the-dark crazy golf, or settle into a local bar with bucketloads of British charm. Your typical walking tour may not be for everyone – but add a silent disco and your dancing shoes, and you've got one of the best ways to explore Brighton after dark. There's also an epic foodie scene, with indie eateries and a variety of street food options to treat your tastebuds to.
For a vivacious LGBTQI+ café and bar scene, head to St James Street in the Kemptown neighbourhood, where rainbow flags adorn many of the street's establishments. As Britain's unofficial LGBTQI+ capital, a highlight of the city's event calendar is the annual two-day Pride festival, FABULOSO in the Park. With an unbelievable line-up of musicians (ummm, hello Christina Aguilera?!), this year's event, held in August, is sure to be a spectacular celebration – marking 50 years since the first Brighton Pride demonstration in 1972.
Of course we can't not mention the beautiful beaches, and if you would prefer to spend more of your time by the seaside, there's plenty of ways to experience Brighton differently. Our recommendation for a more chill day would be to wander The Lanes for vintage treasure and quaint cafes, then head to the shore to enjoy a special wood-fired sauna experience. If you're up for an adrenaline rush, jump on a thrilling jetski safari, scuba dive over a shipwreck, zip-line above the ocean, or climb to the top of the unmissable i360 viewing tower. The possibilities are endless.
2. Edinburgh
For a traditional British city with a whole lotta history, Edinburgh isn't afraid to ✨spice✨ things up. Ever been to a "geeky" cocktail bar, with themes like Star Wars or Jurassic Park and creative cocktails to match? Us neither. But you bet we'll be checking it out next time we stop by. Had a crack at indoor climbing? Well, in Edinburgh you can test your skills in the unique setting of an old vaulted church! Enjoy yoga for its calming vibe? Turn it up a notch by taking a class on the slopes of Arthur's Seat, an extinct volcano that is now one of the most epic natural landscapes in Scotland.
If you're a well-seasoned traveller searching for the thrill of trying something for the first time again, Edinburgh will have an unforgettable experience waiting just for you.
It'd be amiss of us not to mention the famed Edinburgh Festival Fringe (fun fact: this year is the festival's 75th birthday! ?), where for three glorious weeks performers, artists and creatives take to stages around the city. If you're travelling around Great Britain during August, you absolutely have to prioritise visiting Edinburgh for this memorable event.
3. Bath
Okay, we do love when a city has a self-explanatory name. But don't let Bath fool you, there is so much more to discover in this UNESCO World Heritage city than their Roman namesake.
While the natural hot springs beneath the Roman baths do make the city an obvious option for a wellness getaway, it's the opportunities to get back to nature and focus on your wholistic wellbeing that set Bath apart. Explore breathtaking walking trails like the Bath Skyline Walk for the best views of the city, dine at eateries supplied with fresh, local produce, and enjoy a musical or comedy show at the Bath Forum – because we all know laugher is medicine for the soul.
Bath is also the ultimate location to live out your Bridgerton fantasies. Wander through the city's historic streets in search of recognisable filming locations including The Bath Holburne Museum of Art, the cobbled streets of Abbey Green, and of course, Bath's iconic Royal Crescent.
4. Birmingham
Birmingham is packed to the brim with quirky contemporary experiences and opportunities to explore different every day.
Vibrant street art. A thriving culinary scene. Underground gigs. The city's creativity is practically bursting at the seams. Even the Library of Birmingham couldn't help but get in on the action, with unique exhibitions and unbeatable city views from their secret rooftop gardens.
Birmingham is officially on the countdown to one of the year's most anticipated sporting events, the Birmingham 2022 Commonwealth Games. Kicking off on 28 July, this year's event promises a "Games for Everyone", which certainly aligns with the city's richly diverse cultural landscape and reputation for providing a warm welcome to all who visit.
Want to put your own athletic skills to the test? Tackle the Bear Grylls Adventure high-ropes course – tried and tested by the man himself, so it's sure to challenge even the toughest adventurers.
5. York
From magical alleyways and frightful ghost tours, to… fossilised Viking poo? York is full of unusual things to see and do.
Once the capital of a Viking territory, the sights, sounds, and foul scents of ye olde York are accurately captured at the immersive Jorvik Viking Centre. If you can't help but find this stuff absolutely fascinating, you're not alone. Head to Valhalla to feast like a true Viking and sample the multiple flavours of traditional mead, widely regarded as "The Drink of the Gods".
Tbh, the city has a pretty gruesome past, but that only makes for extraordinary storytelling, as York is considered one of the most haunted cities in Europe. On our Contiki trips through England, we explore the well-worn lanes and tiny alleyways of the old town in search of things that go bump in the night. Like a good fright? Then you'll love the York Dungeon – a live action show where you will meet the disgraceful characters of York's past.
Fast-forward to today, and York is a completely different city. There's a really great vibe with plenty to see and do for all types of travellers exploring Great Britain. Whether it's wandering the boutique shops of The Shambles, climbing to the highest point of the York Minister (all 275 steps) for unbeatable city views, or cruising down the River Ouse, York is bursting with opportunities to be surprised by unexpected experiences.
Image source:VisitBritain
6. Liverpool
Liverpudlians are sport fanatics. It'd be hard not to be when the city is home to two of the Premier League's biggest football (soccer ?) teams. Discover another side to Liverpool's sporting scene by joining an exclusive stadium tour, or hop in a helicopter for a birds-eye perspective of Anfield Stadium or Goodison Park.
Football isn't Liverpool's only claim to fame – the city deserves legendary status for its music, art, and foodie experiences. Ponder world-class contemporary art at the Tate Liverpool, visit the city's Chinatown area for East Asian food with a twist, or walk in the footsteps of the Fab Four on a Magical Mystery Beatles Tour as part of your trip.
Liverpool lives up to its UNESCO City of Music status, with impressive gig venues and a popular underground electro scene. Even St Luke's, an old, ruined church built in the early 1800's, has been transformed into a legendary theatre for concerts and other artistic performances.
For a backstage pass to the stories of your favourite musicians, the British Music Experience showcases costumes, instruments, and memorabilia of world-renowned artists like Freddie Mercury, the Spice Girls and Adele. While you're there, visit the Gibson Interactive Studio to see if you've got the X-factor, with drum kits, keyboards, and electric guitars available for you to learn a tune or two.
7. Glasgow
Glasgow is known for world-famous architecture, museums, and art galleries. However, even the most historic sights and experiences are given new, innovative twists in this modern city. Glasgow's implementation of advanced, eco-friendly practices and technologies (like a nightclub that generates electricity through the dance floor), and commitment to sustainability through green initiatives and a carbon-neutral pledge have seen the city step boldly into the 21st century.
On Contiki's Scotland trips, our travellers are treated to a traditional feast with local hosts. You'll also head to a Scottish pub to be serenaded by talented musicians, sip Scottish whisky, and do a little jig (the folk dancing kind; not to be confused with getting jiggy wit' it).
As Scotland's largest city, there are over 300km of cycle paths to explore, or check out the city's marinas and waterways from a stand-up paddleboard. For a truly unique experience, uncover another side of Glasgow by joining an Invisible Glasgow walking tour. Hosted by Glaswegians who have experienced homelessness, each tour is shaped by the particular experiences of your allocated guide, allowing you to understand the city in an inspiringly unique way.
So next time you head to Great Britain, let your love for London spread to the many other incredible cities of this diverse nation.