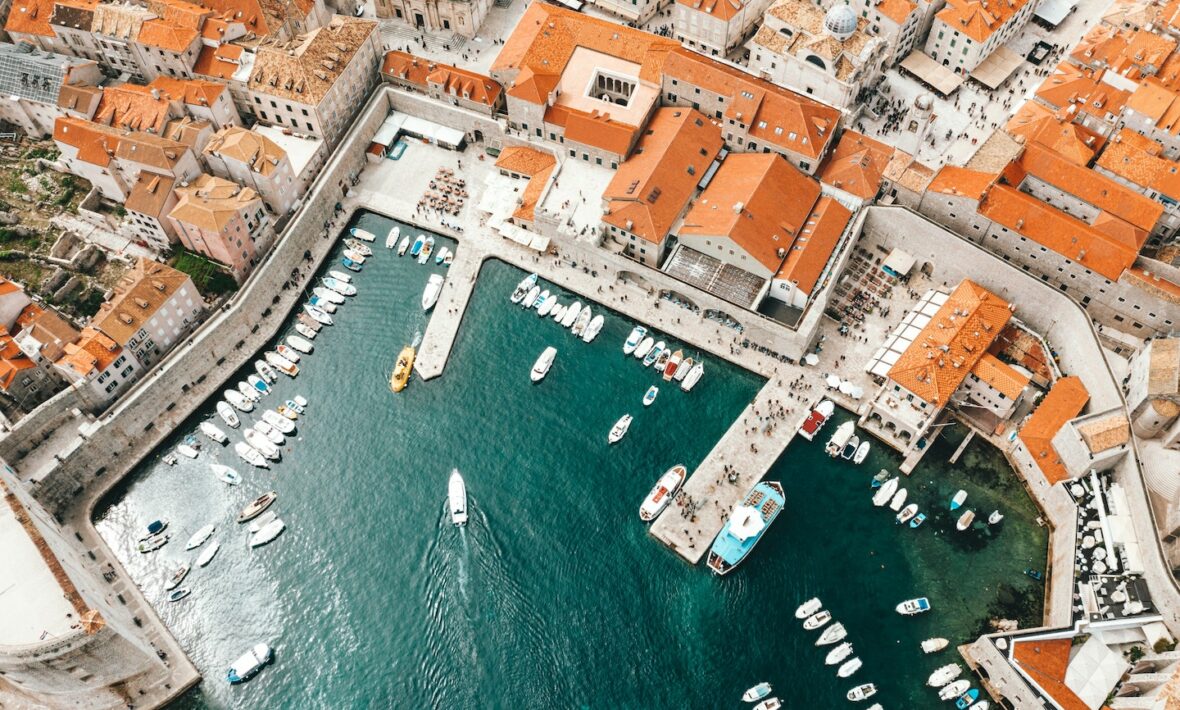 You don't have to be Rihanna to live like an island bae! With its pristine beaches, chic cobblestone alleys and crystal-clear waters, rumour has it that Croatia's coastlines are actual paradise on earth…Best of all, it's one of the most affordable countries to visit in Europe AND it's now open for US travellers to come visit! Latest guidelines state that with proof of a negative COVID-19 test taken three days prior to travel (or a negative rapid test taken 48 hours before), you'll be free to enter and explore these hidden treasures yourself.
Here, we share the ultimate guide to island hopping in Croatia and the top sights you need to see when you visit. Now, it's time to make like a banana, and Split…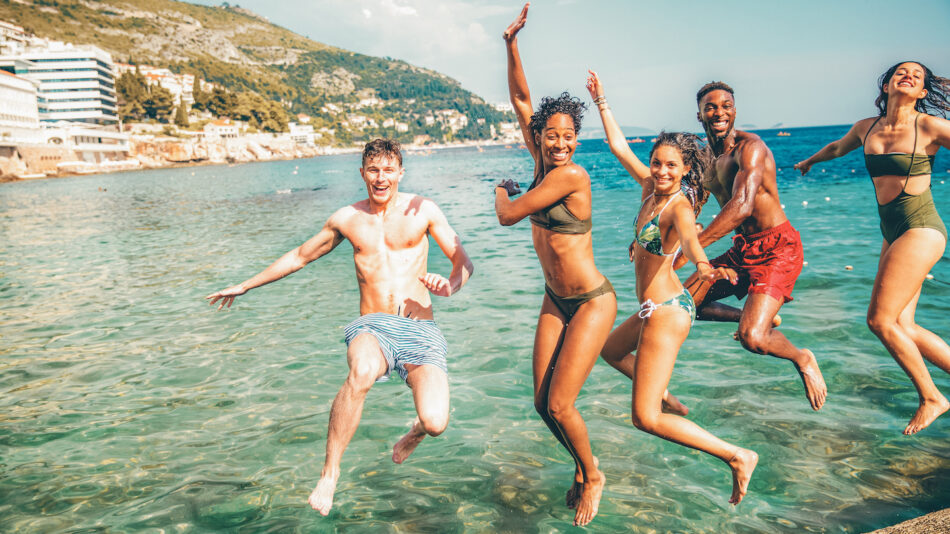 Image source:Contiki
How do you travel between Croatian islands?
The best way to see this beautiful European gem is by sailing around it as you can lap up all the unforgettable island sights and destinations along the way. Plus, you can jump in the sea whenever you like! You could research local boat trips, which are focused around Split or Dubrovnik. Alternatively, book onto an organised Croatia Island Sail Contiki trip where everything is sorted and you get to experience the jaw-dropping coastline from your very own traditional sailing boat.
Feel like a more high-end island hopping in Croatia experience? Check out Contiki's Premium Croatia Sail trip with cosy cabins and a very Insta-worthy sun deck for soaking up the Adriatic views.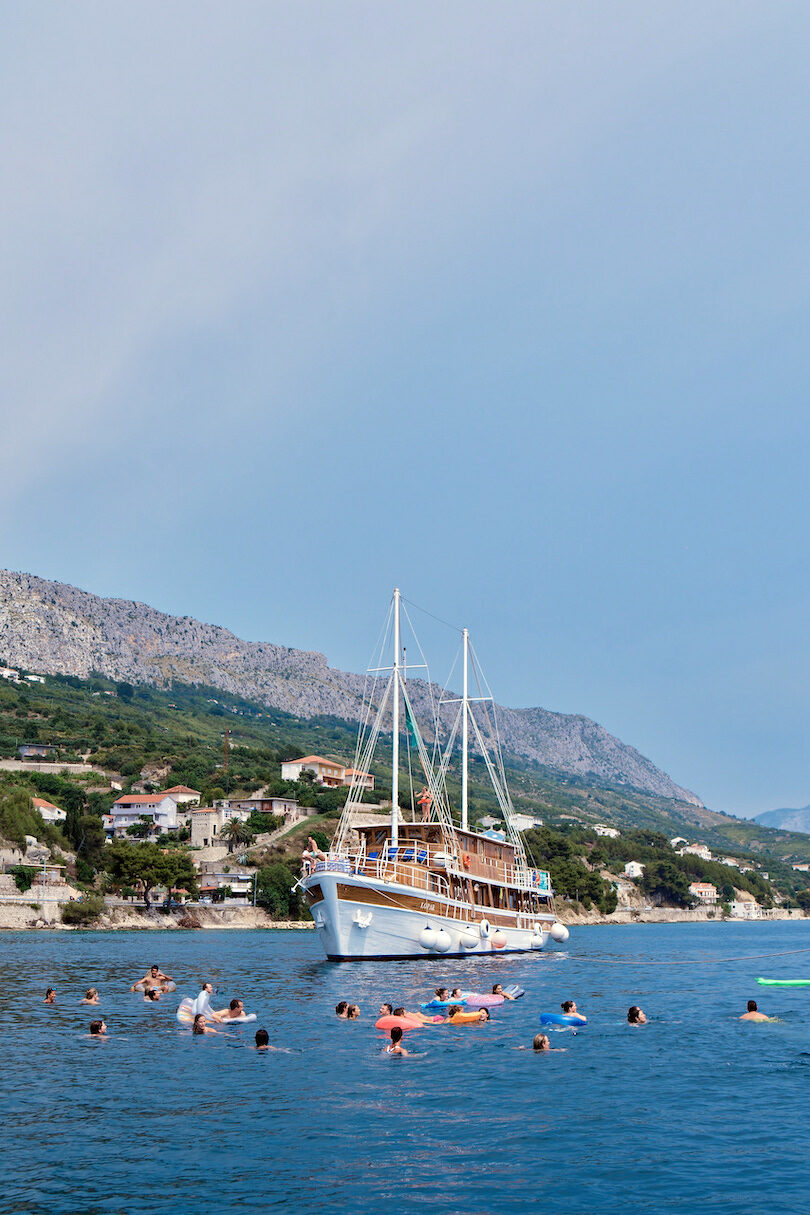 Image source:Contiki
Read more: Everything you need to know about Contiki Croatia Sailing
Stop 1: Split
Check out Split's Old Town
The vibrant city of Split is the perfect start to your island hopping in Croatia adventure. Home to the popular sandy Bačvice Beach and clear waters, it's easy to get lost in Split's beauty! You can't leave without a visit to the Old Town. The UNESCO World Heritage Site means you can literally walk through centuries of stunning, well-preserved history and art – be sure to check out Fruit Square and Pjaca Square with its gorgeous marble tiles. While you're in Old Town, check out Diocletian's Palace, built by Roman Emperor Diocletian, you can enter through the Golden Gate and explore this beautiful landmark.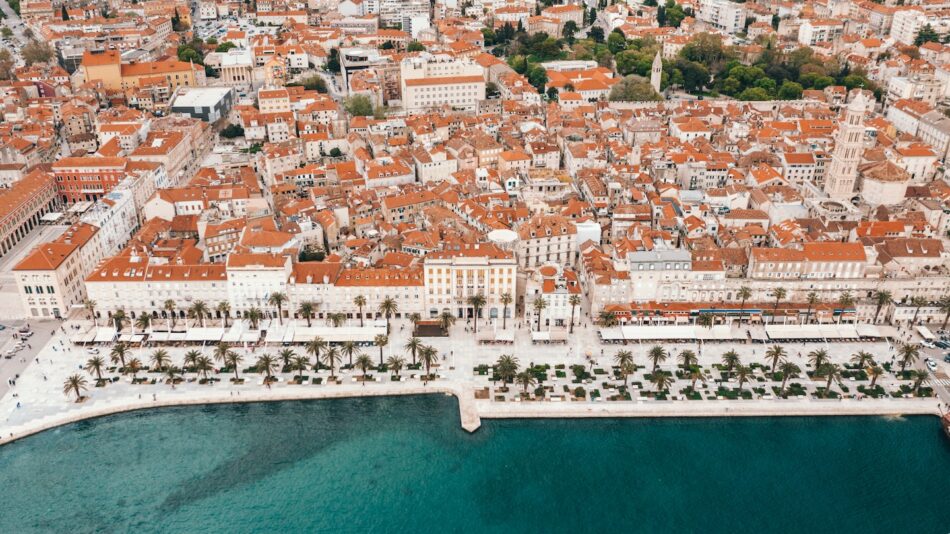 Image source:Spencer Davis / Unsplash
Stop off for the BEST seafood in Split
With Split being so close to the sea, this is the perfect place to try authentic Croatian food, consisting of all types of seafood. Specific to Split is Dalmatian cuisine typically Mediterranean in style and including an array of fresh veg, local greens, cheeses and plenty of fish. We recommend Konoba Matejuška restaurant. Or simply stroll near the main Riva, grab a bite and enjoy the stunning seafront views – the Black Risotto will blow your mind.
Visit one of Split's stunning national parks
If you have time in Split, we recommend taking a trip to Plitviče Lakes National Park – a forest reserve with terraced lakes, waterfalls and stunning limestone canyons. Or visit KrKa National Park where you can also swim in the majestic clear waters overlooking the waterfalls!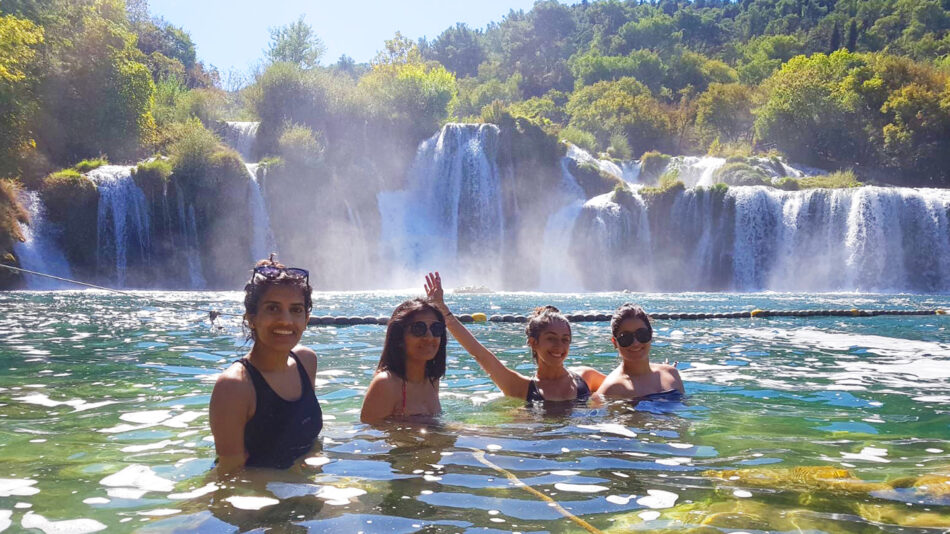 Image source:Shanice Midda
Stop 2: Hvar Island
Soak up Hvar Island's rich culture
Say goodbye to Split, put on your best dress and sail your way to the super-cool island of Hvar. If you're looking for an adventure, then get on your walking boots and make your way to Fortica castle – trust us, it's well worth the climb as you overlook the beautiful island. Make your way back down, walk the cobble-stone streets to the stunning landscapes and markets and witness the Hvar Spanish Fortress, Arsenal and St. Stephen's Square. FUN FACT: this island is home to lavender fields so while exploring, be sure to pick up some fresh lavender from the centre!
 

 

 

View this post on Instagram

 

 
Mix sunset and cocktails with Hvar's nightlife
With its delicious food and glamorous rooftop bars, Hvar certainly earns its spot as one of the best places in Europe for island vibe nightlife. Bring in the incredible sunset at Hula Hula, Pink Champagne Hvar or Carpe Diem – any of these will give you a night you'll never forget.
Check out Hvar's Stari Grad
Connected by an old and new road, make a pitstop to Stari Grad – the oldest settlement and natural reserve on the island. With ancient stone walls and shelters, the site bears testimony to the ancient system of land division used by the ancient Greeks. Even better, the views from here are simply picturesque and there are plenty of places nearby to grab a sunset Aperol Spritz.
Stop 3: Korčula
Korčula
Check out the medieval old town of Korčula
Entering another beautiful island where old meets new, Korčula is home to the crispiest white wine and an enchanting medieval old town packed with spectacular architecture. St Marks Square is the largest square in the old town, so use it as a base from which to explore the area and browse the shops.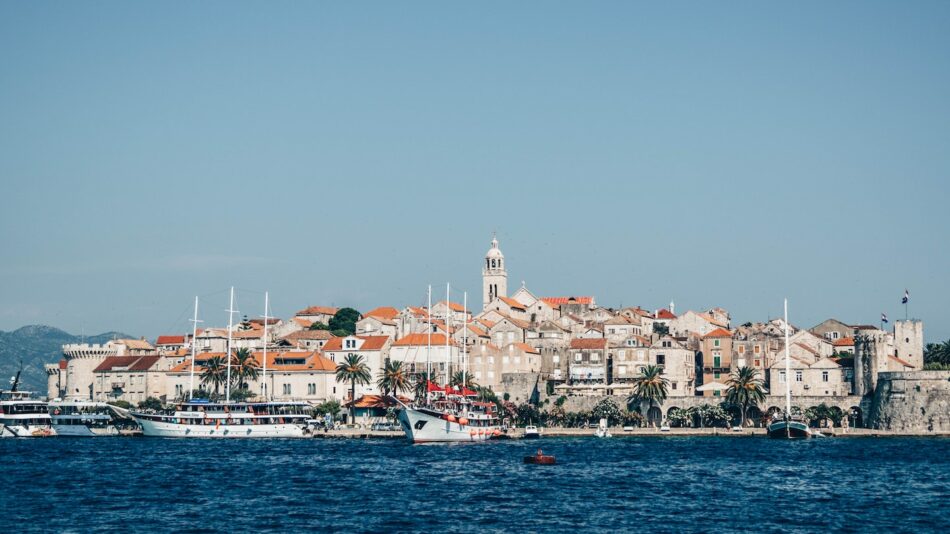 Image source:Milica Spasojevic / Unsplash
Indulge in a Croatian BBQ
On Croatia Island Sail you can also opt onto a BBQ lunch with the old town as your backdrop and dance the night away at some of the hidden bars. Here are 5 things to expect when you sail Croatia with Contiki – being onboard a traditional sail boat being top of the list!
Read more: 5 things to expect when you sail Croatia with Contiki
Stop 4: Dubrovnik
Take a Game of Thrones tour
Choose your house wisely as you 'set-jet' to Kings Landing, a vibrant Mediterranean getaway. Take a tour of Dubrovnik's UNESCO-listed old town and spot Game of Thrones filming locations. If you're a GoT fan, now's the time to recreate some of your fave scenes – you know nothing, unless you visit this remarkable place.
Enjoy the views of Dubrovnik from the water
Swimsuit at the ready as you can take a short ferry over to Lokrum Island and experience the crystal-clear waters whilst kayaking or sailing. This is a great way to see Dubrovnik's ancient walls and towers bursting with history. It's Croatian island hopping at its most beautiful! You can also admire from afar with an Adriatic cruise and meal, or simply chill on some of their stunning beaches (rumour has it there's a nudist beach not too far).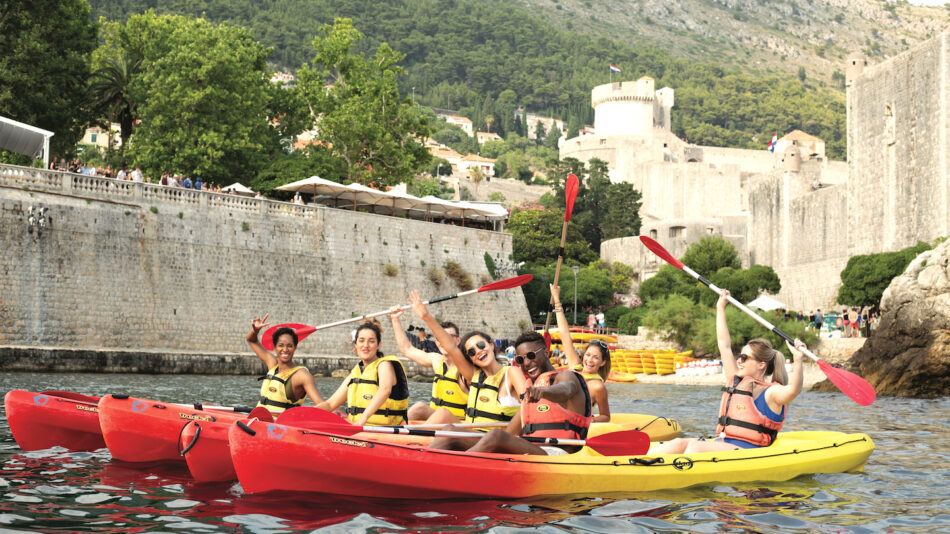 Image source:Contiki
Taste the local wine as the sun sets
As the sunset falls on our current ruler of the seven kingdoms, you can truly begin to admire its stunning landscapes. We recommend visiting D'Vino wine bar, located in the heart of the old town – you'll be sippin' some of Croatia's finest wine. But you can't leave without trying the oysters at Konoba Bonaca – undeniably some of best sea food in town.
Stop 5: Trstenik
Check out the Elaphite Islands
These island are full-blown euphoria and you can sail past all the beautiful palms, cypresses, olive trees, citrus plantations and colourful reefs. As the sun sets, you can dock at the unspoilt village of Trstenik with views of the Korcula archipelago.
View this post on Instagram
And there you have it, the ultimate Croatia island hopping guide. If you're getting major FOMO and Croatia just shot up to the top of your list then take a look at our Croatia trips, where you'll get the unique opportunity to sail around the coast on a beautiful sailboat and witness incredible views.
For more information on the latest COVID-safe government guidelines for US travellers heading to Croatia visit the US Embassy in Croatia site.