The most beautiful airports in the world
Share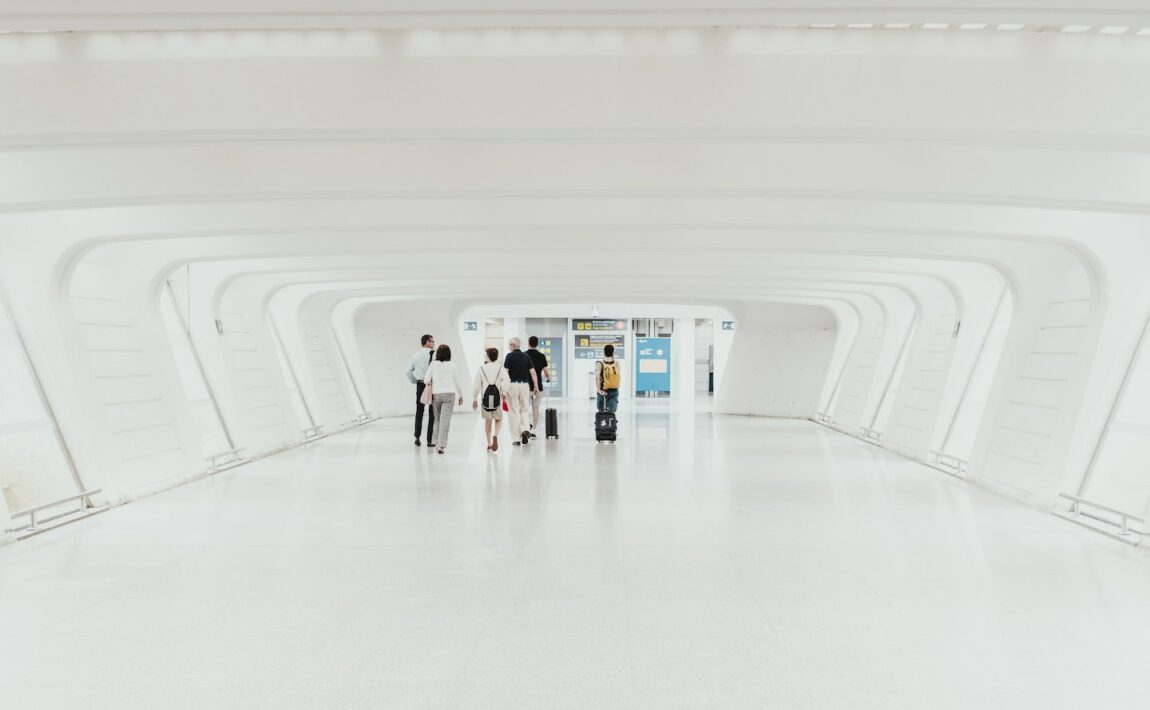 Booked your next trip and ready to go? Heading to the airport shouldn't be the most stressful part about travelling. Start your journey off on the right foot and visit an airport that's designed to help ease the travel experience. Some of the most beautiful airports around the world boast stunning architecture, spas, designer shops and even… waterfalls and ice rinks! We've rounded up our pick of the most beautiful airports in the world.
Singapore Changi Airport – Changi, Singapore
Rated the best airport in the world for 7 years in a row by Skytrax, this airport features one-of-a-kind environmental installations. In each terminal, there are botanical gardens decorated with Asian-inspired ponds to help travellers destress and Zen out while in-between travel destinations.
One of the main attractions is the famous Green Wall that spans over 300 metres. This wall breathes air into Terminal 3 and features a waterfall and over 50 living species. And if that isn't enough of a reason to visit, you'll find a hedge maze, canopy maze and slides for kids, and a free-of-charge movie theatre, spa services and a rooftop swimming pool for the adults.
Image source:Photo by Sreehari Devadas on Unsplash
Vancouver International Airport – Vancouver, Canada
Travellers have a chance to experience Land, Sea and Sky of Canada. With an impressive collection of sculptures and two aquariums, Vancouver's airport is inspired by locals from Canada's Indigenous culture.
View this post on Instagram
Menara International Airport – Marrakech, Morocco
This is airport is all about the exterior. But its true beauty comes from its architecture. Using building panels that are stylized with an Islamic ornate design, sun is able to shine through and illuminate the interior of the terminal with natural light. Depending on the time of day, this breathtaking design is truly one-of-a-kind.
View this post on Instagram
Bilbao Airport – Bilbao, Spain
All white concrete and glass, this terminal in Northern Spain is a modernist's dream. Inside, the arches on the ceilings were designed to look like the wings of a bird and now it's one of the most light-filled airports in the world, making travelling through a calming experience.
Helsinki Airport – Helsinki, Finland
Under renovations for the past couple of years, the Helsinki airport is one to watch! Terminal 2 is currently being expanded to link Finland to the World. Inspired by the plywood used in airplanes, the new iconic entrance will feature a wooden roof, lots of glass and light to bring in a natural feel into the terminal. Ever wondered how to make the most out of your layover? In Helsinki, travellers can visit a 24-hour art gallery, aviation museum and an interactive installation which highlights Finnish culture and landscapes.
Chhatrapati Shivaji International Airport – Mumbai, India
This airport's beauty stems from the country's national bird, the peacock. Terminal 2 pulls out all the stops with a peacock tail patterned roof on both the interior and exterior of the building. The mushrooming columns add a little extra flair and an airy feel when walking through the terminal. You can also experience local Indian cultural art by visiting the an art walls which features over 7,000 pieces of Indian art.
View this post on Instagram
Incheon International Airport – Seoul, South Korea
Ready to experience Korea's traditional culture? International travellers can see it all inside the city's largest airport. Inspired by traditional Korean home design, this airport features Korea's nature and cultural heritage. Visit the Korean Cultural Street in Terminal 4F to see replicas of a giwa (tiled roof house) and a jeongja (pavilion) with regularly scheduled cultural performances and Korean snacks. If you have some extra time, stroll through one of 7 Incheon's eco-gardens. And after that, visit the casino, golf course, museum, exhibition centre, spa and ice rink.
View this post on Instagram
Madrid-Barajas International Airport – Madrid, Spain
What better way is there to make the most out of your travel journey in and out of Madrid? Opened in 2018, this airport is a short ride outside of the city centre. Unlike most airports which are lined with glass and steel, this airport is lined with a bamboo wave-shaped roof. Found in Terminal 4, the roof was built with natural sunlight in mind. Its main goal was to draw in travellers with the daytime sun in Madrid. These bamboo high-ceilings aim to give travellers the best of both worlds by allowing lots of natural light in and provide some much-need shade from the hot Spanish sun.
View this post on Instagram
Heydar Aliyev International Airport – Baku, Azerbaijan
This is one of the beautiful airports you cannot miss! This unique airport uses geometric shapes to create an enjoyable travel experience. You'll see triangles and curves used throughout the architectural design. Before heading on your flight, snap a photo with the wooden pods or "cocoons". These pods house cafes, shops and bars on the upper level of the terminal. There are also some pods left as an open framework, adding an airy feel to the overall aesthetic of the terminal.
View this post on Instagram
Your trip starts as soon as you leave your house. Make your travel journey that much better. On your next trip, experience everything that these airports have to offer and travel through one of the most beautiful airports in the world.