7 reasons you need to visit Northern Ireland
Share
Northern Ireland is a small and mighty country where you'll never be short of things to do. From stunning hikes to city breaks and many country pubs in between, here are all the reasons we think Northern Ireland is worthy of much more than casual exploration.
Lush vistas are hiding around every corner
Synonymous with rolling hills, green fields and a level of lush that can only be achieved with steady rainfall throughout the year, Northern Island lives up to its reputation of being green, green, green. The Carrick-a-Rede Rope Bridge will offer you an interesting perspective of where the lush hills and dramatic cliffs meet the sea—likewise for the Mussenden Temple near Castlerock.
Image source:Tourism Northern Ireland
Belfast is an ideal city break
Whether you're looking to track down traditional tourist attractions like the Titanic Museum, take a hike up Cave Hill for a panoramic view over the city, or wile away the afternoon in one of its many homely pubs, Belfast is a buzzing capital city with something for everyone. To see the entire city in one day, sign up for a Segway tour (it's a no brainer) or a Black Taxi Tour with many food breaks along the way.
There's a great live music scene
If you're always on the hunt for a great live music venue then we have a feeling you'll love Northern Ireland, and in particular, Belfast. For traditional Irish music in one of the city's oldest buildings, head to The Dirty Onion; for jazz and blues you'll want 1930s New York-style Berts Jazz Bar and for a little bit of everything, go to The Limelight. If you're only interested in seeing the biggest acts passing through town, that'll be at The Empire Music Hall.
The Causeway Coastal Route is a road tripper's dream
Roughly a two-hour drive from Belfast, the Causeway Coastal Route is a popular driving route, known for its incredible views over cliffs and the sea, with lookouts along the way. It's home to Ireland's oldest single malt whiskey distillery and is the gate to the Giant's Causeway, a UNESCO World Heritage Site. As the legend goes, the rocky columns of Giant's Causeway were created by a giant, Finn McCool as a bridge to Scotland where he intended to battle a fellow giant. According to scientists, it's the result of volcanic activity 60 million years ago, gradually solidified over time.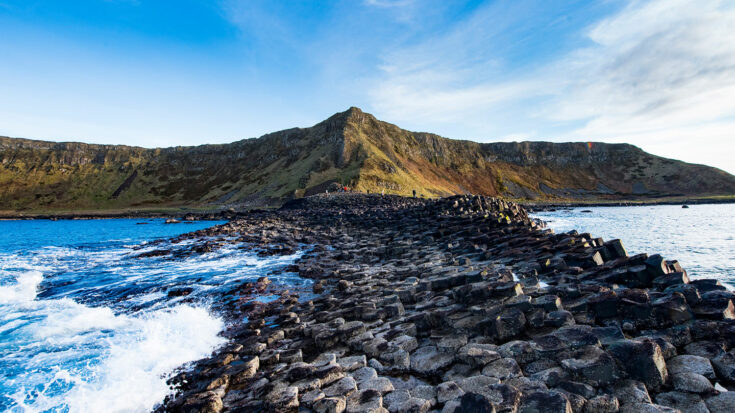 Image source:Tourism Northern Ireland
There's even more on the menu than you think
If you, like most people, prefer a bit of variety on your plate then Northern Ireland certainly has a lot o offer. The Muddler's Club delivers a modern take on traditional Irish fare, Established Coffee is a foolproof coffee spot in Belfast's Cathedral Quarter, and OX is the ideal combination of Larder in the front, and a wine bar named Cave out the back. An honourable mention is the St George's Market, where on Saturday it's all about the food vendors, while on a Sunday you'll find art, live music and kitsch stalls.
This is where Game of Thrones is filmed
Epic fantasy requires epic landscapes, and it would be remiss of us to explain all the best things about Northern Island without pointing out its intimate connection with HBO's Game of Thrones. Basically, any time you've admired the rugged beauty of Westeros – green rolling hills, beautiful forests, lakes, waterfalls and vast clifftops—it's because so much of the show was filmed in Northern Ireland. In fact, Game of Thrones employs more locals in Northern Island than the Civil Service. A couple of noteworthy filming locations are Downhill Beach and Binevenagh Mountains, both in Londonderry, The Dark Hedges, Ballintoy Harbour in Co Antrim, and Castle Ward near Strangford.
You can bring your fur baby with you
Northern Ireland prides itself on being a pet-friendly country which means you'll have many options in the way of accommodation, bars and restaurants, plus natural walks, all of which welcome your fur baby.