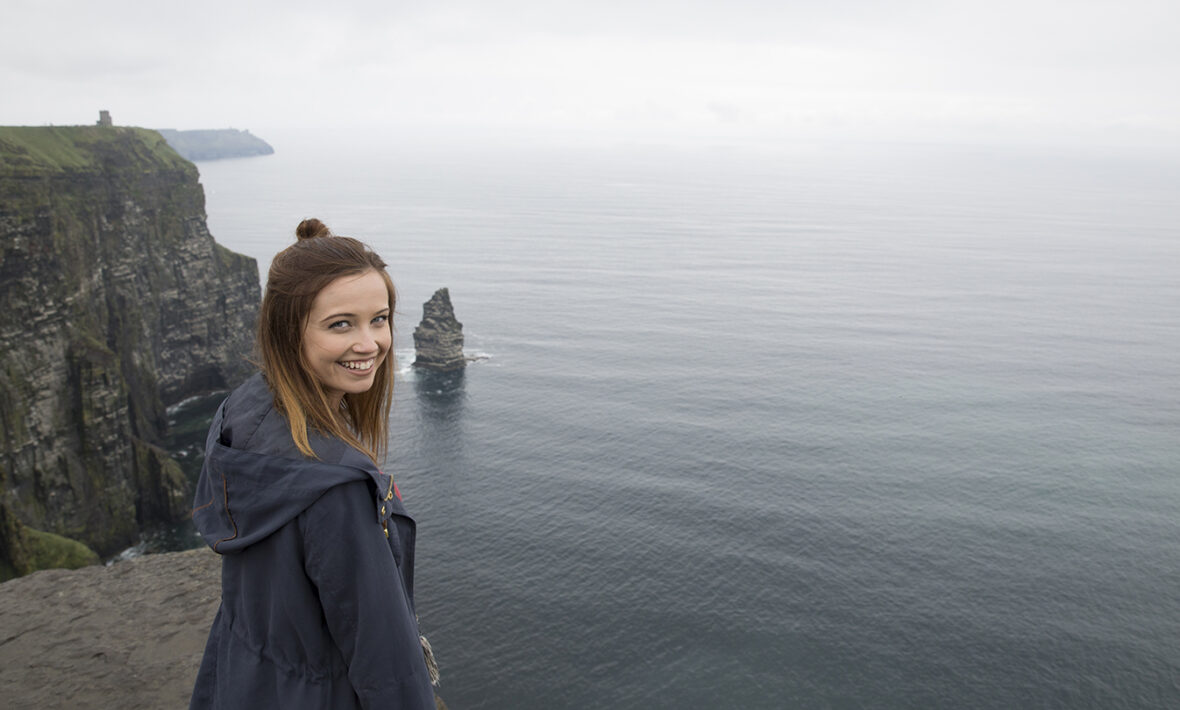 As applicable to many life lessons, "you won't know until you try." With that in mind, I planned my first solo overseas trip to Ireland. Yes, the thought was scary but it sure did help me grow and Ireland turned out to be the perfect destination for my first solo trip. Here's 5 reasons why …
Solo traveller friendly
Ireland is known to be a safe country, solo female friendly, and the primary language is English. Though I was alone for most of my trip, I never felt lonely. Talking with locals in restaurants or pubs, I learned more about the daily life of the Irish and realized we may live in a different time zone but we all have similar concerns of politics, work and school. In the evenings, I danced through the night in the Irish pubs filled with live music performances and free flowing Guinness beer.
RELATED: STUDYING ABROAD IN GALWAY WAS THE BEST DECISION I'VE EVER MADE
Picturesque landscapes
The rolling green hills of the Irish countryside were a pleasant dichotomy to the dry, mountainous landscape of LA. I enjoyed driving along the west Irish coast to the Cliffs of Moher and through the Ring of Kerry. The landscape at every turn along the Ring of Kerry was so breathtaking that I had such a hard time resisting the urge to document the contrast of the lakes and hills against the clear blue skies.
History
When I stepped into the majestic Ross Castle (County Kerry) and Cahir Castle (County Tipperary) I was in awe by the engineering to build these magnificent castles. I learned that the spiral staircases were built in a clockwise direction to make it more difficult for attackers that would have their sword in their right hand since they would be hindered by the center structure of the staircase.
RELATED: 15 FACTS ABOUT IRELAND THAT'LL BLOW YOUR MIND
Food and drink
One of my favorite places to eat was Bunsen, a top-notch burger joint in the Temple Bar District. Murphy's Ice Cream scoops unique flavors that are also the perfect touch to end any of your meals. Also don't forget to visit Ireland's most known exports: Guinness Storehouse and the Jameson Experience.
Self discovery
After researching that the best way to explore Ireland was by car, I was anxious as I've never driven in another country. After a couple of minutes on the road, driving on the other side became second nature. Each drive between counties was a mediation session amplified by the backdrop of free roaming livestock on the tranquil rolling green hills. It felt like time slowed down and I really learned to be comfortable being alone.
RELATED: I TRACED MY ROUTES BACK TO IRELAND AND DISCOVERED PEACE
Have you had a solo trip in an ideal location? Share your stories with us here and you could see your work published on six-two…