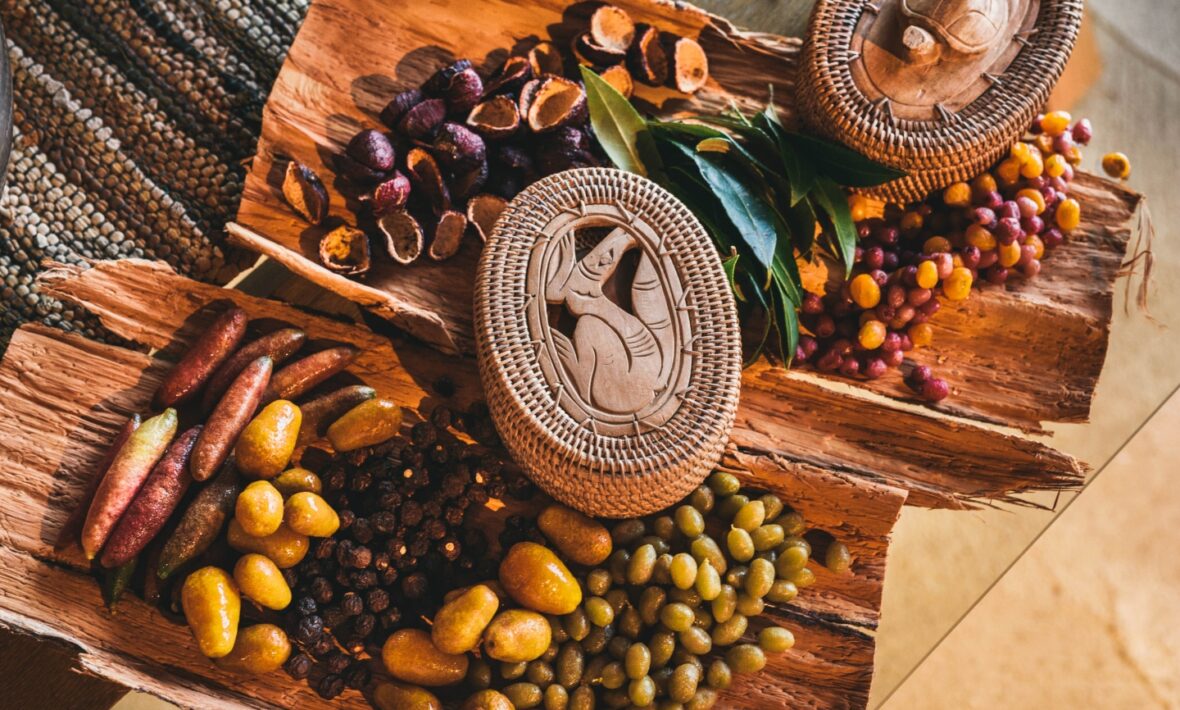 Tourism is a giant component of the economy in Cairns, and it's one of the most popular destinations in all of Australia. The Great Barrier Reef and water sports are undoubtedly a big component of that.  However, the food and Indigenous culture is another essential part of North Queensland life that travellers should immerse themselves in as much as possible.
Through Contiki's MAKE TRAVEL MATTER® Experiences, we aim to connect our travellers with local sustainable businesses. In Cairns, we're happy to partner with Ochre Restaurant & Catering to do just that; through food, and more specifically Bush Food. Because working up an appetite on the water through respectful recreation is perfectly paired with appreciating local culture through a good meal.
We caught up with Ochre owner Craig Squire, to learn more about the restaurant and the unique Bush Food dining experience they provide to our Contiki travellers in Cairns.
The man behind Ochre's mission
Craig Squire is the owner of Ochre, and Craig began his culinary career with a cookery apprenticeship in 1980. Since then, he has travelled the world, discovering many cuisines along the way. All of this travelling has allowed him to combine exotic flavours with his repertoire of traditional Australian cooking. Born in Adelaide, Craig planted his business roots in Cairns in 1992 to create Ochre, and the restaurant has grown over the years into a highly awarded culinary institution.
What makes Ochre special is its focus on Bush Food and taking a sustainable approach to modern restaurant operation. Craig works closely with his Ochre staff to create a culinary experience that is authentic to Cairns and aims to leave their customers satisfied with every bite. He also works closely with his suppliers to obtain the best possible local ingredients for his menus.
While Craig now spends most of his time in the office rather than behind the stove, he has many great memories from his culinary career. Craig has cooked for many important people in his lifetime, from world leaders to famous stars. He was a guest chef representing Australian food since the early '90s in many countries. During his time as an apprentice, Craig was lucky enough to carve ham at a buffet for the Royal Family, and he will never forget serving them with the line "some ham ma'am".
The origins of Ochre
Ochre's goal is an ambitious one; to create a modern Australian cuisine using primarily local and native ingredients. The restaurant runs on the operational objectives of supporting the micro-Australian economy of Queensland and promoting sustainable food production.
After 22 years in its previous location, Ochre now sits in the best spot in Cairns. The restaurant is right on the Harbour Lights boardwalk overlooking the beautiful marina. There's truly no better place to enjoy local Cairns eats than Ochre. Who doesn't want to feast while looking out over the majestic mountains and waters of the harbour?
The team at Ochre has expertly combined sustainable and locally sourced dining with a classy and modern take on traditional eats. As a result, their menu shines with healthy foods that prioritize a homage to tradition. Ochre's menu is also built with thoughtfulness about what we're putting in our bodies as fuel.
Bush Food at its finest
Bush Food, also known as Bush Tucker, focuses on the nutritional and sustainable aspects of local ingredients. It is the term used for foods that are native to Australia, and foods that have been a staple of Indigenous diets for thousands of years.
Bush Food is a superfood, and full of antioxidants, vitamins, and minerals. Not only does a Bush Food menu support local businesses and farmers, but Bush Food also results in a lower carbon footprint. Ochre even uses reusable materials and sustainable policies throughout their restaurant, including on the catering end of the business.
Just because foods from other regions can now be accessed in Australia, doesn't mean they have to be. Ochre proves that even in modern cooking you can source ingredients locally. The team inspires its visitors to try and create incredible meals with only what nature provides you in your own backyard.
What Contiki travellers can expect
Although the food at Ochre is delicious, eating isn't the main goal for this Contiki MAKE TRAVEL MATTER® Experience. At Ochre, dinner is complemented with an interactive and educational experience that really dives into Bush Food on a granular level.
Craig and his team focus on providing Contiki travellers with an amazing meal where they get to learn about and taste a range of native eats. Their chefs explain the tastes, origins, and traditional uses of their ingredients, including how they make ingredients shine via their modern interpretation of these key elements of Bush Food.
A meal at Ochre is also a great chance for travellers to get adventurous. The menu features things like native game, and they can try items they may have never even seen on a menu before. It's an incredible cultural feast, and the perfect way to start your adventure in Cairns.
A peek at the menu
Ochre serves a variety of delicious standard eats as well, but some of its most unique items are must-haves during your visit. You'll find local ingredients like quandong, Kakadu plum, and pepper leaf throughout the menu, adding spice and flavour from the entrée to the dessert course. Other Bush Food menu highlights include kangaroo sirloin, crocodile, wattle, and tempura Gulf bugs.
Eat sustainable, eat local
At the end of the day, Craig and the Ochre team aim to get their customers on board with their mission to support local restaurants and eat more sustainably. We can learn so much about a place through their food, and when visiting Australia, the Ochre team hopes you will 'eat Australian made' as much as you can.
Ready to enjoy the Bush Food eats of Ochre for yourself? Visit the restaurant for your own interactive meal on Contiki's North Queensland Adventure or Cairns Explorer trips.