Japan off the beaten path: unique destinations to visit
Share
Let's face it, everyone dreams of the day they'll book their first trip to Japan. The first time they'll try authentic sushi, the first time they'll watch Kabuki theatre, the first time they'll see Mt. Fuji. It's an absolute dream, and travelling off the beaten path in Japan is unlike anything else.
Visiting Japan can be a little overwhelming: there's so much to see and do and some fan favourites you'll feel like you can't miss. But to make your trip truly unique, try straying from the usual and visit some places you can put your friends onto later. 'Tokyo is so out, but you know what's in? Miyajima Island.' We love being trend-setters here.
Here's our collection of the coolest and brightest places to travel in style off the beaten path in Japan.
Venture out of the Cities
While amazing and worth a day trip (or a few), Tokyo, Kyoto, and Osaka aren't the only worthwhile cities to visit in Japan. What's great about this country is that you get a true mix of modernity and tradition, with some cities offering neons and nightlife and cool technological advancements, and others offering a more peaceful way of life, where you can get an authentic taste of Japanese culture.
Tokyo, Kyoto, and Osaka are 100% worth the hype don't get us wrong, they're all crazy unique experiences of their own, but if you want to stay off the beaten path in Japan, you've gotta stray from the conventional map.
Discover the most stylish modes of transport
Ever get bored of planes and cars? Well, Japan has some funky rides you can hop on and off of which will take you to even funkier locations! The Shinkansen bullet train is the fastest and most convenient mode of travel in Japan and it'll take you anywhere you want to go at 199 mph – hold onto your belongings or risk getting whisked away. If you're lucky, you may be able to hop on the hot pink Hello Kitty bullet train.
Maybe you fancy a view from above? With 72% of Japan being mountainous terrain, aerial railways outfitted with cable cars are a common mode of transportation. If you want to float up a forest-clad mountain hop on one of 170 gondolas and admire the view as you're safely teleported there through mid-air.
Take it all in on Mount Koya
First of all, a moment of peace. Scattered around Japan are various moss-covered shrines and monasteries which make for serene and beautiful places of reflection. The plateau of Mount Koya is one of the most sacred places in the country, and was the birthplace of Shingon Buddhism.
Adorned in stone, crescent bridges, toro lanterns, and a statue of Buddah, Mount Koya is a prime example of Japan's natural beauty and a representation of the deep respect Japanese people have for it. Contiki's Japan Unrivalled trip will bring you here for a moment of zen with your group.
Image source:Samuel Burner / Unsplash
View Tottori sand (or snow) dunes
Now this is off the beaten track. Japan and beaches aren't too synonymous, but the country's landscape is incredibly diverse and this 16km long beach will prove that to you. Enjoy it in Summer by dipping into the choppy sea and licking matcha ice cream off your chin. Or, enjoy it in Winter by walking alongside snow covered dunes for a truly mesmerising and unique view. It's a nice sneak peek to some of the beauty you'll be getting on our Japan Winter Wonder trip as well…
Picnic under falling Sakura
Sakura is the Japanese word for cherry blossom, and we know you know what those are. Arguably Japan's most popular attraction and time to visit, the early Spring all over the country is adorned with adorable baby-pink petals fluttering down to the ground on gentle gales and breezes. 
Hanami parties are common this time of year when families and friends gather with picnics of food and drink to celebrate the arrival of Spring. This is also the time of year in Japan when the school year ends, so you'll find lots of students celebrating as well! What a gorgeous way to end your studies…
Wander through Hakone National Park
One for nature lovers, Hakone National Park has clear, stunning views of snowy Mt. Fuji and the surrounding area is stunning year round. We're not kidding. In Spring bear witness to magical fields of pink, purple, and white flowers. In Summer you'll get clear skies reflected in the lake and lush and healthy greenery. In Autumn watch as the forests go from green to vermilion to crimson. And in winter you'll get a healthy dose of icicles and glittering frost. 
The walking trails here are striking, you'll feel like you've stepped into a completely new world.
Soothe sore muscles in Hakone town
Once your eyes have feasted on all the mystical sights of Hakone National Park, make your way to the mountain town for some well deserved special treatment. Get in touch with your spiritual side on the shores of Lake Ashi and marvel at the torii gate. Take a soak in a traditional Onsen hot spring bath (though you'll have to set your clothes aside…) in one of the town's many resorts, or in the sulphur springs of Owakudani Valley.
It's the little things in life, like taking every moment as it comes and breathing in deeply while relaxing in boiling waters, that the Japanese have truly gotten right. Hopefully you'll pick up a trick or two on Japan Unrivalled.
Oh, and did we mention the great big pirate ship tours?
Image source:Akira Deng / Unsplash
Cross ravines in Iya Valley
Iya Valley, a mountainous region in the west of Japan, is a sloping town bordered by forests and gorges in a coat of mist. The remote area served as a place of refuge for the Taira Clan who escaped to this region after the Genpei war in 1185, and descendants of this clan can be found here to this day.
The main attraction of Iya Valley, besides its history, are the three remaining and maintained vine bridges that were used to cross gorges of rushing white water. There used to be many more of these vine bridges, however time has claimed them, and only three remain. Crossing one of these bridges is a popular tourist attraction, as well as bathing in the valley's hot springs. Gotta sweat the fear out, right?
Journey to another world in Motonosumi Shrine
Follow a footpath under 123 torii gates to a coastal shrine in the Yamaguchi Prefecture. The shrine is small and quiet, and sports symbols of a white fox which reference the story behind the shrine's establishment. A man, who saw a white fox by his bedside, built the shrine and the gates as a way to appease the gods.
In Japanese mythology, foxes are signs of misfortune and trickery, like the folkloric figure the kitsune, and torii gates represent a doorway to a sacred place. This impressive tunnel hosts tourists from all over the world who wish to take a photo in the middle of the gates.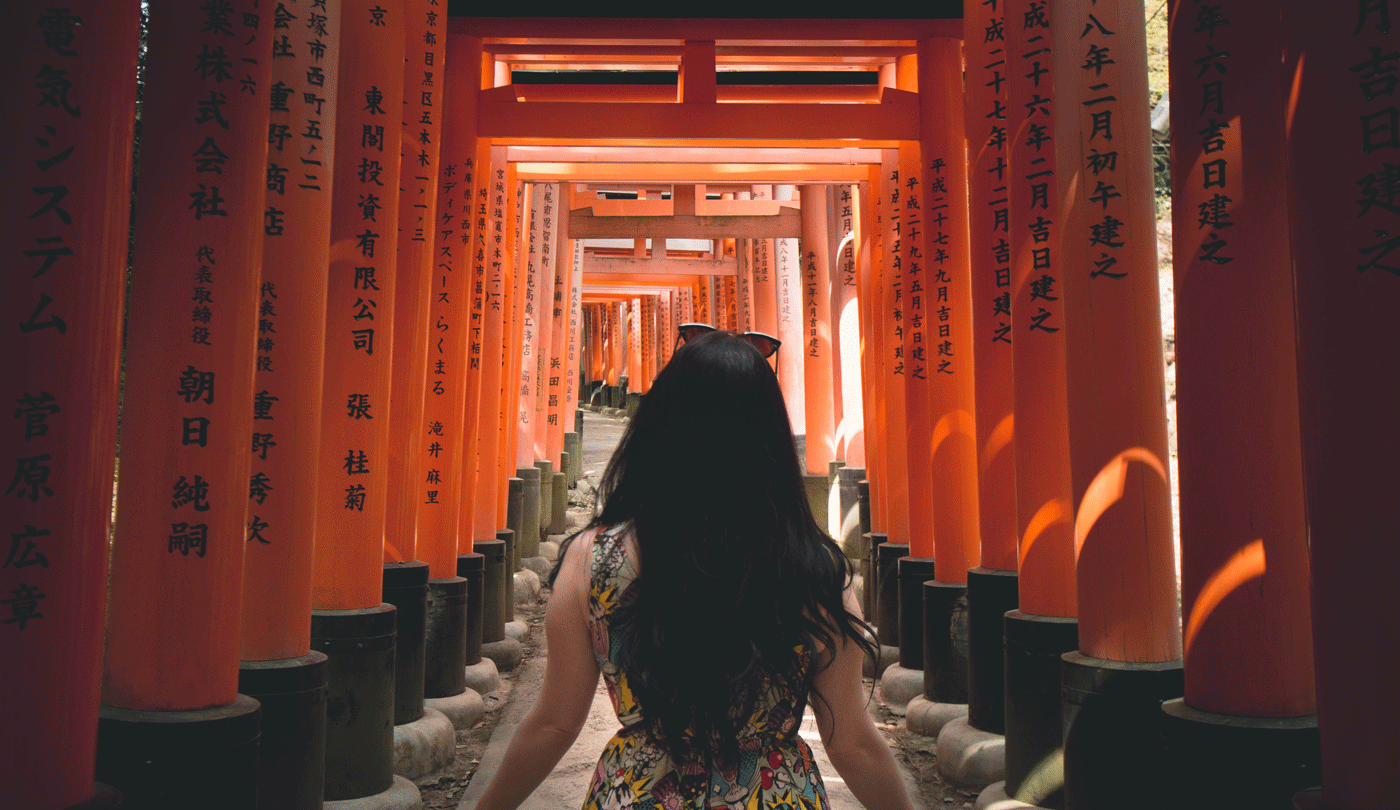 Image source:Contiki
Feed Deer in Nara
A half-day trip to Nara on our Japan Winter Wonder trip promises many things. Number 1, you'll get to see the Todaiji Temple, a remarkable building crafted entirely from wood by hand. It's the oldest wooden temple in Japan!
Number 2, Nara has a special kind of local wandering around the scenic countryside and rolling hills… Deer! This species of miniature deer is considered sacred in Nara due to old religious tales, and as a result the people and visitors alike spend their time living in peace with them. You can participate in deer feeding, a ritual which involves a deer bowing to you, and you offering it a treat. Something really special!
Get lost on Yakushima Island
For those who are lovers of nature, myth, and Ghibli movies, Yakushima Island is the perfect destination. Yakushima Island has been described as fairy tale-esque and otherworldly, and here's why: think enormous trees, moss covered everything, and trickling streams. It's known for its magical wildlife and cedar trees and feels like a picture right out of Princess Mononoke.
To the North find loggerhead turtle nesting beaches. To the east, a museum on the protected cedar trees. To the west, a towering and god-like waterfall. And in the centre, follow the Arakawa trail to the ancient Jomon Sugi tree. We won't spoil anything else for it, but it's easy to see why this island is a UNESCO World Heritage Site.
Image source:Marek Piwnicki / Unsplash
Snap pics at Miyajima Island
Not so much off the beaten path in Japan here as this island is quite a popular destination – but it's popular for a reason, right? Miyajima Island is small, yet powerful. The cable car ride up Mount Misen is breathtaking and the view from up there will have your jaw on the ground. Sprawling ocean views and monkey encounters galore!
However, that's all just an appetiser for the main meal. The floating torii gate, located in the mouth of the Seto Inland Sea. It's a photo you'll have seen all over your feed before, but nothing beats seeing it in real life for yourself.