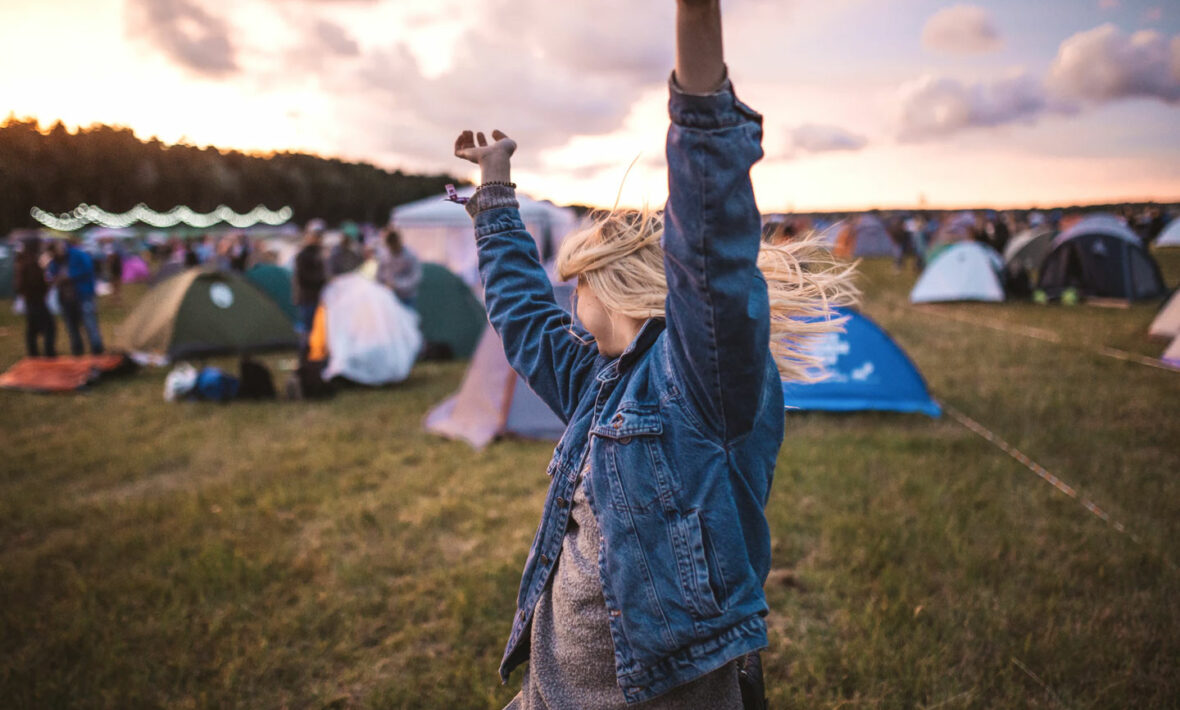 It's no secret that we love music festivals. There's a special camaraderie that comes with spending an entire day (or two… or three) in a muddy field listening to some of the world's best bands back to back.
But, as epic as festivals are, we cannot dispute the fact that they produce masses of waste and plastic pollution. We've all been there. It's the end of the day and you look around at the sea of rubbish and thing 'I'd hate to be the poor person who has to clean this mess up'. And that's before you even consider the detrimental impact this has on our environment.
The good news? You, young party-goer, can be part of the solution. Read this the next time you're next packing your bag for a festival—here's everything you should be packing in your festival bag to keep it as eco-friendly as possible.
Biodegradable glitter
Yes, it exists, yes, it is mandatory, and yes, biodegradable glitter is just as awesome as the regular stuff. I mean, what is a festival without glitter? The best part is that with biodegradable glitter, you can cover yourself in it and transform into an ethereal glitterbug shining so bright you can be seen from space, and it still won't be harmful to the environment. Can I get a "hell yes" in here? Etsy is coming through with the goods on this one (per usual).
Reusable straws
While we all know that straws contribute hugely to the plastic crisis, grabbing one or saying no to a bartender sticking one in your cocktail isn't the easiest habit to un-learn. The solution? Reusable straws. With metal straws, and even foldable straws available online, you'll be spoilt for choice.
Image source:Danielle MacInnes
Reusable cutlery
While we're on the topic of reusable straws, have you considered buying reusable cutlery as well? No? Well, you're about to. You can actually pick up some really compact cutlery sets that won't break the budget. This pack is reasonably cheap and is made from wheat straw—an environmentally-friendly alternative to plastic that is fully biodegradable, plus it's strong enough to withstand very hot foods and many uses.
Reusable food containers
You can pack as many snacks as you like, but who can resist the array of food truck stalls that line every festival? Sadly, though, all the single-use plastic plates and cutlery can pile up to mind-blowing amounts of plastic waste. Now, we already addressed the cutlery issue above but go a step further by packing a few small(ish) Tupperware boxes, and hand them over to the vendor to dish whatever street food you're going for, into. The earth thanks you!
Chances are you've already got some Tupperware knocking about in your cupboards, but if you don't, you can pick some up from any discount store, supermarket, or Amazon for a couple of dollars each.
Reusable water bottle
If you don't already have a reusable water bottle, there is no better time to get one than before a festival. You'll be a) doing the environment a huge favour, and b) you'll avoid the dreaded queue for the water vending machine after belting out your favourite song at the mainstage and losing your voice.
Biodegradable wet wipes
Wet wipes are the ultimate multipurpose festival essential, serving pretty much all your needs – from removing your glittery makeup, to freshening up between sets to, let's face it, giving yourself a head to toe wipe down when you're too tired to queue for the showers. To avoid these ending up in our oceans, opt for biodegradable options that will break down naturally after disposal. There are many options of biodegradable wipes available now, but we like these cucumber wipes from Boots and these organic wipes from Amazon.
Recyclable tent
Some of us festival goers aren't exactly the 'camping' type, so it's all too tempting to throw your tent away or just leave it at the festival, rather than bringing it back with you – especially when the tent is cheap and you literally bought it two days before the festival itself. The solution? Buy a compostable or recyclable tent, perfect for one-time use. Although it's not great to leave your tent behind, the upshot is that it won't spend years and years breaking down in landfill. Intrigued? Check out these cardboard tents from Kar-Tent; they're built for a good time, not a long time.