7 of the most picturesque restaurants in Nice
Share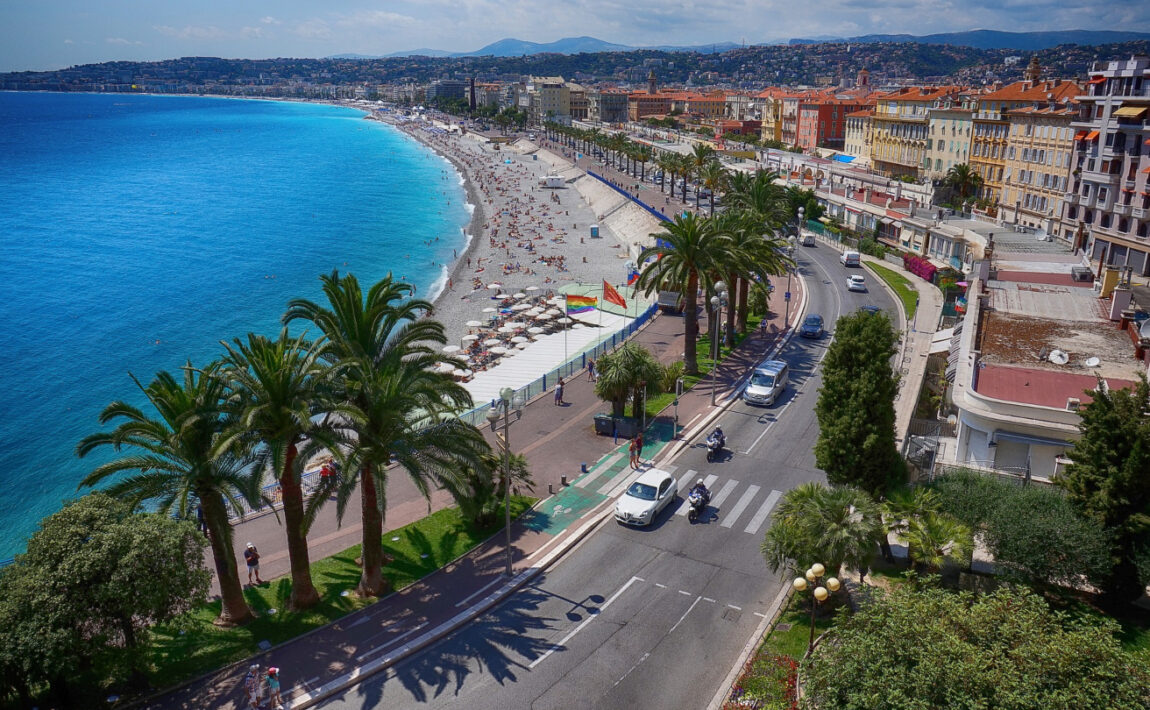 It's no secret, just about everything about Nice is nice (or better than nice). It's this magical utopia where the best parts of Europe combine – gorgeous old towns, stunning beaches, vineyards, coastal vibes, and of course, food. And there's just something so special about its ability to combine legendary French food with jaw-dropping scenery that makes it one of the best places in Europe to eat.
The stunning weather makes it the perfect place for patios, while the mix of sites create the best backdrops. So, all you need to do is enjoy endless croissants while capturing the best candid food photos along the way.
Do it for the 'gram and your stomach – here are 7 of the most stunning places to eat while you're exploring Nice…
La Terrase
Rooftop views are usually pretty great, but this particular rooftop in Nice has the height and location that reeeeally makes it stand out. Stay in and appreciate the wall-to-wall windows on the 10th floor, or take it to the patio for unobstructed views of the coast, mountains and stunning blue hues that stretch on for eternity.
1 Promenade des Anglais, Nice, 06000
View this post on Instagram
La Réserve
Not only is the 1862 art-deco building stunning and photo-worthy, but the views from La Réserve combine an adorable beach, rugged coastline, a lighthouse and killer sunsets. You can easily spend hours here in bliss, just watching the waves roll in from the dining room, terraces or rooftop, looking out onto the Bay of Angels with a glass of rosé.
60 boulevard Franck Pilatte, Nice, 06300
View this post on Instagram
Read More: 15 ways a trip to France will absolutely change your life
Le Plongeoir
If seaside dining is your thing, you can't get much better than this jaw-dropper of a spot in Nice. Le Plongeoir,  which literally translates to the diving board, used to be home to a dining-friendly fishing boat perched on a rock pillar, but has since been replaced with cute tables and umbrellas that make the perfect photo-op dining spot. You can eat at sea level at the lounge bar, cliffside in the restaurant or perched on the rock pillar. Wherever you choose, you won't find a more unique spot in Nice.
60 boulevard Franck Pilatte, Nice, 06300
View this post on Instagram
La Vigna
Harbour life is so mesmerizing, especially in Nice's beautiful Old Port, and La Vigna is the perfect spot to soak it all in and watch the boats from the terrace. Its spot in the port gives you the perfect angle for photos and is just the right distance from the action to enjoy a quiet meal and take in the scenery at the same time.
1 Quai des deux Emmanuel, Nice, 06300
https://www.instagram.com/p/BllTvO6AQyF/
Read More: 6 steps to mastering the art of Foodstagramming
Plage Beau Rivage
A trip to Nice isn't complete without some quality beach time, and you can enjoy a private beach at Plage Beau Rivage. This is the kind of place where you can easily spend a whole day, switching it up between the zen vibes of the restaurant and the party atmosphere of the lounge bar.
107 Quai des États-Unis, Nice, 06300
View this post on Instagram
Movida
Palm trees, beach views, two floors with two terraces make Movida the spot to be along the Promenade des Anglais. It's the perfect place to people-watch and relax, and the modern interior makes the perfect setting for IG-worthy tapas photos as well.
41 quai des Etats Unis, Nice, 06300 
View this post on Instagram
Read More: Got some time to kill in Nice? Try one of these day trips
Calade Rooftop
When you claim to have the largest panoramic terrace in Nice, it's a no-brainer that foodies and photographers alike would make Calade a Nice must-do. The terrace is the real money-maker here, and definitely well-worth a cocktail trip at sunset.
223 Promenade des Anglais, Nice, 06200
View this post on Instagram