7 reasons why train travel is the most responsible way to see the world
Share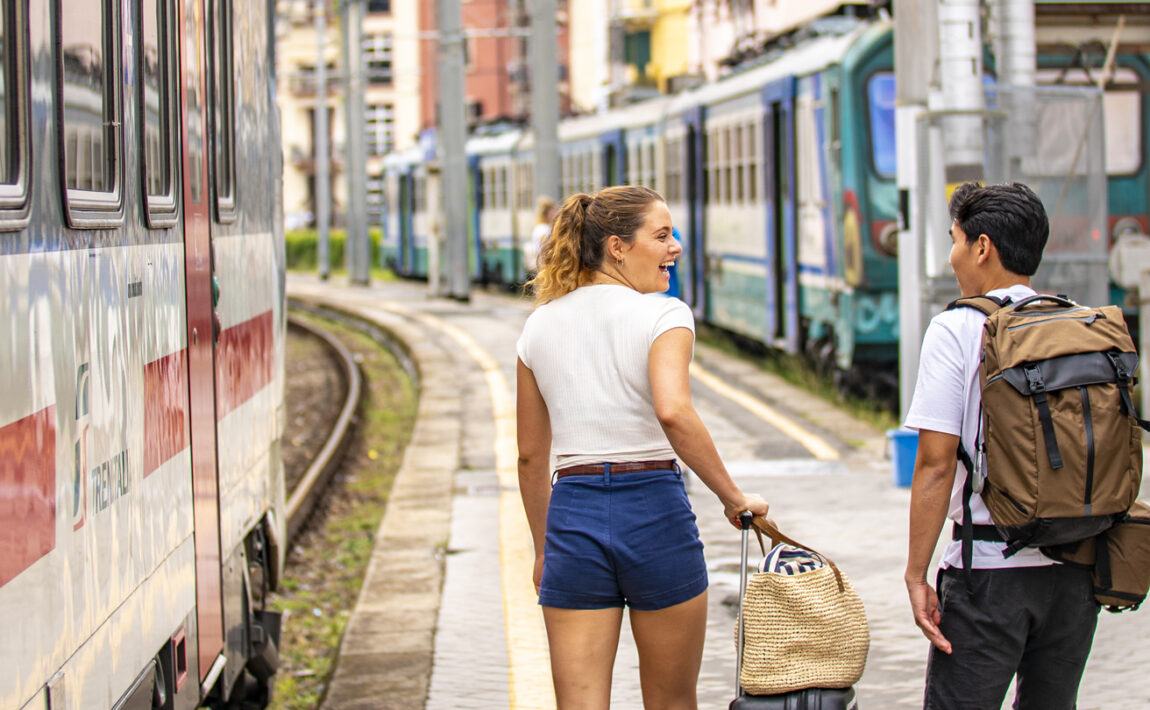 Spoiler alert – train travel generally has a lower carbon footprint than air or car travel. With Greta Thunberg journeying across Europe by train instead of flying, it's no wonder that train travel is getting so much love right now. In fact, in Sweden (where Greta hails from) there's a word for 'the shame of flying' – flygskam. While tagskyrt refers to 'train bragging,' and since her trip last year, has now stormed Swedish social media feeds.
It's no surprise that when the world opens up, train travel will continue to be one of the most popular travel trends. Overall, it's a more responsible and conscious travel choice. Still need persuading? Here are our top seven reasons to ride the rails…
1. You can get around faster
Train travel is a great option for cutting down time between destinations, especially throughout Europe. Travel by train and you can ditch the major highways, construction on the roads and any unexpected weather-related delays. Most of the major train stations are also centrally located in the heart of the main city – this is especially the case in Europe. Once you arrive, you can easily transfer to the local transit systems and access bus routes to whisk you to major attractions and accommodation in the city.
2. You'll have more flexibility
Travelling by train can add an extra level of flexibility while you're on vacation. Train schedules tend to run more frequently and offer a wide choice of route options, connections and departure times. If you're doing a long-haul trip, break it up and add in a few extra stops in between key destinations, or opt for an overnight train in the sleeper cabin (a great mode of transport in Sri Lanka and India) and wake up in a new destination.
View this post on Instagram
3. You can also slow things down
We've all experienced #FOMO and the pressure to check everything off of our travel bucket list. A new SLOMO travel trend allows travellers to get back to the basics while on vacation. Travelling by train is a great way to take advantage of SLOMO travel and make your trip a more conscious travel choice.
Swap crowded airports for local train stations and you can spend more time getting to know the country intimately. You'll get the opportunity to see things from a different perspective and immerse yourself in the local transport and culture.
4. You'll be responsible for fewer carbon emissions
One of the biggest contributors to your carbon footprint while travelling is your mode of transportation. And luckily, train travel generally emits less carbon emissions than other modes of transportation. Depending on the rail line and type of train, carbon emissions can be reduced by up to 90% when compared to travelling the same distance by another mode of transport. Trains also are a high capacity method of transportation – they can hold more people than a car, bus or plane, making it a greener option in general.
Interested in calculating your carbon footprint when travelling? Plot your route into Eco Passenger to compare modes of transport.
5. You'll get to enjoy the views along the way
With train travel, the best news is that you can sit back, relax and just drink in the views. Train travel is a really special way of getting to know a region or country's landscape. You can experience amazing views in between destinations, such as the scenic coastline of the Mediterranean Sea, the mountainsides of the Swiss Alps or the tea plantations in Sri Lanka. So, you can focus just as much on the beauty of 'getting there' as the actual destination!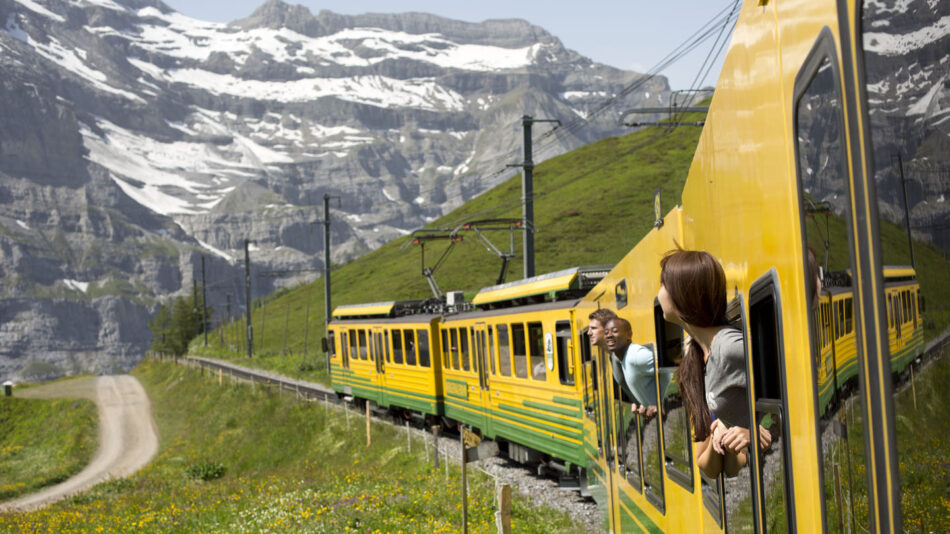 Image source:Contiki
6. You can chill out in comfort
Being comfortable while you travel is always important. Avoid turbulence and airport security and travel by train. Rail lines are focusing much more on the comfort of their train cabins, making the seats roomy and less cramped than planes. Plus, there's extra room for you to stretch your legs and explore the cabins by walking around the aisles.
Remember to do your research before travelling, as each rail line and train can be set up differently. Some trains may have silent/quiet cabins, dining cars serving food and drinks, or be designed to accommodate travelling in groups to foster conversations. Some cabins even have dedicated storage spots for luggage, which is important during long-haul journeys.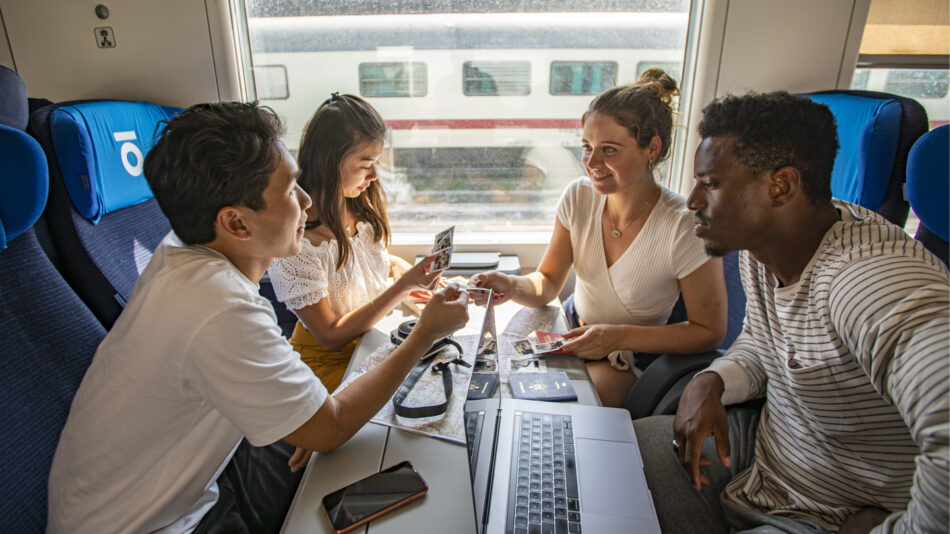 Image source:Contiki
7. You can stay connected
Travelling by train allows you to take more advantage of your down time (and charge up your all of your devices!). Power sockets are installed on most trains to charge phones, camera batteries and power banks. You can also avoid airplane mode on trains by accessing the wi-fi available throughout the cabins. It's the perfect time for posting your latest travel photos and real-time travel stories, or just catch up with friends and family back home.
You heard it here first! Train travel IS the new way to travel. So if you're planning your next trip, think about going by rail. You'll make amazing memories, travel in comfort and immersive yourself in the local culture, all while reducing your impact on the environment.
Ready to take you train trip? Contiki can help you experience a new destination by travelling by train. View Contiki's train trips