The best global delicacies to spice up your Thanksgiving feast
Share
Ahhh Thanksgiving, the weekend where you'll never get judged for wearing stretchy pants and your tastebuds get to go on a wild ride as you fill your stomach with pumpkin pie. This time of year lets us sit back, reflect and think about what we've done over the past year.   Usually, for us at least, this includes travel stories and memories. Unfortunately though, 2021 was yet another year that halted many of us from seeing new destinations we've been dreaming of.  
We don't like thinking about that though. That's why we're taking matters into our own hands and bringing international flavours straight to our Thanksgiving table.  
Want to try some Thanksgiving alternatives that won't only ignite your tastebuds, but will feed your desire to explore? We've got some dishes you need to try out… 
Pork Knuckle / Schweinshaxe – Germany
Tired of turkey? Pork Knuckle (or Schweinshaxe) is the next best thing and is a Thanksgiving alternative that'll take you straight to Germany. It may not sound appetizing, but this delicious dish is crispy on the outside while soft and tender on the inside.  
If you're wondering what exactly it is, it's a roasted ham hock, which is actually the end of a pig's leg. A perfect turkey alternative! 
Taste at the source on our Eastern Road adventure.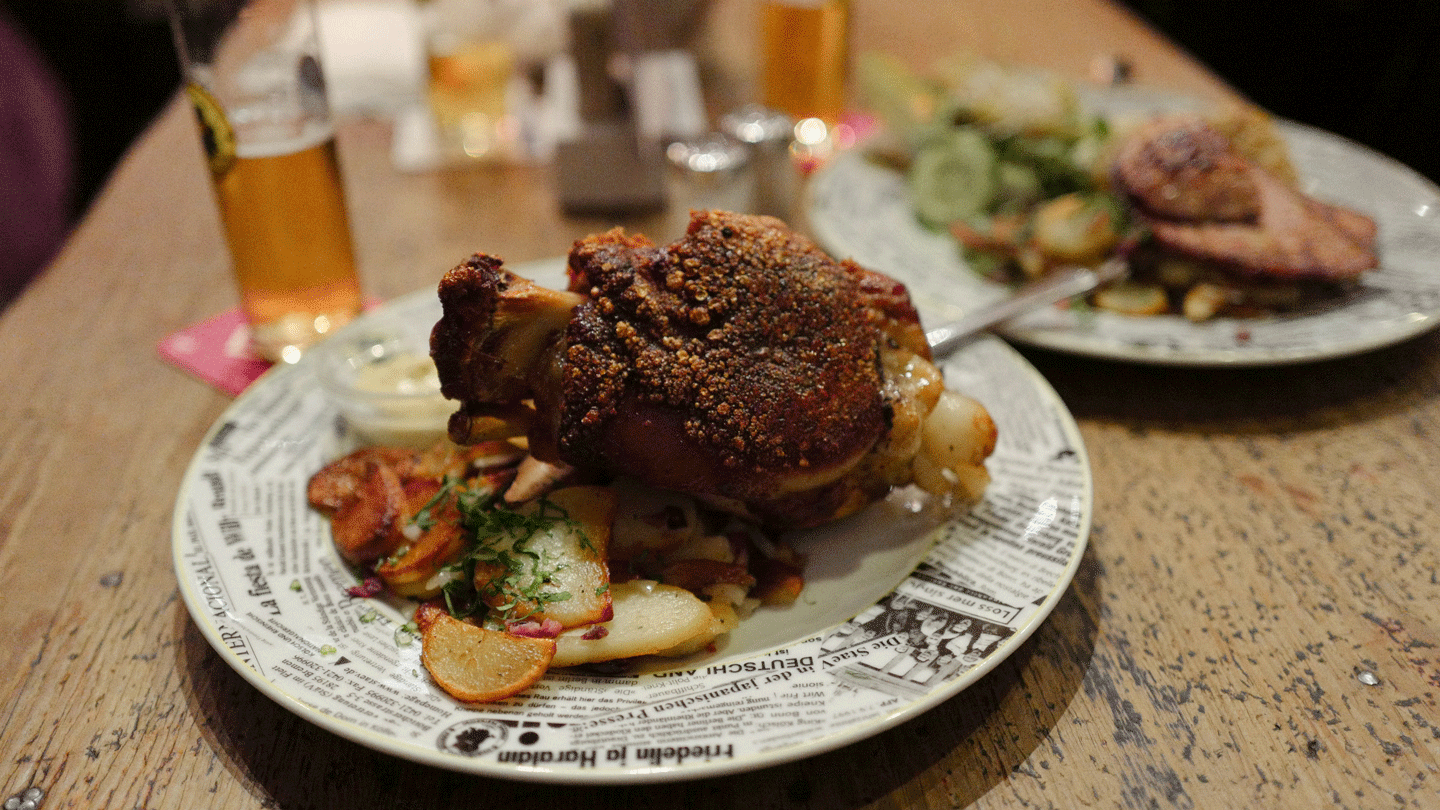 Image source:sofia lyu @ Unsplash
Wiener Schnitzel – Austria
Not into the idea of a giant pork knuckle? All good, Austria's got what you need and that's a wiener schnitzel. This extremely popular dish, which started in Vienna, Austria, is traditionally made of veal. The meat is pounded down and fried, giving it an amazing crunchy coating.  
If you're planning on serving this at your Thanksgiving dinner, you'll want to make sure you go traditional with it. That means serving it with a slice of lemon alongside potatoes with parsley and butter for the real experience. 
Taste at the source on our European Trail adventure.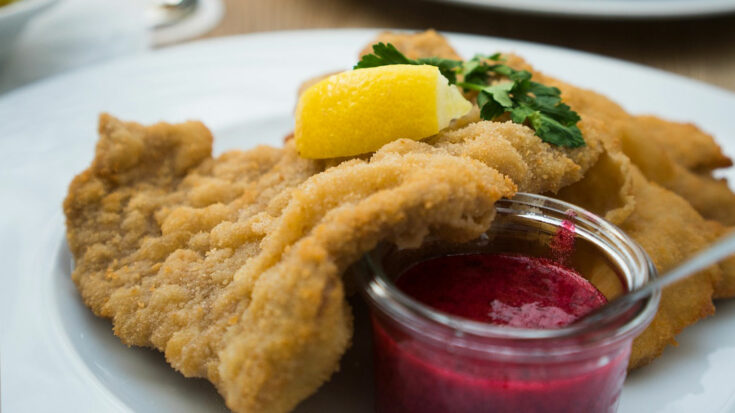 Gratin Dauphinois – France
If you're all about having scalloped potatoes on the menu at Thanksgiving, here's the upgrade that you never thought you needed. Gratin Dauphinois is a delicious alternative that will have you feeling like you're sitting in a French bistro.  
The dish is simple, it's filled with slices of potatoes and baked in either milk or cream. The dish traditionally uses the gratin technique from south-eastern France which simply means topping a dish with breadcrumbs, cheese or anything else before putting it straight into the oven to bake or broil. How else are you going to get that delicious crispy topping! We're drooling already… 
Taste at the source on our European Quest adventure. 
https://www.instagram.com/p/B7yO72GHEpj/
Roman-style artichokes – Italy
We all know Italy for their delicious, cured meats, cheeses, pastas and pizzas but have you tried Italian Roman-style artichokes (aka Carciofi alla Romana)? If the answer is no, you know what you need to do.  
This style of artichoke is a typical dish of, you guessed it, Roman cuisine. Usually, it's served in restaurants and made at home during the spring season, but you can make them any time during the year if you want! This delicious, lemony side dish is the perfect addition to any Thanksgiving meal.  
Taste at the source on our Simply Italy adventure. 
Image source:kim daniels @ Unsplash
Pierogies – Poland
Not feeling the whole Gratin Dauphinois thing? That's okay, another potato-filled side is pierogies. Sure, you can buy these by the bag, but have you ever tried them yourself the traditional polish way? Didn't think so.  
When you hand make these beautifully soft, scrumptious dumplings you're taken right to Poland instead of just remaining in your kitchen. The best part? You can really customize them making as there's so many different filling options, but we recommend sticking with the traditional potato and cheese! 
https://www.instagram.com/p/CT74k3opAfr/
Taste at the source on our European Vistas adventure.
Baklava – Greece
Want to give yourself a bit more than the good ol' pie selection for dessert? This is where the delicate and delicious baklava from Greece comes in. This layered pastry is filled with chopped up nuts along with syrup or honey. You can try making it yourself or visit a local Greek bakery to just pick some up! You won't regret it since there's so many options to choose from. 
Taste at the source on our Greek Island Hopping adventure.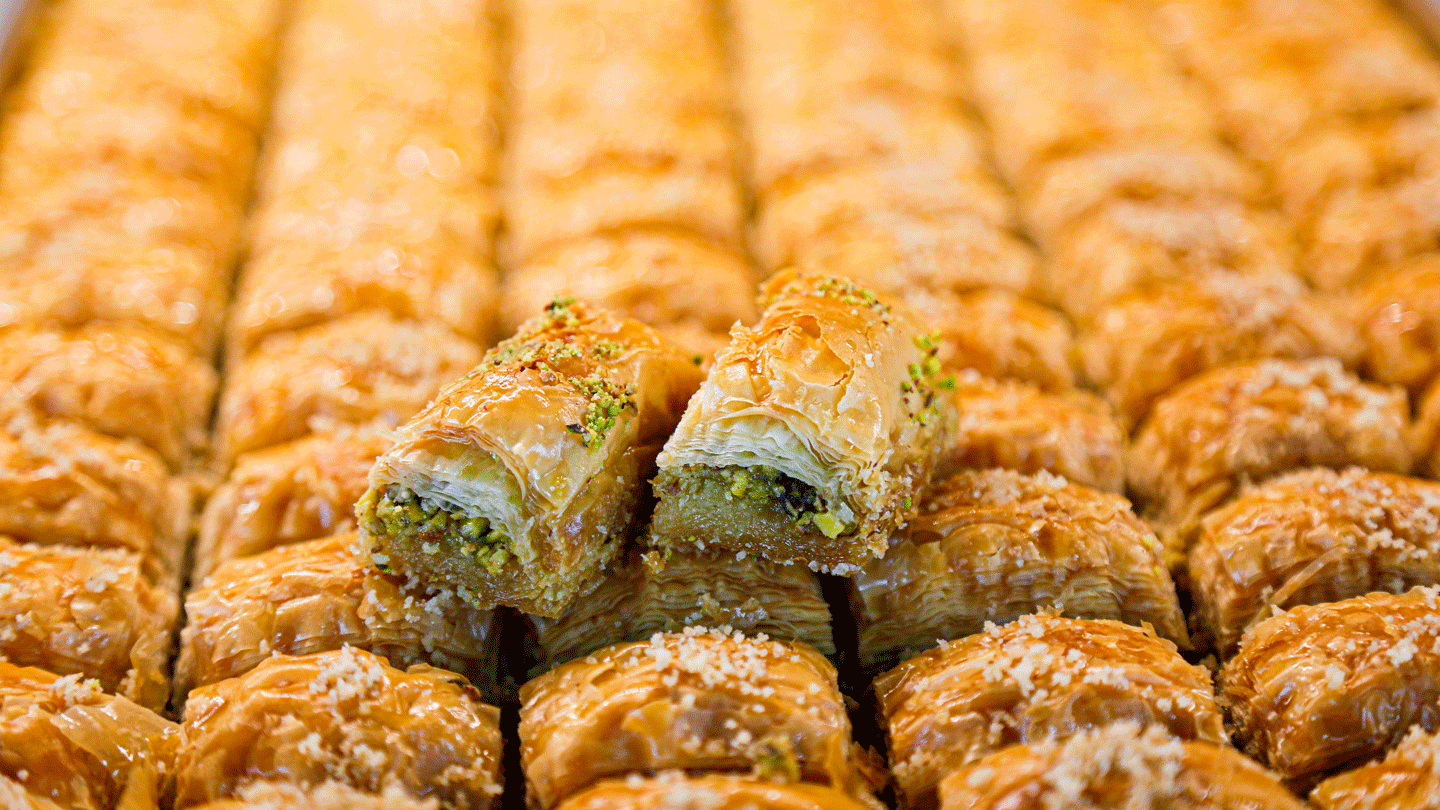 Image source:syed hashimi @ Unsplash