22 best things to do in Iceland
Share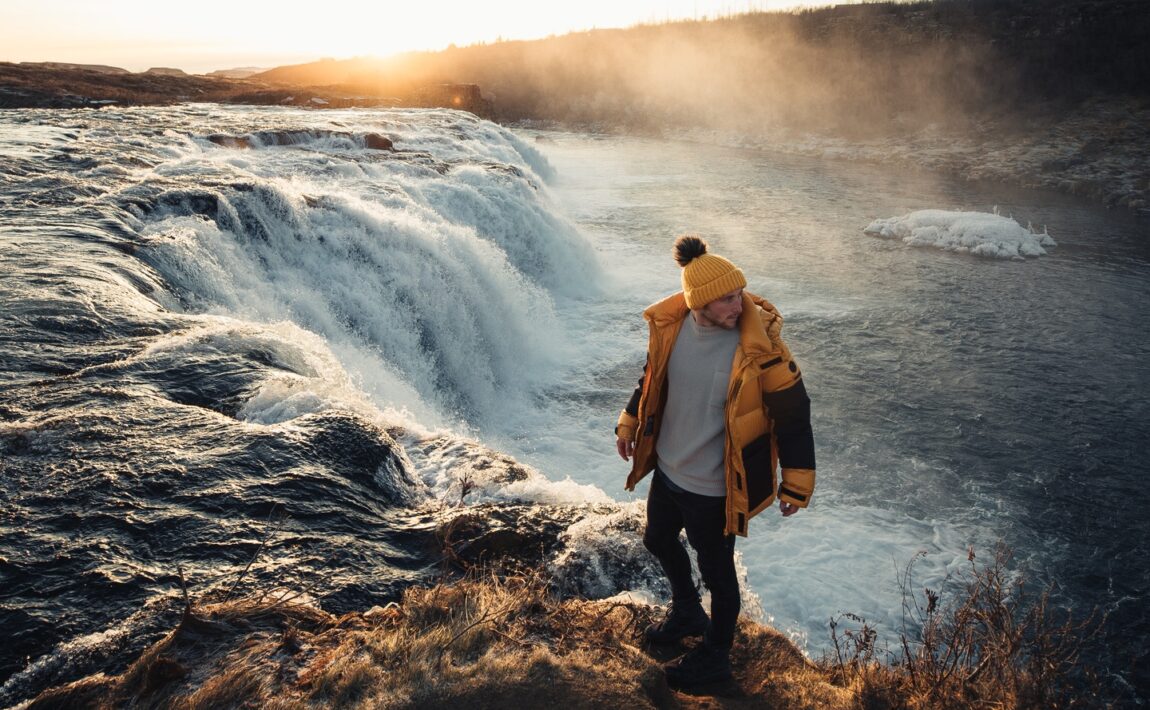 The Land of Fire and Ice is the island getaway you never knew you needed. I mean, how can one little island nation have so much adventure and gorgeous scenery packed into one place? It's almost as though it was created by the gods as a natural Disney Park for outdoor lovers. And as more and more travellers discover this hidden gem, it should only move even higher on your bucket lists. Here are 22 of the best things to do in Iceland to really get the most out of your time there:
22. Visit the Blue Lagoon
There's no question – every Iceland trip should include some R&R at the Blue Lagoon. Tranquility, wellness, and beauty all converge in the warm waters and make for an oasis-like experience. The spa vibes are unmatched, and the views are unlike anywhere in the world. Leave the milky blue waters feeling like a better version of yourself, thanks to its geothermal magic. It's the perfect way to spend your last full day on Contiki's Fire & Ice trip.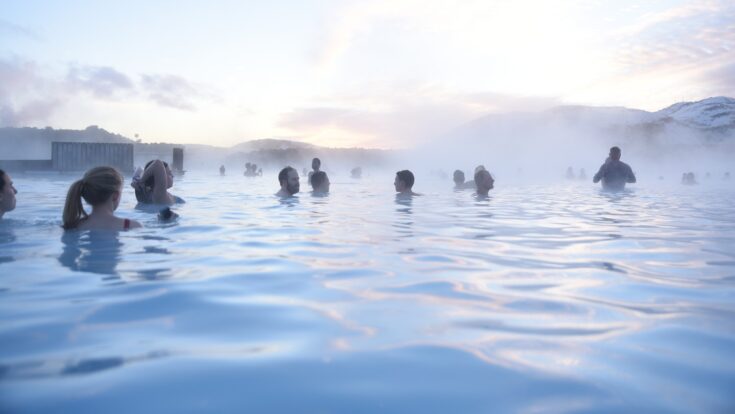 21. Go whale watching
Seeing whales in the wild is always exhilarating, and can be such a humbling and beautiful experience. Whale watching in Iceland delivers the goods thanks to its location, temperature, and sea currents. There are more than 20 species of whales you can see off the coast of Iceland, with humpbacks and minke whales being fan favourites.
20. Drive the Golden Circle
The Golden Circle is a route in Iceland that covers many of its biggest attractions, and it's an easy way to check a bunch off your list. You can do the circle in one day or several; it all depends on how much time you want to spend diving into the gems of this landscape. Regardless of where you stop, it's a great way to see the beautiful scenery of Iceland along a tried and tested route.
19. Go horseback riding
Icelandic horses are beautiful, majestic, and unique to the island, and getting up close and personal with them is a treat. They're small, colourful, and even have a unique walk that makes them more comfortable to ride. Going on horseback allows you to explore the rugged terrain in a unique way that gives you access to more remote parts of the country.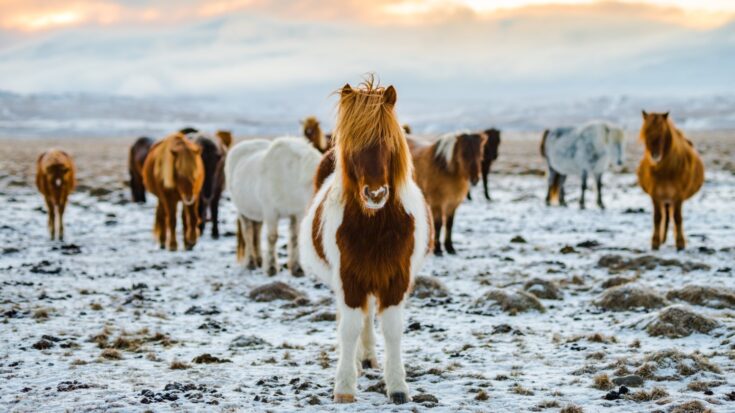 Image source:Unsplash/ @redcharlie
18. See Skógafoss Waterfall
Skógafoss is wide, tall, and will make you feel like a tiny ant when you stand near its base. It's one of Iceland's most beautiful waterfalls and is often complemented with a rainbow, which makes for some great shots. This waterfall is also a famous filming location from Thor, Game of Thrones, and Vikings. See it for yourself on the third day of our Fire & Ice trip.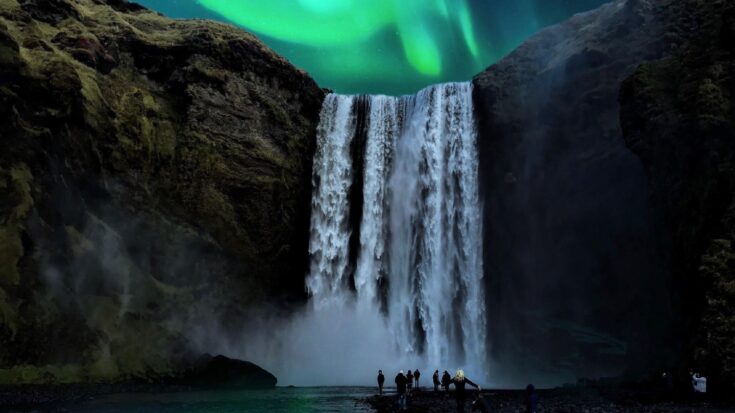 Image source:Unsplash/ Balazs Busznyak
17. Order a pylsa
We encourage that you try the street food wherever you go, and Iceland is no different. The Icelandic hot dog is the go-to street-eat king, and they put a unique spin on the American fave in these parts. The pylsa's combo of both fried and raw onions, curry remoulade, and a meat trio of lamb, beef, and pork make it unique and a very local experience.
16. Wander Reykjavík
Iceland's capital city is lively, vibrant, and the perfect size to explore on foot or bike. It has the perfect selection of sites, food, and history, with both a big city and small-town vibe. Reykjavík is the best place to explore if you're looking to really absorb Icelandic life and culture. As both the start and endpoint of Contiki's Fire & Ice, you'll have lots of time to explore Reykjavík on your adventure.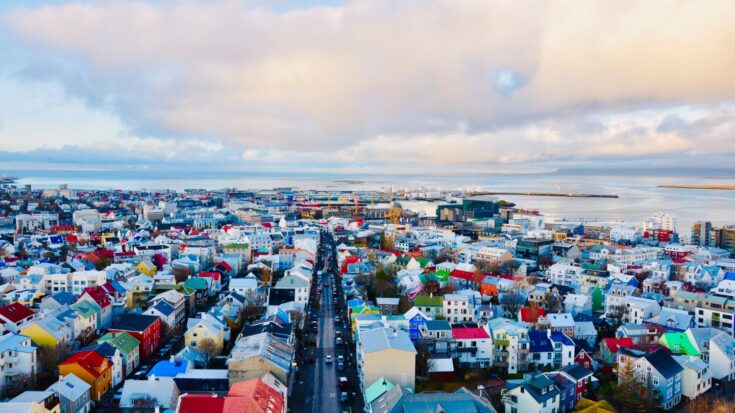 Image source:Unsplash/ @toddcravens
15. Hike Ásbyrgi Canyon
Ásbyrgi Canyon is an absolute natural stunner. Its horseshoe shape is filled with gorgeous colourful vegetation, a small lake, and is enclosed with high cliffs. The canyon is also strongly tied to mythology and is thought to be a footprint from a giant flying horse.
14. See the ice caves
Vatnajokull National Park is the largest park in Iceland and is also where you'll find stunning ice caves. Only during the winter can you explore the ice caves, which are formed during the summer months. The caves are formed when water flows through the glacier, and what's left behind is pure magic. Ice caves are shining, captivating and some of the best natural artforms you'll ever find.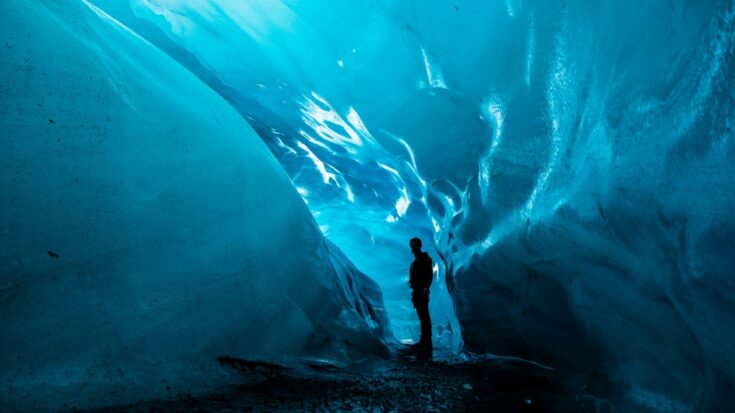 Image source:Unsplash/ @cant89
13. Feast on seafood and lamb
It may seem obvious that seafood is a staple in Iceland, but you may not know that lamb is also a local specialty. Make sure you add some free-range lamb and freshly caught fish to your menu picks during your visit.
12. Spot the Northern Lights
Of all of the things to do in Iceland, this one might be the most exciting. Seeing the Northern Lights is almost like seeing a mythical creature, and it's one of those elusive experiences that travel lovers crave. Between September and April, Iceland is blessed with the aurora borealis and its light show. The lights are so magnificent in person that no photos can do them justice. It's an almost otherworldly phenomenon that's well worth some patience and planning to see.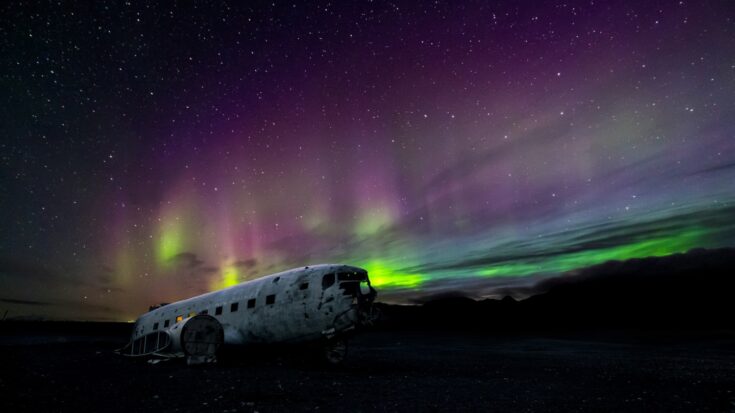 Image source:Unsplash/ @tents_and_tread
11. Visit the hot springs in Geysir
Iceland's famous Geysir is another elusive hotspot on the island. Geysir is actually the namesake for geysers and is the most famous geyser in the world. Geysir is currently dormant, but when it was active, it was known to erupt between 60 to 70 metres in height. Even when it's not spouting boiling water, there are many smaller geysers and hot springs that you can enjoy in the area. A visit to Geysir is included in the Fire & Ice itinerary, so you won't miss out on this unique experience!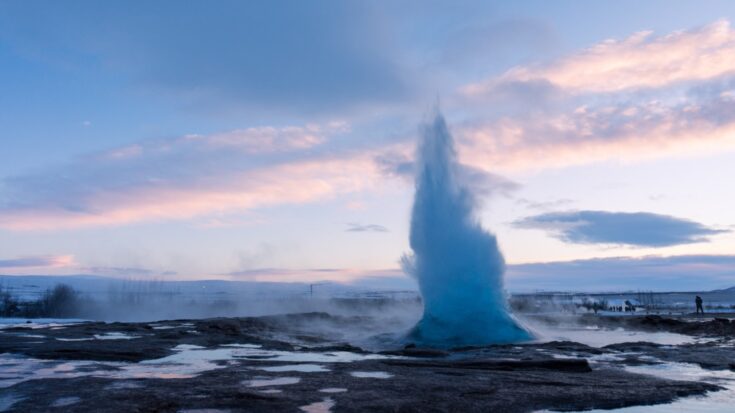 Image source:Unsplash/ @davidkhlr
10. Explore Snæfellsjökull Glacier
Snæfellsjökull National Park is a beautiful place to explore, and its glacier tops the list of park highlights. Snæfell is one of Iceland's most beautiful mountains, and the Snæfellsjökull glacier at the very top is believed to have many mythical and ancient properties. It's a stunning place to hike and ski and gives you some stunning views of the island from the peak.
9. Try some traditional eats
Once you've sampled a few pylsa, put your tastebuds to the test with some niche foodie finds. Traditional Icelandic foods include things like salted, pickled, and smoked fish, which are a tougher sell than a hotdog, but equally encouraged. Icelanders are also known for using and eating most parts of the animal. As a result, you can definitely find some of the more obscure body parts on the menu if you're feeling adventurous.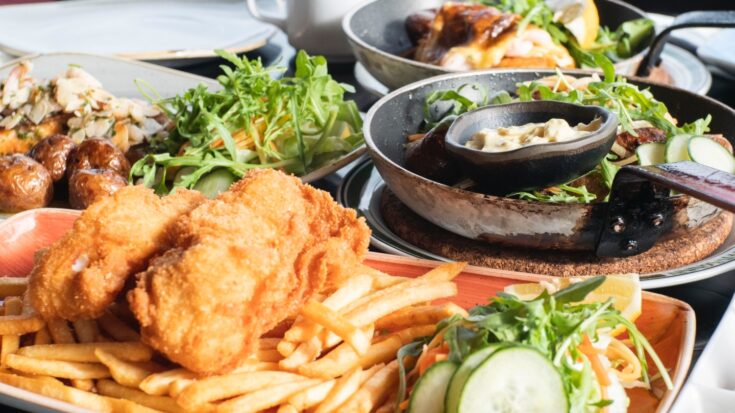 Image source:Unsplash/ @noonmoon
8. Visit Lake Kleifarvatn
Lake Kleifarvatn is a large beauty surrounded by some stunning volcanic scenery. It's home to a mythical monster and is also a great place to try some fishing. Kleifarvatn has an epic rugged coastline which makes for great photos against the still water.
7. Plant trees in Haukadalur Valley
Although Iceland may seem like a natural paradise, it has its challenges as well. In particular, the region of Haukadalur has gone through some deforestation. In an attempt to preserve the island's balanced ecosystem, efforts are underway to reverse the damage. You can do your part as a traveller by planting trees in the area and participating in their local reforestation programme. It's a beautiful way to give back to the island and leave your mark for generations to come. As a part of Contiki's Fire & Ice trip, travellers each plant 5 trees in the area and help reduce their carbon footprint.
6. Wander the black sand beaches
Iceland's beaches look like they're straight out of a dystopian novel, in only the best way. Iceland's beaches are a combination of black sand, rock formations, and blue waters. It's very extraterrestrial-esque and makes for some stunning photos. Brave the cold water and go for a swim on the many beaches around the island, with Reynisfjara Beach being a top pick (included on Contiki's Iceland trip). You can even see the remains of an old plane wreck on the black beach of Sólheimasandur, which is a definite IG feed fave.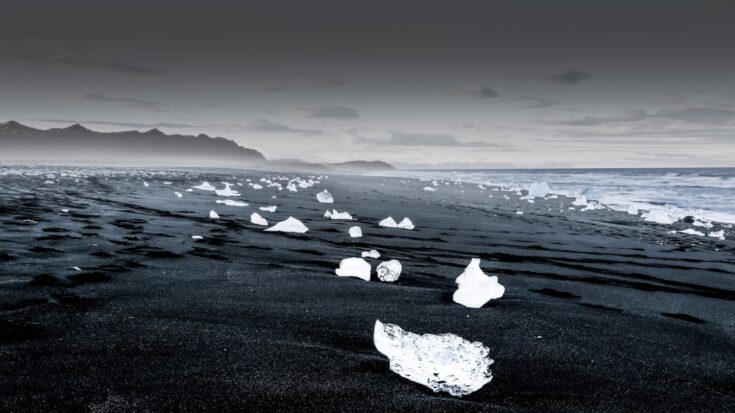 Image source:Unsplash/ @cassieboca
5. Visit Gullfoss Waterfall
Gullfoss is arguably top three as far as waterfalls go in Iceland. The most alluring part of Gullfoss is its tiered structure, with two beautiful levels of falls set amongst luscious green cliffs. Gullfoss is the subject of local folklore and is a beloved and protected area for the people of Iceland.
4. See the puffins
Being the natural oasis that it is, it only makes sense that Iceland would be home to many birds. Iceland's birds include some unique and rare species, and the puffins are the shining stars of the pack. Puffins are so beloved in Iceland, and you'll see many tributes to them around the island. Seeing the puffins, in particular, is one of the most unique things to do in Iceland, and they're some of the cutest birds you'll ever encounter.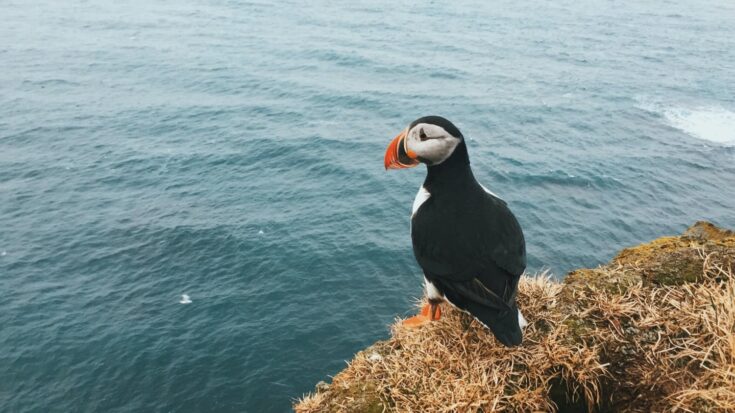 Image source:Unsplash/ @nicholaskampouris
3. Explore Þingvellir National Park
Another protected national park, Þingvellir is probably most famous for its beautiful rifts, valleys, and waterfalls. It's an ideal place to hike and is famous for being one of the key Game of Thrones filming locations. The stunning landscapes of Þingvellir were used to portray many of the battle and voyage settings in the series. See it for yourself, included on our Fire & Ice adventure.
2. Explore lava fields, magma chambers and caves
The volcanic nature of the island makes for some really beautiful scenery, both above and below ground. Eruptions and magma have carved out amazing caves that you can explore below the earth. Iceland's lava fields are a stunning contrast of green moss and black lava that give the landscape a very alien planet vibe. Iceland's volcanic history is one of the reasons why the country is so appealing to travellers from all over the world.
1. Get wet at Seljalandsfoss Waterfall
If you had to make the perfect waterfall from your imagination, this one would probably come pretty close. Seljalandsfoss is a perfect curtain of water that falls 60 metres from the Seljalands River. You can even walk behind the falls and get a bit wet in the mist as you explore it up close. Bonus: both Seljalandsfoss and Skógafoss waterfalls are included on our Fire & Ice trip.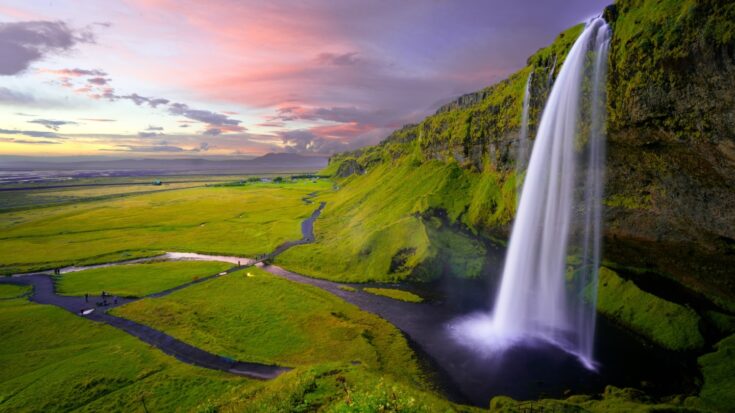 Image source:Unsplash/ @robertlukeman
Ready to add some Fire and Ice to your travel schedule? Here are some more tips to help you plan your next adventure:
What is Iceland famous for?
Iceland is most famous for its rugged landscapes and scenery. The Northern Lights, Blue Lagoon, volcanoes, glaciers, and waterfalls top the list of must-sees. Iceland is also famous for its history and being settled by the Vikings. It is known as "The Land of Fire and Ice" due to its contrasting landscapes.
How many days do you need in Iceland?
Iceland isn't very large, so if you want to explore the island, you can do so pretty thoroughly. A week is the ideal length of time required to see and do most of the big attractions around the entire island. You can add or subtract from that to account for photography and adventure activities.