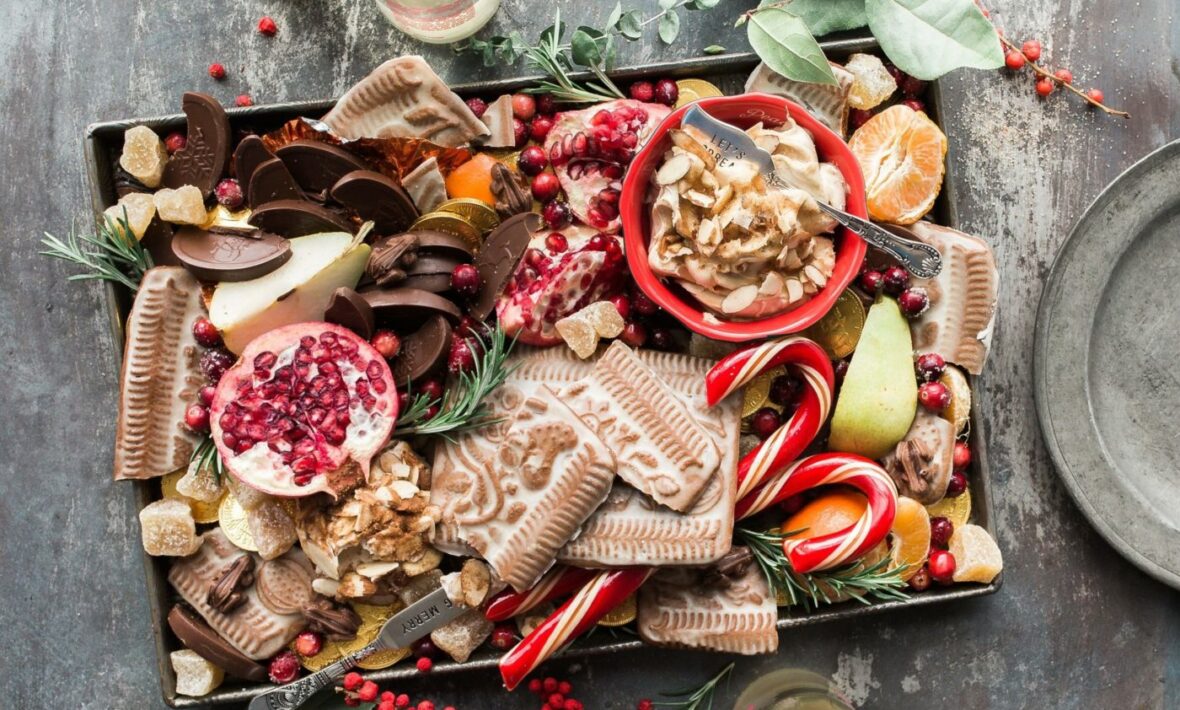 'Tis the season friends. It's officially the time of year where we gather with family, exchange gifts, and definitely eat all the tasty food. And IMHO food is the foundation of all the joy. This holiday season, we're treating your taste buds to 9 of the most delicious global eats – these are our fave traditional Christmas foods from all over the world…
9. Tamales, Mexico
If you've never had a bite of a tamale, just imagine a soft and crumbly corn-meets-doughy-shell and a delicious hot filling of meat, cheese or veggies. In Mexico, tamales are traditionally made around Christmas time and they date back thousands of years – there's evidence that the Inca community of South America even ate tamales!
At first glance, tamales may seem quite simple to make but they actually require a lot of TLC. In fact, there's a dedicated word for a tamale-making session: a 'tamalada'. We can't think of anything more festive tbh.
8. Fried Chicken, Japan
Yep, a customary Christmas dinner in Japan is fried chicken. Because of a clever marketing campaign by KFC in the 1970s, fried chicken is the go-to Christmas meal in Japan. Every year, KFC reports record earnings around the holidays and some people even wait up to two hours in line to grab their finger lickin' chicken. New Christmas Eve ritual, anyone?
 

 

 

View this post on Instagram

 

 
7. Panettone, Italy
This Italian sweet bread is… INCREDIBLE. Reserved for special occasions like Christmas, the cake-like bread is made with candied fruits, raisins, lemon zest and is often served with a sweet wine or liqueur, like amaretto. Can't make it to Italy this year for a slice of the home made stuff? Not to worry, grab the Bauducco's Panettone (the one in the yellow box) at your local store or pick up one from an Italian deli. Trust me, they're divine!
 

 

 

View this post on Instagram

 

 
6. Pigs in blankets, UK
Both salty and savory, Christmas just wouldn't be the same in the UK without pigs in blankets. Not to be confused with pastry-wrapped sausages served in the US, the British pigs in blankets are bite-sized bacon-wrapped sausages *drools*. That's right, pork on pork! And if you ask me, you haven't lived until you've had bacon in the UK, they just do rashers better!
 

 

 

View this post on Instagram

 

 
5. Malva Pudding, South Africa
Have a sweet tooth? Then Malva pudding (aka 'lekker pudding') is right up your alley. This soft, caramelized sponge contains fresh apricot jam and warm butter. This South African dessert is a special Christmas treat served during the holiday season, eaten with hot custard or ice cream – or both, take your pick! Thankfully, it's a simple bake, try it here.
View this post on Instagram
4. Lechona, Colombia
In Colombia, Christmas is almost a month-long celebration where festivities begin on the 7th of December. At the heart of all the Christmas cheer is the delicious food and you can bet 'lechona' will be the star of the show. This traditional dish is a whole roasted pork seasoned and stuffed with yellow rice, peas, and onion – it takes over ten hours to cook (and even more to prepare). Pro tip: you can find and try different styles of this dish in other places in South America and the Caribbean.
Pavlova, Australia
When you celebrate the holidays in Australia… baby it's not cold outside! So, it makes sense that Australians opt for a light and refreshing dessert option to end their Christmas feast. 'Pav' (as the locals call it) is a meringue cake that's crispy on the outside, gooey on the inside and topped with cream and fresh seasonal fruit like kiwi fruits, berries and passion fruits.
This sweet treat is eaten in both Australia and New Zealand and has actually sparked a bit of a quarrel between countries over who really invented it! Either way, we think it tastes delish and deserves a spot at any Christmas table.
View this post on Instagram
2. Mashed potatoes, US
No matter where you live, potatoes are a versatile veggie that often pop up on any holiday menu. In the US mashed potatoes are a holiday MUST. Made soft, smooth and buttery so each bite just melts in your mouth, this is the king of all side dishes. Seconds anyone?
1. Galettes des Rois, France
On the 12th day of Christmas (January 6th) the French have a very special dessert to celebrate. Galettes des Rois translates to King's Cake and celebrates Epiphany during the holiday period, when it's said the three kings turned up to the Nativity with gifts for baby Jesus. This golden delight is basically a frangipane tart made with pastry, butter and ground almonds and for us, it takes the crown as the no.1 Christmas food to try!
View this post on Instagram