What to do in Chiang Mai as a solo traveller
Share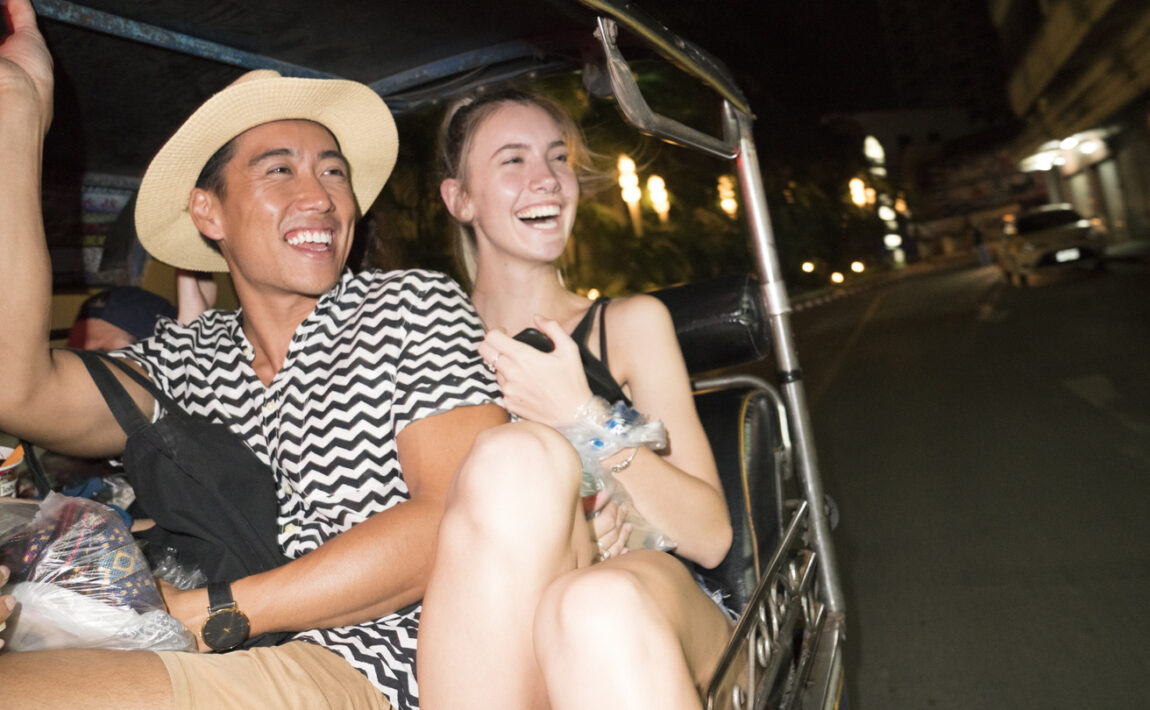 Travellers usually associate Thailand with sandy white beaches and crystalline waters, but head up north and you'll see a completely different side to the country. I spent over a month solo travelling across Thailand, and I slowly fell in love with the north's spirituality, rolling hills, crumbling temples and amazing food. After the mayhem of Bangkok and the party isles, the blissful calm that I experienced in Chiang Rai, Pai and Chiang Mai was just what I needed.
If you're looking to head to Chiang Mai as a solo traveller, here are my tips for doing it right.
Check out the temples
Temples have been a central part of Thai life for thousands of years and Chiang Mai is teeming with them. In the heart of the Old City you'll find Wat Chedi Luang, which dates all the way back to 1385. Elsewhere you can admire the sparkling white Wat Phra Sing or the dazzling golden arches of Wat Suong. But for the real star of the show is Doi Suthep. 
There's an old Thai saying: 'if you haven't tasted Khao Soi or visited Doi Suthep, you haven't visited Chiang Mai.' A grand mountain overlooking the city, Doi Suthep is lush with wildlife, waterfalls and dense rainforest. The mountainside is also home to Wat Phra That Doi Suthep, one of the most venerated Buddhist sites in the world. 
Sure, you can go in a group, but the temples here are such hushed, holy places that I was content walking around by myself, breathing in the crisp air and experiencing a profound sense of peace.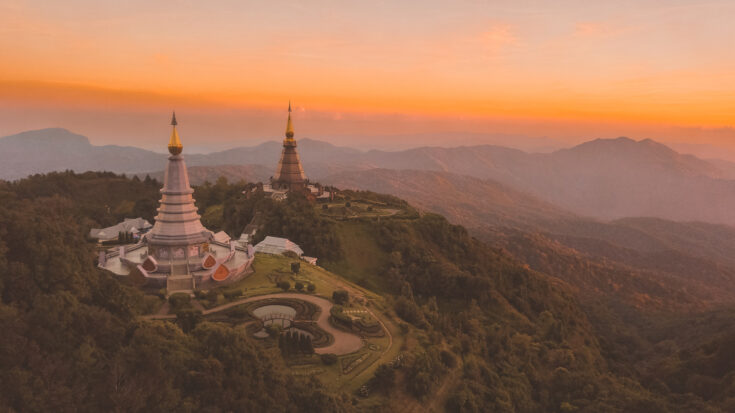 Make sure your elephant experience is an ethical one
A lot of the solo travellers I met in Chiang Mai had come there for one thing: to meet some elephants up close and personal. Elephant 'sanctuaries' are common in the north of Thailand, but make sure you do your research when finding the right place to visit.
I remember skidding my moped to a stop on a dark country road. An elephant was blocking my path, but it wasn't wild – it had a tourist on its back. It looked exhausted, emaciated and unhappy. There's plenty of reasons why tourists shouldn't ride elephants, but even if you just want to feed or meet some, lots of 'sanctuaries' still don't give their elephants the care they need. 
I ended up visiting the Elephant Nature Park, a Treadright-approved sanctuary where you can bathe with and feed elephants, safe in the knowledge that they are there to be rehabilitated, not paraded like circus animals. I still had a water fight with a baby elephant, so it was a win-win.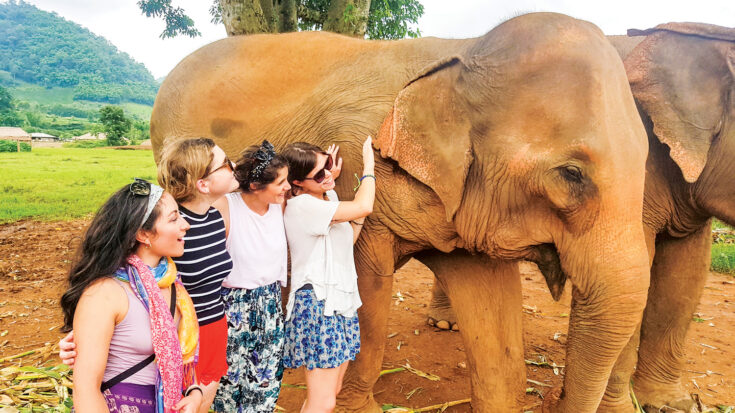 Do a group trip or check out the hostels
It's easy to be content in your own company in this part of the world; reading, hiking, eating, exploring – but you'll also want to socialise and meet new people. That's why I recommend doing a north Thailand trip with other young travellers, as it means you can see the highlights and effortlessly make new friends. Alternatively, stay in hostels rather than hotels, as it's easy to meet like-minded people in the common areas.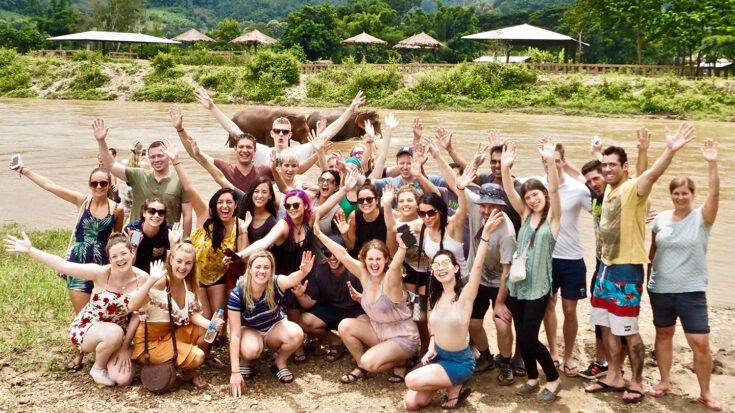 Hit the night markets
Chiang Mai is famed for its buzzing night markets. The night bazaar runs every evening from 6pm to 10.30pm. As well as the spectacular diversity of trinkets, clothes and souvenirs, you can find delicious, cheap food like Khao Sok – a tangy curry with deep-fried, crispy noodles, or fragrant Tom Yum soup. 
Live music is huge here too, and the bars that frame the night market are always alive with the sounds of rock bands and tribute acts. If you're solo travelling, the night bazaar is a great place to meet other travellers and hit some of the local bars. Chiang Mai has strict curfew laws, but it's easy enough to find yourself in a strange building with new friends and a party that lasts until dawn.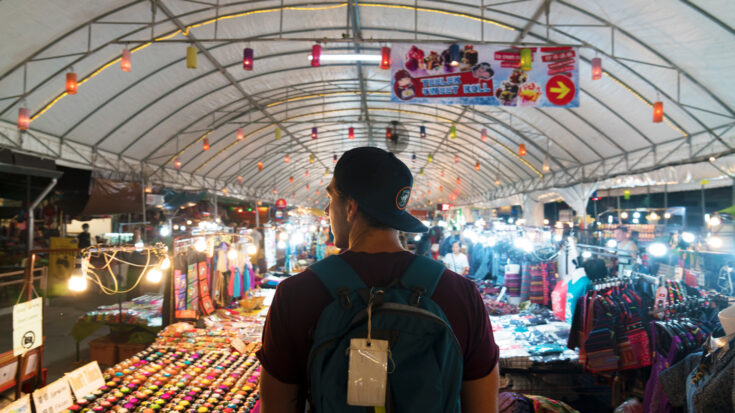 Explore more of the north
Chiang Mai is one of the best places to visit in Thailand, but it's also a great launch pad for other beautiful destinations. It's essentially the centre of northern Thailand, so you can easily get to Chiang Rai, Pai and or Kanchanaburi. 
Though a bit touristy, Pai is a lovely, languid town set within hazy hills. You can go to yoga retreats and journey to nearby temples and waterfalls. Kanchanaburi is a beautiful place with a dark history, set by the river Kwai. Go for the fascinating WW2 monuments and museums, stay for the floating raft hotels. 
Finally, I recommend anyone who is in the north to check out Chiang Rai, where you'll find more dramatic mountain scenery, incredible food and spectacular lakeside temples.