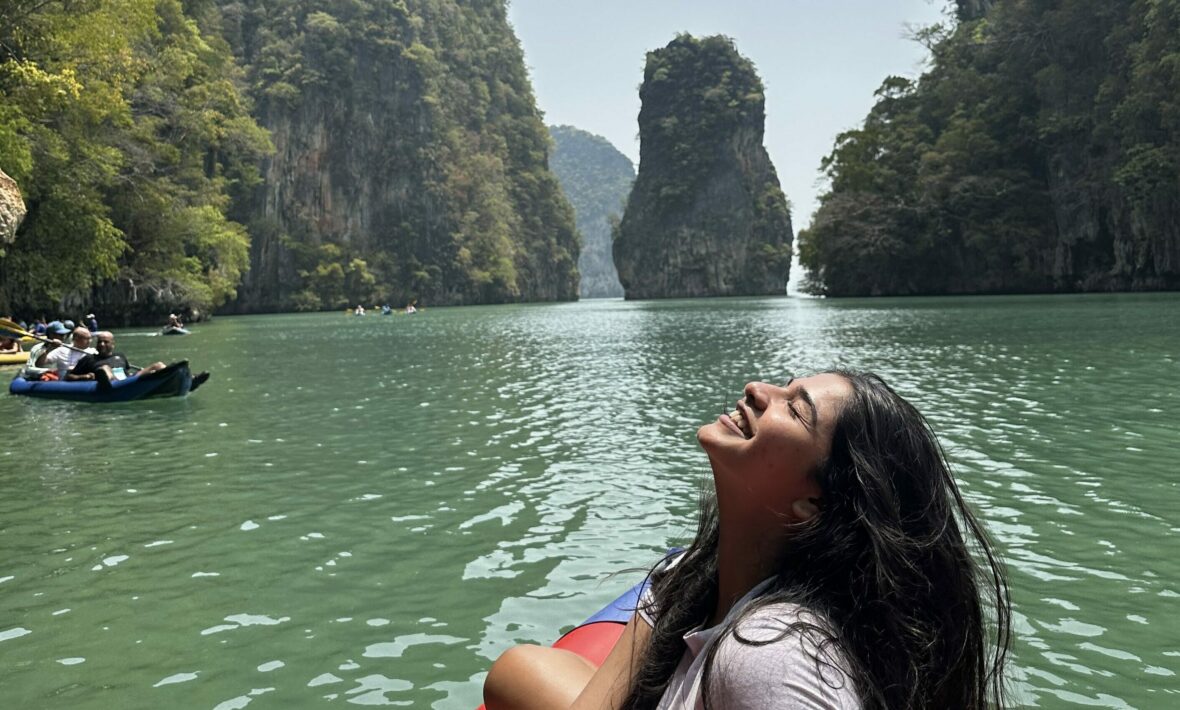 If you, like me, have been nervous about travelling to Thailand for fear of mis-pronouncing the names of the islands, fear no more! After 8 days spent floating over gentle waves and basking under the warm South-East Asian sun, not only will you learn the names but they'll be the least of your worries as everything will slip away and give way to complete bliss.
Get an authentic taste of real pad thai with the pillowiest rice and juiciest fresh fruits, marvel at sunsets that melt from pink to orange to red like a watercolour, and have the time of your life trekking through lush jungles or swimming through glassy waters. Heaven has nothing on Thailand, and that's a fact you'll soon find out on our Thai Island Hopper West trip. And we haven't even mentioned the day trip to an ethical Elephant Sanctuary or the night spent on Bangla road.
Here to spill all the juicy details (almost as juicy as Thai mangoes and dragon fruit) and entice you even further is our expert Trip Manager, Hannah, who is just as obsessed with this trip as all our past travellers! Read on if you're searching for paradise…
Hey Hannah! Can you give me 3 reasons why I'll love this trip?
The people, the culture, the experiences!
"First of all, with any Contiki, you'll be so surprised by the people you meet and how nice everyone on your trip is. I see it happen all the time, people become such fast friends, and that makes the trip even better because you get to experience it all together!"
"Second, Thailand itself is a dream and the culture is amazing. You'll do things that you'll never have expected to do on this trip, and you'll discover new things you had no idea about. This sounds vague, but I don't want to spoil any of the magic for you…"
"Third of all, it's just so fun. It's basically beaches and beautiful seas every day, we have boat rides, cultural experiences, we get to party, and we get to see elephants! What more could you want?"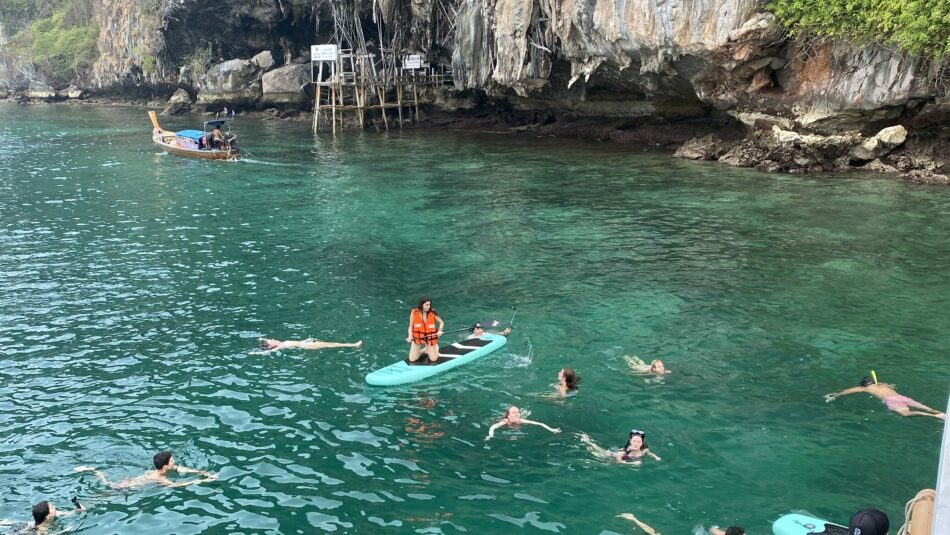 Image source:Contiki
This trip is for me if…
"You love fun and culture as well as tropical adventures with beaches, bikinis, total relaxation, and even a cheeky cocktail or two if you fancy."
Do you have a favourite island? Why?
"They're all gorgeous, but I would have to say Ko Phi Phi is my favourite just because there's so much to do there, including catching some really epic fire shows on the beach (they're always a crowd pleaser)."
What's the most spellbinding view:
Sunset view of Maya Bay.
"While we're hopping through Ko Phi Phi island we get to take a gorgeous sunset cruise out of Maya Bay. It's a great evening for all the crew to bond and laugh together, but nothing beats the glow that fills the sky just as the sun starts to set. Truly magical!"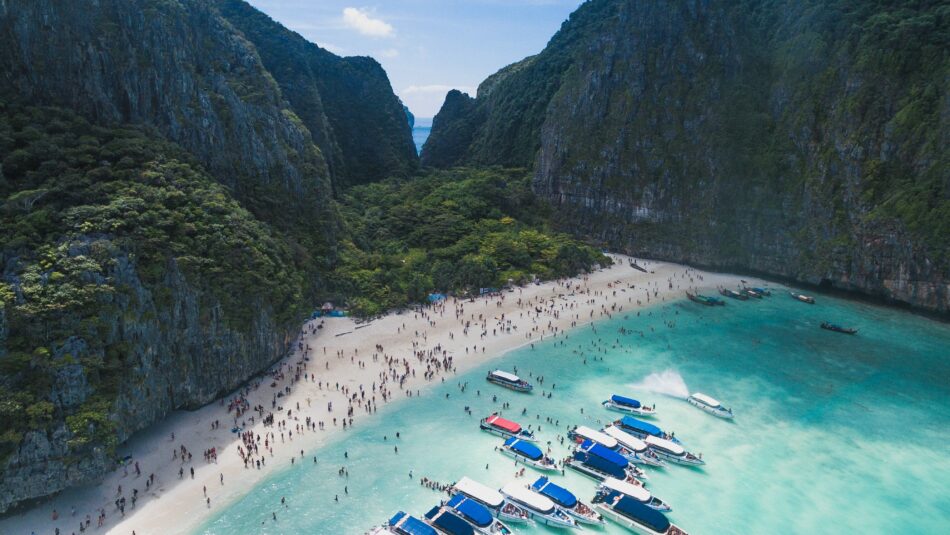 Image source:Humphrey Muleba / unsplash
What's the tastiest food experience:
Everything!
"When in Thailand you must try every single regional dish that you come across. Why? Because they're all so delicious. Doesn't matter if you get it from a restaurant or a local market, the food is just so good – you'll be salivating over it for days to come."
"There's spice to match everyone's level of tolerance, and for those that can't do spice there's sweet and silky dishes like mango sticky rice to soothe your taste buds."
The sweetest stay:
Avani in Krabi.
"This is the resort we stay at in Krabi and it's honestly the most beautiful hotel. It's built at a high point, surrounded by the rock face and the greenery all around it, which makes sense as the full resort's name is Avani Ao Nang Cliff Krabi Resort."
"The view is stunning: limestone mountain, the ocean, nearby islands, and the whole town below. Plus there's a spa and it's an absolute dream, along with a luxurious infinity pool. It's also close to all the town's major activities, so what's not to like?"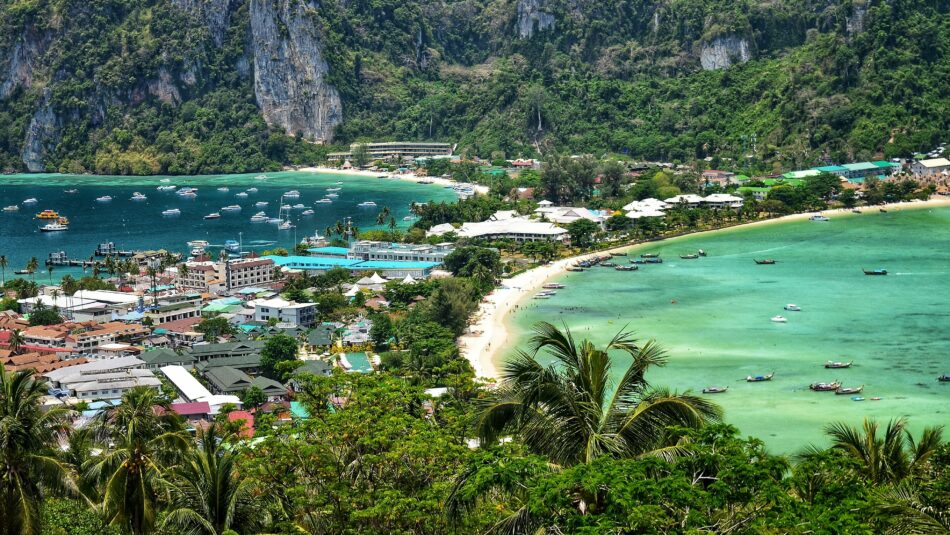 Image source:Jonny Clow / unsplash
Best spot for culture vultures:
The Elephant Sanctuary.
"Unlike many tourist traps that call themselves animal sanctuaries and safe spaces, the Phuket Elephant Sanctuary is 100% ethical, and 100% beautiful."
"With a visit here you'll get to learn about the Asian Elephant and learn about their struggles. This is a sanctuary where the animals are taken in and get to live out the rest of their lives in peace, and while people can visit, it's all done at a respectful distance so as not to disturb the gentle giants. It's honestly just such a beautiful excursion, so worth the small extra fee. Your heart will be touched."
Most jaw-dropping included experience:
Bangla road nightlife.
"This is a really fun and crazy night, and it's also the first night of our trip, so what better way to get to know everyone and make friends than over a few colourful drinks and under bright twinkling lights? There's also a fantastic view of Ko Phi Phi island, the next stop on our trip, so it's a nice little preview."
The Free-Time Add On that'll give my friends the most FOMO?
Day on the bay in Ko Phi Phi.
"Beach day! It's exactly as it sounds: a full day spent floating along the bay off Ko Phi Phi island. The water is so blue, the sun is so shiny, the view is so green and amazing. You can go snorkelling or paddling, the boat has a live DJ for anyone who wants to live it up and party early."
"It's a nice day to just chill and take in all the perfect scenery and chit chat with new friends. Parts of this trip are busy, so it's nice to have a day to rest up."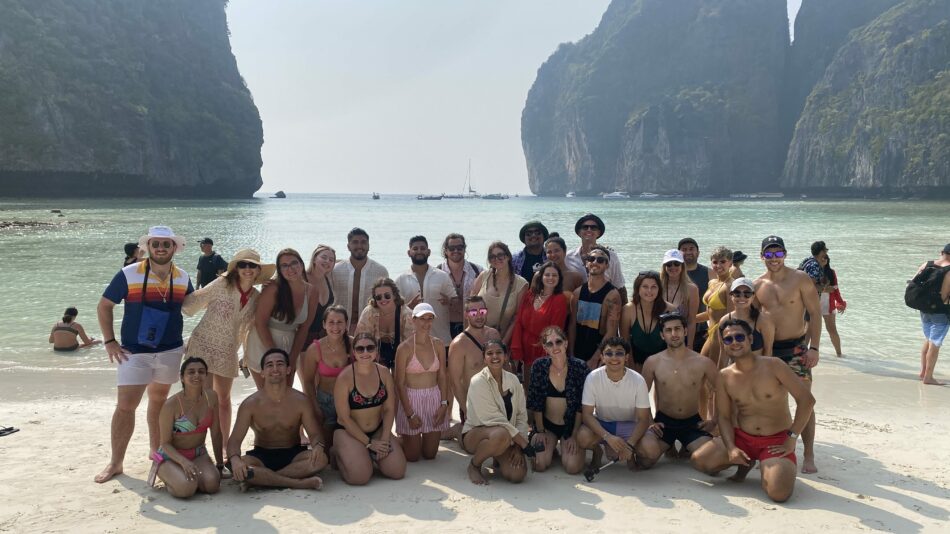 Image source:Contiki
The thing that'll surprise me the most about this trip?
"Honestly just how much fun you'll have. People book Thailand thinking they'll have so much fun, but the trip exceeds all expectations! You'll be all funned out by the end!"
If this trip was a song it'd be:
"'Unforgettable' by French Montana and Swae Lee."
If this trip was a drink it'd be:
"A piña colada, but specifically served in a bucket – more for sharing with the besties. A tropical drink for a tropical trip, seems fitting to me."
Describe this trip in 3 words:
"Adventure. Tropical. Party."
What's the funniest story you've seen/heard happen on this trip?
"This happens a lot, but it never gets old. Whenever someone orders something spicy at a restaurant, I always warn them that it'll be really spicy, probably more than they're used to, but without fail everyone always goes 'no, don't worry, I'll be fine' and then every time they're not fine. It makes me laugh everytime and everyone else gets a kick out of it, including the locals."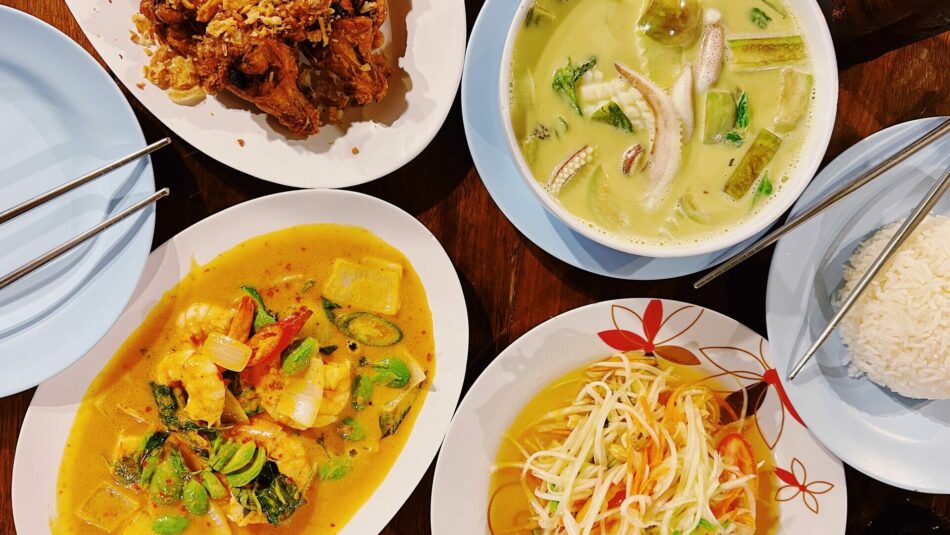 Image source:Contiki
Which part of this trip makes you love your job?
"I'm from Thailand, so I love being able to tell people all about this country that I'm from and share all my little bits of knowledge with a group who are actually interested in learning. When travellers ask me questions about Thailand, it always makes me so happy, and I'm proud I can share my culture with people from around the world."
Is there anything I haven't asked about this trip that you think I should know?
"Get ready, it's a fun and crazy ride!"
Here's what our travellers have to say:
"All I can say is: amazing! Great locations, great activities, great way to travel. Our Trip Manager really pulled everything together, she was always there to answer questions, help organise everything, and she gave great recommendations of things to do during our free time. It wasn't my first Contiki, and it definitely won't be my last!"
"The itinerary was amazing and had some great hotspots. Our Trip Manager was incredible – super helpful and joined in on all the activities, so it was so much fun."
"This Contiki was so good! You travel to a lot of beautiful islands and get to live the 'island life' to the max – so if you enjoy that you'll love this trip. I would highly recommend doing all the add-ons, particularly both the boat ones."