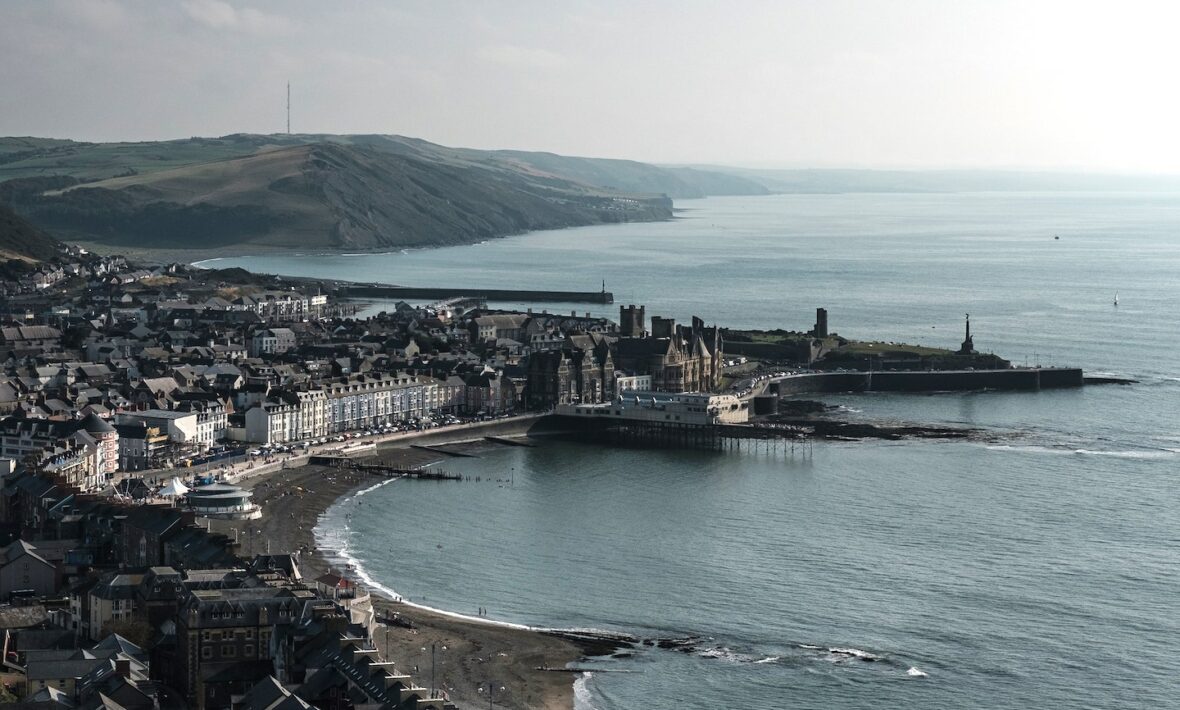 When people heard where I would be going on exchange for eight months, they often asked me, why Wales? The alliteration only emphasised their exasperation: Why Wales? Honestly, I couldn't put my finger on exactly why I wanted to study in this constituent country of the UK, although I couldn't help falling in love with gorgeous photos of the place on Google.
The town I was to call home for eight months, Aberystwyth, has a population of about 16,000, with a significant proportion of students. You might be tempted to say, Aber-WHAT? But the name is actually relatively easy for non-Welsh speakers to pronounce (contrast it, for example, with Pwllheli) but locals tend to call it 'Aber'.
The prefix 'Aber' means confluence of waters or the mouth of a river, in this case referring to the River Ystwyth, although there's also a second river running through town, the Rheidol. Fun fact: Wales Online estimates that there are 80 towns and villages in Wales whose name starts with Aber. Needless to say, I fell in love with the place and here's why Aberystwyth needs to be your next UK holiday destination…
The seafront is gorgeous
Aberystwyth is a lovely seaside resort smack-dab in the middle of the Cardigan Bay coastline. It has three beaches right in town and an elegant waterfront promenade, complete with colourful terrace houses and a wooden pier. Overlooking the sea, you'll also find castle ruins and the Gothic-style Old College, the original site for the university.
The town is renowned for its sunsets, and, if you happen to be in the area during the fall or winter, you just might observe thousands of starlings clustering in the sky, in what's known as a murmuration.
https://www.instagram.com/p/B9IEyKlDIz7/
You can go on amazing hikes
Like much of Wales, the Aberystwyth region is notable for its hills. You may want to tackle Pen Dinas, which used to house an Iron Age hillfort. It now bears a tall stone monument to the Duke of Wellington, which can act as a source of motivation for making it to the top.
https://www.instagram.com/p/CBceI7vpe5_/
The Welsh coastline is stunning
You can ascend Aber's most famous hill, Constitution Hill, using a cliff railway dating back to the Victorian Era. The zigzagging path to the top is also quite manageable. Consti is a popular location for taking in, and photographing, the Insta-worthy views. The hilltop also boasts a camera obscura and café and is a point of access for the Wales Coast Path, which follows the entire Welsh coastline.
https://www.instagram.com/p/CBxwOotjE4L/
It's a regional cultural hub
If culture is more your thing, Aberystwyth is home to the National Library of Wales, which prides itself on its extensive archive collection and its right to a copy of every publication printed in Britain and Ireland. It's probably also the only national library in the world to have sheep grazing outside it!
On a rainy day you can get a fascinating glimpse into the county's heritage by visiting the Ceredigion Museum, located in a grand Edwardian Era theatre, or you can watch an artistic performance or movie at the Arts Centre. Another fun fact: the dark detective drama Hinterland is set in Aberystwyth.
Aber boasts a solid collection of shops, cafés, bakeries, restaurants, and pubs, as well as a farmers' market twice a month. Given the town's size and relative isolation, there are only so many sources of amusement, so don't be surprised to see packs of university students wandering around town in costumes in the middle of the night on pub crawls.
You can go on fascinating day trips
Outside the town itself, you can take a steam train to Devil's Bridge, which is actually three bridges stacked wackily on top of each other. Legend has it that the Devil made a deal with an elderly woman, promising to build a bridge for her to reach her cow on the opposite bank of the river in exchange for the first living creature to cross it. The Devil gloated at the thought that he would soon possess the woman's soul, but she outwitted him by tossing some bread across the bridge for her dog to chase after. Poor doggy!
https://www.instagram.com/p/BTSAla0D2jn/
Other possible day trips from Aberystwyth include Borth, another seaside resort with petrified ancient tree stumps on a long beach, or Shrewsbury, England, a market town rich with medieval and Tudor architecture.
A word to the wise: the train between Shrewsbury and Aberystwyth splits at Machynlleth, with half the train going to Aber and half to Pwllheli, so make sure to confirm with train staff that you're in the right car! TrawsCymru normally offers free weekend bus service to many destinations in Wales, including Aberystwyth.
It'll always have a piece of my heart
I started with the question 'why Wales?' and I'm not sure I've answered it, buuuut as I hope you can tell from this article, Aberystwyth is a special place that I'd encourage everyone to visit when in the UK!