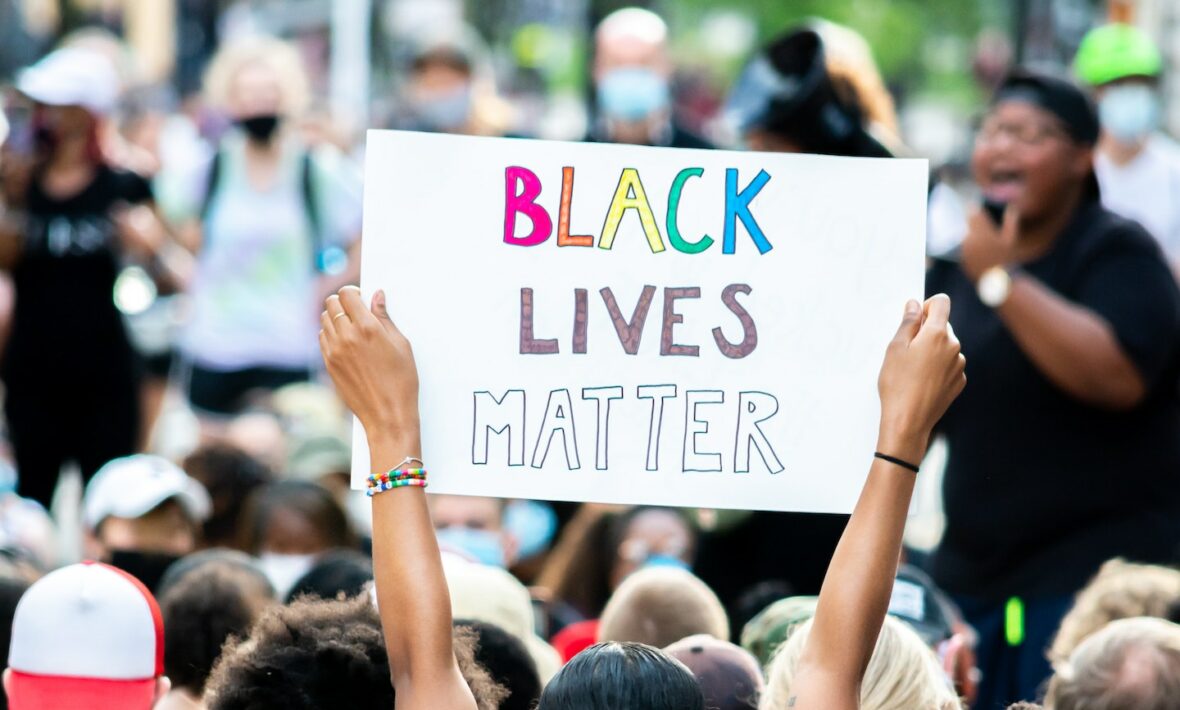 The past few weeks have seen the world in uproar following the murder of a 46-year-old African-American named George Floyd. Protestors, artists and supporters are also turning to social media to share tributes to Floyd and countless others – including Breonna Taylor and Tony McDade – who have died at the hands of the police. 
With a global focus on the Black Lives Matter movement, many of us have been mobilised to take action towards dismantling racist ideologies. By educating ourselves we're beginning to acknowledge the uncomfortable truths forcing many of us to ask the same question – how can I help? While educating, listening, speaking out and protesting are all incredibly important, supporting anti-racist organizations and charities is also a crucial component to help bring about real change. So if you're unsure how or who to support, we've rounded up 9 types of anti-racist organizations who need your help, time, donations or social amplification…
1. Bail Funds
Bail funds are hugely important to help those who have been incarcerated due to the colour of their skin and can't afford to bail themselves out. Charities such as The Bail Project and National Bail Out are at the forefront of uniting families and restoring the presumption of innocence.
There are also localised bail funds you can donate to in all of the US states with bail/bond systems. And if you want to help bail those out who have been imprisoned due to the protests, these are many funds such as Minnesota Freedom Fund which provides funds to pay bail for those protesting in Minnesota. Just be mindful that some of these organisations are now being overfunded, so do your research and try to find a scheme that's in need of your donations.
2. Frontline Funds
As Barack Obama recently said on his instagram page, "If we want to bring real change, then the choice isn't between protests and politics. We have to do both." Protests are a massive part of this movement, and they too need support. In the US there's Mitch Gayns's community supplies fund who use the funds for supplies such as snacks, Band-Aids, and flashlights. While Isak Douah Minneapolis Gas Mask Fund; donations are used to buy gas masks for Black activists on the front lines to protect them against tear gas used by the police.
These types of frontline funds and anti-racist organizations will be active in various countries where protests are happening, so have a deeper dig to find out how you can support your country's frontline.
3. Community Restoration Organizations
These organisations are in place to help rebuild communities who have been hit particularly hard by the protests or current coronavirus pandemic. Organisations such as Minnesota Rapid Response Coalition, Rebuilding OAKLAND Black Businesses and My Block My Hood My City are just some US-based anti-racist organizations helping to clean up their cities and get small businesses back on their feet.
View this post on Instagram
4. Mental Health Organizations
The mental health effects racial prejudice has had, and is having on the Black individuals around the world is huge. Fortunately, there are charities in place that offer free mental health support, needed now more than ever. Black Minds Matter is a UK-based GoFundMe page offering free therapy sessions for black individuals and families in the UK. While organizations such as The Black Journalists Therapy Relief Fund provide financial assistance for Black journalists facing financial hardship who are unable to pay for the mental health support they need during this time. 
5. Black LGBTQ Organizations
To support the movement, we have to consider intersectionality. This is basically the cumulative way in which people (especially those from marginalised communities) face multiple forms of discrimination that combine, overlap or intersect – creating a completely different experience. In essence, when different forms of discriminations overlap, they don't add, but multiply.
That's why now more than ever, it's important for us to support organizations that are challenging biases, as well providing ongoing mental health, health-care, monetary support and education to Black LGBTQ communities. Check out the Trans Justice Funding Project, The Audre Lorde Project and Brave Space Alliance.
6. Incarnation Reform Organizations
These anti-racist organizations aim to stop mass incarceration and unnecessary punishments. The National Council for Incarcerated and Formerly Incarcerated Women and Girls, is a self-advocacy group whose goal is to shift from a criminal legal system to one based on human justice. While The Innocence Project is committed to free innocent people and transform the legal system. Release Aging People in Prison, No New Jails NYC and Equal Justice Initiative are also all organisations doing great things. Shifting this system and utilising money and resources in a much more beneficial way is a crucial component towards racial equality. 
7. Police Reform Organizations
Redistributing police fundings to fund other social services that are more equipped and specialised has been one of the many issues currently being protested. And organisations such as The National Police Accountability Project, Campaign Zero and Communities United for Police Reform are doing just that! These organisations are working towards ending police misconduct and violence, so that we can eventually restore our faith in the system.
8. Education Organizations
Years of racial injustice has caused poverty and a lack of education for many people. Groups such as Black and Brown Founders, Black Table Arts and Embrace Race are funding arts, technical and other programs for black and brown people. Broader organisations such as NAACP have a mission to 'secure the political, educational, social, and economic equality of rights in order to eliminate race-based discrimination and ensure the health and well-being of all persons'.
There are also more localised organisations such as Reclaim The Block – a grassroots organisation that works to provide the Minneapolis community with the resources they need to thrive. While you'll find specialised organisations in various countries such as The Black Curriculum who are driving change for the way that Black history is taught in UK schools and Show Racism the Red Card, which is an anti-racism educational charity that uses workshops and training sessions to combat racism. 
View this post on Instagram
9. Media Organizations
The media can be a blessing and a curse. It shocked the world by circulating the brutal images and video of George Floyd, mobilialising change. But it can also depict people in certain ways, which has historically fueled inequality. Now, there are projects popping up all over the place with the aim to create trustworthy and meaningful media. The Marshall Project is a nonprofit news organization, which uses journalism as a way to create and sustain urgency about the U.S. criminal justice system. Unicorn Riot is dedicated to exposing the roots of many social and environmental issues. A smaller scale project is the Fund for Black Newspapers, which supports small Black newspapers (like the Atlanta Voice or the Houston Defender) as a source of trustworthy news.
10. Health-Care Funds
With Covid-19 hitting healthcare harder than ever before, communities are in need of extra health support more than ever. Black Disability is an organisation that specifically helps Black disabled people, while United Way and Covid Bail Out are helping those who are most vulnerable in the US during this current pandemic.
Or you could always use an Instagram filter…
As Dazed Magazine recently reported, activist and graduate Toni Adeyemi has created an AR filter that helps you decide which Black Lives Matter-related charity to donate to. "Hey, why don't I make it super easy so that no one can say they didn't know where to donate?" said Adeyemi. The filter has since had over 2.5 million impressions! She's also sharing tons of other resources so check her out.
View this post on Instagram