The best brunch spots in every state of Australia
Share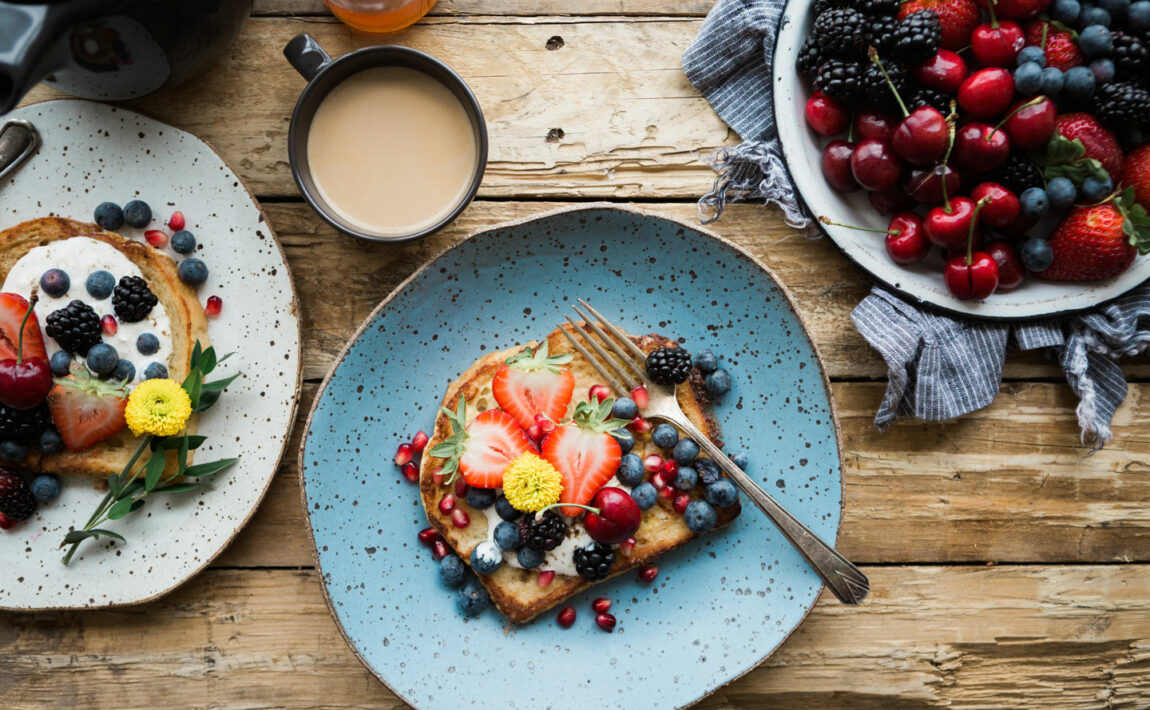 Big brekkies, fluffy pancakes, smashed avo and – arguably – the world's best coffee: if there's one thing we know how to do in Australia, it's brunch. At this point, brunch is practically a national pastime. Check out our guide to the best brunch spots in the land down under!
The best brunch spots in New South Wales
The Grounds of Alexandria, Sydney
The Grounds is almost more of an experience than it is an eatery, but don't let the florist, markets or animal farm throw you off the delicious dishes on their menus in the Café, The Potting Shed, The Garden or the Bakery & Patisserie. In the Café you'll find all the classic brunch staples, from Turkish Poached Eggs, to a Smashed Avocado so pretty it could bring a tear to your eye. It's no wonder The Grounds is one of the best and most popular cafe's to visit in Sydney.
View this post on Instagram
The Garden, Berry
One of several stellar brunch-spots in Berry in New South Wales' Shoalhaven region, The Garden earns its place on this list thanks to its gorgeous outdoor space and vibrant menu. Turkish Eggs, Shakshuka and Moroccan Lamb Flat Bread are some of the standout dishes on offer. Meanwhile, fresh cocktails like the Seasonal Citrus Margarita or Flower Garden Champagne are the perfect addition to your long brunch-turned-lunch.
View this post on Instagram
Three Blue Ducks, Byron Bay
In the rolling green hills of The Farm Byron Bay, the Three Blue Ducks eatery has become a must-visit destination when you're in town. Fresh, organic ingredients and innovative recipes reign supreme here, where you can order everything from Spanner Crab Scramble to Pear & Almond Fruit Toast.
View this post on Instagram
Bar Botanica, Erina
A must-visit foodie destination in the green garden of the Distillery Botanica, this brunch spot is beloved for its hearty dishes and fresh coffee (there's an onsite roaster). The must-try meal is the 'Ploughman's Lunch' with fresh sourdough bread, leg ham, gin-infused cheddar, Stilton, mustard and house-made pickles. After brunch, treat yourself to a scoop of their fresh gelato and vegan sorbet. Though they all look incredible, we'll be adding two scoops of the Honeycomb & Lavender to our order!
View this post on Instagram
Two Chaps, Sydney
Nestled in Australia's 'coolest suburb of 2020' – AKA Marrickville – Two Chaps is a café and bakery with a sustainable focus. Using organic ingredients, they plate up some of the tastiest treats in the city. Indulge yourself with a mouthwatering meal like Golden Hash Browns with Poached Eggs or the Spring Salad Bowl. If you'd like something sweet and filling, you can't go past the Coconut Pancake, Gogi & Strawberry Compote with Vanilla Mascarpone, Fresh Mango & Cacao Crumb – a mouthful by name and nature.
View this post on Instagram
The best brunch spots in Victoria
Archie's All Day, Melbourne
In Fitzroy, the Archie's All Day diner means all-day. From open till close you can order yourself a delicious plate of Ricotta Hotcakes, Fried Chicken & Waffles and more. Brunch cocktails like Pink Grapefruit Mimosa and Sloe Gin Fizz are also on the menu if you want to kick brunch up a notch.
View this post on Instagram
Mansfield Coffee Merchants, Mansfield
Authentic coffee and good food are on the menu in the charming town of Mansfield in Victoria's North East. Keep your tastebuds happy with an order of Breakfast Bruschetta on Sourdough with Fior Di Latte, Porchetta Eggs Benedict or the Breakfast Greens with Whipped Ricotta and Poached Eggs.
View this post on Instagram
Wombat Hill House, Daylesford
A seasonal café menu with fresh produce from their own farm and local suppliers, Wombat Hill House in the Botanic Gardens is the perfect place for brunch when travelling through Victoria. The menu evolves regularly, with former favourites including Homemade Crumpets and Beetroot & Goats Cheese Salad.
View this post on Instagram
The Kettle Black, Melbourne
A contemporary Australian eatery set inside a heritage-listed terrace house with modern design, Kettle Black is an iconic brunch experience to be had in Melbourne. Their all-day menu boasts delectable dishes like Chilli Crab Scrambled Eggs, Gingerbread Waffle, Seasonal Local Mushrooms and Coconut & Raspberry Set Chia.
View this post on Instagram
Ginger Baker Wine Bar & Café, Bright
With alpine views and endless activities to explore in Mount Buffalo National Park, Alpine National Park and Mount Hotham, Bright is a popular destination for adventurous travellers. At the Ginger Baker Wine Bar & Café, you can keep your belly full with food like Ricotta Hotcakes, Granola Bowl or Potato Rosti.
View this post on Instagram
The best brunch spots in South Australia
Millie Mae's Pantry, Kangaroo Island
Featuring local produce and seasonal ingredients, Millie Mae's Pantry in Kangaroo Island serves up scrumptious brunch dishes like classic Poached Eggs and Sourdough Fruit Toast with Berries & Lemon Curd. And their location isn't too shabby either, with a deck and patio overlooking the beautiful Hog Bay.
View this post on Instagram
Hey Jupiter Brasserie Française, Adelaide
Serving up Parisian classics in a distinctly French café, Hey Jupiter is a must-visit spot on your next trip to Adelaide. Take a seat inside the stunningly designed café or take up residence outdoors and enjoy one of their dishes like the Croque Monsieur or Merguez Frites.
View this post on Instagram
Avalon, Woodside
Avalon of Woodside is a charming eatery in a small town just outside of Adelaide. Sustainably sourced and seasonal, their menu is filled with appetising meals like Avalon Spicy Pork and Korean Beef Buddha Bowls.
View this post on Instagram
Patch Kitchen & Garden, Stirling
The Patch Kitchen & Garden in the Adelaide Hills is a perfect pit-stop the morning after you've explored the wineries. Their wholesome, seasonal menu includes dishes like House Made Crumpets with locally made condiments and Crispy Pork Belly with Poached Eggs.
View this post on Instagram
Whistle and Flute, Adelaide
A café and liquor bar in central Adelaide, Whistle and Flute is a contemporary space with delicious dishes like Maple Roasted Pumpkin, Twice Cooked Korean Pork Belly and Blue Swimmer Crab Scrambled Eggs on their menu.
View this post on Instagram
Best brunch spots in the ACT
Močan & Green Grout, Canberra
A local cafe loved for its cosy ambience and retro-chic style, Močan & Green Grout is the perfect spot for an intimate brunch with close friends. Try the Slow Cooked Lamb Roll, Baked Eggs or Housemade Bircher with Nectarine & Coconut Chia.
View this post on Instagram
Space Kitchen, Canberra
A playful cake shop and cafe, Space Kitchen is the perfect brunch spot for those with a sweet tooth. Their Apple Crumble French Toast and Banoffee Waffles will satisfy your sugar cravings, while classic brunch specials like Breakfast Fritters and NYC Florentine Bagel receive a Space Kitchen twist with fresh ingredients.
View this post on Instagram
The Cupping Room, Canberra
With locally brewed specialty coffee by Ona Coffee, The Cupping Room is one of the best spots in town for a morning brew. Not to mention, they've got brunch sorted with decadent dishes like French Toast with Banana & White Chocolate Cream, Blood Orange Mascarpone, Tonka Caramel, Berries and Walnut Crumble.
View this post on Instagram
The Best Brunch Spots in Tasmania
Pigeon Whole Bakers, Hobart
For a quick brunch-stop, you can't go past the artisanal baked goods from Pigeon Whole Bakers. Their gloriously flaky croissants, sourdough bagels and specialty coffee prove that sometimes, simple is best.
View this post on Instagram
Lost Freight Café, Mount Wellington
Casually located halfway up a mountain, the Lost Freight Café sits in a shipping container at The Springs in Mount Wellington. As much as an experience as it is a brunch spot, those bushwalking or simply driving to The Springs for a picnic. Specialty coffee and baked goods are waiting for you in this gorgeous little spot.
View this post on Instagram
Hamlet Hobart Café, Hobart
Hamlet Hobart is a local favourite, with dishes like Smoked Ham Terrine, Golden Syrup Dumplings and Fruit Toast topped with Littlewood Strawberries on the fresh, modern menu. Not only is this café known for tasty food, but it's also an incredible Social Enterprise Café that helps to tackle barriers people face with employment.
View this post on Instagram
Bryher, Launceston
A local favourite, Bryher is known for strong coffee and luxe meals made with the freshest ingredients. Former favourite dishes include Viennoisere French Toast with Crémeux, Hazelnuts and Red & Black Currants or the Puffed Salted Bacon Rind, Smoked Garlic Mayo & Pickled Chilli Cucumbers.
View this post on Instagram
The best brunch spots in Western Australia
White Elephant Café, Margaret River
A favourite for the influencers among us, White Elephant Café combines unbeatable waterfront views of Gnarabup Beach with healthy, 'gram worthy breakfast options like Green Smoothies and Vego Brekkie Burgers.
View this post on Instagram
The Attic, Fremantle
In the hipster port-city of Fremantle, just a short drive from Perth, The Attic is known as the go-to spot for inventive breakfast dishes. Their seasonal Summer menu includes Baked Eggs and Summer Berry Pancakes, with the Crispy Duck Hash looking especially inviting.
View this post on Instagram
The Good Egg, Busselton
In the seaside town of Busselton, this eatery is a family eatery with inclusive vegetarian, vegan, gluten-free and lactose-free options for different dietary requirements. From Roasted Portobello Mushrooms to Pork Belly with Roasted Red Curry sauce, to a classic Eggs Florentine, their all-day menu has a lot to offer.
View this post on Instagram
Artezen Café, Dunsborough
Another café with seasonal menus, Artezen sits a stone's throw from Dunsborough Beach in the Margaret River region. In particular, their Lemon Meringue Crepes are worth ordering.
View this post on Instagram
Petition Kitchen, Perth
This contemporary brunch spot boasts stunning interiors, with its prime location inside the State Buildings. Their Breaky Roll with Pastrami & Cheddar Hash is a must-try, while their House Crumpet with Crème Fraîche, Mandarin, Peach, Pistachio and Maple looks to-die-for.
View this post on Instagram
The best brunch spots in the NT
Laneway Specialty Coffee, Darwin
With all the hipster requirements of a Melbourne hot spot, Laneway Specialty Coffee has made a name for itself in the NT. But don't let the exposed brick and artisanal coffee convince you it's too cool for school. This chilled-out spot dishes up hearty brunch options like Smoked Belly Bacon & Two Egg Roll and their Nourish The Soul bowl with Mushroom & Cheese Arancini, Pita, Turmeric Hummus, Kaleslaw, Haloumi, Radish and Beetroot Borani.
View this post on Instagram
Ray's Patisserie & Cafe, Darwin
Another favourite from the Top End, Ray's is a local favourite for simple sweet and savoury dishes like Hot Cakes, Pea & Zucchini Fritters and Kargee Chicken Waffles.
View this post on Instagram
De La Plage, Darwin
How's the serenity? De La Plage is a newer café sitting pretty on the Casuarina Coastline, with ocean views and a relaxed atmosphere. Dishes like Cranberry Granola or Homemade Kimchi with Smashed Avo and Poached Eggs keep the locals well-fed and ready for adventure.
View this post on Instagram
The best brunch spots in Queensland
VanillaFood, Noosa
Feel like something light and tasty before a day of exploring Noosa? Head to VanillaFood, an eatery serving up vibrant smoothies, perfectly poached eggs and garden-fresh produce. In particular, we've got our eyes on the Breakfast Plate with Maple Pumpkin on Fried Polenta with Broccolini, Poached Eggs, Beetroot Yoghurt and Hemp Dukkah.
View this post on Instagram
Elk Espresso, The Gold Coast
With a sprawling patio and enticing menu, Elk Espresso is one of the most popular Brunch Spots on The Gold Coast. Though all their meals will leave you satisfied, the Potato Hash with Avocado, Rocket, Free Range Poached Eggs and Hollandaise is a must-try.
View this post on Instagram
Little Loco, Brisbane
They weren't kidding with a name like Little Loco, it really is a smaller space and you'll probably have to wait for a table. But we promise it's worth it. Bacon & Egg Bao's with Smokey BBQ Sauce; Waffle & Eggs Benedict; Loaded Breakfast Bruschetta; their menu will make your heart skip a beat.
View this post on Instagram
JAM, Townsville
Whether you're keen for brunch with the girls or a relaxing solo breakfast, anything goes at this Townsville establishment. Their Asian Chicken Omelette with Chilli Jam, Herbs, Snow Pea, Shoots and Fried Shallots is a menu-staple that deserves the hype!
View this post on Instagram
Halo Ground Coffee & Food, Brisbane
In Fortitude Valley, this eatery offers up a wide range of dishes to suit any and all dietary requirements. Inventive sweet treats like the Orange Blossom Hotcake with Pineapple Custard will wow your tastebuds, while Pork Belly Eggs Benedict will satisfy even the hungriest of brunch-goers.
View this post on Instagram