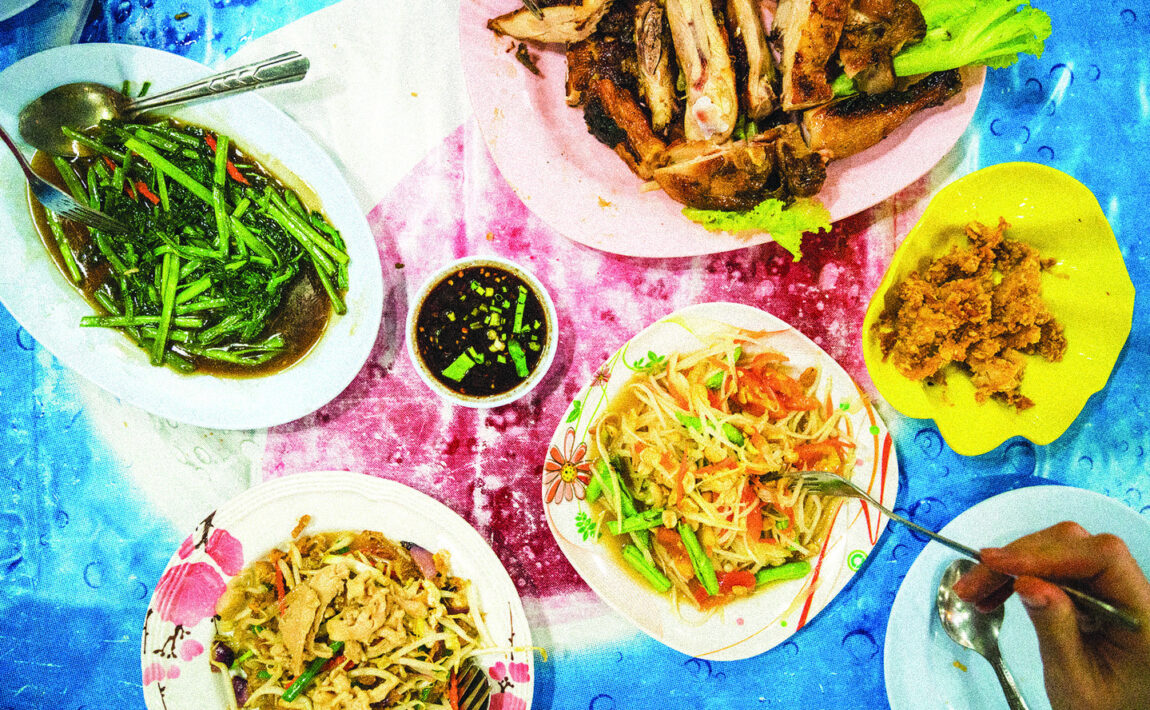 Among so many reasons to visit the vibrant country of Thailand, the unique food is right up high on the list.
As well as classic Pad Thais and rich green curries and yellow curries, there's a whole host of weird and wonderful Thai food treats that maybe aren't for the faint-hearted. Although for the locals some of these are a normal part of a diverse (and delicious) diet, for those of us with different backgrounds, they might not be quite as palatable. But travel is all about trying new things, right? So why not step out of your food comfort zone and discover something unlike you've ever tasted before? Here are 10 weird and wonderful Thai foods you should try during your next visit to Thailand…
1. Takatan
Fried grasshoppers, known as takatan, are a crunchy delight loved by locals for their nutritional value that is high in protein and low in calories. This food is found widely throughout Thailand, sold in street food carts and restaurants, also among many other edible insects such as crickets, silkworms and waterbugs. Close your eyes and give them a try!
View this post on Instagram
2. Meat on a stick
Very common to Thai, street food is grilled skewers of meat ranging from fish, satay chicken, prawns, squid and the very popular Moo Ping. Moo Ping is barbecued pork accompanied by a dipping sauce made of tamarind and fish sauce, sugar, chilli, rice powder and onion, that has a sweet yet spicy flavour to compliment the smoky taste. To be cautious, observe the cleanliness of the stall and seek a street vendor that looks fresh and has an obvious cooler for storing meat.
View this post on Instagram
3. Fried scorpions
After you've worked up the courage to try fried bugs, the next level of food daringness is eating a scorpion. These are very exotic and not a typical food among locals, but you can find them at the infamous Khao San Road night market in Bangkok (as well as tarantulas?!). The scorpions are deep-fried on a skewer and covered in seasoning or soy sauce. The venom is stored in the tail which the seller will remove, so they are perfectly safe to eat! Many compare the taste to chicken, crab or even potato chips due to their crunchy and salty texture.
View this post on Instagram
4. Larb salad
Larb or Laab, is a delicious, chili and lime salad which comes in many varieties including chicken (larb gai), pork (larb moo) or even a vegetarian mushroom style. The popular dish is healthy, fresh and versatile which can be enjoyed on its own or with sticky rice, but be warned it usually comes with a spicy kick.
If you're more on the adventurous side, order the Larb Mote Daeng. This Thai delicacy is made with red ants and their eggs in a spicy salad, but surprisingly tastes better than it looks!
However, you'll need a stomach of steel for the niche salad specialty called Laab Dib, made of ground raw beef in uncooked blood and bile with herbs. There's a high risk when eating raw meat due to bacteria, so I wouldn't recommend this dish to tourists.
If  you don't think you can try this traditional delicacy then try Thailand's Tom yum goong or Massaman curry. Both pack a punch in flavour without the risk of upsetting your stomach. 
View this post on Instagram
5. Durian
There's a reason this Thai fruit is banned from airplanes and public transport across Southeast Asia, and that's because it smells so damn bad. The smell is best described by food writer Richard Sterling as "turpentine and onions, garnished with a gym sock". The fruit is unique in appearance with a spiky green exterior, but despite the stench it actually has an acquired pleasant taste that is both savoury, sweet and creamy at the same time. Make sure you try it either fresh, dehydrated or in one of many durian-flavoured products and candies throughout Thailand.
View this post on Instagram
6. Goong Ten
Have a serving of Northern Thailand's most lively dish, literally. Goong Ten, translating to 'dancing shrimps' is another Thai food for the brave-hearted. This dish is an assortment of live baby shrimps in a seasoned salad that squirms and jumps as you eat it. The throat-tickling texture is paired with a salty spiciness that many tourists come to love.
View this post on Instagram
7. Khao Kriab Pak Moh
This tasty Thai snack is found in many styles and shapes, typically in a pancake or steamed dumpling form, made with a rice flour batter with chicken, prawn or minced pork filling. You can also find them in bright colours in the street stalls of Phuket and Bangkok that make a great #foodporn photo for Instagram.
View this post on Instagram
8. Thaew Dam Gaeng Bawd
Similar to other bean-based puddings across Asia, this traditional Thai food dessert consists of black beans in coconut milk that makes a delicious combo of creaminess and nuttiness. Other signature Thai desserts include the very popular mango and sticky rice and sweet roti made fresh by street vendors (Nutella and banana is my favourite filling).
View this post on Instagram
9. Gooay Teeo Reua
Translated as "boat noodles", this dish gets its name because its was once served from boats along the canals of Bangkok and central Thailand. Gooay Teeo Reua is a slow-cooked beef and noodle broth, seen as intimidating to many tourists because of its added ingredient of cow's blood. You can still get an authentic serving along the Klong Samsen canal in Boat Noodle Alley.
Boat noodles aren't the only type of Thai noodles to try. Delve into dishes that incorporate Egg noodles or Rice noodles. A popular food incorporated in almost every Thai dish. 
View this post on Instagram
10. Sataw stink beans
Thailand's stink beans are a nutrition-packed, flavourful addition to many dishes, frequently cooked with pork and shrimp in a stir-fry curry paste. If you can get past the stench described as methane gas, you can enjoy the benefits of the Sataw bean, that is said to lower blood pressure, prevent diabetes and cure hangovers.
If you can't handle the smell of the Sataw stink beans then on the opposite side of smell try Kaffir lime leaves.  A citrus fruit native to use in Thai food, its rind and crushed leaves emit an intense citrus fragrance also used in many Thai dishes.
View this post on Instagram