The 10 best places to see fall colours in Canada
Share
The fall is a beautiful time for colours in Canada. It's not so hot that you find yourself sweating as soon as you leave the house. And it's not so cold that you find yourself strapped in 20 layers. It's pretty much the perfect time to experience Canada's natural beauty!
If you're on the hunt for some spots around Canada to see the best fall colours, look no further. We've come up with 10 of the best places to get your fall vibes started. So grab your PSL, toss on a sweater, and have a read…
Butchart Gardens, British Columbia
October to November is the best time for fall colours on the west coast. Victoria is no stranger. Although this western province is much more temperament than the rest of Canada, it has no shortage of beautiful fall colours to see. The Butchart Gardens are one of the best places to capture the golden and red hues of the season.
View this post on Instagram
Capilano Suspension Bridge, British Columbia
Escape the hustle and bustle of Vancouver with a visit to the Capilano Suspension Bridge. It's a quick 20-minute drive away and is a full-on natural oasis just waiting to be explored. The suspension bridge hovers 230 ft above the Capilano River, is 450 ft long, and has plenty of spots to get your perfect fall photo. Spot the rainforest treetops from high above where you'll see a mix of green, yellow, and orange shades. Some of the best fall colours in Canada for sure.
Rocky Mountains, Alberta
The Rocky Mountains are breathtaking anytime of the year, but fall is a special time. The massive mountain landscapes have a little more warmth to them as fall approaches with hints of green and orange peeking through the treetops. And the area is much less busy than the summer. The drive from Banff to Jasper is one for the books with pretty much a gorgeous view at every angle. A hike up to Lake Agnes will give you a bird's eye view of it all along with a chance to see local wildlife.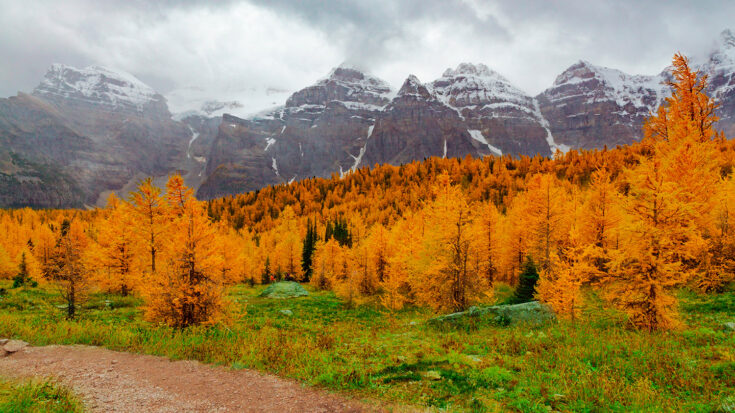 Image source:Joshua Woroniecki / Unsplash
Bruce Peninsula, Ontario
Ontario is an awesome province to see fall colours and the locals take it quite seriously. The province even has a Park's Fall Colour report so you can get the best information on the very best spots to view the fall foliage. Talk about serious business! Bruce Peninsula National Park is a nice one to explore. It's a World Biosphere Reserve and has cedar trees thousands and thousands of years old. Besides all of the beautiful rich colours, you can explore caves along the Georgian Bay waters. Or hike Bruce Trail if you're feeling more adventurous.
Muskoka, Ontario
Cottage country is popular especially in the summer. But the most magical time of year has to be the fall. The vacationers have long since returned to their homes so it's nice and quiet. And all of the beautiful fall foliage has started with bright oranges and yellows surrounding the lakeside properties. The area has plenty of walking and hiking trails too make it the perfect outdoor escape.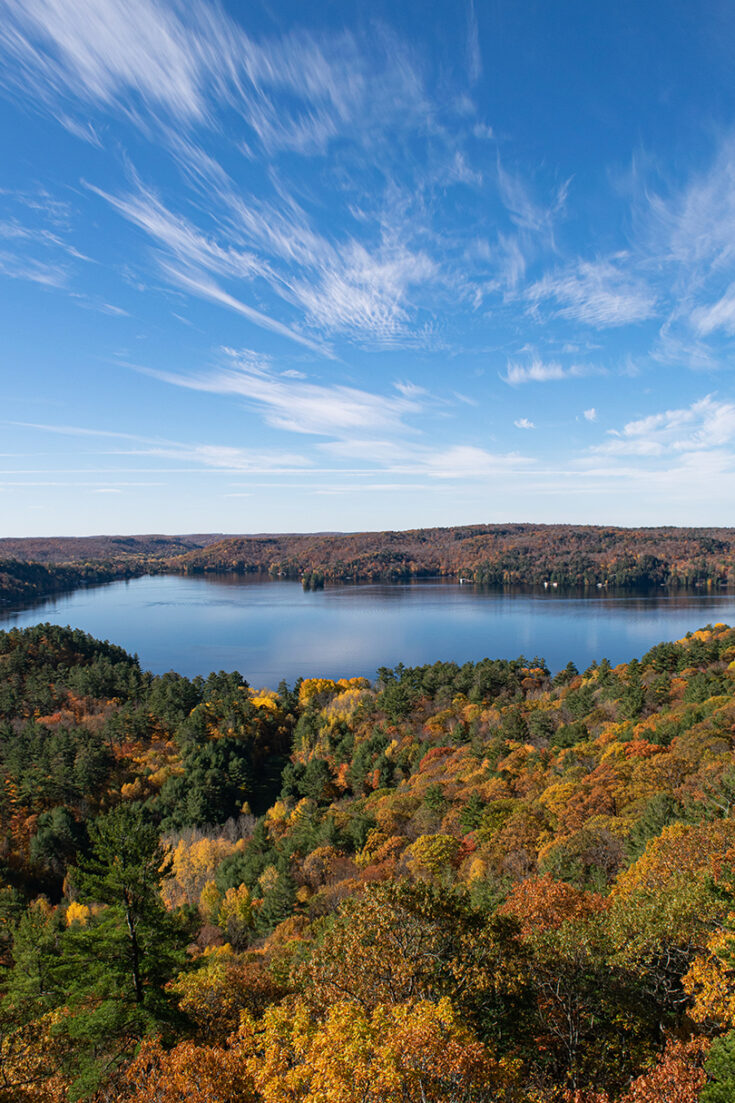 Image source:Juan Rojas / Unsplash
Mont Tremblant, Quebec
Some of the most beautiful and colorful vistas in eastern Canada can be found in Mont Tremblant. At anytime of year really, but especially in October. The beautiful thing is it's still warm enough to experience the outdoors in Quebec so you can hop on the bikes or get walking. Don't forget your camera because there are many photo opportunities where the beautiful autumn colours reflect over the crystal clear lakes and Laurentian mountains.
Gatineau Park, Quebec
Gatineau Park is one of the most biodiverse parks in Canada. Experience views of the Ottawa river while the orange, yellow, and red leaves come tumbling down. There are plenty of lookout points to explore. So pack your walking or hiking shoes and hit the trails.
Cape Breton Island, Nova Scotia
This spot in Canada has a whole festival dedicated to this time of year! The Celtic Colours Festival in Cape Breton celebrates the fall colours and heritage by hosting a variety of cultural experiences. There are tons of events including concerts and farmer's markets. Plus, you can always hike the Cabot Trail at this time of year too. It's a prime spot to capture the shades of fall while hiking along the gorgeous seaside.
View this post on Instagram
Fundy Coastal Drive, New Brunswick
Travelling to New Brunswick during October is like a feast for the eyes. Not only do you have the beautiful and scenic views of the coast, you have gorgeous autumn colours surrounding you. One spot to check out is the Fundy Coastal Drive. It's a beautiful and scenic drive along the shores of Fundy with plenty of photo opportunities. Some even spot a whale or two at this time of year so keep your eyes peeled!
Image source:Tourism New Brunswick
Confederation Trail, Prince Edward Island
Rumour has it that Prince Edward Island has one the longest fall foliage periods in North America. Because of its moderate climate, you can experience warmer waters and warmer weather heading into the fall. Compared to the rest of Canada that is. This also means it has some of the best fall colours around. If you visit Canada's smallest province in October, you can count on shades of red and orange all around. The Confederation Trail is a perfect spot to experience it all either by foot or bike.