Love colourful, flavoursome, vegetarian food? Always keen to try new and unusual dishes from across the globe? Meet NYC-based Chef Priyanka – a Food Network award-winning cook, food blogger and editor. She came with us on our epic foodie journey to Lisbon and she's travelled around the world to find the best bites (and sips). Let's just say, Priyanka has 99 problems, but veggie food ain't 1. Read: what this chef doesn't know about irresistible vegetarian food just isn't worth knowing…
We recently sat down with her to talk about the restaurant industry in NYC post Covid-19, and she shared her advice on cooking up travel-inspired dishes from home. Subscribe to Contiki's bonus podcast season Unusual Circumstances to hear listen in. Here, she takes us through her foodie odyssey across the globe, sharing nine of the foods and dishes that have shaped her life and career…
1. The food that's closest to my heart… Indian street food
So much of my cooking is inspired from visiting India every year growing up. My entire family is there (with the exception of my immediate family) and the dishes that have really shaped my perspective on food come from Indian street food. 
My foodie heaven has to be Mumbai. It's possibly the best place for veggies and vegans. I'm biased but I think Indians are the most creative cooks when creating veg dishes. One of my fave street food dishes is 'pani puri' – a puff (like a deep-fried, crispy crepe) filled with lentils and spices. It comes dipped in savory masala water and topped with pomegranate and fresh cilantro. You just pop it in your mouth and it's AMAZING.
Image source:Chef Priyanka
2. The most eclectic foodie destination… Australia
There's so much good food in Australia, particularly in the cities I've visited – Sydney and Melbourne. The close proximity to South East Asia means there's a ton of really cool dishes and variations. One of my favourite restaurants was Makan by Chef Tan in Sydney. They specialise in Malaysian rotis and they make them right in front of you. You can watch from the street as they layer and layer the rotis. They're super flakey and delish and during my last visit, I had to indulge in a warm, buttery roti. 
I'll never forget the Black Star Pastry Shop, famous for their watermelon cake! I was sceptical at first as this just seemed like an Insta trend, but when I saw that they'd actually layered watermelon into a cake, I was astounded! The fact that they'd layered this watery fruit with whipped cream, strawberries and fresh edible flowers… just WOW. It was more art than culinary masterpiece, but I can attest that it was both Insta-worthy and palette-worthy.
View this post on Instagram
Don't leave without visiting Chin Chin – an eclectic Vietnamese and South Asian restaurant. The dish that stuck with me was their baby stuffed eggplants with peanuts, peanut sauce and kaffir lime. This dish was outstanding. Plus, it reminded me of a very comforting South Indian dish that we make at home.
Image source:Chef Priyanka
3. The dish that shaped my cooking career… 'pav bhaji' from India
One of my all-time favourite dishes is called 'pav bhaji'. It's a classic Maharashtrian, Bombay street food dish, a little similar to an American Sloppy Joe. There's spiced, mashed up vegetables served on a toasted 'pav' (an Indian-style bread) topped with lots of fresh cilantro, lemon and these crispy fried 'sev' made out of chickpea flour. It's very close to my heart as I made a version of this on Food Network in 2017 and it won me the show! 
5. The best pizza I've ever had… Marinara pizza in Naples, Italy
In Italy, I waited three whole hours to go to La Pizzeria de Michele in Naples. The pizzeria is famous for featuring in Eat Pray Love and I love that there were only two styles of pies. Margarita or Marinara – nothing else! I'm usually so indecisive, so this was perfect for me. Everything was freshly made in front of us, the dough was so stretchy and still charred on the outside, and it really shaped my perspective on pizza.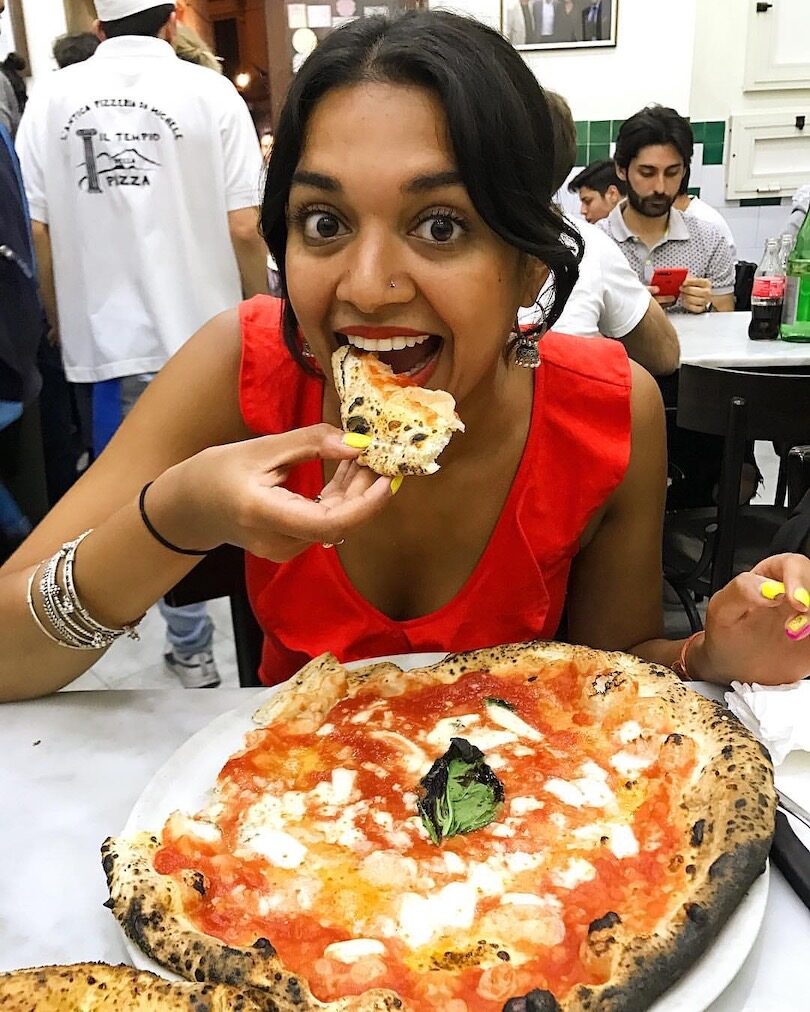 Image source:Chef Priyanka
6. My ultimate comfort food… Indian McDonald's (yes, really!)
McDonald's in India is such a different experience compared to more westernised McDonald's. The menu is completely India-fyed (sure, that's a word). It's primarily vegetarian and the dishes are amazing – from McSpicy Paneer Wraps to Green Chilli Aloo Naan.
7. My favourite snack ever… Kettle Corn, Alaska, USA
Alaska is the coolest state of the US (in every sense of the word). I went there with my family a while ago and it was the first time that I'd eaten kettle corn (or kettle popcorn). Sure, you can now buy it in loads of convenience stores, but the reason it holds such a lasting memory for me, is when I first tasted it in Juneau, they were making it in this big pot outside. They were stirring the kernels with sugar and salt and oil, and I found it such a fascinating process. Now, I can't eat any other kind!
8. The drink I fell in love with… ouzo in Greece
Ohhh Greece, this is where I fell in love with ouzo. I love liquorice flavours, and this drink is similar to an Italian sambuca with its strong anise notes. If you go to any of the Greek Islands, they're pretty much handing it out like water! I've loved it ever since.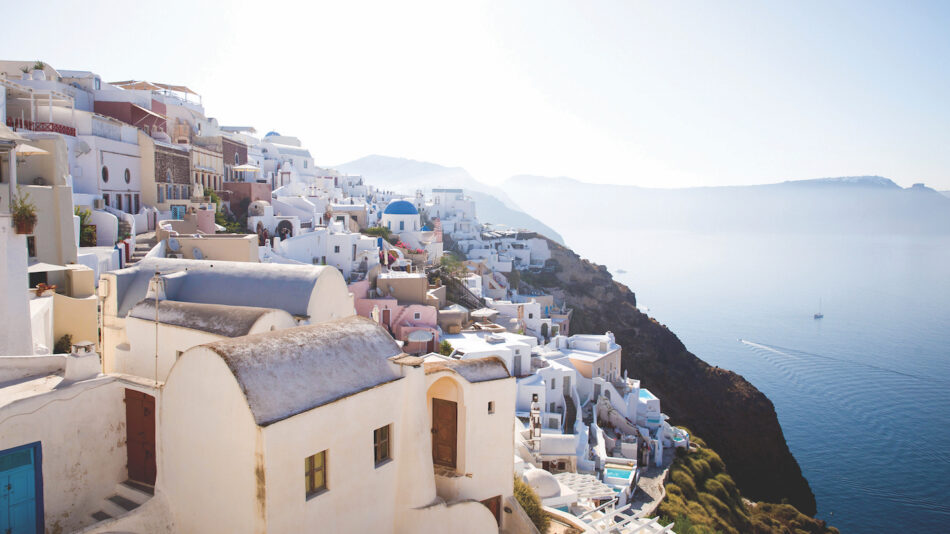 Image source:Contiki
9. The strangest food I've ever eaten… 'sitaphal', India
One of the weirdest but also one of my favourite foods is a fruit in India called a 'sitaphal'. This is the Hindi name for it, but you might know it as a 'custard apple'. On the outside, it looks like a soft version of an artichoke. Inside, it's white with big black seeds – you eat the white meat around the seeds. It has a lovely, creamy flavour with a soft, fluffy texture. You can make a lot of things from it – from shakes to ice cream.
View this post on Instagram
10. The dish that surprised me the most… 'pastel de nata' from Portugal
I was very sceptical about this national bake. The locals LOVE 'pastel de nata'! I don't really like egg tarts but it tasted of anything but egg and was so light and airy, like a delicate croissant. That flakey, gorgeous texture has inspired how I bake and cook some of my sweets back home now.
View this post on Instagram
11. The foodie city I fell in love with… Mexico City
This city is literally a foodie heaven for veggies! One of the most distinctive dishes for me was 'tlayuda' – a cornflour-based tortilla made with blue corn, stuffed with beans and cheese queso. Then, it's pan-fried on an open grill on the streetside, before being topped with cactus, salsa, cotija cheese and fresh cilantro. It's literally one of the best things I've eaten in Mexico. 
Also, check out La Fonda Margarita. Ideal for breakfast, this restaurant was featured on Parts Unknown with Anthony Bordain. The dish to order is 'chilaquiles' (usually fried tortillas, salsa, cheese, refried beans and scrambled eggs) – it was delectable. However I also spotted their freshly made churros in the kitchen. They looked so thick and fat and fluffy, we had to get a few! 
View this post on Instagram
12. The cocktail I make for friends… a 'saffron cardamon spritzer'
When I'm hosting dinner parties, I've basically created a custom cocktail called a 'saffron cardamon spritzer'. It starts with a saffron syrup (homemade, of course) stirred with gin,  topped with elderflower tonic and sprinkled with freshly ground cardamom. It's so beautiful to look at and really brings out the earthy, floral gin. 
13. The last meal I can't stop thinking about… fermented tea leaf salad
I recently went to San Francisco for work and I ate at one of my favourite restaurants, Burma Superstar. They make this really interesting fermented tea leaf salad. They make a paste out of fermented tea leaves and serve it to you alongside a platter of deconstructed salad – lettuce, garlic, tomato, cilantro. Normally, I'm not a salad gal. But this was just exquisite. Burmese cuisine has historically been influenced by Nepal, China and India so for me it combines a lot of the different flavour profiles that I love.