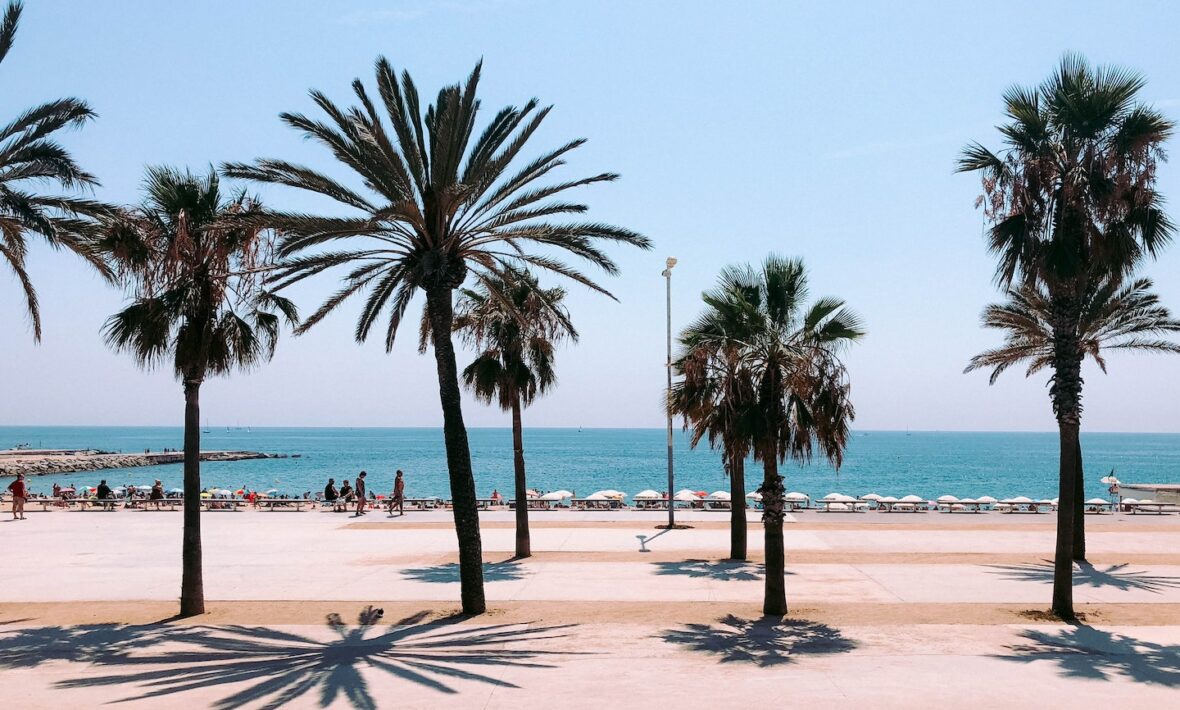 Eccentric. Electrifying. Extremely gory, Killing Eve is back for its fourth season. What's the best bit about Phoebe Waller Bridge's scintillating spy thriller? The acting is impeccable. The plot is frantic and unpredictable. But our fave bits have to be the delectable backdrops against which Villanelle (Jodie Comer) pursues her many unfortunate murder victims. 
Season 4 swings us from the fertile farmlands of Kent, England to the historical mining city of Lupeni in Romania. While previous seasons hit up Barcelona, Paris, Amsterdam, Rome, Berlin, Bucharest…you get the idea. (The series gives Bond a run for its money in the way it chews up spectacular travel destinations). So let's take a deeper dive into some of the best Killing Eve filming locations you can visit IRL…
1. Barcelona, Spain
Early on in the second season, Villanelle commits another gruesome murder in a spice shop in Carrer d'en Mònec, Barcelona. Later, she settles into an incredible Barcelona apartment at La Casa Ramos, Plaça de Lesseps. The stunning Gothic Quarter with its Moorish influence and gorgeous architecture is very her…
View this post on Instagram
2. New Malden, UK
We also find Eve hiding out in New Malden, London's Korea Town, a little further out from the centre of London. Around 29,000 people live here, and upwards of 10,000 of them are Korean. Unsurprisingly, New Malden was home to the original South Korean embassy and it's also where Samsung first established its European headquarters.
3. Russia (but really Viscri, Romania)
Not everything is as it seems on TV shows, and the Killing Eve filming locations are no exception. When the show heads to Russia, the shots were actually captured across a number of small Romanian villages, including Viscri – a beautiful UNESCO World Heritage site.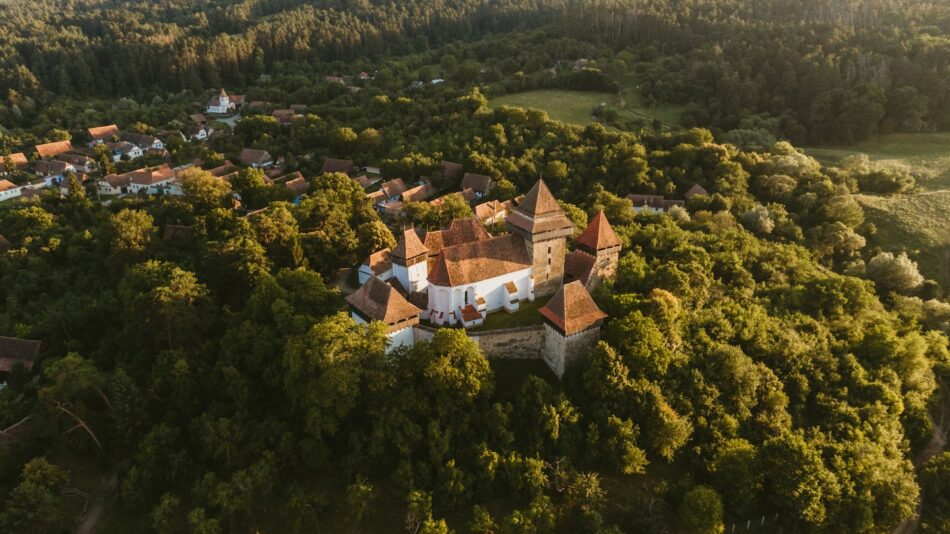 Image source:Lucas Sandor / Unsplash
4. Lower Clapton, UK
One of the key characters' funerals (no spoilers here, don't worry!) was filmed in a local pub called the Clapton Hart in Lower Clapton, East London. It's the perfect example of a traditional London boozer, dating all the way back to the 18th century. You'll spot the gorgeous high ceilings and the uber-cool interiors, but what you don't see is the ginormous beer garden.
View this post on Instagram
5. Holborn, UK
Later in season three, you'll see Carolyn relaxing in the very grand Scarfes Bar at the Rosewood Hotel, before meeting an old acquaintance. This happens to be one of the most refined spots in London – ideal for a late night cocktail, and one of the Killing Eve filming locations you can actually visit in real life.
6. Paris' Place Vendôme, France
Remember THAT bubblegum-pink dress that Villanelle wore in season two? Well, she wore it standing in the centre of the Place Vendôme, in Paris, before she met Konstantin. It's officially one of the most iconic Killing Eve filming locations and this infamous square is in the 1st arrondissement of Paris, home to some of the world's most prestigious jewellery brands. Perfect if window-shopping in Paris is your thing. 
View this post on Instagram
7. Amsterdam, The Netherlands
Perhaps Villanelle's most creative murder in season two was the one she committed in the red light district of De Wallen. According to Lonely Planet, the production designer created his own red light area in a shop front on an Amsterdam street. The beautiful canals and cute coffee houses also feature in the episode, but as you can imagine, our on-screen sociopath doesn't much care for these…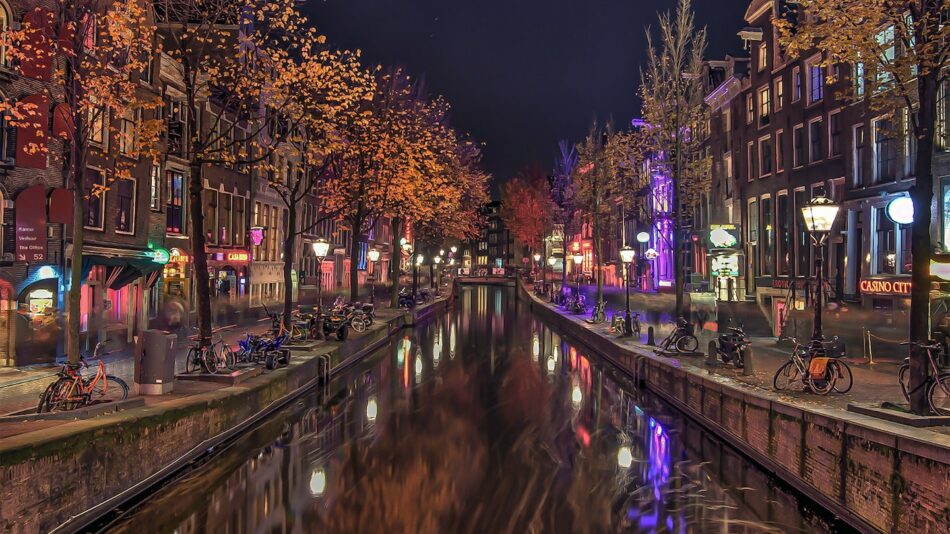 Image source:Zoltan Tasi / Unsplash
8. Oxford, England
Some of the best drama was filmed in the famous university city of Oxford, with specific scenes shot at Magdalen College – one of the wealthiest of the 38 colleges in the institution.
9. Rome, Italy
The final scenes of season two were filmed in and around Rome, culminating in a stand-off between Eve and Villanelle against a backdrop of stunning Roman ruins. Villa Adriana, also known as Hadrian's Villa is located in Tivoli (around 30km from the centre of Rome) is a beautiful site, and while you won't be able to access the tangle of underground tunnels, you can still pay a visit, if you dare…
10. The Romanian Athenaeum in Bucharest, Romania
Again, a little filming magic involved the crew transforming the lobby of this opulent concert hall into Cafe Radozhny – a restaurant in Moscow, for season one's final showdown involving Eve, Konstantin, Villanelle and Konstantin's daughter Irina.
Villanelle and Irina are at Café Radozhny and when Eve and Konstantin arrive, it soon turns into a stand-off. Eve begs Villanelle to come with her – but Villanelle has unfinished business of her own.

Filmed inside the Romanian Athenaeum, Strada Benjamin Franklin #KillingEve pic.twitter.com/WMUKB5GL3A

— Killing Eve filming locations (@KillingEveSites) September 13, 2019
11. Tuscany, Italy
One of our first interactions with Jodie Comer as Villanelle is shown as Vienna, but is really set in Cafe Garibaldi, Colle di Val d'Elsa in Siena, Tuscany. At first we think it's all sunshine and lollipops as the sociopath pulls faces at a little girl on another table, until she deliberately knocks the child's sundae over on her way out. #ClassicVillanelle. She also returns to Tuscany in season 2, alongside some killer outfits too…
View this post on Instagram
12. The Chiltern Hills in Buckinghamshire, UK
Remember the nail-biting country scenes in Season 1, where a gun-slinging Villanelle is dressed head to toe in Barbour and looks more farm than murder-ready? Well, that's shot across the Chiltern Hills and the idyllic villages of Bletcham and Turville in Buckinghamshire – a designated Area of Outstanding Natural Beauty.
Image source:turville.org
13. Lake Snagov in Bucharest, Romania
Did you know that you can actually STAY at Konstantin's house – a beautiful white lakehouse on Lake Snagov, just a 40-minute drive from Bucharest. The home comes complete with its own boathouse and dock, which features in Konstanin's getaway in the show, plus five bedrooms, huge gardens and its own paddleboards, which makes for one of the coolest Killing Eve locations ever. If you ever go to stay, check out the nearby Snagov Monastry, which holds Vlad the Impaler's remains. How very Villanelle…
View this post on Instagram