15 most beautiful places to visit in Ontario this fall
Share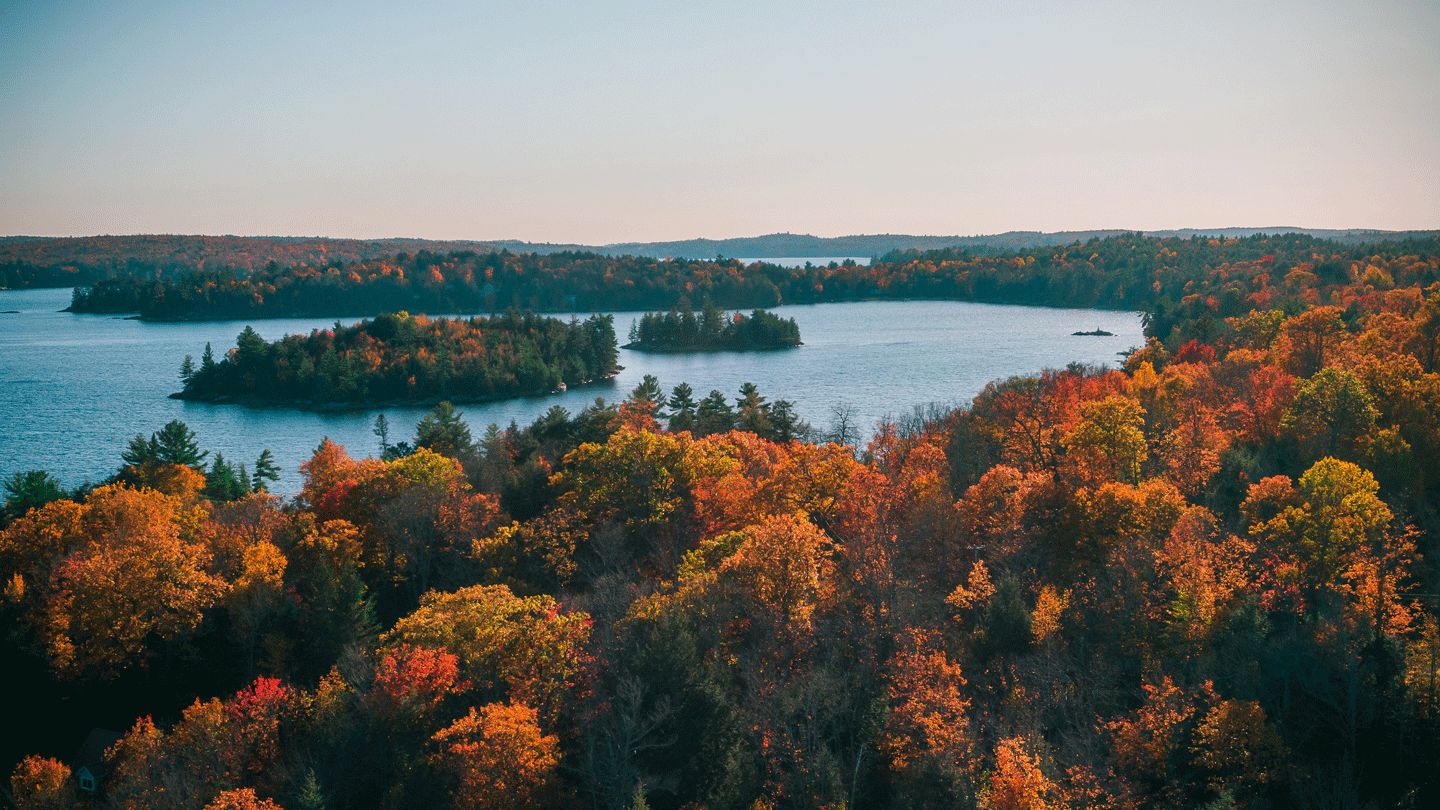 When it comes to Canadian beauty, BC, Alberta, and the Maritimes usually get all the hype. But take it from a local, there are a bunch of places to visit in Ontario that will make your jaw drop too. Fall is one of the most magical times to visit this east-central province, when crisp mornings are illuminated by bright yellow maple leaves and golden Tameracks. But leaf-peeping isn't the only thing to do at this time of year. Here are 15 of our picks for the most beautiful places to visit in Ontario this fall.
15) Blue Mountain
Is it a mountain per se? No. It's a giant hill, but it's the closest thing we have to a mountain and it's still a pretty beautiful place to be. Fall is the Blue Mountain's most colourful season, so soak up those eye-popping panoramas from the Summitview Pavillion or head to the the Harvest Festival for some seasonal fun.

14) Algonquin Provincial Park
Beauty is everywhere, but when it comes to accessibility, size, and variety, there aren't many places to visit in Ontario that can rival the beauty of Algonquin. Algonquin Provincial Park is a camping go-to for locals and has so many stunning rivers, lakes, and types of vegetation to explore. It's a great place to spot Canadian wildlife like moose and bears, it's the perfect place for outdoor activities like canoeing and hiking. The park also has some beautiful beaches and great fishing as well.
13) Niagara Falls
The one, the only, the tourist trap – we know what you're thinking. But Niagara Falls is truly popular for a reason, and we often forget how beautiful and magnificent the falls actually are. You can view them from the Canadian or American side, from the water by boat, or even from behind the falls, but Niagara Falls are really some stunning and beautiful natural wonders. At this time of year you can enjoy lower crowds and more comfortable temperatures, too. See them for yourself on our Eastern Canada Adventure trip.
12) Thousand Islands
1000 Islands is actually over 1800 islands, all located in the St. Lawrence River between the USA and Canada. It's the perfect place for boating, fishing, or relaxing at a cottage. Each island has something beautiful to see, and you'll even find hidden gems as you explore, like lighthouses and castles. The beauty is all around the St. Lawrence River, and the beautiful blue water gives such a stunning contrast to all of the islands of green.
11) Tobermory
When it comes to places to visit in Ontario, this one is on top of most Canadian's bucket lists. Truthfully, the area surrounding Tobermory could have its own list of 15 beautiful spots to explore, but when you combine all it has to offer, you understand why it's so popular. From the ridiculously blue-green waters at Indian Head Cove and the epic Grotto swimming spots to the sunken shipwrecks and stone wonders of Flowerpot Island, you're gonna need to free up some space in that camera roll before your visit.
Bruce Peninsula National Park and Fathom Five National Marine Park provide endless beautiful exploring opportunities in the Tobermory area. It's absolutely worth the drive from the bigger cities for this little piece of natural heaven.
10) Casa Loma
No doubt, when it comes to Canadian cribs, Casa Loma is 'house goals'. Meaning 'Hill House', this stunning former estate of one of Canada's biggest businessmen is now owned by the city of Toronto. Casa Loma was built in 1914 and remains one of the city's proudest historical landmarks.  And it has it all; from secret passageways to grand ballrooms and towers, to its gorgeous grounds, it really is a mini castle right in the city. It's one of Canada's most beautiful buildings, and it's the perfect place to explore on an afternoon. Keep it in mind if you're planning out your free time on our trip through Ontario & Quebec in a Week.
9) Ouimet Canyon
We may not have anything to rival the Grand Canyon in Ontario, but Ouimet Canyon is still pretty amazing. Ouimet is about 100 meters deep and provides a beautiful combo of golden forests and rock formations. Plus, you'll find amazing trails and lookout points in the park and have the chance to see arctic plant life as well in the canyon.
8) Muskoka
Ontario's cottage country is legendary. Our province actually has over 250,000 lakes with about 20% of the world's freshwater supply. Thanks to those lakes, there are so many beautiful places where you can be close to the water and stay the night in a cabin or tent.
Muskoka in particular provides some of the most rugged natural scenery, with endless beautiful lakes to choose from in close vicinity to each other. It's also one of the best places in Ontario to admire leaf colours in the fall and there are few places in Canada more stunning to spend this season.
7) Albion Falls
The Hamilton area is known for having many beautiful waterfalls to see. Regardless, Albion Falls is probably the most impressive and picturesque of the bunch. The falls are wide and have a bunch of rock steps throughout. This unique feature allows the water to fall in beautiful ripples down the cliffside. It's a natural stunner and definitely a local favourite.
6) Parliament Hill
It would feel unpatriotic to speak of beautiful buildings and leave out our capital. Thankfully, Parliament Hill is a beautiful spot in Ottawa that makes the list. The limestone hill is home to our Parliament Buildings and the Centennial Flame, and it's a stunning spot to visit. The three beautiful historic Gothic buildings of the Parliament were built between 1866 and 1927. See their beauty for yourself when you visit Ottawa on our trip through Ontario & Quebec in a Week.
5) Sandbanks Provincial Park
There are a few key components to a quality beach experience, and the beaches at Sandbanks tick all of the beautiful boxes. The sand at Sandbanks is clean, vast, and light, the water is a stunning blue with a gradual drop-off in-depth, plus the facilities are top-notch. It may be popular in the summer, but it's fabulous in the fall, too, with stunning hiking trails and great birding opportunities. As far as Ontario beaches go, you can't ask for much more, especially in the looks department.
4) Thunder Bay
The drive may be a bit daunting for those of us in southern Ontario, but the 15-hour trip is worth it to marvel at the sights of Thunder Bay for yourself. Lake Superior and the Thunder Bay area offer some of the best natural beaches, waterfalls, and cliff views in the province. A visit to the city also comes with the chance to see the Sleeping Giant – a hill across the bay that actually looks like a giant fast asleep with his arms crossed over his chest.
3) Cheltenham Badlands
Ontario is nothing if not diverse, especially when it comes to scenery. The Cheltenham Badlands are a treasured landscape that many locals don't even know exists in our province. These beautiful rolling red rocks will make you feel like you've made a detour in the desert. The Badlands in Caledon are a unique gem in Ontario and give off definite Mars or Arizona vibes.
Niagara Escarpment
Although some of the previously mentioned places to visit in Ontario fall along the escarpment, we had to include one point to encompass everything else beautiful about the area. The Niagara Escarpment encompasses so much of the beautiful fall colours of Ontario and has some of the oldest trees on the continent.
Niagara-on-the-Lake and the lovely wine country we have in Ontario can be found along the escarpment. We can also thank the escarpment for the ton of beautiful waterfalls and cliffs in the area. The Bruce Trail follows the escarpment all the way to Tobermory, and it's one of the most popular and beautiful hiking routes in Canada.
1) Manitoulin Island
Ahhh, island life, but Canadian style… This stunner in Lake Huron, northern Ontario, is the largest freshwater island in the world. Manitoulin provides a beautiful glimpse into some aspects of Canadian Indigenous culture, and with its rustic beauty and secluded vibe, it offers an idyllic setting to relax in.
The island itself has over 100 lakes to explore, along with waterfalls, trails, beaches, and lighthouses which are all hidden within the rugged scenery of Manitoulin. The cup and saucer trail in unmissable – especially in the fall when you're faced with a sweeping mosaic of colours. Plus, in the peak months of fall, it happens to be one of the best places to see the Northern Lights. You don't want to miss this one.