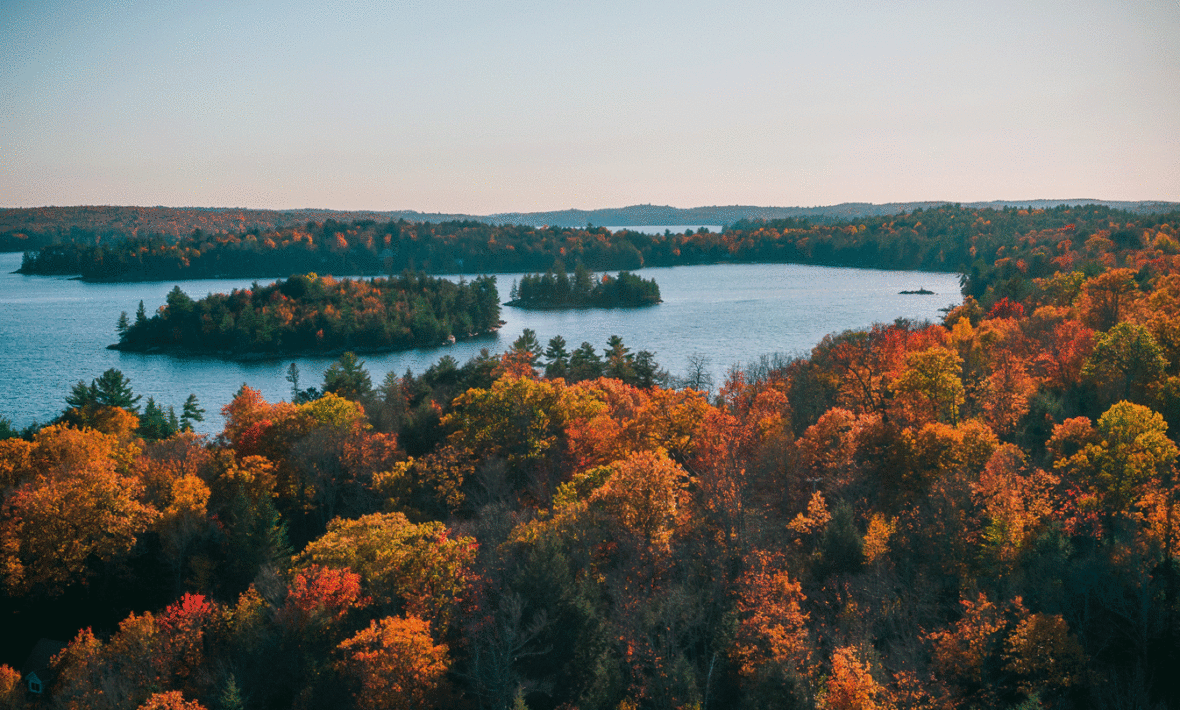 When it comes to Canadian beauty, British Columbia, Alberta, and the Maritimes usually get all the hype. But take it from a local, there are a bunch of places to visit in Ontario that will make your jaw drop too. 
From countless Provincial parks brimming with campsites and sandy beaches, sparkling blue lakes perfect for canoeing and fishing, to the luxurious cottages in Northern Ontario and rugged landscape of the Canadian Shield, Ontario shouldn't be left off your travel bucket list.  
Fall is one of the most magical times to visit, when crisp mornings are illuminated by bright yellow maple leaves, golden Tameracks, and deep reds that are unique to this beautiful province. But leaf-peeping isn't the only thing to do at this time of year. Here are our picks for the most beautiful places to visit in Ontario this fall.
1. Albion Falls
The Hamilton area is just a couple hours drive west of Toronto, located at the tip of Lake Ontario and part of the Niagara Escarpment. Aside from being home to McMaster University, it's known for having many beautiful waterfalls to see, with Albion Falls being arguably the most impressive and picturesque of the bunch.
The falls are wide and have a bunch of rock steps throughout. This unique feature allows the water to fall in beautiful ripples down the cliffside. You can't walk down to the water, but you can take in its spectacular views safely from a viewing platform. It's a natural stunner and definitely a local favourite.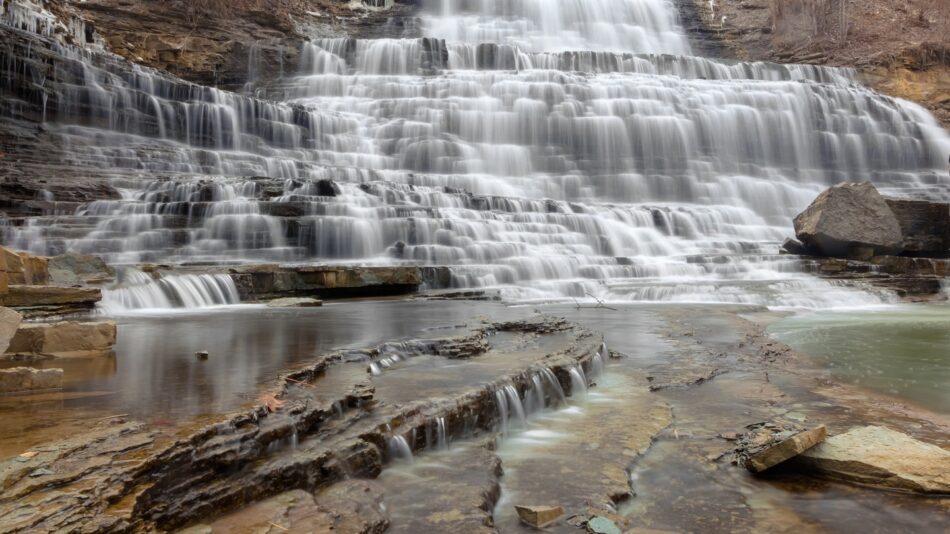 Image source:Joe deSousa / unsplash
2. Ouimet Canyon
We may not have anything to rival the Grand Canyon in Ontario, but Ouimet Canyon is still pretty amazing. Ouimet is about 100 meters deep and provides a beautiful combo of golden forests and rock formations. Plus, you'll find amazing trails and lookout points in the park and have the chance to see some unique arctic plant life as well.
3. Norfolk County
Don't sleep on the southern parts of Ontario, it's got some great gems for fall foliage too! Head towards Lake Erie and make a stop at Long Point Provincial park, whose natural landscape has been recognized as a UNESCO World Biosphere Reserve. 
After a day of adventures, you can head to one of the award winning wine and craft beer makers in Norfolk County. Or perhaps you can relax in style at an eco-resort with glamping tents and wooden pods while enjoying one of the best views of the biosphere reserve! 
4. Killarney
Why not checkout "the jewel of the Ontario parks system" and the place that inspired many works of art by iconic Canadian painters, commonly known as the Group of Seven. Here you can get lost in the stunning Canadian wilderness from the Georgian Bay Coast's pink granite, to the La Cloche Mountains' white quartzite ridges. Oh, and did I mention the sapphire lakes near Jack Pine hills? 
Throw on your hiking shoes and give the trails a try, and if you're up for a challenge, hike the incredible 80 km loop of the La Cloche-Silhouette Trail. 
5. Agawa Canyon
Not much of an outdoorsy person but still want to enjoy the fall leaves? Not to worry. You can hop on a train that takes you right through the rugged landscapes unique to Northern Ontario. 
The Agawa Canyon train ride is one of the most popular train routes in North America and for good reason. There's a full day tour specifically designed to show off the best of the fall foliage and a spectacular view of Agawa Canyon Park. As a bonus, Bridal Veil Falls and Black Beaver Falls are close by!
6. Sleeping Giant Provincial Park
This iconic Ontario landmark has much more to offer than just a cool photo op. Once you've snapped your pic of the Sleeping Giant, a natural rock peninsula, rising out of the shining waters of Lake Superior, enjoy over 100 km of trails through the boreal forest. And if you're not afraid of heights, spend a day hiking to the summit of Ontario's tallest vertical cliffs! 
Keep your eyes peeled, it's also a great place to spot all sorts of Canadian wildlife, like deer, wolves, foxes and over 200 bird species.
7. Niagara Falls & Niagara-on-the-Lake
The one, the only, the honeymoon capital of the world – Niagara Falls. This area is truly popular for a reason, and we often forget how beautiful and magnificent the falls actually are. You can view them from the Canadian or American side, from the water by boat, high in the sky in a helicopter, or even from behind the falls. Niagara Falls is really a stunning and beautiful natural wonder. At this time of year you can enjoy lower crowds and more comfortable temperatures, too. See them for yourself on our Eastern Canada Adventure trip.
Not to mention, with a quick half hour drive from the touristy streets of Clifton Hill, you can find yourself in the much quieter, picturesque town of Niagara-on-the-Lake. This small town is straight out of a Hallmark movie, nestled in the heart of the wine region of Ontario. With quaint boutiques, antique shops, a world class theater, stunning waterfront views and perhaps a horse drawn carriage wandering the streets, you'll quickly understand why this spot was named the prettiest town in Ontario.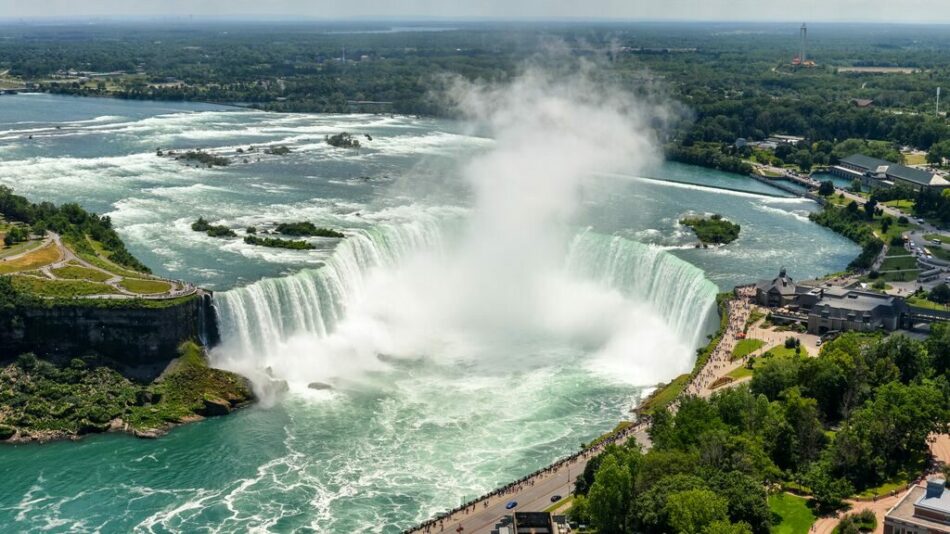 Image source:Contiki
8. Rouge Urban National Park
When you think of Toronto, you might not think of vast forests and acres of hiking trails, but the city is actually home to Canada's first (and only) Urban National Park. That means you can take the train or city bus and be able to enjoy stunning wilderness right in the middle of a bustling city that's 22 times larger than Central Park! 
The Rouge has over 12 kilometers of hiking trails that take you through meadows, farmlands, forests and wetlands across 60 acres of protected land, making it a diverse and very accessible area to enjoy what the fall season has to offer.
Not to mention, it's also home to Toronto's only designated campground that's RV friendly, so call up your friends for a quick and easy weekend getaway! 
9. Prince Edward County
Not to be confused with the home of freckled redhead Anne of Green Gables, Prince Edward Island, Prince Edward County is home to nine different regions, each with their own distinct charm. 
Whether you're wanting to relax by the waters edge at Sandbanks (one of the best sandy beaches Ontario has to offer), or wander the quaint Canadian version of Stars Hollow (from Gilmore Girls!) that is Picton, there's something for everyone!  
The area has strong agricultural roots and was once known as the Garden County of Canada, so it's no surprise they go full out in the fall! With music festivals, Pumpkinfest, Halloween events and more, this area is full of sights and activities. 
10. Georgian Bay & Blue Mountains
Perfect for a weekend getaway, why not head towards the honorary sixth Great Lake, Georgian Bay. Here you'll find nearly 2,000 kilometers of shoreline, 30,000 islands, clear blue waters and towering cliffs where you can enjoy all sorts of fun fall activities. 
Also nestled on the shores of Georgian Bay, is the Blue Mountains. Are they mountains per se? No. They're technically a giant hill, but it's the closest thing we have to a mountain and it's still a pretty beautiful place to be. Fall is the Blue Mountain's most colourful season, so soak up those eye-popping panoramas from the Summit View Pavilion or head to the Harvest Festival for some seasonal fun.
11. 1000 Islands
The 1000 Islands is actually over 1800 islands, all scattered along the St. Lawrence River between the USA and Canada. It's the perfect place for boating, fishing, or relaxing at a cottage. Each island has something beautiful to see, and you'll even find hidden gems as you explore.
The beauty is all around the St. Lawrence River, and the beautiful blue water gives such a stunning contrast to all of the islands of green. If you have the time you can check out the famous Boldt Castle on Heart Island by boat or by helicopter!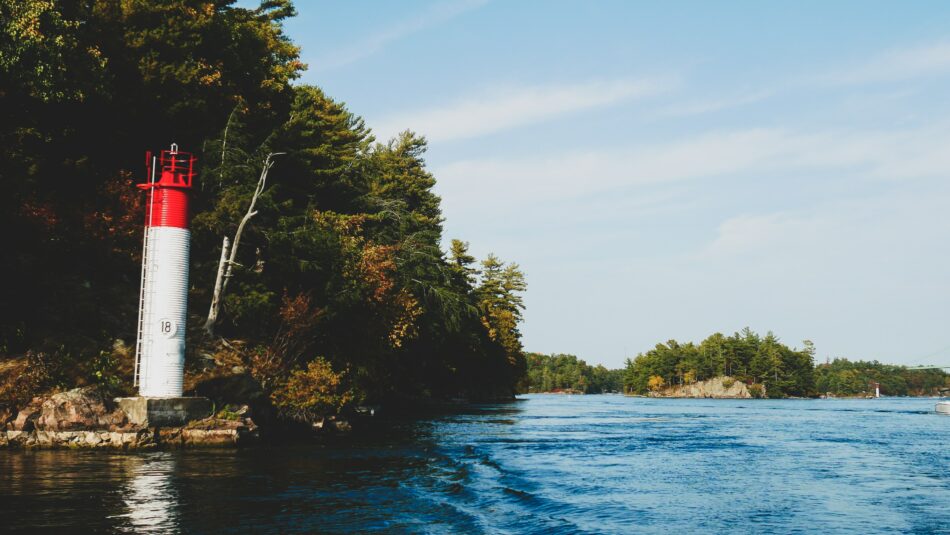 Image source:Patrick Lalonde / unsplash
12. Kawartha Highlands Provincial Park
Just a 2-hour drive from Toronto, this Provincial park is a great choice if you want to get out of the hustle and bustle of the city and enjoy the beautiful fall foliage without having to drive as far north as Algonquin! It's also not as well known to tourists, so you'll be able to relax in a more serene, quiet park to really take in all that nature has to offer. 
For those of you who love to canoe, or want to give the good ole' Canadian pastime a go, you'll be in paddling heaven. Kawartha is a great place for novice paddlers and portage pro's alike – there's guided tours you can book, and over 100 well maintained backcountry sites to adventure to.
13. Tobermorey
When it comes to places to visit in Ontario, this one makes it on most Canadian's bucket lists. Truthfully, the area surrounding Tobermory could have its own list of 15 beautiful spots to explore, but when you combine all it has to offer, you understand why it's so popular. From the ridiculously blue-green waters at Indian Head Cove and the epic Grotto swimming spots to the sunken shipwrecks and stone wonders of Flowerpot Island, you're gonna need to free up some space in that camera roll before your visit. 
Bruce Peninsula National Park and Fathom Five National Marine Park provide endless beautiful exploring opportunities in the Tobermory area. It's absolutely worth the drive from the bigger cities for this little piece of natural heaven.
14. Manitoulin Island
Ahhh, island life, but Canadian style… This stunner in Lake Huron, Northern Ontario, is the largest freshwater island in the world. Manitoulin provides a beautiful glimpse into some aspects of Canadian Indigenous culture, and with its rustic beauty and secluded vibe, it offers an idyllic setting to relax in.
The island itself has over 100 lakes to explore, along with waterfalls, trails, beaches, and lighthouses which are all hidden within the rugged scenery of Manitoulin. The cup and saucer trail is unmissable – especially in the fall when you're faced with a sweeping mosaic of colours. Plus, in the peak months of fall, it happens to be one of the best places to see the Northern Lights. You don't want to miss this one.
15. Algonquin
Just a couple hours drive from Toronto, Algonquin Provincial Park is the oldest Provincial Park in Canada, and is the best place to visit if you want to take in those stunning fall colours that are unique to Ontario. The Ontario Park website even has a fall colour report that shows you when and where is the best place for peak foliage! 
If you're looking to get away from the city and connect with nature, this is the spot. From world class trout-fishing, beginner friendly and experienced hiking trails, to car and portage only camping sites, you'll never want to leave. Not to mention, Algonquin Provincial Park is also a great place to spot Canadian wildlife like moose and bears!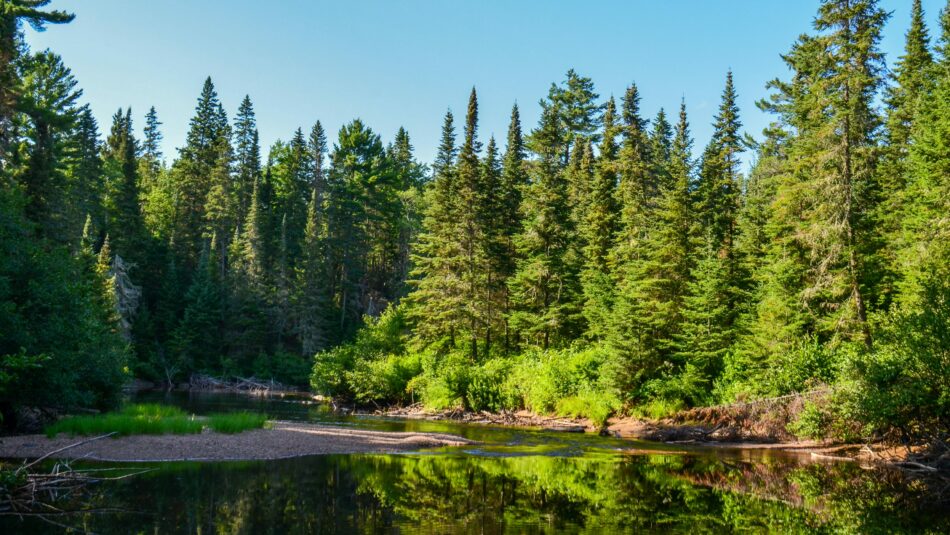 Image source:Ariana Kaminski / unsplash
16. Muskoka
Ontario's well known for its iconic cottage country, so it should come as no surprise that Muskoka makes it to the top of the list. This province actually has over 250,000 lakes and holds about 1/5th of the world's freshwater supply. Thanks to those lakes, there are countless places where you can be close to the water and stay the night in a luxurious cabin (which are more like mansions) or tents. It's also a spot where the rich and famous come to get some R&R, so you might even be neighbours with your favourite celebrity if you're lucky! 
Muskoka in particular provides some of the most rugged natural scenery, with endless beautiful lakes to choose from in close vicinity to each other. It's also one of the best places in Ontario to admire the best leaf colours in the fall thanks to the sprawling views of Canadian boreal forests.