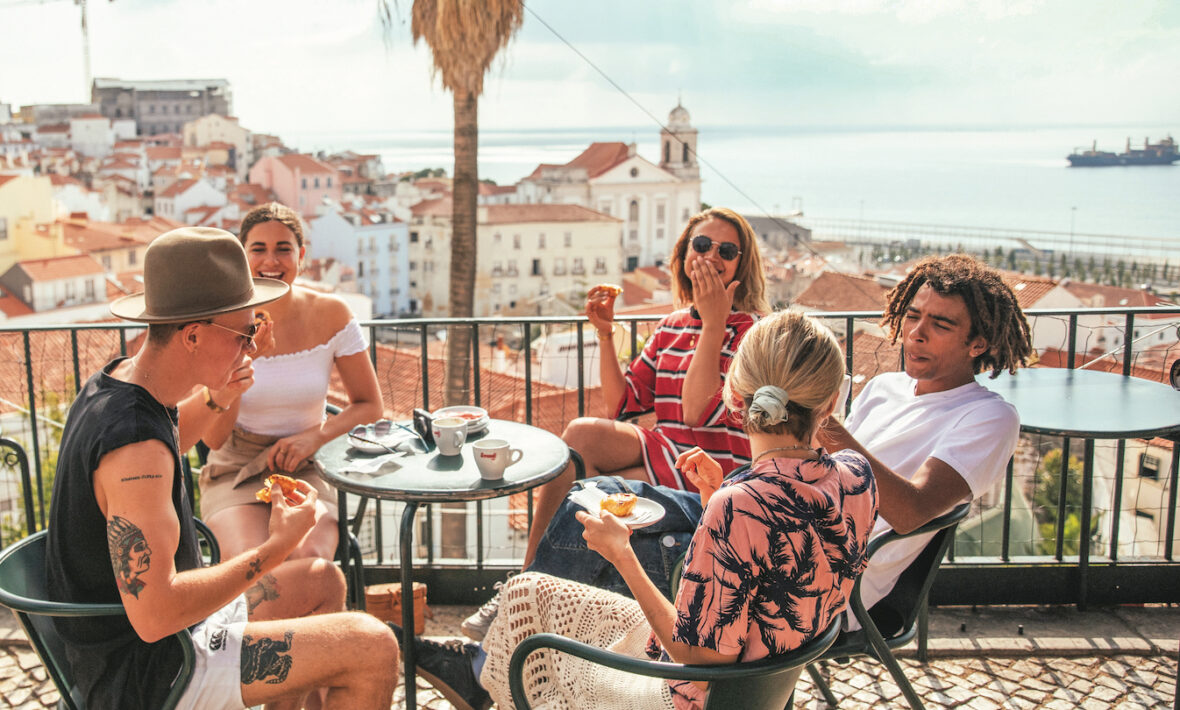 There are heaps of things to do in Portugal but if you're looking for unique experiences you won't forget, a standard list won't cut it. We're here for sights, smells, tastes and treats that offer a point of difference. Forget restaurants, beach bars and sun-loungers. Instead, try sampling local Portuguese delicacies in a host's home as they regale you with tales of their neighbourhood, or discovering the rich complexity of a community and its stories through a vibrant street art tour. 
If you're looking for great culture, great vibes and great people, then trust us –  this is the only list you need to read. And you get to cover all this and more on Contiki's Portugal City & Surf trip!
1. Sample the country's culinary delights
There's no better way to get under the skin of a city than to eat and drink your way around it. Lisbon is a great place to sample some of the finest local delicacies. Highlights include salt-grilled sardines, fresh seafood, piri piri chicken, bifanha (a sinfully good salty pork sandwich marinated in white wine, garlic and spices) or bacalhau, the nation's famous salt cod. On the sweet side, Portugal's fresh and flaky custard tarts, aka Pastel de nata, are arguably one of the best desserts you'll try. Wash it all down with local lagers, Port wine, and the country's famous green wine. Culinary paradise – Bom apetite!
Where: Lisbon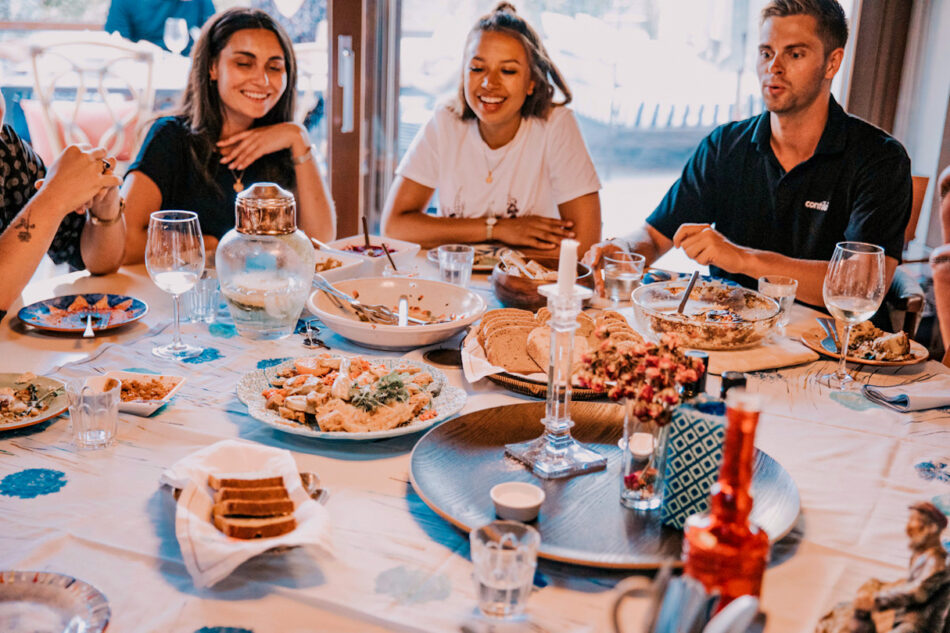 Image source:Contiki
2. See Aviero, Portugal's mini-Venice by boat
Visit the coastal city of Aveiro for major Venetian vibes with a Portuguese flair. Known as the 'Portuguese Venice', stunning Aveiro is best explored by the local boats called moliceiros. You'll glide through the city in style, enjoying a breezy ride in these colourful versions of a gondola. Aveiro is a proper hidden gem and underrated must-see on the list of things to do in Portugal. Don't miss it.
Where: Aveiro, near Porto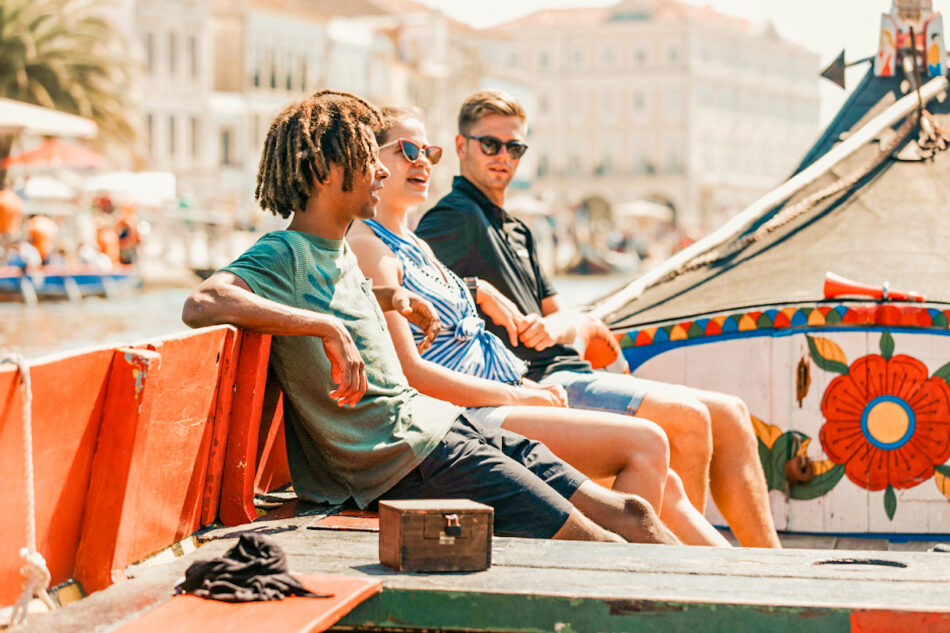 Image source:Contiki
3. Reach new heights when you climb the Arrábida Bridge
We're all about great views and photo ops on trips, and this unique experience in Porto delivers both. The Arrábida Bridge was once the largest concrete arch in the world, spanning the Douro River between Porto and Vila Nova de Gaia. Today, it's one of Portugal's most iconic structures. It's also the only bridge climb in all of Europe. Get harnessed in, climb the Arrábida Bridge, and enjoy epic views across the whole of Porto – and a pure adrenaline rush.
Where: Porto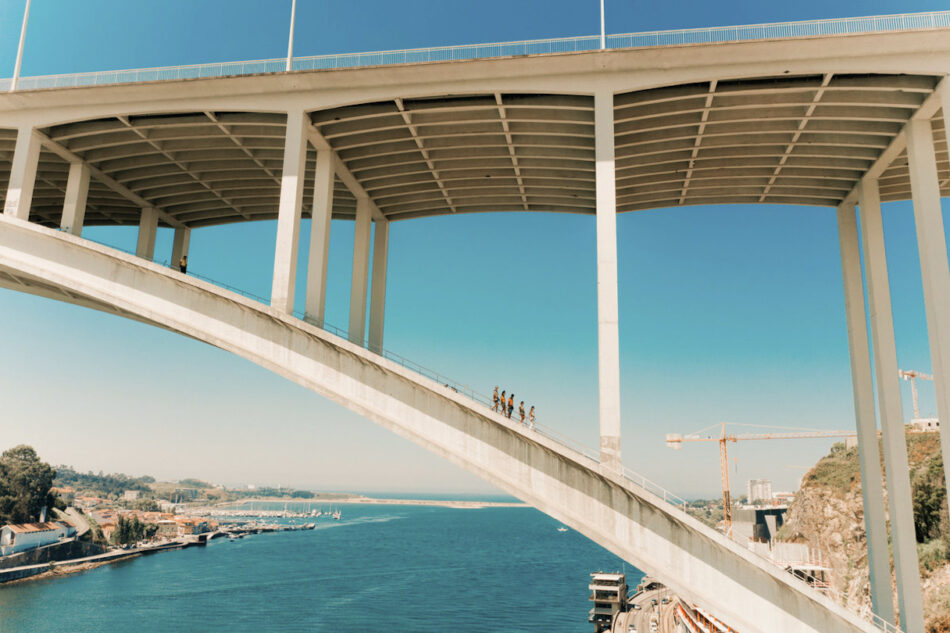 Image source:Contiki
4. Discover street art and stories in a tour through Cascais
Part of Contiki's MAKE TRAVEL MATTER® Experiences, Cascais through Art is a unique street art tour that shows travellers the beauty of Cascais through a local's perspective. The once notorious neighbourhood, Bairro da Torre, has undergone a transformation, with bursts of colour and striking murals revitalising its previously dull, damaged buildings. Explore by foot as you listen to local artist's share personal stories of the neighborhood's transformation and unity. It's an urban art gallery unlike anywhere else you'll see.
Where: Cascais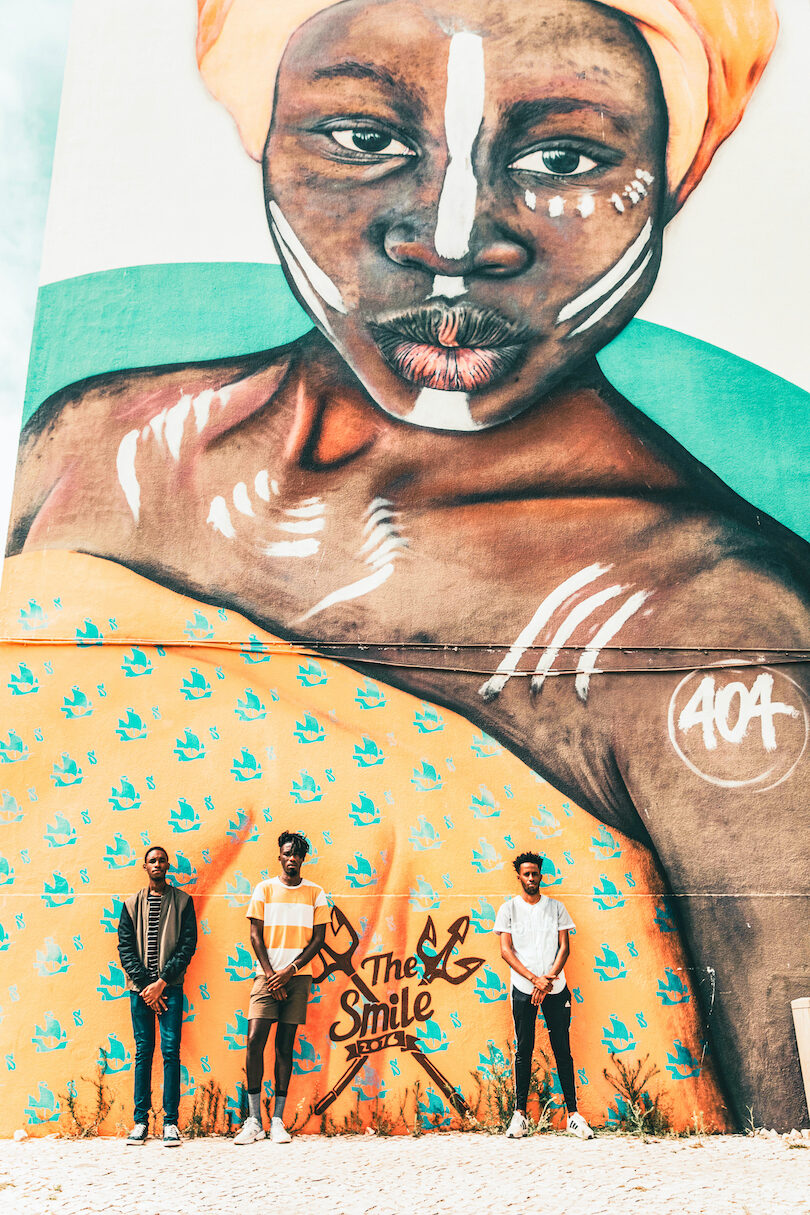 Image source:Contiki
5. Enjoy authentic dining experiences in a local's home
Nothing quite beats the passion, authenticity, and warmth of a home-cooked meal. Especially when someone cooks it for you! After you've sampled Portugal's best restaurants and food markets, the only way to top your culinary bucket list is by eating with the locals. On the City & Surf trip you can tuck into the table at a beautiful riverside home for a delicious, immersive dining experience. Hosted by a Porto native, you'll be fed like you're family as you sample everything from homemade bread, pies, soups, ice cream and warm peaches, picked straight from the garden.
Where: Porto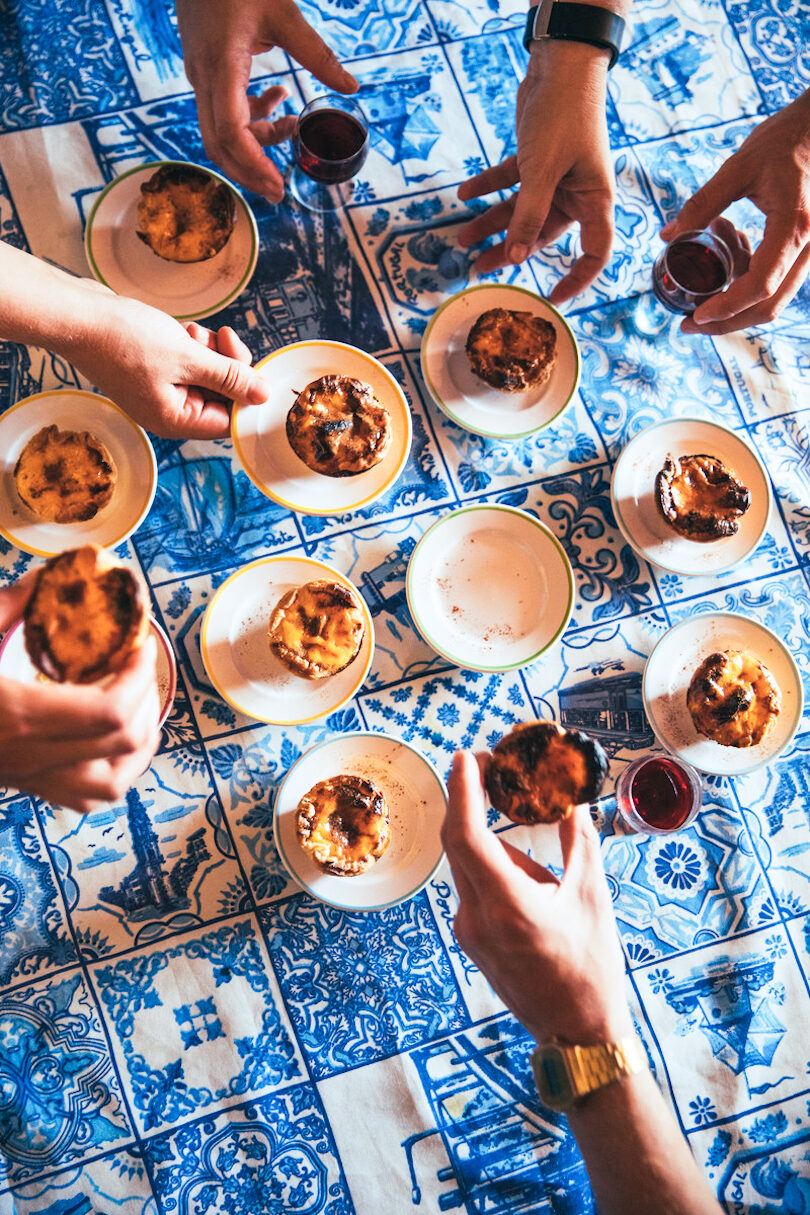 6. 'Gram the famous Azujelo blue tiles
In cities like Lisbon and Porto, tiles are the architectural accents of choice – and we're all about it. They can be blue, they can be colourful, but they're always beautiful, and you'll find them all over the city. Filling your feed with these stunning mosaics always tops any IG-lover's list of things to do in Portugal. The traditional tiles of Portugal are called azulejos, and they make for the perfect selfie, candid, OOTD, or group shot photo backdrop. Find your faves and get major home décor inspo from these stunning works of art.
Where: Lisbon and Porto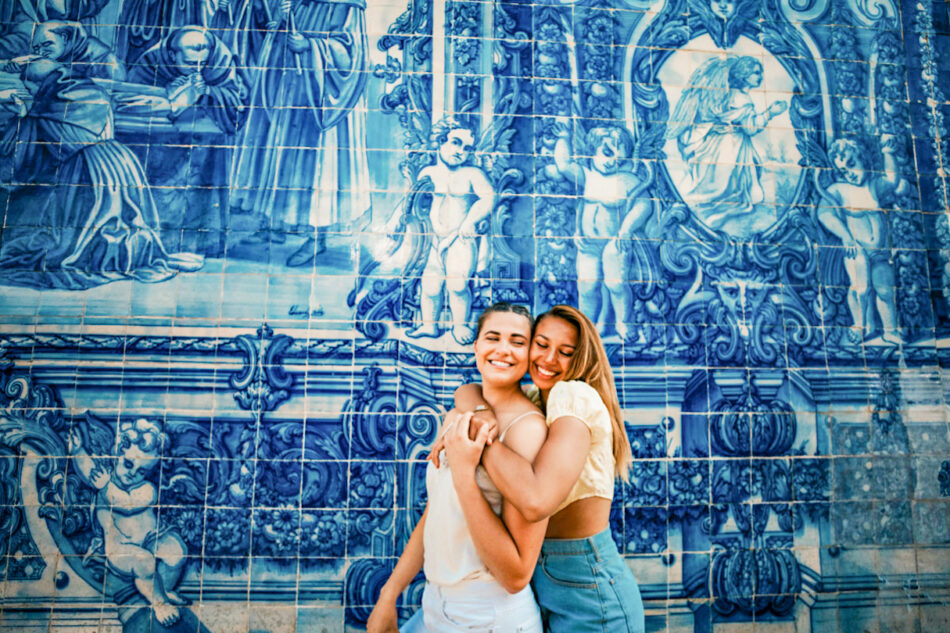 Image source:Contiki
7. See What'SUP with the waves when you (Stand Up) Paddleboard
If you're less down with splashing around on a surfboard, why not give paddle boarding a go instead? SUP, aka Stand-Up Paddle Boarding, means you'll generally be upright, it's a bit more low-key, but you'll work those ab muscles nonetheless. Another great core workout if you reckon you need it or just a super fun way to soak in the sea, sun and surroundings with a big ole' board and an oar. Either way, it beats your standard swim AND you might even stay dry (if you're lucky).
Where: Peniche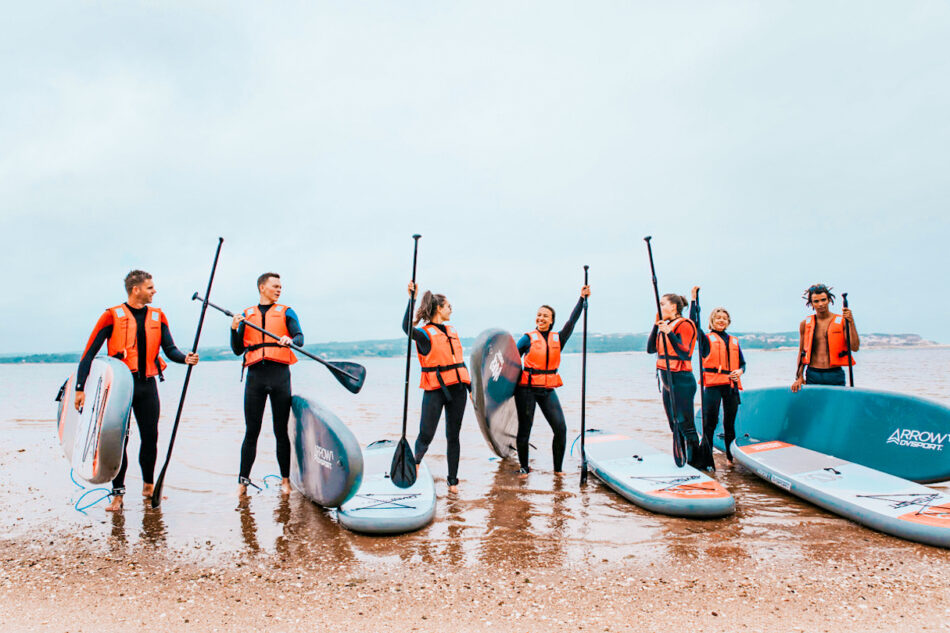 Image source:Contiki
8. Stay in boutique hostels with #goodvibes only
You can have all the fun in the world doing epic activities and soaking up Portuguese culture, but it'll be tempered if you don't have a lush space to chill out or lay your head at the end of a full day. Luckily, Selina Hostels cover all bases here. Is it a workspace? Is it a wellness retreat? Is it the best accommodation you've ever experienced? Tick, tick, tick! Not only do Selina Hostels look good, they feel good too. Expect positive energy, cool peeps, yummy food, rooftop yoga, and for those that want it, music, and dancing galore.
Where: Porto and Lisbon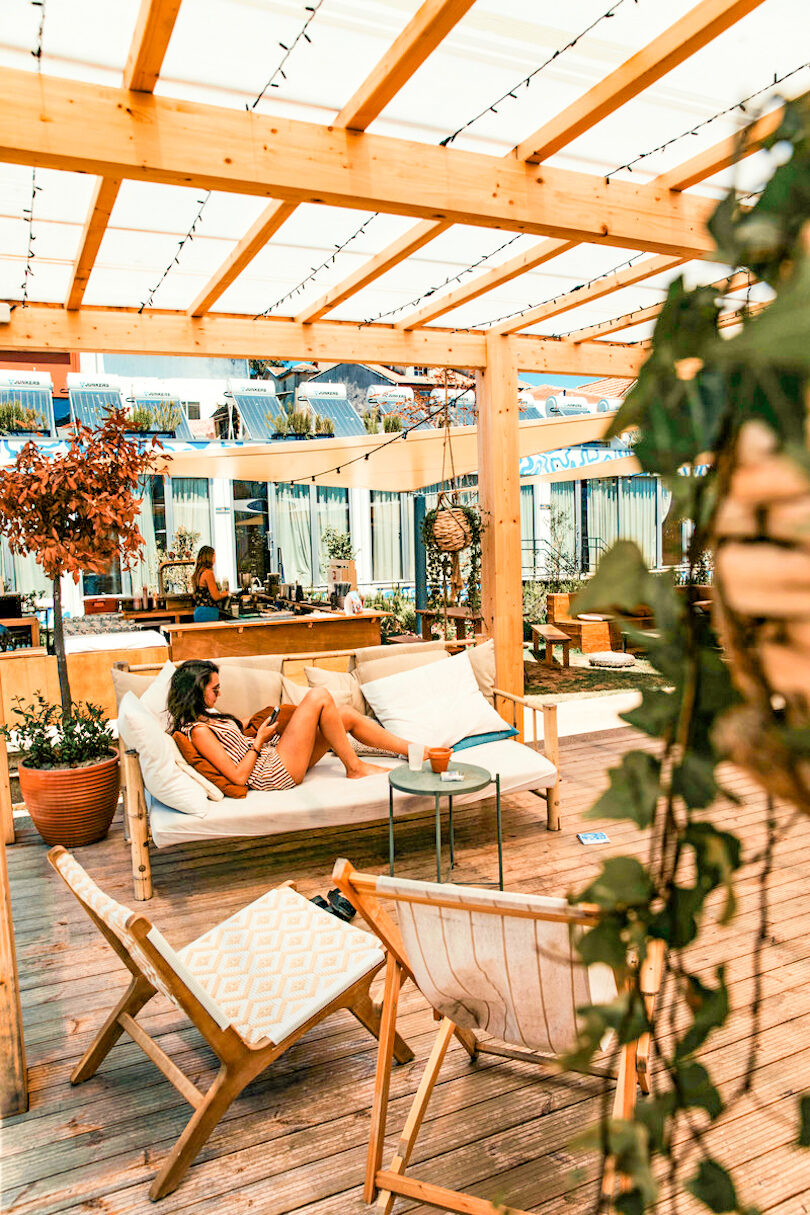 Image source:Contiki
9. Breeze through Porto's iconic sites on an E-Bike
One of the most fun, easy things to do in Portugal to help see the sites is to hop on an E-Bike. Luckily, Porto's got plenty! That's because the city's preeeetty hilly but this way, you get to cover loads of ground and you won't wear yourself out. The electric engine will help you conquer Porto's peaks and give you a taste of 'green' transport. Nifty, cool, planet-friendly – now that's our view of fitness made fun.
Where: Porto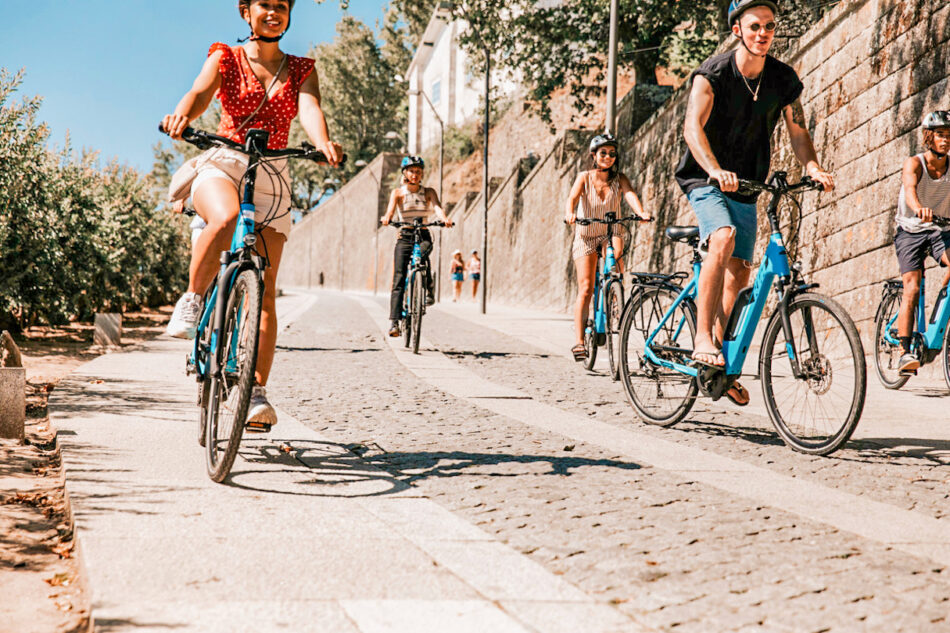 Image source:Contiki
10. Explore the charm of Lisbon on its famous tram ride
If an E-Bike isn't for you, enjoy a journey on one of Lisbon's classic trams; these charming, cheery delights are over 100 years old, but they remain an integral part of the city's transport network with plenty of the original features still intact. Tootle through the city at a leisurely pace, enjoy a tour of Lisbon's most historic districts on a pocket-friendly budget, and snap pics to your heart's content. Look out for picturesque sites like Rua das Escolas Gerais and Lisbon's famous cathedral en route.
Where: Lisbon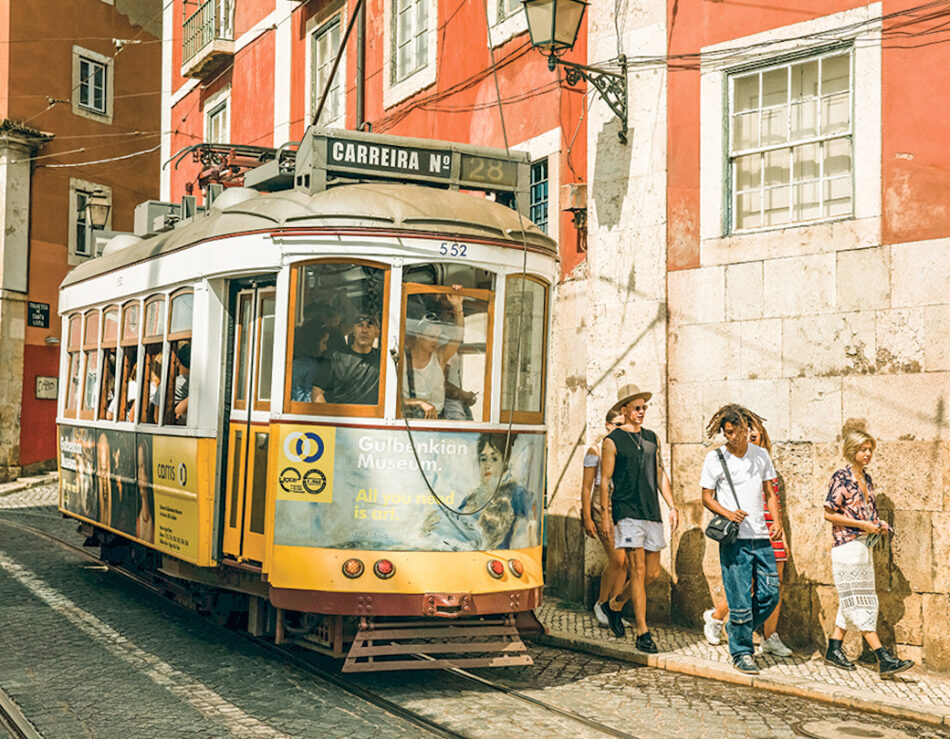 Image source:Contiki
11. Find your people, then discover it all together
We've given you our top list of the very best things to do in Portugal but even the most iconic sites and awesome experiences will be diluted if you've not got your crew to entertain you. Sure, a selfie by the tiles is great, but aren't the two grinning faces of you and your new Contiki-bestie even better? That's why we're all about traveling together, making memories, and building friendships to last a lifetime. And that's ultimately what sets the charm of Portugal, and this list, apart from all the rest.
Where: When you travel Contiki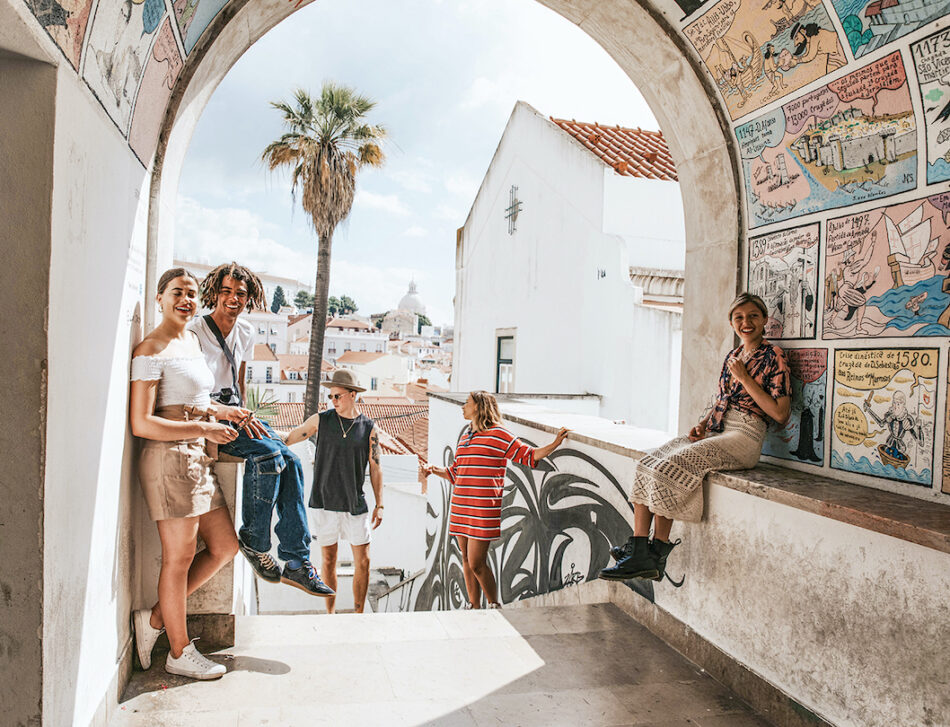 Image source:Contiki
In partnership with Visit Portugal