10 of the best Easter foods from around the world
Share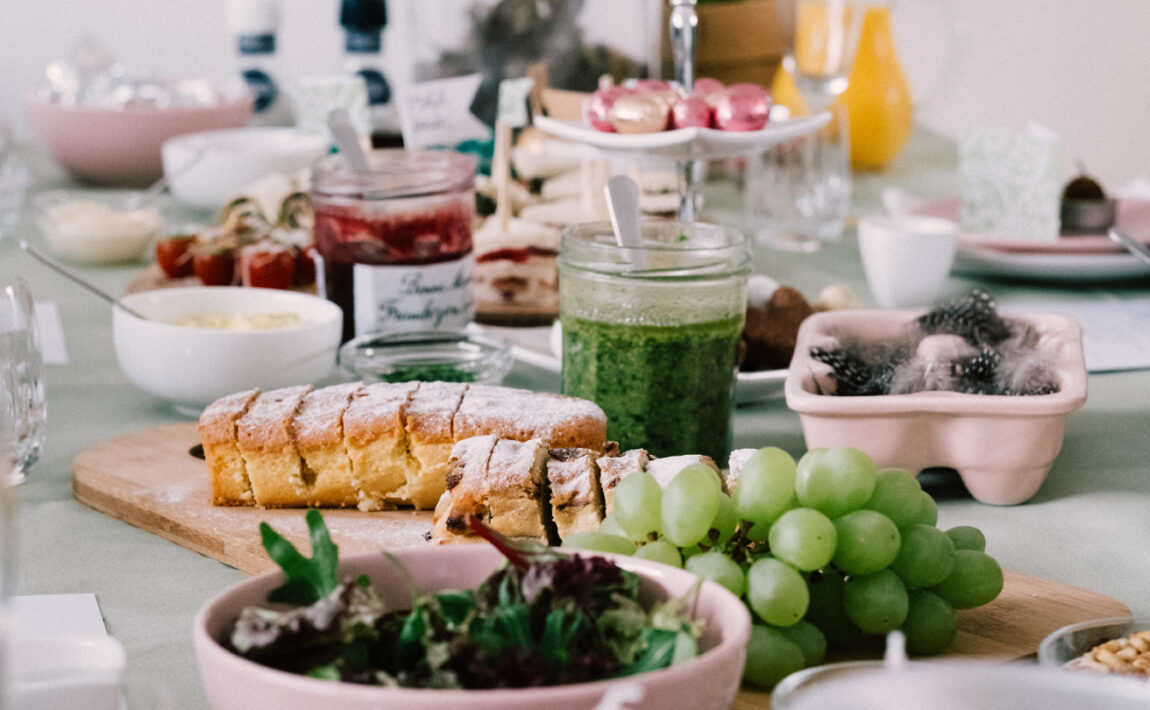 Ever wondered how other countries celebrate Easter around the world? Every community has their own unique traditions, but for us the best part HAS to be the sheer number of delicious, traditional Easter foods that friends and family prepare for the special holiday. Ranging from sticky British hot cross buns to fruity Russian brunches, we've pulled together a list of our favourite traditional Easter dishes from around the world… Tuck in!
10. Hot cross buns – United Kingdom
Known as one of the most popular Easter foods from around the world, hot cross buns are a classic spiced sweet treat among the Brits! Made with fruit, the hot cross buns stem back to the 12th century as a traditional Easter food in Great Britain. These buns used to be only eaten on Good Friday and marked with a cross on the top. In the 16th century, Queen Elizabeth I passed a law that hot cross buns could only be sold for funerals, during Christmas and on the Friday before Easter. There is also an old superstition surrounding hot cross buns. Many believe hot cross buns were only sold on Good Friday because these buns would never go stale.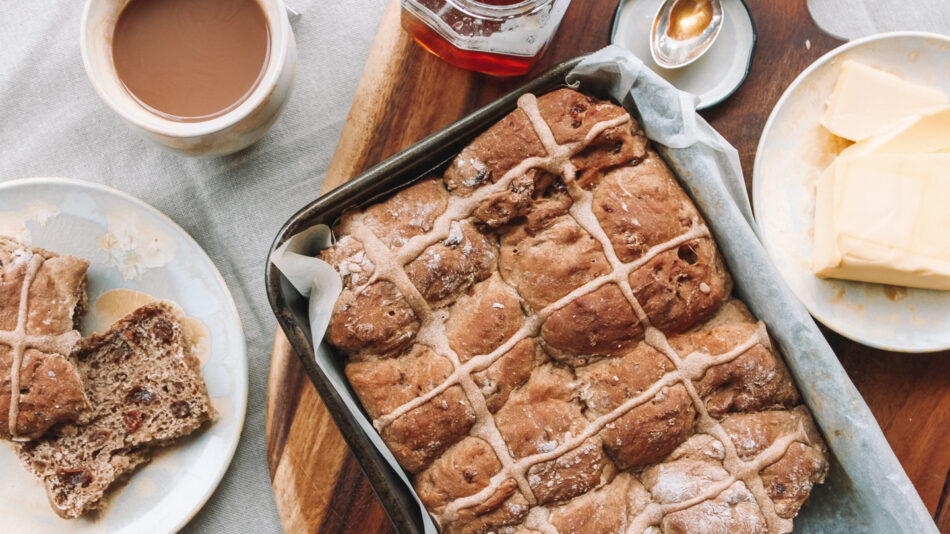 Image source:Photo by Maddi Bazzocco
9. Easter bun & cheese – Jamaica
Jamaica has put their own spin on a traditional Easter food from the United Kingdom. Over time, this previous British colony transformed the hot cross bun into a loaf. For additional sweetness, Jamaicans substitute honey for molasses and dried fruits. It's basically a yummier version of the traditional hot cross bun. Don't just take our word for it, try it with cheese just like the Jamaicans do!
View this post on Instagram
8. Roasted lamb – Greece
This Easter dish is symbolic of sacrifice in both the Jewish and Christian religions. In Greece, a whole lamb is roasted on a "souvla" or large spit. To turn the lamb, Greeks gather together with their friends and family to cook the lamb, all while celebrating over the Easter weekend.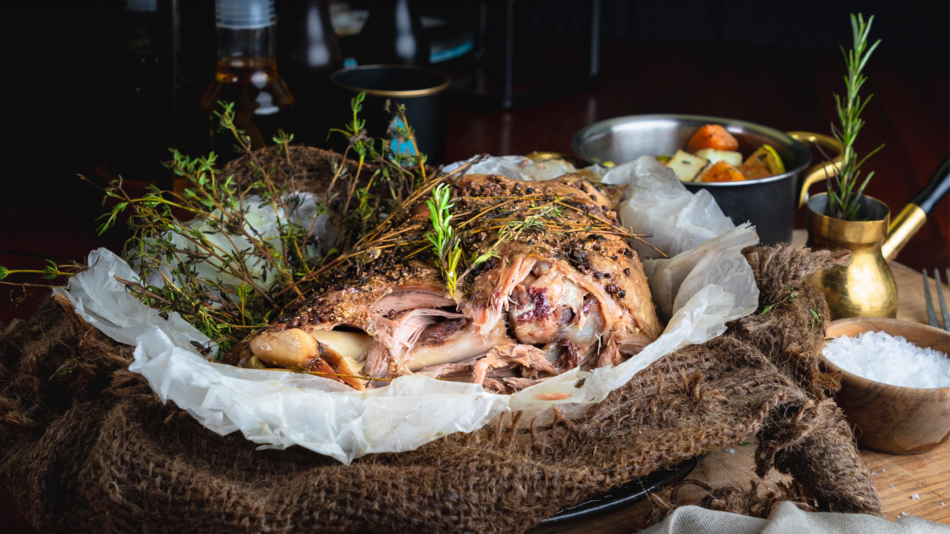 Image source:Photo by Eiliv-Sonas Aceron
7. Irish lamb stew – Ireland
Known as one of Ireland's most famous foods, this traditional Easter dish consists mainly of potatoes and onions. Typically made with beef, Irish stew is usually made with lamb over Easter. Not only is lamb symbolic to the Christian religion, lambs are also engrained in Ireland's history as a source of food and wool. If you drive through the rolling hills of Ireland, you're bound to run into a herd of sheep or two.
 

 

 

View this post on Instagram

 

 
6. Glazed ham – USA
Instead of having lamb on your Easter menu, try using ham like the Americans. Ham has been popular as a traditional Easter food in the United States since World War II. Before the refrigerator existed, ham was preserved and cured over the winter months, which added additional flavour. Its large size also means it's great for larger family gatherings. Wondering how to prepare your ham? Our recommendation: try it with brown sugar, pineapples and maple syrup.
View this post on Instagram
5. Torta pascualina – Argentina
This traditional Easter dish dates back to the 16th century in Argentina. Made of ricotta and spinach, it's the unique use of eggs that make this dish extra special. Raw eggs are cracked into the pie and bake inside while in the oven. Once cooked, cut the pie open and you'll see how the hard-boiled egg becomes the centrepiece of this dish.
View this post on Instagram
4. Fanesca soup – Ecuador
This traditional Easter recipe is an Ecuadorian family favourite! Always made up of 12 ingredients, each cook puts their own spin on it. These ingredients include grains, such as beans and vegetables, peanuts, hard-boiled eggs, salted cod, fried plantains and mini empanadas, with the key ingredient being milk. Stew these ingredients together to make an Easter meal you won't forget.
View this post on Instagram
3. Pashka – Russia
This sweet, custardy dish is extremely popular in Russia and is known as the traditional Russian Easter food to make. Pashka is traditionally only made around Easter time as it's connected to the Christian religion with its truncated pyramid shape. This high protein dish consists primarily of cheese and egg yolks. It's topped with chopped glacéed fruits, making it the perfect brunch or dessert.
View this post on Instagram
2. Pastiera Napolitana – Italy
Made of wheat, eggs and ricotta cheese, what makes this dessert special is the use of orange flowers. Years ago, orange trees grew in the convent of San Gregorio Armeno in Italy. The fragrance would flood the gardens and gave a group of nuns the idea to use the orange tree flowers in a recipe.
The orange flowers are now symbolic of springtime and the resurrection of Christ. Once the fragrance is mixed into the pastiera, the tart takes on a unique flavour that Italians LOVE. Today, it has become one of the most well-known traditional Italian Easter foods to make during the holiday.
View this post on Instagram
1. Mämmi – Finland
We couldn't think of a better way to finish our list, than with a delicious Finnish dessert. This traditional Easter dessert is an Easter pudding made of water, rye flour, malted rye and Seville orange zest. This dish is an acquired taste and is similar in consistency to porridge, but everything's worth try once! Before serving, chill this dish in the fridge for three days and enjoy it cold with cream or half-and-half.
View this post on Instagram
So, next time you're ready to celebrate with your closest family and friends, how about trying something different? Challenge yourself to make a traditional Easter dish from another part of the world, or add in an Easter egg hunt for some extra fun.