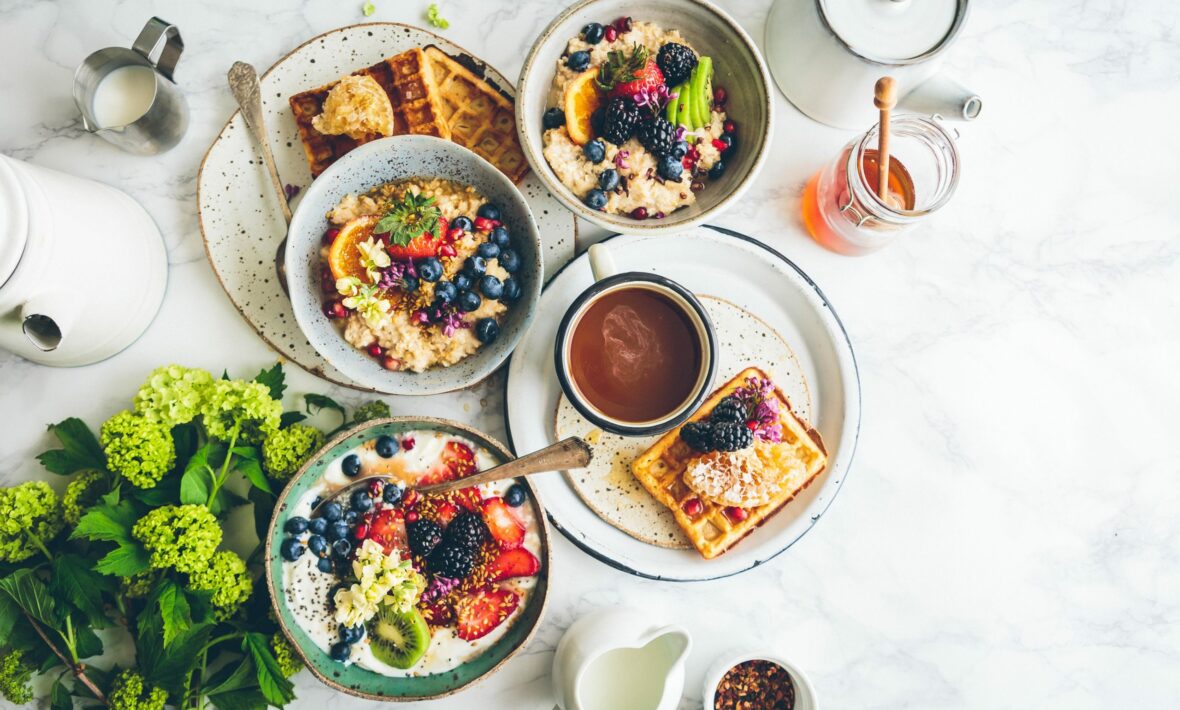 At first it seemed like a fad, something people dabbled in for a short moment (breakfast) and then quickly gave up on (dinner the same day). But then more and more people began seeing the benefits, not just to themselves but to the climate crisis and factory farming industry.
Suddenly, veganism was a full blown movement – and a powerful one at that. People started to voice their desires for more establishments to serve up vegan options, which has now led to restaurants even launching entirely new plant-based menus (some of which are even Michelin starred). And if you've made the switch (even if just for January), you're in good company. Billie Eilish, Lewis Hamilton, Lizzo, Katy Perry, Ariana Grande – even Jay-Z and Beyonce live a plant-based lifestyle. So there's got to be something in it, right?  
Well we recently spent some time in one of the flavour capitals of the world (and recently voted "Best city in the world by Resonance Consultancy), London, checking out some the top Vegan hot spots and plant-based menus to get to the bottom of why everyone is now so Ha-pea to be Vegan right now (sorry). So here it is: our pick of the best vegan restaurants in London.
The Vurgur Co
Address: Unit 9, Richmix, Avant Garde, Cygnet St, London E1 6LD. (4.5/5 Google Rating).
If you're looking for some Vegan Fast Food then look no further. Rich and creamy Vegan Mac n Cheese infused with truffle. Check. Vegan smokey, cheesy BBQ Pulled Pork Burger. Check. Vegan NY deli style meaty melt sandwich. Check. Just damn good all round vegan food for the soul. Checkmate!
Founded back in 2016 (originating from just a single market stool), The Vurgur Co now operate out of their HQ in the trendy Shoreditch, East London and have expanded their vegan movement to Canary Wharf, Brighton and Manchester – as well as selling their own products in retailers worldwide! (They've also released their first cookbook to inspire you at home).
The company also only uses suppliers that are accredited and adhere to sustainable values – just another reason this is undoubtedly one of the best vegan restaurants in London.
View this post on Instagram
Rasa
Address: 55 Stoke Newington Church St, London N16 0AR (4.3/5 Google Rating).
There's a reason this plant-based hotspot has been voted best vegan restaurant in London by Time Out magazine. Rasa believes that "Food has a great power. Through food, we can reach out to people and demonstrate their importance in our life". That's the kinda ethos that we can get behind…any establishment that brings food and people together is our vibe!
Inspired by vegetarian and vegan dishes from southern India, Rasa offers up a wide selection of curries and small plates. These naughty little vegan dishes are to die for. Everything is so good here so why not leave it up to the award winning chefs and go for the vegan feast? (It's also a bit of an Insta spot with its popping pink interior and exterior. #VeganLife).
View this post on Instagram
Club Mexicano
Address: Kingly Court, London W1B 5PW (4.5/5 Google Rating).
Sticking to the pink theme (you'll see) – Club Mexicana is the self proclaimed server of "bangin'" vegan food in London. And they do not go back on their word. From tacos and nachos to a cheeky frozen margarita (pure fire!) Club Mexicana flips the Mexican food world on its head by replacing classics like the beef burrito with non-meat substitutes you genuinely wouldn't be able to tell apart.
In town on a Tuesday? You know what that means…Taco Tuesday baby! We're talking all you can eat, vegan loaded Tacos for just £15. Nothing more needs to be said here. (Make sure to order a largerita – you're welcome).
View this post on Instagram
Nem Nem/Nom Nom
Nom address – 134 F-G, Kingsland Rd, London E2 8DY (4.7/5 Google Rating)
Nem address – 279 Upper St, London N1 2TZ  (4.5/5 Google Rating)
So we've ticked off some classic burger action, Mexican and Indian so far. How about some Vietnamese? The aptly named Nom Nom and its sister venue Nem Nem serve up some of the best Vietnamese food in London. And the best part? They offer up a huge plant-based menu that is absolutely Pho-nom-nom-inal (sorry again). Tuck into the crispy chilli & pepper silken tofu and you'll find yourself ordering another portion after the first bite. 
If you have been lucky enough to visit the spectacular country that is Vietnam then you'll know about the magic and fragrant flavours their cuisine conjures from the simplest of ingredients. No meat required!
View this post on Instagram
Purezza
Address: 45-47 Parkway, London NW1 7PN (4.6/5 Google Rating).
Next stop had to be Pizza. But not just any pizza. This is Purezza and my goodness do they master the art form. From groundbreaking plant-based cheese to unique whole grain sourdough, Purzza prides itself on ingredients and innovation. Love at first bite is an understatement. Oh and you can grab two cocktails for £12 all day everyday with any food order. (We recommend the black truffle pizza. Trust us. Game. Changer).
View this post on Instagram
Spicebox
Address – SpiceBox Walthamstow. 58 Hoe Street. Walthamstow. E17 4PG (4.5/5 Google Rating).
London is up there with the best when it comes to a classic ruby (google it). And spice box brings vegan spices and everything nice to East London in Walthamstow and Leyton.
Not only does Spicebox boast a delish dinner menu full of divine small plates, but visit on Sat & Sun brunch between 10am and 2pm and you will not be disappointed. So cure that hangover with a "this isn't a bacon naan" or go all out and treat yourself to a full Indian breakfast. We're talking spicy jackfruit beans, crispy Bombay hash, Symplicity sausage, Indian guac, pickled pink onions, date and tamarind chutney, roasted mushroom and toasted sourdough. Mmm. Spicebox me up.
View this post on Instagram
La Gelatira
Addresses: East Village Stratford/Covent Garden/Tottenham Lane (4.5/5 Google Rating).
Sicilian pistachio, Extra dark chocolate with calabrian chilli, tropical coconut, almond sorbet….it's ice Cream but vegan. And La Gelateria is top of the game: golden fork winners for best London food a couple years in a row as well as multiple great taste awards. Time Out London also selected these ice cream wizards as the best in the game. So what ya waiting for vegans of London? Go get ya scoop on.  
View this post on Instagram
Temple of Seitan
Addresses – Camden, Hackney, Brixton, Wembley and King Cross (4.7 Google Rating).
Temple of Seitans boldly claims to be "London's Finest" fully vegan establishment. And they've got a claim. The Nashville hot chicken burger…The Buffalo Glaze…Temple classic wins…whatever you order here you will be blessed with an absolute explosion of flavour. Vegan fast food of a higher class! 
Zero shame here but we would quite happily sit on a park bench and with a fork in hand and demolish a tub of their coleslaw. Whilst you are at it why not wash it down with a Biscoff milkshake? Life's too short.
View this post on Instagram
123V
Address: Terrace & Lower Ground Floor at Fenwick, 63 New Bond St, London W1S 1RQ. (4.2 Google Rating).
You may not assume that you could pick up a vegan burger and vegan sushi in the same spot but here we are, and we're not mad about it. Plus, every Monday – Saturday from 4pm, you can tuck into endless Sushi from a Michelin Star chef for just £30. The only clause in the small print is you have 2 hours on the clock for your bottomless experience so….1…2…3…GOOOOO you little vegan GO!
View this post on Instagram
WAVE
Address: 11 Dispensary Ln, London E8 1FT (4.7/5 Google Rating).
Founded by two best mates with a passion for vegan cuisines, minimalist homeware and a sunshine lifestyle, Wave set out to create a vegan oasis in the heart of London and they ticked all the boxes. So much so,  they have gone on to open a second branch in the epic Stoke Newington. 
WAVE is a great spot to get your oat flat white fix whilst cracking into a classic avo on toast. However we also recommend having a dip into their Mac and Cheese, as well as vegan pastries & sweets. Or their stunning smoothie bowl which involves salted caramel and banana…mmm.
So there you have it: clearly, vegan food does not have to be boring and London is killing it when it comes to backing the vegan lifestyle…so what you waiting for people?
Go live your plant-based best life!!!
View this post on Instagram