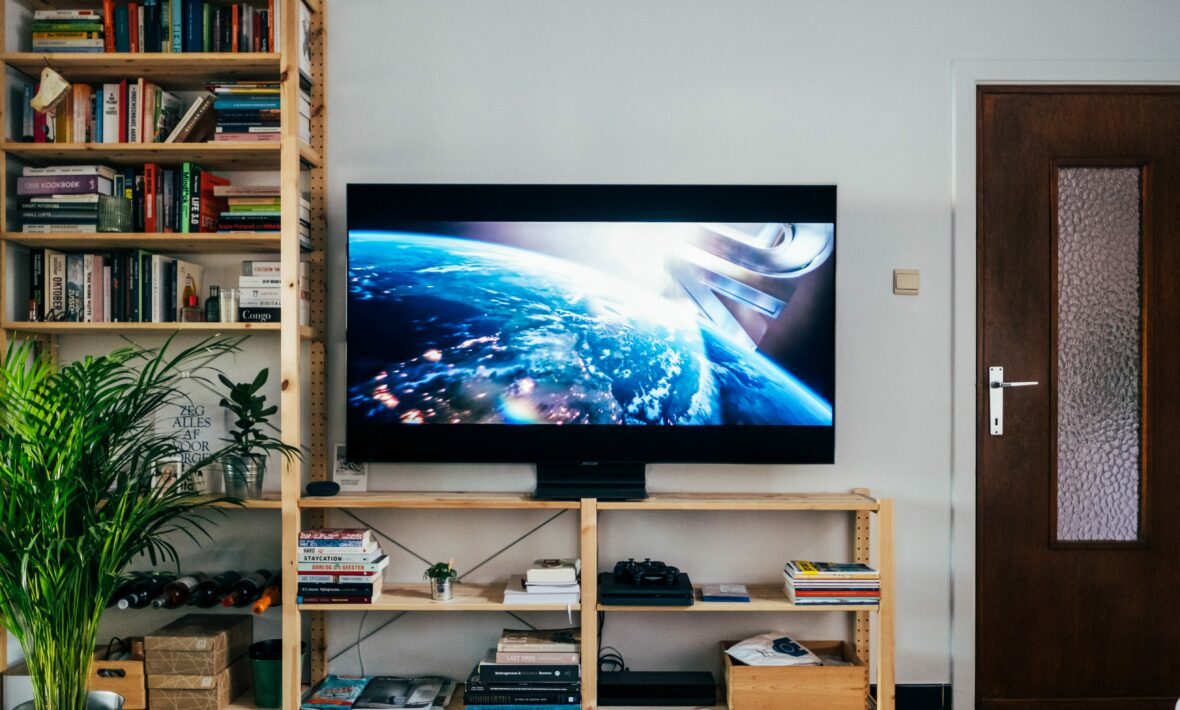 LGBTQIA+ representation on television has been a hard-fought battle, and we are now at a point where we have more options. We've come a long way since queer characters were simply used as comic relief or the butt of jokes. Today, numerous TV shows featuring LGBTQIA+ individuals shed light on their stories and advocate for change.
This list includes globally recognized LGBTQIA+ shows that would be perfect travel companions on your journey, as well as some lesser-known queer television gems that aim to uplift and educate…
1. Veneno
Veneno tells the tale of real-life trans icon and superstar 'La Veneno'. Officially 'Cristina Rodrigruez', Veneno was a Spanish singer, performer, actress, and media personality, who became a fierce trans trailblazer in Europe and celebrated globally.
Talks of telling La Veneno's iconic story began to spread in 2019, and the series premiered internationally in November 2020 on HBO Max, receiving a huge audience, and an even more overwhelming response.
On the original Spanish platform 'Atresplayer', Veneno became the biggest debut in the company's history, and is one of the most successful queer Spanish TV shows to receive worldwide acclaim.
Following the intense success of the series, the City Council of Madrid unveiled a commemorative plaque in honour of the queer icon La Veneno, and the cast of the show led Madrid's 2020 pride parade.
2. RuPaul's Drag Race
It wouldn't be possible to discuss queer TV without mentioning RuPaul's Drag Race and the impact it's having on today's pop culture. Smashing our screens in 2009, season 1 of the reality-competition show aired on Logo TV, and it became clear that fans wanted more.
The first few seasons cultivated a strong and loyal queer fan base, who enjoyed the LGBTQIA+ talent and representation on screens. Towards later seasons, RuPaul's Drag Race broke through to mainstream TV, dramatically extending the show's reach and fanbase. Various challenges and runway categories allow queens to show their talent, style, and uniqueness; and viewers all around the world became obsessed with the weekly screening.
There are now countless international adaptations – Thailand, Canada, Spain, Italy, the Philippines, and Mexico just to name a few, giving queens from almost every country a chance to shine in the queer spotlight.
While primarily being a reality-competition show, the show does explore several issues that the LGBTQIA+ community commonly face. Discussions about familial rejection, queer-phobia, racism, and discrimination provide vital insights into the queer experience. With the show reaching such a large global audience, these discussions are platformed to a mainstream audience – who for many serves as their first exposure to this LGBTQIA+ dialogue.
The show has helped create many international careers, including Bianca Del Rio, Bob the Drag Queen, Raja, and Alyssa Edwards just to name a tiny amount – there are now over 195 insanely talented drag queens on the American, and a whopping 318 on international seasons. Drag Race is undoubtedly one of the biggest queer shows in history, and has been acclaimed for bringing drag into the mainstream.
3. Pose
Set in 1980/90s New York, Pose is an American drama transporting us to the underground world of ballroom, and broke a record for the largest trans and queer cast in the history of scripted series…
We are introduced to Blanca Rodriguez, mother of the House of Evangelista; Elektra Abundance, mother of the House of Abundance, and Angel Vasquez, who left the House of Abundance to join Blanca's House of Evangelista. Drama ensues within the ballroom scene, and we watch as it all plays out right on the floor. The show also explores many tough topics, including HIV, homelessness, and transphobia.
Several houses and characters are heavily based on real-life ballroom figures, and some icons from the the legendary film 'Paris is Burning' were featured in small roles. Master vogue artist Jose Xtravaganza played a judge, and Sol Pendavis Williams represented the House of Pendavis. Since its release in 2018, Pose has received over 65 award nominations – for Best Acting, Outstanding TV Series, and Amazing Music just to name a few.
Today, Pose resides in the 'legendary' category of LGBTQIA+ television, and beautifully portrays the queer community's will to love and create despite incredibly harsh times.
4. We're Here
We're Here stars Drag Race breakouts Bob the Drag Queen, Shangela, and Eureka O'Hara, who travel the United States to host one-night-only drag shows, inviting residents to partake. These iconic drag queens help small-town residents step out of their comfort zone, and do something many could never imagine themselves doing.
Season 1 aired in 2020, and the drag trio travelled throughout Pennsylvania, Idaho, Missouri, New Mexico, and Louisiana. Many of the towns filmed in were small-town middle-America, and the queens were often the first drag artists the residents had ever seen.
The new season (4) stars a brand new set of queens – Jaida Essence Hall, the winner of Drag Race season 12; Priyanka, the winner of Canada's Drag Race season 1, and Sasha Velour, the winner of Drag Race season 9.
Since airing in 2020, We're Here has been nominated for over 10 TV Awards from the likes of GLAAD Media, Primetime Emmy Awards, and the Independent Spirit Awards. Receiving international critical acclaim for the show's uplifting aura, magical drag shows, and intimate conversations. The queens are breaking down stereotypes, discrimination, and simply a lack of knowledge about drag and the queer community. They are showing us, the viewers, and the residents of the small towns they visit, that drag is for everyone, and has the potential to completely change the way you feel about yourself and others.
5. We've Been Around
In the form of 5 short films, this series received international acclaim for its knowledge and depiction on trans stories throughout history. Created by Rhys Ernst – a producer and director who explores his own experience as a trans man through his work, creating gripping pieces of queer media.
Episode one centres around Lucy Hicks Anderson, a well-known Californian hostess who was the first trans woman to fight for the right to marry in court. Episode two tells the tale of 2 trailblazing activists – Leslie Feinberg and Riki Anne Wilchins, who spearheaded a protest to challenge the trans-discriminatory policy at a women's music festival. This became a pivotal event in the relationship between the women's movement and the trans movement.
Episode three introduces us to Lou Sullivan – a pioneering gay trans man who fought for the right to be gay and trans. At the time, gender clinics were refusing to give gender-reassignment surgery, and he ferociously battled to express his true identity.
Episode four explores the world of Albert Cashier – a transgender man who bravely fought in the American Civil War, and was cruelly outed years after his service. The last episode follows the creation of STAR – a trans activist and gender non-conforming organisation founded by pioneers Marsha P. Johnson and Sylvia Rivera.
In 2017, We've Been Around won a GLAAD Awards 'Special Recognition' – which highlighted the series for its wonderful portrayal of trans stories which need to be shared around the world.
6. Queer Eye
Before rocking the world for the second time in 2018, Queer Eye initially wowed viewers in 2003 – under the name 'Queer Eye for the Straight Guy'. Each episode featured a different 'straight guy' who would be made over by the 'fab 5', a team of 5 amazing queer men. The food connoisseur was American TV personality Ted Allen; Kyan Douglas was the show's grooming expert, Thom Felicia was the talented interior designer, fashion expert was Carson Kressley, and Jai Rodriguez was the mesmerising culture guide.
While being limited by today's standards of its exclusionary decision to only feature men – in 2003, this was a groundbreaking piece of queer television, portraying queer men being unapologetically themselves. The show quickly received outstanding ratings, and the 'fab five' were blasted into international entertainment careers.
The series won an Emmy Award in 2004 for 'Outstanding Reality Program', and OUT magazine featured the show on its 'OUT 100 – the greatest gay success stories of 2003'.
While the show did receive some deserved controversy for playing on many stereotypes of gay men, it remains a historical piece of queer visibility in mainstream culture for its time.
The show was revived in 2018, with a new 'fab five'; Antoni Porowski on food, Jonathan Van Ness on grooming, Bobby Berk on interior design, Tan France on fashion, and Karamo Brown on culture. This series aimed to focus more on helping people live their truest and authentic selves, rather than devoting each episode to a 'straight man'.
Many applauded the show for adapting to a new era while keeping what made the show inherently special. Queer Eye was given over 15 awards since its fresh debut in 2018, including Emmy Awards, GLAAD and Primetime.
7. It's a Sin
Released as a mini-series in 2021, It's a Sin transported viewers back to 1980s London, following a small queer community during the AIDS crisis in the UK. Written by Russell T. Davies, he drew on his real-life experience during the AIDS crisis in London, as well as his friends' accounts. The finished product was an incredibly authentic, raw, and emotional piece of queer storytelling, which became difficult to pitch due to the subject matter.
The show was eventually picked up by Channel 4, where it was premiered in the UK on the 22nd January 2021. The release was coupled with a fundraiser for the 'George House Trust' – a charity supporting individuals living with HIV.
The pilot received an overwhelming amount of praise, racking up 1.6 million viewers on Channel 4 – which was unheard of for queer TV on mainstream television. Viewing hit 2.5 million in the following days.
Impact was sudden and intense. As well as praise for the excellent acting work of Olly Alexander and Lydia West, the show resulted in an surge of HIV testing – with over eight thousand testing kits being bought in a single day.
The show also became a huge driver in the normalisation of portraying queer love and sex on mainstream television, and today is constantly rewatched by fans for its unforgettable portrayal of queer community and loyalty.
8. Euphoria
Even if you haven't watched Euphoria, you have most likely heard of it or recognise certain characters. The show's impact on pop culture is groundbreaking and cannot be ignored.
Euphoria was released in the US in 2019, and followed main character Rue – a teenager who suffers with addiction, and her journey through love, loss and stability. Since its release, the show has been highly regarded for its portrayal of depression, mental illness, addiction and many other themes explored by the show.
One of the main recurring characters is named Jules, a trans woman who navigates identity, attachment, and love during her teenage years. This was heavily celebrated by fans, who supported the show for its centering of trans stories, and found the portrayal a somewhat authentic representation of navigating one's identity as a young person today.
At the end of its second season, the show became the second-most-watched HBO TV series since 2004 – as episodes raked in a staggering average of 16.3 million viewers. Since its debut, the show has been nominated for 87 awards, and won 28 – including, 'Outstanding Actress' for Zendaya, 'Outstanding Directing' for Sam Levinson, and MTV's 'Best Show'.
9. Heartstopper
While being more heart-warming to viewers rather than heart-stopping, Heartstopper is a British coming-of-age series following a group of queer friends in school. The show is based on Alice Oseman's graphic novel under the same name, and was applauded for its diverse queer casting, and focus on growing up queer in an ever changing world.
We are introduced to Charlie Spring, a gay teenager who was outed in school; Nick Nelson, Charlie's school friend who is forced to hide his sexuality out of fear; Elle Argent, a trans teenager recently who recently came out, and Isaac Henderson, a member of the group who identifies as asexual.
'Hearstopper' reached Netflix's top 10 list within its debut week, and the show was viewed for over 14 million hours worldwide. The show ended up on Netflix's top 10 lists in over 50 countries, including Lebanon and Saudi Arabia where same-sex relationships are illegal.
The series has received 24 awards since its release, including an Emmy, an MTV Award, a GLAAD Media Award, and a Royal Television Society Programme Award. Of course, the show flooded the 2022 Top TV series lists, being number one at NME, number four at Entertainment.ie, and number 10 at PopBuzz.
10. The L Word
A show that truly rocked American viewers in 2004, The L Word followed a group of queer women living in West Hollywood.
The TV series aired from 2004 to 2009, and was heavily celebrated for being the world's first ensemble cast made of lesbian and bisexual characters, as well being primarily written and created by queer women.
The New York Times note that The L Word was released into 'instant popularity', and is still celebrated today for its depiction of female sexuality. Many viewers note that intimate scenes on the show are clearly made with the female gaze in mind, and the show does not pry for the attention of straight male viewers who would watch superficially. At the time, the visibility of queer women on TV was practically void, never mind an entire show devoted to lives and journeys of queer women. Lesbian characters were no longer 'edgy' side characters in an otherwise heterosexual cast, or a raunchy over sexualised role in a heteronormative series.
The show's cultural impacts is celebrated for strongly pioneering a growth in lesbian and queer female representation on TV, as well as shifting the narrative that queer women had on TV.
11. Sex Education
Breaking LGBTQIA+ stereotypes since its premiere in 2019, the provocatively named Sex Education follows the lives of students at Moordale Secondary School through their journeys of identity, sexuality, love, work, and intimacy.
The show is a camp portrayal of open sexual communication amongst young people, while encouraging honesty and understanding when discussing intimate matters. The first season follows Otis and Maeve as they open a school based sex clinic to help fellow students with sexual issues.
As you can imagine, their clinic became insanely popular with students who were desperate for support and felt ashamed to ask others. Throughout the season we watch many characters explore and come to terms with their sexuality; figuring out what they enjoy and overcoming trauma.
2019 saw the show nominated for 6 awards, including a BAFTA, MTV Award, and a Gold Derby Film Prize. The following seasons only expanded the fanbase, and the series allowed themselves to explore more storylines, situations, and LGBTQIA+ identities. This became evident in the 2022 TV Awards, winning four back-to-back titles at the National Comedy Awards for 'Best Scripted Comedy Series', 'Outstanding Comedy Actress' for Emma Mackey, 'Outstanding Comedy Actor' for Asa Butterfield, and 'Outstanding Supporting Role' for Ncuti Gatwa.
With the new season being released in September (2023)y – now is a great time to stream if you haven't watched the show…
12. Queer as Folk
Queer as Folk is a 2022 American TV Series which is a reboot of the 1999 British show under the same title. Created by Russell T. Davies, the show focuses on a young group of friends whose lives are tremendously impacted by a queer-phobic attack at a local club.
Released in June 2022, the show was praised for its cultural resonance and diverse language, alongside its navigation of more difficult themes, including addiction and grief. Mingus (played by Fin Argus) – a non-binary teen and drag queen was performing in the club the night of the attack, just about survived the awful event, and is forced to confront their emotions.
Critics for the Guardian applauded the show for its conscious effort to display the wide spectrum of queer identities, proclaiming that: "[The show] finds ever more delicious ways of offering prickly story beats and character arcs that refuse to flatten or homogenise the LGBTQIA+ community" and "The cast and characters are much more diverse than previous versions in terms of race, gender identity, sexuality and levels of physical ability."
As well as portraying a much more realistic and diverse queer scene, producers were celebrated for featuring queer icons as guest characters throughout the season. Queer model Nyle DiMarco and music legend Big Freedia just to name a couple…
Overall, the Queer as Folk reboot provided an amazing platform for a range of LGBTQIA+ identities, and we heavily recommend a screening!
13. Visible: Out on Television
One of the few documentary series on this list – when Visible was released in 2020, audiences were schooled on LGBTQIA+ representation, and the hidden queer figures throughout history that deserved to be known.
Directed by Ryan White, each episode focused on a different theme along the journey of queer representation. Episode one explored 'The Dark Ages', where early TV portrayed queer individuals as deviants and dangerous. The next episode titled 'Television as a Tool' explores the changing faces of media following the Stonewall Uprising, and the activism that helped change societal norms.
Episode three delves into the HIV/AIDS crisis, the effect on individuals, the community, and the impact on LGBTQIA+ representation. We also learn the role of TV and media during these tough years. The next episode takes us to the 90s, where Ellen DeGeneres made history while coming out, and the intense backlash her and other queer celebrities faced.
Finally, episode five makes us look towards the future, examining our current relationship with queer media and steps for improvement. The series was nominated for a Dorian Award for the 'Best Current Affairs Program' and even a GLAAD Award for 'Outstanding Documentary'.
Visible takes the viewer from intensely queer-phobic portrayals in the 1960s to the diverse scene of LGBTQIA+ media we have today.
14. Legendary
If you are yet to watch Legendary, you are missing out on gag-worthy queer television and talent. Devoted to celebrating the once-underground queer ballroom scene, the show showcases the likes of vogueing, reading, shade, design, fashion, and beauty.
Premiering on HBO in 2020, 10 Ballroom Houses competed through several categories and challenges for a grand prize of $100,000 and a wild trophy. Viewers are treated to intense vogue battles, and the show is constantly celebrated for its LGBTQIA+ representation.
Its critical reception made it clear that nothing existed on TV quite like Legendary, as the show was nominated for 11 awards in 2021, including two Emm's, a Critic's Choice, a GLAAD Award, Guild Award, and an MTV Unscripted Award.
The show swept nominations once again in 2022, but this time taking home the 'Outstanding Achievement in Reality Programming' at the Television Critics Awards, and a Primetime Emmy for 'Outstanding Contemporary Makeup'.
Many houses competing on the show can be traced back to the iconic 80s New York Ballroom culture, making the show even more authentic and seat gripping. These houses include the 'House of St. Laurent', 'House of Ninja', and the 'House of Revlon'.
As well as absolutely mind-bending performances, each episode we learn more about the performers' lives, stories, experiences and passions. We explore the different ways ballroom houses function, including the intense unconditional queer love shared by house members.
15. Dickinson
When Dickinson premiered on Apple TV+ in 2019, fans were immediately hooked to the main character's journey. The series followed Emily Dickinson, a real-life poet who is regarded as one America's most important writers.
Based in 19th century Massachusetts, we explore Emily's various relationships, encounters and artistic expressions. Throughout history her queer identity was suppressed, and this show aims to change that all…
We are immediately introduced to Dickinson's sexual relationship with her 'best friend' Sue. Sue is getting engaged to a man and both are frightened to lose what they have, but knowing they cannot publicly express their love. All three seasons, spanning from 2019 to 2021, became universally acclaimed for its moving portrayal of Emily Dickinson's life and her queer relationships.
The reach of the show was made clear in award season, where Dickinson won a Peabody Award for Entertainment, and has been nominated for multiple GLAAD Awards. Critics labelled Hailee Steinfeld's performance of Emily Dickinson as 'beautifully surreal', and supported the show for effectively rewriting Dickinson's story in a respectful and LGBTQIA+ inclusive manner.
We heavily recommend a watch if you haven't seen this show – learn the queer history and experiences behind the great American poet Emily Dickinson.